Rockport, Massachusetts

| Halee Burg/Shutterstock
Rockport, Massachusetts

| Halee Burg/Shutterstock
Summer getaways are nice and all, but we actually love traveling this time of year. And don't people even know it: Despite the cooler months, traffic, crowds, and high hotel rates endure. Which is why we prefer to go small -- small-town, that is. Our state is teeming with teeny spots that manage to dodge (some of) the masses yet still offer architectural charms, fine dining, water views, and, of course, plenty of picturesque vistas. Plan your Massachusetts road trip right now.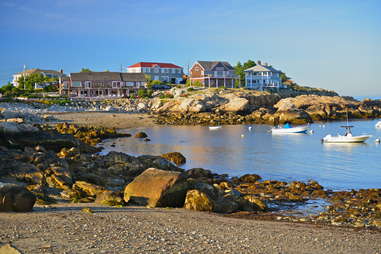 Best Picturesque Getaway: Rockport, Massachusetts
Why it's so great: As the Bohemian sibling to Gloucester, Rockport is arguably the most photogenic town in Massachusetts. Halibut Point State Park offers waterside trails and epic views into New Hampshire and Maine. Bearskin Neck is a lot less risqué than it sounds: The town's main drag juts out into Rockport Harbor and overflows with galleries, cute (not schlocky) gift stores, and small cafes -- most housed within antique homes and staffed by absurdly friendly folks. And don't leave without photographing Motif No. 1, a replica of the town's iconic red fishing shack (the original was destroyed in the Blizzard of '78). Fun, if hard to verify, fact: The shack is called the most painted building in the world.
Where to eat:Feather and Wedge for your cocktail needs, My Place by the Sea for high-end seafood served oceanside, and The Lobster Pool for hot boiled lobsters, outdoor seating (bring a blanket!), and the classic clam-shack experience -- BYOB and all.
Distance from Boston: An hour-and-a-half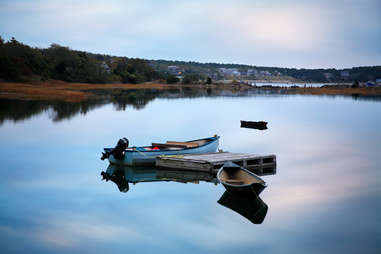 Best Foodie Getaway: Wellfleet, Massachusetts
Why it's so great: We know what you do: Hop on the 90-minute ferry to P-town and call it a weekend. Fool, you're favoring flash over substance. Wellfleet in fall gives you all the New England-in-autumn tropes -- in a good way! -- with nature walks and changing leaves mixing it up with a still-humming foodie scene. Stroll across Uncle Tim's Bridge for an island foliage walk, or work up a bigger appetite at the Wildlife Sanctuary. (Head over the border into Eastham and you can also hit the Cape Cod National Seashore for some off-season, dog-friendly strolling.) The Wellfleet Flea Market runs on weekends through mid-October, and in-town galleries like the Frying Pan Gallery keep weekend hours. Considering an overnight? The Wagner at Duck Creek combines classic Cape comforts with some higher-end touches, while The Holden Inn, a no-frills but charming throwback in the middle of town, is open until November 1.
Where to eat:Mac's Shack for oysters, cocktails, and sushi; The Wicked Oyster for lunchtime chowder, PB Boulangerie Bistro for all your pastry needs, and the nearby Truro Vineyards for a little afternoon wine tasting. We're also suckers for the bucket of takeaway fried chicken from Russ and Marie's (what's a fall picnic without fried chicken?). And book your tickets now for the Wellfleet Oyster Fest, happening October 19-20.
Distance from Boston: Two-and-a-half hours
Best Artsy Getaway: North Adams
Why it's so great: First, a bit of trivia: North Adams is technically a city -- but it's the smallest city in Massachusetts. As to what makes it so great? MASS MoCA, of course, is what started this city's renaissance, but its reputation has justifiably only grown as people have rediscovered North Adams' long-standing charms. Hikes include the Appalachian Trail and Natural Bridge State Park; additional art awaits you in Williamstown at The Clark; and a drive to the top of Mount Greylock (through October) earns you incredible foliage vistas. Plus, the city how has two divine boutique hotels to choose from: the cheeky retro Porches, complete with a year-round outdoor heated swimming pool and hot tub, and the riverside Tourists, which offers walking trails galore and incredible deck views.
Where to eat: Bright Ideas Brewing for local beers, barbecue, and art; The Airport Rooms for cocktails and sophisticated bar snacks; Jack's Hot Dog Stand for a grilled dog and a shot of history; Gramercy for the requisite farm-to-table fare (but they were doing it long before it was cool).
Distance from Boston: Three hours, 15 minutes
Best Cultural Getaway: Pittsfield, Massachusetts
Why it's so great: No longer just a pit stop on the way to Lenox, Pittsfield boasts Berkshires attractions aplenty. The Hotel on North, a cosmo boutique hotel ensconced in two 19th-century brick buildings, serves as the launching pad from which you can explore this chic throwback town. There's a farmers' market, a monthly arts walk, the Hancock Shaker Village (with farm dining and goat yoga!), a cultural district boasting an indie movie theater (serving beer and wine!), and the Berkshire Museum, initially founded to bring culture and history to this rural area. Those seeking a little calisthenics with their cultivation can meander over to Pittsfield State Forest for waterfall hikes and a gander at Balance Rock (technically in Lanesborough, though owned by the City of Pittsfield).
Where to eat:Eat on North for oysters and tacos, Methuselah for cocktails and craft beer, Mission Bar & Tapas for snacks and live music, and Dottie's for a breakfast/brunch burrito.
Distance from Boston: Three hours
Best Historic Getaway: Deerfield, Massachusetts
Why it's so great: Feeling a hankering for small-town living? Head west of Boston for two hours, and soon enough you'll be daydreaming/day-drooling over a Main Street so picturesque that it puts Norman Rockwell paintings to shame. The historic district is actually an outdoor museum populated by 18th-century homes, many hosting live art and cooking demonstrations. Foodies can poke around the Cooks' Garden, which grows veggies and herbs used in on-site culinary classes. The renowned Deerfield Inn, built in 1881, was nearly destroyed by Hurricane Irene back in 2011, but a full restoration beckons you back to the renowned B&B. Yes, the town plays host to a couple of private boarding schools, but you can suffer a few privileged teens for a setting this picturesque.
Where to eat: Champney's for beer-braised short ribs and, if it's a cold evening, a fireside drink; Berkshire Brewing for taproom drafts.
Distance from Boston: Two-and-a-half hours
Best Outdoor Getaway: Ipswich, Massachusetts
Why it's so great: You have to start with Crane Beach. The crown jewel of the The Trustees of Reservations holdings is a miles-long shoreline where you can also hike in the dunes and let your dog off-leash in designated areas. And ever notice how many mountain bikers populate the streets of Ipswich? It's basically a cycler's nirvana, with many a recreational club hitting the town on weekends. It's also a terrific place to literally get back on that horse, as stables and horseback riding lessons abound throughout the bucolic and stone-walled area (and in the fall, you can actually ride horses on Crane Beach). Then there's Wolf Hollow, a North American wolf sanctuary that aims to correct the narrative surrounding these maligned creatures. No, you still can't pet them.
Where to eat: 1640 Hart House for prime rib, Ithaki for authentic Greek, True North Ale Company for local IPAs, Russell Orchards for dandelion wine and cider donuts, and Ipswich River Provisions for any one of the many great sandwiches. Oh, and did you know the Clam Box is technically in Ipswich? Yes, that Clam Box. Queue up now. (Head across the Essex border to JT Farnham's and Woodman's if you feel like doing a local fried-clam taste test, both of which also stay open year-round.)
Distance from Boston: One hour
Best Surprise Getaway: Salem, Massachusetts
Why it's so great: Salem's reputation as Halloween-only locale is a pity given its ever-burgeoning hotel and restaurant scene. The Merchant is an upscale boutique hotel in a historic building by the water, while The Hotel Salem boasts the only rooftop bar in town (get up there quick; it's a seasonal spot). Bit Bar, a restaurant/throwback arcade, is alone worth a day up north. And then there are the evergreen attractions: the pedestrian mall, the floating maritime museum, harbor cruises, and plenty of sailing opportunities, including sunset cruises through mid-October. Itching for some sand between your toes before the snows come? Singing Beach in Manchester-by-the-Sea is just a few minutes away.
Where to eat: Bit Bar, duh. Ledger for wood-fired cuisine in a former bank, Counter for handmade pasta inside a former department store, Adriatic for Mediterranean-inspired seafood dishes, Finz for incredible water views and lobsters.
Distance from Boston: One hour
Best Waterfront Getaway: Woods Hole, Massachusetts
Why it's so great: Yes, it's home to an oceanographic institute, and yes, it's the launching pad for the Vineyard, but Woods Hole is a hipster destination in its own right. Proof? Longtime Brooklyn comedian and Bob's Burgers star Eugene Mirman up and moved there in 2017. There are a couple of small beaches, several museums, a lighthouse, enviable shingled real estate, and enough dining and drinking options that you'll wonder why all those whale belts are scurrying for the day's last ferry. Those itching to go a little farther afield can meander up the road to Falmouth, an under-sung Cape destination; the year-round Coonamessett is an overnight treat.
Where to eat: Morning java and a bread pudding made with Gosling's rum from Pie in the Sky, grilled cod burritos at Quick Holes Taqueria (open until late September), ferry-side margaritas at Landfall, and the oysters and short-rib burger with a view at Water Street Kitchen.
Distance from Boston: Two hours
Sign up here for our daily Boston email and be the first to get all the food/drink/fun the Hub has to offer.
Meaghan Agnew is a Boston-based writer who tries to get out of Dodge as often as possible. Find out how often by following her on Twitter and Instagram.