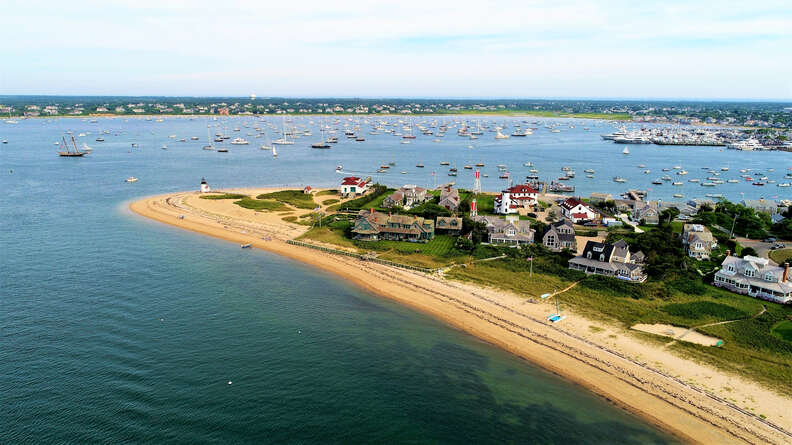 It's the least wonderful time of the year. The temps are still cold, the roads are still covered in salt and slush, and the next long weekend is far, far away (not everyone gets Patriots' Day off, you know). They don't call it mud season for nothing. Which means one thing: road trip. Shoulder-season travel is one of the clandestine pleasures of New England, what with the lack of traffic, the hotel deals, and the delightful dearth of clueless tourists. And while getaway options are fewer and farther between in spring, there are still plenty of vacay pleasures to be sussed out. Here's a roundup of some of the best weekend getaways to take this season.
Nantucket, Massachusetts
How far is it: 90-minute drive to Hyannis, one-hour ferry ride to the island
Is it too early to venture island-side? Au contraire. The scallop season runs through the end of March, the flowers start blooming in April, and plenty of restaurants and shops stay open all year. And while an off-season visit might deprive you of extensive sunning time (although we love an empty beach stroll), it gifts you with serenity, discounted hotel rates, and blooming vistas that let you savor the island's natural charms.
Where to stay: The newly restored Nantucket Hotel and Resort is the preeminent year-round go to: classically shingled and cheerfully decorated, with lots of little touches, from reading nooks to complimentary ferry pickup to yoga and barre classes at their club.
What to do: Stroll, shop, eat, repeat. Among the spots that stay open year round are Cisco Brewers (a New Yorker-free delight in the off-season); The Seagrille, the mid-island locals' favorite for fresh seafood; Dune, a nigh-impossible table to get in the summer months; and Bartlett's Farm, your one-stop shop for picnic provisions. Plus, the beloved American Seasons opens for the season on April 4. Now is also prime time to do the Sconset Bluff Walk -- you can gape at the shingled mansions without worrying a resident will catch you. If you're planning a little farther out, buy your tickets now for the Nantucket Food and Wine Festival, taking place May 15-19.
Portland, Maine
How far is it: Two hours from Boston
There's never a bad time to head to Portland, but here's the case for spring: your chances of getting a plum restaurant reservation go up about 1,000%. Yes, snow threatens through April, but the walkability of this tiny city softens the blow of trudging through wind and precipitation.
Where to stay: The Danforth is a newly opened boutique gem, a converted mansion in the West End neighborhood (which is sneakily becoming the coolest part of town). The Francis, another new boutique option, feels more like a stately home than a hotel (and will probably whet your Portland real estate lust).
What to do: Bon Appetit didn't declare Portland the "Restaurant City of the Year" in 2018 for nothing: you're here to eat. We're just going to list some of our newest faves: The Shop at Island Creek Oysters for bivalves and prosecco on tap; Bob's Clam Hut Portland for an off-season fried clam fix (and wintertime specials that are good through April 12); Chaval for seasonally inspired tapas; Drifter's Wife for natural wine pours (they reopened March 16). Worried you won't have enough time to eat it all? Sign up for one of the new Maine Food for Thought Tours. The indoor winter farmers market runs through April 20 and lets you sample the region's year-round farming bounty. If you're looking to offset all that indulging, check out the newish Root Wild Kombucha. But it's not just about dining. Whale-watching season kicks off in mid-April. And what better time to catch a Portland Sea Dogs game than on Opening Day, April 4? And start planning your return trip: the Portland Wine Week takes place June 17-23.
Newport, Rhode Island
How far is it: 90 minutes from Boston
We can't guarantee that the Cliff Walk will be free of snow, but we can promise you won't be shuffling behind throngs of tourists. And the 10-mile drive (full of explorable favorites like The Breakers and Rough Point mansions) is a lot more pleasant when you're not starting and stopping for two hours.
Where to stay: The party starts at Gurney's, a glam hotel on its own little island with Newport's only outdoor pool and primo sunset views (and two pet goats!). Or dip into your savings for a splurge at Castle Hill Inn -- even though the lawn doesn't officially open until Memorial Day, you can still grab an adirondack and watch the sailboats go by.
What to do: Hit up the jazz brunch at One Bellevue inside Hotel Viking, or take a schooner cruise of the harbor -- sails start at the end of April. Fulfill a bucket list item and take some surfing lessons in nearby Narragansett with Warm Wind -- thanks to the magic of wetsuits, you can hit the surf year-round. And prepare for festivals aplenty: the Newport Daffodil Days Festival April 13-21, the Craft Beer Festival April 26-27, and the Waterfront Oyster Festival May 17-19.
Lenox, Massachusetts
How far is it: Two hours-plus from Boston
No Tanglewood, no problem. It's easy to forget about the off-season pleasures of the Berkshires when you plan your visits around its high-profile venue. But the blossoming foliage, the reopening museums, and the still-quiet vibes make for a relaxing sojourn.
Where to stay: If you're looking to treat yourself, Blantyre is your ticket. The mansion's soup to nuts restoration last year has resulted in a singular, secluded retreat -- and did we mention it houses the first Dom Pérignon-inspired champagne salon in North America? If you're looking to kick off some healthful warm-weather habits, book a stay at the Kripalu Center for Yoga and Health -- or at least swing by to pick up the center's new cookbook, coming out April 16.
What to do: We are blocking out time right now for Baby Animals on the Shaker Farm (April 15 - May 7), which is exactly what it sounds like: up close and personal encounters with wee little lambs, calves, chicks, and piglets. Ioka Valley Farm opens up its sugar house through early April so that visitors can get an up close look at the maple syrup-making process -- and then eat some pancakes at the pop-up cafe to sample their wares. The Mount also reopens for the season on May 11, the ideal spot to take a nature walk or forest hike (and experience more real estate envy).
Providence, Rhode Island
How far is it: 60 minutes from Boston (car or bus)
It's strange how little love our Southern city neighbor receives. But the City on the Hill is a year-round gem, with its ever-growing cocktail and dining scene, its music venues, and its walkability.
Where to stay:The Dean Hotel is still the gold standard for boutique charmers, what with its cushy cocktail bar and the city's only karaoke lounge.
What to do: More eating! Recent openings include The Vig, The River Social and Sarto (Italian is a must in Providence); we're also here for RiffRaff, a new bar and bookstore in the Olneyville area. It also wouldn't be a culinary destination without a food fest -- the annual Eat Drink RI Festival (April 24-27) includes a Sommelier Punchdown and a Rhody Women's Feast to spotlight the state's most talented female chefs. For those more about art than food, Revelfest (April 17) is a multimedia '80s delight, and WaterFire starts back up in May. And be one of the first visitors to Rhode Island Distillers -- it just opened this March. If it's greenery you seek, take a trip to the Botanical Center, which gives you 12,000 square feet of greenery rain or shine.
Manchester, Vermont
How far is it: Three hours-plus from Boston
Vermont is a glorious four-season state, but fall foliage and winter skiing sometime drown out its other-season pleasures. Time to nip that in the bud: Manchester is the perfect spot to discover the state in spring, what with its hiking, off-road driving, and falconry. (You heard us: falconry.)
Where to stay: The Equinox Golf Resort and Spa is celebrating its 250th anniversary, which is the perfect excuse to visit this newly renovated historic inn. A special room rate of $176.90 includes welcome champagne and a buffet breakfast each day. The outdoor firepit means you can take your nightcap outside no matter the weather, and the pool is indoors, so you'll get your swim time snow or shine.
What to do: The Land Rover Experience is one of those things you have to try once: off-road driving lessons in $100,000-plus cars (Manchester is one of only three places in the US that offers this). And the Green Mountain Falconry School reopens May 1, affording you the chance to, yep, cast off an actual falcon off of your gloved hand to go hunting for quarry (we've tried it; it's amazing). End your day with a meal at the Silver Fork, a revelatory, lilliputian gem of a restaurant: six tables, five bar seats, and a seasonal menu with both Caribbean and European influences.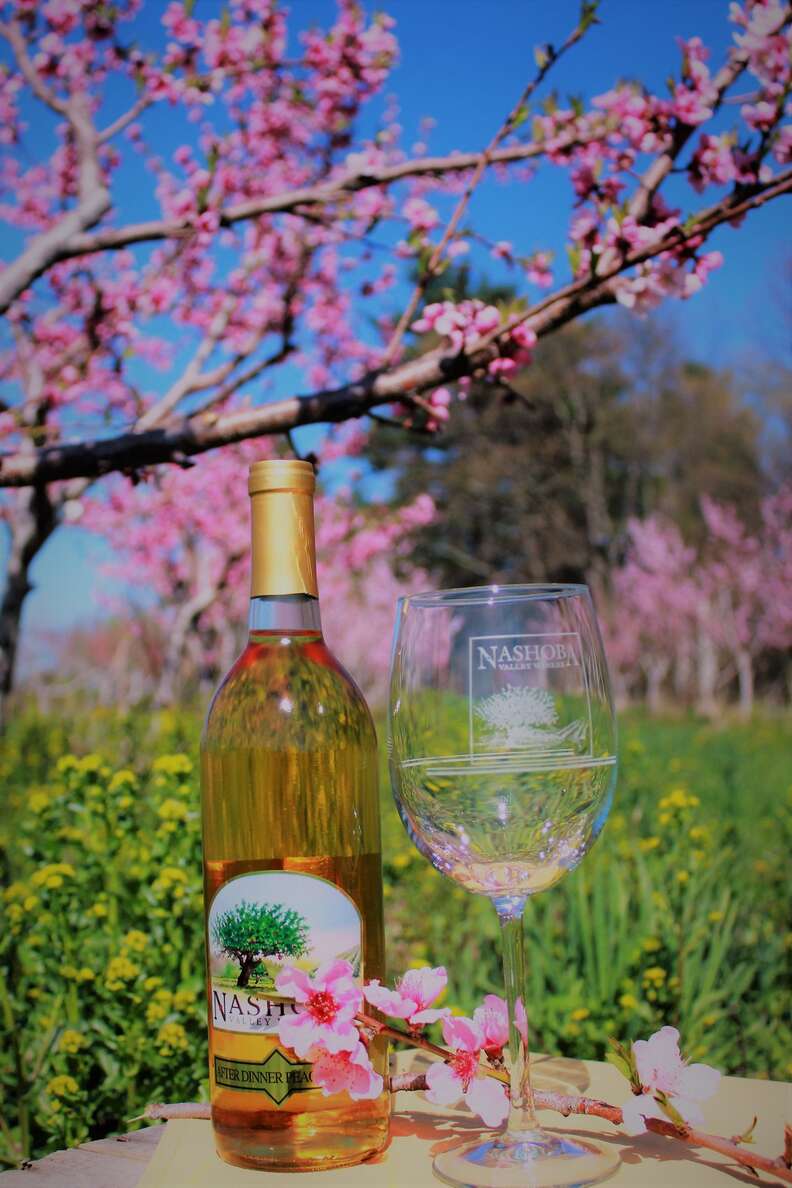 Groton, Massachusetts
How far is it: 50 minutes from Boston
It's not quite a staycation, not quite a road trip, but the perfect in-between getaway for those who don't want to lose time to long-haul driving.
Where to stay: The recently reopened Groton Inn is everything you want in an early spring New England getaway: a historic inn abounding in charming details and anchored by a roaring lobby fireplace that'll be going well into April. (The heated bathroom floors will also ward off any lingering spring chill.) Plus, the area's buzziest new restaurant happens to sit right behind the inn: Forge & Vine is a barn-like space specializing in wood-fired fare and interesting wine pours. If you're lucky, the temps will allow you to chill in one of the rocking chairs on the hotel's front porch.
What to do: The Luina Greine Farm lets you meet up with alpacas, never mind miniature donkeys and dwarf goats. Get some exercise by hiking the Nashua River Rail Trail, or see what critters you can spot at the Rocky Hill Wildlife Sanctuary (we're gunning for baby porcupines). Toast your back-to-nature habits with some locavore drinking at Nashoba Valley Winery (which also houses a brewery and distillery). And if the weather cooperates, you might get a chance to check out the swimming pool at swim-up tiki bar at Nashoba Valley; the pool is slated to open sometime in May.
Springfield, Massachusetts
How far is it: 90 minutes from Boston
Because gambling feels a lot better when the sun isn't blazing down.
Where to stay: Duh. The MGM Springfield is now fully up and running -- and it's fun! The casino gives you everything you want: slots, tables, free parking, fascinating people-watching, bars aplenty, and the 24-hour South End Market for late-night replenishment. An added surprise: the hotel rooms themselves are warm and eclectic in their decor; some of the suites even come with outdoor patio spaces (yes, they actually let you go outside here).
What to do: Truth be told, there's no reason to leave the property. The restaurant scene is genuinely on point, with The Chandler Steakhouse granting you Vegas-like extravagance and Cal Mare offering you a brunch menu that could go toe-to-toe with any South End spot. The spa is small but the treatments expansive (hello, vanilla bourbon massage). G-rated pleasures like bowling and the Topgolf Swing Suite offer a reprieve from the main-floor excesses. There's even a movie theater, for God's sakes. But on your way in or out, you definitely should hit up the Basketball Hall of Fame. And believe it or not, the new Dr. Seuss Museum is totally worth an adult visit.
Sign up here for our daily Boston email and be the first to get all the food/drink/fun the Hub has to offer.