Dating in the winter can get dull fast. How many seasons of Frasier and order-in Chinese food can you binge on before you're talking about Niles like he's your own brother? If you're done holing away and sick of the weather killing your date night plans, try heating up your weekend with one of these toasty ideas.
Skate at the Wharf
Seaport
If you've been to the frog pond a thousand times already and want a change of scenery, Rotunda Rink at Boston Harbor Hotel has excellent views of the harbor and the city skyline. It's only a $10 admission, and it's open every day. The daily Frost Tea at the hotel restaurant makes a beautiful and surprisingly filling post-skating meal (and you get champagne!).
Hunt down hot chocolate
It's a classic for a reason, right? Our favorite mugs are at L.A. Burdick, Cask 'n Flagon (for its variety of boozy cocoas), and the hot chocolate bar at the Ritz, where you can adorn your cup with more than 30 toppings while hanging out in front of a huge indoor fireplace. (The whole hot chocolate bar is only open on select Saturdays, but you can easily drop by for a single cup, too.)

Find free culture
Want to be indoors and not spend a ton of money? If your answer is 'sit at home,' boo to you: head to a free museum night, or check out the John Singer Sargent murals on the library's top floor. Even better, compete in one of many free museum scavenger hunts for adults.
Lincoln, NH
OK, so the Ice Castles aren't exactly saunas, but the chill gives you a good excuse to cozy up to your date. They're technically in New Hampshire, but the crystalline grandeur makes for a really romantic Instagram feed the next day. Plus, Lindsey Stirling filmed a video there.
Fly high at TSNY
Downtown
Get in the air circus-style at this indoor trapeze rig. Go on a date, a double date, a lots-of-people date, or a solo date and respectfully admire the gorgeous instructors all by yourself. It's so far from dinner and a movie, you'll be talking about it for weeks.

Cheer on the Bruins
TD Garden
There's ice, but you'll be far, far away from it! Show your spirit and get out of the house for the most brazenly Bostonian winter pastime.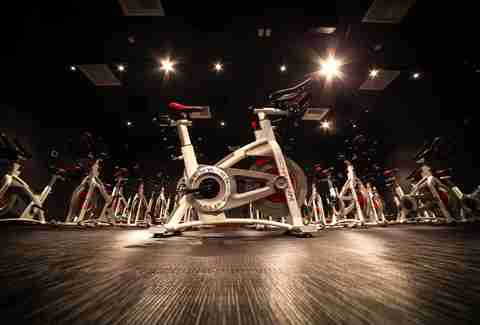 Break a sweat
Opportunities to ogle each other are pretty rare when it's sub-30 degrees. If you're looking for a chance to shed your sweatshirts, go out to one of Boston's latest high-heat workouts, like hot yoga or B/Spoke Cycling's HOT R/DE class, a "hill-heavy, bass bumpin' ride" where shirts are "optional; sports bras encouraged."
Get artsy
Show off your creative side by making something together at one of the city's new drink-and-draw concepts, like Paint Nite, or its terrarium-building sister, Plant Nite. Not only is it a break from the usual bar scene, you'll have something to bring home afterwards.

Sing your heart out
Because you don't really know each other until you've learned their karaoke songs. Try Wednesdays at Highland Kitchen (where we encourage you to eat the goat stew), Limelight Stage, Charles Playhouse Lounge, and Queeraoke at Midway Café.

Resort to drinking
What? It's festive. Check out one of our favorite fireplace bars, try a toddy (current fave: The Slainte at Taj), or aim for both at once (like the Mind Glow at River Bar).
Sign up here for our daily Boston email and be the first to get all the food/drink/fun the Hub has to offer.

Kim Prosise is a Boston-based travel and lifestyle writer who sometimes wears blankets as clothes.