The countdown has begun. Wait, no, the countdown is over, because the holiday season is totally upon us. So skip the Scroogism and spend the next six weeks embracing the city in all its cheesy, unironic, brightly lit holiday glory. Sure, that's a lot of shopping, eating, drinking, caroling, and oohing and ahhing at decorations, but we know you have it in you. Here is everything you must do in Boston during the holiday season.
November 15 - January 1
Rowes Wharf
When you need a break from mainland celebrations, hop aboard a 1920s-style motor yacht for a (literally?) rollicking holiday party. Classic Harbor Line rolls out specially themed cruises for the holidays; this year includes the Holiday Jazz Cruise, the Holiday Brunch Cruise, and the Holiday Sunset Cruise. And if you hate making NYE plans, just book their fireworks cruise and be done with it -- and add in the New Year's Day Brunch Cruise while you're at it.
Cost: $40-$75.
Use ZooLights as your excuse to talk with the animals
November 23 - December 31
Stone Zoo
Sure, it's kid-friendly, but it's far from kid-exclusive. Thousands of LED lights brighten up exhibits like the Yukon Creek pavilion and the Caribbean Coast display, your only chance in New England to meet a bush dog. You can also spring for a hot chocolate date with the zoo's reindeer and take a whirl on the carousel.
Cost: $8 Monday & Tuesday, $10 Wednesday, Thursday & Sunday, $12 Friday & Saturday.
November 23 - December 24
Kimpton Marlowe
Lots of meet-ups on your calendar ahead of the holidays? Just make this your go-to drinks spot for the next month. The halls of the hotel's Lobby Bar will be decked in ornaments, garland, and stockings as holiday music plays in the background; bartenders will wear their ugliest Christmas sweaters; and the drink and food menus will play off the holiday theme. Just beware: The Christmapolitan (vodka, elderflower, dry vermouth, spiced cranberry sauce, rosemary, lime, absinthe mist) sounds lethal.
Cost: A la carte.
Shop and then eat and then shop some more at the Holiday Cr[eat]or Market
November 24 - December 23
Boston Public Market
How often can you combine your food shopping with your gift shopping? The second annual artisan pop-up, happening on weekends up to Christmas, lets you peruse the wares of a rotating cast of regional artisans selling specialty foods, jewelry, artwork, and home goods.
Cost: The benefits outweigh the costs.
Blind yourself at Blink!
November 28 - January 1
Faneuil Hall Marketplace
Blink and you'll miss it. No, not really -- it's impossible to miss more than 350,000 LED lights wrapped around Faneuil Hall's 85-foot-tall Douglas fir and other trees around the property. And you certainly can't miss the actual seven-minute, musically timed performance, which begins its daily looping at 4:30pm.
Cost: Free.
November 29
Boston Common
This is the one you make time for. Mayor Marty Walsh kicks off the city's celebrations by lighting both the Boston Common Christmas tree and the string lights throughout the Common and Public Garden. Before the big reveal, enjoy skating performances on the Frog Pond; you might be inspired enough to hit the ice yourself later in the evening.
Cost: Free.
November 30 - December 24
Somerville Theatre
It's not so much a retelling as it is a bawdy reinvention of Tchaikovsky's ballet classic. (There's a reason John Waters is a massive fan.). The adults-only parody of the beloved children's show recasts the kids as adults with names like The Dildo Prince and adds in a bunch of burlesques, belly dancing, and hula-hooping.
Cost: $30.
Treat each other to a pre-holiday trip for the annual Nantucket Christmas Stroll
November 30 - December 2
Nantucket
It's as Brahmin as the season gets, but just embrace it: Nantucket lines its cobblestoned streets with hundreds of decorated trees (just beware the talking tree at the top of Main Street); there's also carolers, craft shows, special restaurant menus, and a visit from Santa, who arrives via Coast Guard cutter.
Cost: Free.
November 30 - December 2 & December 7-9
SoWa Power Station
Because gift shopping should be a joy, not a chore. Treat your friends and family to regionally made wares from more than 100 local makers; once you've maxed out your prezzie budget, head over to the Winter Wonderland on Thayer Street for a group art exhibit, live holiday music, holiday-themed workshops, and cocktails from Banyan Bar & Refuge.
Cost: Free to attend; $10 cash parking.
November 30
North End
The tight-knit neighborhood bands together for a night of late hours, one-off discounts, and holiday treats. A total of 15 indie boutiques and galleries will stay open until 10pm to encourage both socializing and spending. Just don't attempt street parking.
Cost: Free.
December 4 & 10
Shenannigan's
No Home Depot wreath for you! The folks from Market Floral Studio want to help you fashion a superior product. They'll supply the greenery and decor; just bring your vision and your willingness to be gently talked out of it. (Not everyone has good taste.)
Cost: $70, which includes wine and apps.  
December 5
Museum of Fine Arts
Because Christmas isn't the only game in town. Gawk at the massive menorah from local artists Silvina Mizrahi and Sean Clarke, then enjoy live music, tours, art-making classes, and a communal candle-lighting.
Cost: Free.
Remind yourself why you love this city at the South End Holiday Stroll
December 5
South End
The neighborhood nocturnal shop-a-thon is just one more reason why you covet South End real estate. More than 40 retailers stay open late to encourage your spending habits; while details are still in the works, expect complimentary wine and nibbles and a chance to win a South End-themed gift basket.
Cost: Free -- including free dessert at participating restaurants.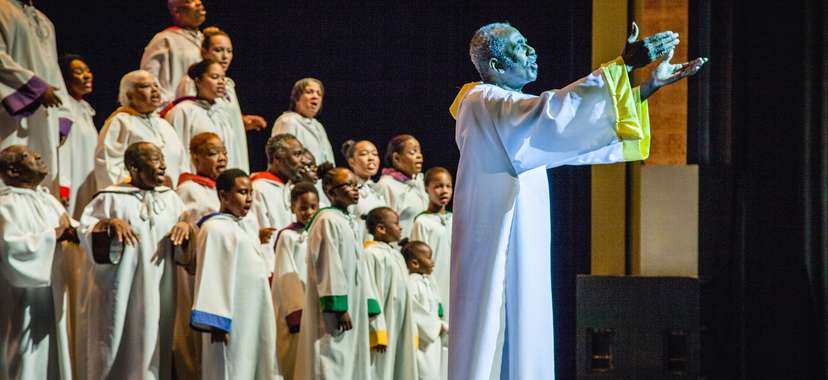 December 7 - 23
Paramount Theatre
Why? Because the annual staging of Langston Hughes' nativity retelling always sells out, and sells out quickly. The National Center of Afro-American Artists puts on a performance that melds scripture, music, dance, and Hughes's poetry.
Cost: Tickets start at $35.
Admire other people's gym routines (and show off your own) at the Santa Speedo Run
December 8
Back Bay
It's probably the most photographed event of the year, July Fourth be damned. Either cheer on or join some 700 scantily clad joggers as they take over the streets of the Back Bay wearing little more than red hats and itty bitty bathing suits. It's holiday exhibitionism for a good cause: the annual run raises money for Play Ball Foundation, which funds sports in Boston middle schools.
Cost: $30 to register.
December 11
ArtBar
Okay, so you don't actually get to bring your dog (that would be a mess). But you do get to treat them to a pup-friendly gingerbread house concocted from dog-safe cookies and icing. If you're good, you'll get a treat too: hot apple cider and hot chocolate, plus 20%o ff dinner at ArtBar once the class is done.
Cost: $40 per house (two people per house).
December 11
Fairmont Copley Plaza
Because we're tired of the tinies having all the fun. Adults get their turn at the decorating table, tossing back some distinctly adult drinks while adorning their edible real estate. Tickets include canapés and a glass of wine, and of course, your new masterwork to take home.
Cost: $85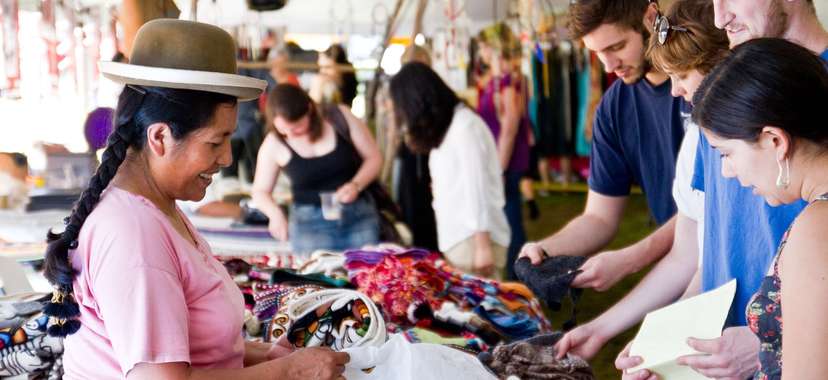 Thrive at the Cultural Survival Bazaar
December 15-16 & 22-23
Cambridge Rindge & Latin School and Prudential Center
Why buy predictable gifts on Amazon when you can buy singular gifts from international, free-trade vendors? Over two weekends, the bazaar lets you interact with indigenous artists, the better to learn about their jewelry, textiles, paintings, and more.
Cost: Free to attend.
Feel badly about your own decorations after the Illuminations Tour
December 15
Somerville City Hall
Somerville residents do not hold back during the holidays: over-the-top lights, ornaments, shrines, and inflatable lawn decor are all the order of the day. After a 45-minute trolley ride to take in all the holiday gaudiness, enjoy hot chocolate and cookies as you compare notes on the craziest houses.
Cost: $15 (cash or check only).
Keep the end-of-year celebrations above board at First Night/First Day
December 31 - January 1
Various locations
Some years you share a kiss with a near-stranger at midnight, and some years you aim to start the new year on a healthier note. The city's annual NYE celebration is all about G-rated entertainment, from dance lessons to ice sculpting to ice skating to live musical performances.  Just make your way to Copley Square before midnight, where the Copley Countdown includes a light and pyrotechnic show right.
Cost: Free (although you can donate to the cause.)
Sign up here for our daily Boston email and be the first to get all the food/drink/fun the Hub has to offer.