This again? Frigid mornings, 4pm sunsets, and snowpocalypse weather reports? Ah well, we knew what we signed up for. And Boston is getting better at this whole winter thing: more pop-up bars, more exhibitions, more dining events, and more all-around hygge (never mind all of the holiday-specific things to do). It's enough to make you want to swap the North Face for something a little more chic. Here is everything you must do in Boston this winter.
Make like a Norwegian on the Sky Bar terrace
Through March 31
YOTEL Boston
Why should you give up rooftop drinking just because the temps are below zero? For the first time, YOTEL's Sky Bar is keeping its outdoor area open year-round, with blankets, heaters, and even European-style water bottles at the ready to keep you cozy. Even cozier: hot cocktails and four-cheese fondue, available only in the winter months.
Cost: A la carte.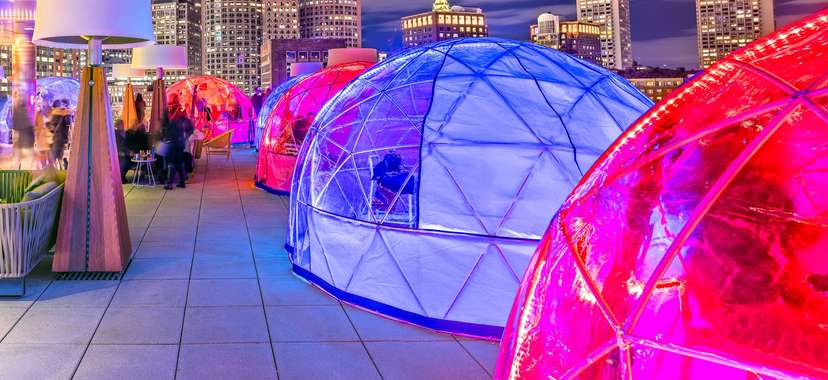 Through March 31 (weather depending)
Lookout Rooftop and Bar
The city's coolest wintertime drinking experience is back. This year the hotel has nine heated domes on its rooftop bar patio, which can accommodate up to 10 adventurers still eager to take in the city skyline. Order piping cocktails like the Snuggle Juice (Stolen Rum, Amaro Nonino, cider, caramel) simply by pressing a button -- only then will a waitstaff member enter, the better to keep the igloo heat contained.
Cost: Igloos are available on first-come, first-served basis with no fee; can be reserved for groups.
Apres-ski without all the hassles of, you know, skiing at The Lodge at Publico
Through March 31
Publico Street Bistro and Garden
The best kind of encore. On Fridays through Sundays this year, Publico will once more turn its atrium into a ski lodge-like oasis, with flannel blankets, squishy pillows, artificial snow, and roaring fire pits. The special food and drink menu includes its biggest hit from last year, the Shot-Ski: up to four housemade shots thrown back from a custom ski. Keep tuning in for special one-off events like the December 9 Ugly Sweater Tailgate Brunch.
Cost: A la carte.
Tap into your inner Canuck with some curling
Through February 28
Liberty Hotel
Remember that Canadian dude who was double-fisting beers at 9am as he cheered on his wife's curling team at last year's Olympics? That's when we all fell in love with the sport. Try your hand at the slipping, sliding, and sweeping on Mondays and Wednesdays (4-8pm) on the hotel's newly built outdoor rink, then duck into CLINK for some apres-curling cocktails and snacks.
Cost: Free; reservations can be made via clink@libertyhotel.com.
Through January 31
Eataly Boston
A pop-up entirely devoted to Italian truffles and wine? Where have you been all our lives? Tuber-load on deliciousness like a brown-butter braised egg topped with shaved truffles and Afeltra pasta with housemade sausage and black truffle cream, and pair the decadence with wines from the same Piemontese region as the truffles themselves. But get there quick: The pop-up technically runs through the end of truffle season, which could end well before January's end.
Cost: A la carte.
Advertisement
Between the holidays and finishing out the year at work, your calendar can fill up fast in the colder months. But whether your winter plans involve heading out to a new bar opening, onto the open road, or to the office, Wrangler has new styles and comfortable fits made for wherever life takes you -- so you won't have to think twice about what to wear.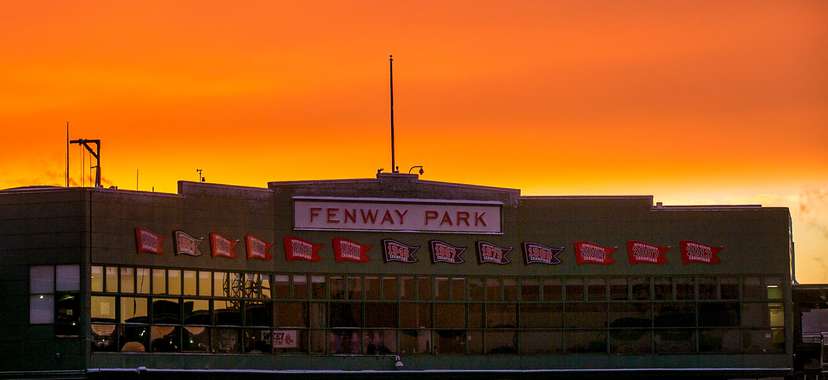 Explore the neighborhood's wintertime offerings during Four Days of Fenway
December 6-9
Fenway
Haven't been back since the World Series? Find out why the Fenway area is a year-round destination with a four-day bash that has you exercising with the November Project, eating and shopping your way through the neighborhood, popping into a one-day winter lodge pop-up at Burton, and belting out your blues at Hojoko's karaoke.
Cost: Free.
Dine like you have an expense account during the Grill 23 & Bar holiday lunch
December 10-14 & 17-21
Grill 23 & Bar
Live the three-martini life as Grill 23 opens its doors for its annual, two-week lunch service. You can nab a spot near the fireplace and enjoy decadent dishes like steak frites ($33), lobster roll ($36), or the wide array of a la carte cuts, from the 10-oz filet mignon ($51) to the 100-day aged prime ribeye ($59).
Cost: A la carte.
December 13-February 23
Museum of Fine Arts
His nature photos stand alone. But when placed alongside both old geographical survey images and the works of contemporary artists -- may of whom shot similar locales and explored related themes -- Adams' work gains added resonance, especially in this era of accelerating climate change.
Cost: Free with admission ($25).
JANUARY
Slip and slide your way through the Ice Castle
January 1-March 31 (tentative)
Lincoln, NH
Did you know there are such things as icicle farmers? And that they've been spending months "growing" icicles in the now-annual construction of a massive, brightly lit, interactive ice fortress?  Of course, all you really need to know is that said enormous fortress, will soon be open to the public (keep checking the website to confirm the opening date).
Cost: $15.95 (tentative).
January 1
BCYF Curley Community Center
Why not make this your year? Anyone can join the some 600 crazies who plunge into the frigid Boston Harbor waters. Costumes and courage encouraged.
Cost: A stable body temperature.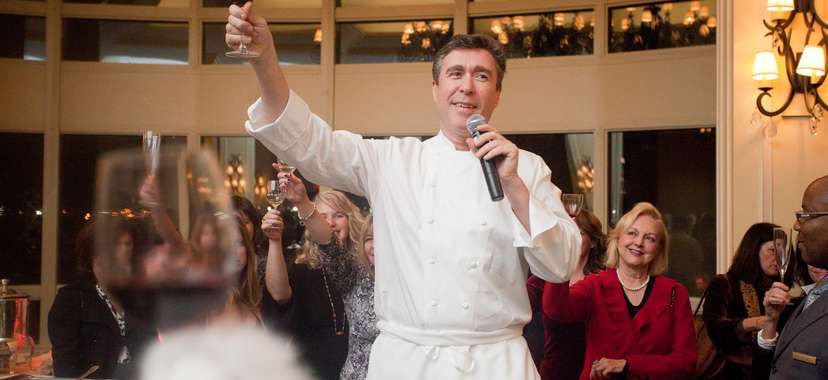 January 11-March 29
Boston Harbor Hotel
This 10-week food and wine fest is celebrating its 30th anniversary this year, which makes it the longest running wine fest in the country. Among the new offerings this year is Uncorked for a Cause, a walkaround reception that benefits Share Our Strength. Otherwise, you can expect another eye-widening array of special-occasion tastings and dinners savored harborside.
Cost: Event tickets start at $110.
January 18-20
Seaport World Trade Center
Not all of us have the means to book a deep-winter getaway before the holidays, but it's never too late to freshen up your IG feed. Hundreds of exhibitors clue you into lesser-traveled global locales, many of which you can book on the spot (or win through giveaways). At the least, you can drink international brews at the craft beer pavilion and pretend you're on a faraway beach somewhere.
Cost: $10 in advance, $15 at the door.
January 19
Joppa Flats Education Center
Well-known fact among aviary enthusiasts: Winter is a great time for bird-watching. Both newbie and seasoned birders will gather for a 12-hour, daylong competition to see which biring team can find the greatest number of species. No word on whether Jonathan Franzen will muscle his way into the proceedings.
Cost: TBA; last year's registration fee was $30 before January 1 and $35 after that.
January 25-27
Mohegan Sun
Maybe the Pats will be in the Super Bowl, maybe not. But either way, you have a final bye week to fill -- and what better way to do so than with three days of wine tastings (bourbon and beer too!), dine-arounds, and a little post-vino gambling to fill your downtime?
Cost: Grand tasting is $99; designated driver ticket is $20.
January 26
ONCE Somerville
Prepare for a little medieval cosplay at a 10-course, Viking-themed meal from Cuisine en Locale. The meat-upon-more-meat spread is still TBD, but last year's feast included roasted leg of lamb, cheesy oat porridge with smoked ham, and goat stewed in mead with root vegetables. All we do know is that all of the ingredients will be local, and that there will be arm-wrestling afterwards. Good enough for us.
Cost: $75-$100.
FEBRUARY
Show your love of sours during the Extreme Beer Fest
February 1-2
Seaport World Trade Center
Just the other day we witnessed an older man order a sour and then spit it out in horror. The creative brews aren't for everyone. But adventurous palates will revel in the more 400 beers from 120 brewers that push brewski boundaries.
Cost: $65 per session.
February 8-9
Fenway Park
Haven't heard of Ice Cross Downhill? Well then, meet your new favorite sport (next to curling, of course). Skaters race four at a time, shoulder to shoulder, reaching speeds of up to 50 MPH on the downward track that also includes jumps and chicanes. The 2,000-foot custom course plays to the natural layout of Fenway, with races beginning in right field and rounding the bases before ending at home plate.
Cost: $25-$125.
Shake off those mid-winter blues at Fire & Ice
February 8-9
Castle Hill on the Crane Estate
February can be tough (where art thou, Vitamin D?). Enter the Trustees, who are opening up the Crane Estate for a first-ever winter's night of bonfires, hot foods, fire juggling, and ice bars. Tickets include parking, admission, and food, but extra for the cash bar. (Saturday has just sold out, FYI, so nab those Friday night tix ASAP.)
Cost: $40 Trustees members, $50 nonmembers.
Combat the city's homelessness during the Winter Walk
February 10
Copley Square
It's a problem that's not going away. So join a large group of both housed and unhoused Bostonians for a two-mile walk around the city to raise funds for local homelessness organizations. The walk begins and ends in Copley Square; afterwards, participants will linger to break bread (literally) and keep moving the dialogue forward.
Cost: Registrants commit to raising a minimum of $100 or donating that amount up front; those who cannot walk can still donate here.
Pull out your warmest intimates for Cupid's Undie Run
February 16
House of Blues
So first off, the run is barely a mile. Second off, there's a huge dance party immediately after. Third off, underwear-related costumes are also allowed. But most importantly, your quick strip-down act is for a great cause: The money raised goes towards helping to find a cure for neurofibromatosis, or NF.
Cost: $30 registration fee.
February 23
House of Blues
Remember how you spent all those warm summer nights at music fest after music fest? Pre-game next year at an indoor global music performance featuring three stages and at least 11 performers, including headliner Angelique Kidjo.
Cost: $48 general admission.
MARCH
March 9-10
The Castle at Park Plaza
Isn't it maddening when all the city's best food events sell out way in advance? But this year, you can get ahead of the madness -- tickets go on sale sometime in December (keep checking back). Explore distilleries both new and seasoned, as well as bacon-forward dishes from pork belly-obsessed area chefs.
Cost: TBA.
March 17
South Boston
I mean, you know about this one already. But this is the rare year when the holiday coincides with the actual parade day, which means even more green-hued debauchery. Request that Monday off ASAP.
Cost: Free.
March 29-30
Cyclorama
Again, do we even need to sell you on this? We're talking 25 regional beer and cider brewers and 12 local creameries to stuff you full of dairy and carbs; when the protein munchies hit, there's also all sorts of charcuterie on hand. These tickets also sell out early and are available now, so chop chop.
Cost: $60.
Sign up here for our daily Boston email and be the first to get all the food/drink/fun the Hub has to offer.