Stop kvetching about the bygone summer -- we have a glorious fall to look forward to. This is New England's annual calling card, after all. So it's time to get down to basics: pumpkin lattes, LL Bean fleeces, and autumnal events both iconic (hello, Head of the Charles, our old friend) and just-debuted (hello, Cisco beer pop-up, our new friend). You can kvetch in February.
Recommended Video
The Definitive Eggnog Recipe You Need for the Holidays
Through late fall (weather dependent)
Seaport Boulevard (west of District Hall)
Contrary to some contrarians, we can never have too many beer gardens in this city. Even better: This one caters to our summer nostalgia. Wednesday through Saturday, you can imagine yourself back at the Nantucket enclave as you drink your way through all your favorites on tap, plus Nantucket Vineyards wines and Malus Malum ciders. Even better? There are oysters and tacos courtesy of Loco Taqueria & Oyster Bar. Even better better? A portion of proceeds this fall go to the Massachusetts Fallen Heroes Memorial Fund.
Cost: A la carte
September 8
City Hall Plaza
The inaugural event takes its cue from Asia's night markets, themselves a maze of food and merchandise stands. More than 30 food and goods vendors will mix it up with games (water pong, ring toss), eating contests, live performances, and a raffle.
Cost: General admission is $10
September 8
Pinebank Baseball Field
It's our favorite math equation: two stages + seven hours of live music + myriad local food trucks = 14 hours of quintessential JP entertainment. It's one of those iconic fall weekend events that makes you wish you'd chosen to settle in a different zip code.
What it costs: Free, but consider donating to keep the dream alive
September 9
Secret venue
If you, like us, blanche at even wearing a white T-shirt because of the spill factor, then this might not be for you. But if you sport your palest shades with the confidence of Gwyneth Paltrow, then by all means join the lovely, annual picnic dinner that sees thousands of your fellow denizens don their best color-free ensembles.
Cost: $43 plus $9 membership
September 11-15
Somerville
It's a local comedy contest, yes, but also a cornucopia of film screenings, game show parodies, and headlining acts like Emo Philips and Ophira Eisenberg.
Cost: Varies
September 15-16
South End
It's fun to pretend to know something about art. And on this weekend, all philistines are welcome: Chat with tons of local artists, complimentary wine perpetually in hand, as you leisurely explore the cultured landscape of the neighborhood. And psst: You're an adult now -- you can actually consider buying something.
Cost: Free
September 15
Bon Vue Inn, Narragansett, RI
A prime example of why we love New England in fall: a just-debuted fishing contest sponsored by our region's most iconic beer. The first annual tournie offers a thousand buck prize to whoever brings in the greatest specimen of bluefish, sea bass, and tautog. Most importantly: There's a fish fry immediately after.
Cost: $50 entry fee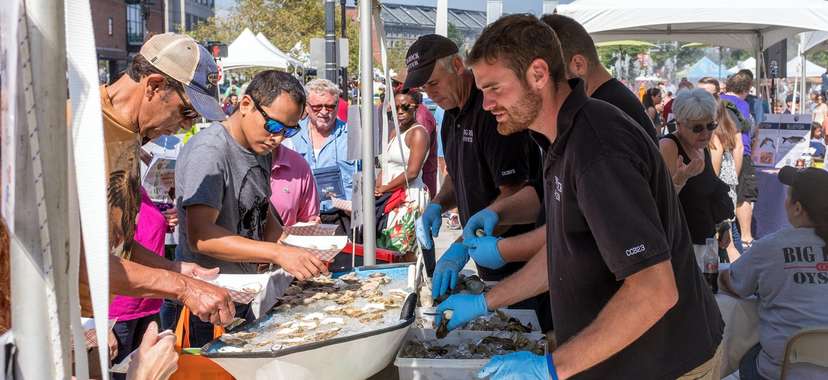 September 16
Various locations
A second reminder of why we love New England in the fall: free samples aplenty; a chance to chat with regional farmers, fishers, and purveyors; a seafood throwdown competition; and lots of live performances. And we have yet to attend when the sun wasn't merrily shining along.
Cost: Free
September 19-22
Rhode Island Convention Center
It's the sleeper fashion event of the season, and well worth the mere 50-minute train ride down. Oh, and have we mentioned that Providence hosts the annual Ocean State Oyster Festival that Sunday?
Cost: Varies
September 22
Saltbox Farm
Some lawn games, a little live music, and a spread celebrating the farm's bounty: grilled corn elote, tomato salad, and for the main course, a whole roasted pig. Oh, and Saltbox Brewery beers on top of the wine and mocktail selection. May autumn last forever.  
Cost: $65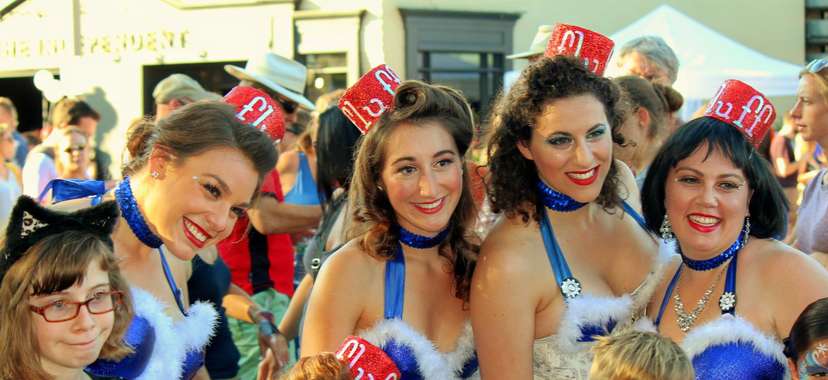 September 22
Union Square
Yup, Somerville is the birthplace of Fluff. And yet, no one ever quite believes it, which is why said Fluff fest is now into its 13th year. This year's theme is "Fluff the 13th" -- expect lots of plays on the unlucky theme even as you eat, play, and pretty much bathe in the glorious, sticky stuff. Sounds lucky to us.
Cost: Admission is free
September 23
South Hollow Spirits + Truro Vineyards
Because the Cape is much better after Labor Day, and because wine is never a bad idea. It's the vineyard's annual say goodbye to summer romp; pull up a beach chair and enjoy live music, signature cocktails, food from the Blackfish Food Truck (we dream about their fried cauliflower year-round), and of course, the actual grape stomp. (Kids go first? Whatever.)
Cost: Free admission and parking
September 23
University Park
In an homage to local legend Joyce Chen -- she who coined the regional term "Peking ravioli" -- 15 local Chinese restaurants will feed the masses en masse. What better way to fuel up for flea market browsing than by gorging yourself on a stuffed-dough feast?
Cost: A la carte, dim sum style
September 29-30
Innovation and Design Building
Is lumbersexuality still a thing? Time to find out, as you shop your way through an Americana smorgasbord of plaid shirts, leather belts, and urban-camping ephemera aplenty (sure, who doesn't need an artisan ax?).
Cost: Free to attend
September 29-30
Wachusett Mountain
Time for some meat sweats. Think chili, pulled pork, a pig roast, pies, and more, plus less weighty fare like a farmers market and a craft fair.
Cost: $9 in advance, $12 at the door, plus food tickets
September 29
Columbus Avenue, Mass Avenue to Burke Street
It might be your last block party of 2018, so make it count. Eat, drink, be merry, and above all listen to as much jazz, Latin, blues, funk, and groove as you can. Once you've felt the urge, head to the instrument petting zoo for a little noodling ("Stairway to Heaven" totally allowed!).
Cost: Mostly free
September 30-October 6
Various locations in Boston
We're here, we're stylish, and we're tired of the North Face tropes. So celebrate all of our local designers and shop owners, via runway shows, exhibits, and yes, cocktails galore.  
Cost: Varies
October 13
Copley Square
We'll just leave this here: Doris Kearns Goodwin, Michael Pollan, and Tayari Jones, to name but three. Drink deep their creative juices and get your own flowing during the annual Copley Square effort to make reading cool again.
Cost: Free
October 20-21
Cambridge
It's the next best thing to dropping the H bomb: mingling at the most Brahmin event in town. Oh, and the athleticism is genuinely worth cheering on. Just prepare for all four seasons of weather -- the weekend typically sees at least two dramatic changes in temps and conditions.
Cost: Your voice from all the cheering
October 25
The Strand
It's Dorchester's first-ever short film fest simultaneously celebrating 100 years of the historic Strand Theatre. Enjoy drama, comedy, action, and and animation; Oscar nominees and Sundance winners; and a chance to gawk at the theater's restoration and Dorchester's ever-burgeoning drinking and dining scene, both before and after.
Cost: $20
October 27
Coolidge Corner Theatre
So much better than a sexy kitten weekend. It kicks off with Alien and War of the Worlds (1953 edition); from there, the other four movies are a secret until showtime, although pretty much assume you're going to jump in your seat more than once.
Cost: $25-$30
November 9
Cyclorama at Boston Center for the Arts
It's simple, really: 25 local craft breweries and cideries, seven local BBQ spots. Seriously, you're either in or you're out.
Cost: $60
November 18
Flynn Cruise Boston
Lovin' Spoonfuls is one of the city's most revered food charities, feeding others through resources that might otherwise go to waste. Support the effort by dining with a variety of celebrated chefs at the urban-tailgate party. The price may be steep, but the cause is well worth the price -- and this year, Elizabeth Warren is an honoree.
Cost: TBD
Sign up here for our daily Boston email and be the first to get all the food/drink/fun the Hub has to offer.