Ah, Boston. What a gem of a city. A gem made of lobster, dipped in cheap beer, rolled around in soot, and covered in baked beans. If you can't gather that someone's from here with their accent (celebrity or not), it's that irreverent demeanor that'll tip you off. There's really no place on earth like this small Massachusetts city -- one steeped in history, brotherhood, and the remnants of a horrific molasses flood. If you live here, chances are you've experienced some "Boston" moments that'll only be understood by other residents, things that probably won't happen anywhere else. These things. 
Recommended Video
This Chinese Festival Is Like 'Frozen' Come to Life
1. Participating in a city-wide riot after your team wins or loses.
2. Meeting a miserable film student who goes to Suffolk because Emerson turned him down.
3. Watching a West Side Story-style gang fight between MassArt kids and Wentworth guys in Mission Hill.
4. That internal conflict when you want a tattoo but that crummy place in The Garage quotes you way too much money.
5. Going to a really shitty party in Allston and being charged at the door.
6. Participating in Allston Christmas and then getting bedbugs.
7. Throwing up in the bathroom of Anna's Taqueria.
8. Killing time at Newbury Comics while waiting for dinner at Charlie's.
9. Taking your out-of-town relatives to Mike's Pastry.
10. Tactfully avoiding the Spare Change Guy while walking in Downtown Crossing.
11. Making fun of the duck boat losers who drive by on Park St.
12. Waiting in line at the Regina's in North End before giving up and going to the one in South Station.
13. Getting coffee from Honey Dew Donuts because the line at Dunkin' is too long.
14. Coming upon a murder scene and then finding out it's just a film shoot with Emerson kids.
15. Having to leave the best party ever because the T is about to shut down.
16. Building a lunch out of free samples at Faneuil Hall.
17. Going to Dick's Last Resort and laughing on the outside while crying on the inside.
18. The words "wicked" or "pissah" being used unironically.
19. Running into your ex at every single bar you go to because this goddamn city is so small.
20. Heavily critiquing The Departed and The Town before realizing they're magnificent movies that don't deserve critiquing.
 
21. Having to explain to outsiders that Cheers is a bar, but nobody knows your name.
22. Finding a reason to curse out the annoying kids from [INSERT NAME OF UNIVERSITY HERE].
23. Realizing you have to avoid all cafes Monday-Friday during every school semester.
24. Walking around Faneuil Hall with your parents for the 400th time.
25. Attempting to get anywhere outside of downtown on the MBTA, but realizing it would be quicker to walk the 300ft-long city.
26. Talking to someone who isn't in college and realizing it's the first real conversation you've had in months.
27. Seeing Dropkick Murphys for the 10th time in a week. Just around the city... not even at a show. 
28. Being offered a free "cup o' chowdah" by every restaurant, hotel, bar, and bookstore if you can recite one fact about the Red Sox.
29. Going to Fenway on a weekend night and seeing a fight break out because someone said a word that sounds like "Yankee" (e.g. hankey, lanky, panky).
30. Attempting to traverse the city in a car, only to realize you turned down the wrong Tremont or Boylston and now you're in Dorchester.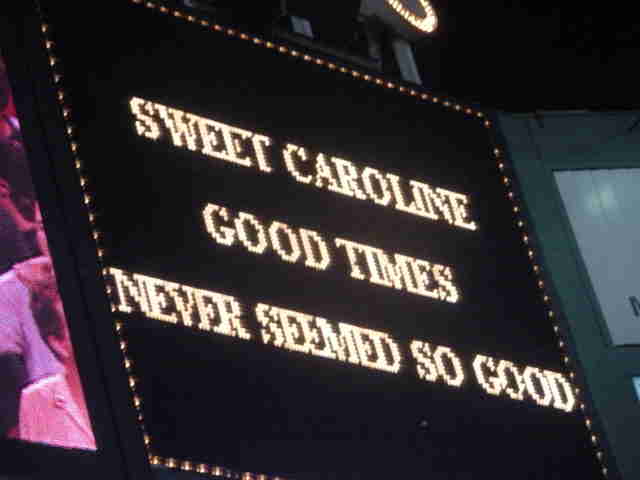 31. Feeling a strange comfort in the blatant racism that permeates the city. At least you know who to avoid. Everyone.
32. Hanging out with your 39-year-old townie roommate in Brighton who's in a "promising" band. (It's a Dropkick Murphys cover band.)
33. Getting weird backhanded compliments like "You look less queer today" or "My dopehead cousin has that jacket, it's wicked sweet."
34. Hearing "Sweet Caroline" being yelled off in the distance by two different groups of people on a Saturday night. 
35. Going to Southie and realizing the Boston accent is actually played down in movies about Boston.
36. Accidentally stepping on a hypodermic needle in Southie (true story). Seriously, heroin's a huge problem in Massachusetts.
37. Someone's wearing all green and is covered in shamrocks and it's not St. Paddy's Day.
38. Scanning the bar for attractive women and realizing it would be better to go home alone.
39. Defending your apartment in Mission Hill by telling people the area's not as "stabby" as it used to be.
40. Feeling like you've moved up in the world because you have a new place four blocks away from where you lived in college.
41. Understanding "getting out of city" means going to the Target in Somerville.
42. Reminding people that Cambridge isn't part of Boston.
43. Pretending to believe it when your townie friend talks about moving to New York.
44. When you can't tell if the guy you're talking to at the bar is Irish or intoxicated. Or both.
45. Forgetting your ID at Blanchards, because that place cards every single time.
46. Peeing under a Charles River bridge.
47. Finagling a sexy sleepover by "accidentally missing the last train."
48. When you kiss that statue at Harvard before remembering you're supposed to piss on it.
49. Ending up at the Silhouette Lounge because Deep Ellum was too crowded.
50. When you step on a rat right before you walk into a pigeon.
Sign up here for our daily Boston email and be the first to get all the food/drink/fun the Hub has to offer.
Jeremy Glass is a writer for Thrillist and actually really loves The Silhouette Lounge.