We all know the drill: Boston isn't exactly a nightlife town. "Early to bed, early to rise" is the mantra many have been reluctant to adopt, thanks to early last calls and even earlier last trains.
And yet! Rideshares may have made our terrible traffic worse, but they've also made it a lot easier to party like the big kids. And it's not that our city actually lacks for post-sunset shenanigans. Scratch the surface and you'll find there are plenty of reasons to be out and about past your bedtime. From evening museum visits to late-night disco parties to 24-hour bakeries, a moonlit Boston actually has decent selling points. So if it's a glimpse beyond the daytime curtain you seek, here is what to do after hours in Boston.
BU campus
Every Wednesday night, assuming clouds don't rain on the parade, the Boston University Coit Observatory opens up its facilities to the non-scientific multitudes. The viewing starts as late as 8:30pm and goes for about an hour, leaving you plenty of time to dumpster-dive for dinner.

South End
Pull out your beret. Every first Friday evening of the month, the SoWa arts district goes public, with artists flinging open their studio doors and galleries staying open late so you can pretend to understand what you're looking at. Plus, there's plenty of gratis wine and cheese.
See an outdoor movie
Citywide
In the summer and through the early fall, the city is overrun with free second-run screenings. The Hatch Shell mostly focuses on family fare, while the Boston Harbor Hotel shows newer classics (Jaws! Back to the Future! Toy Story!) on an inflated outdoor screen. But the city also screens movies in smaller parks throughout Boston, Cambridge, Brookline, and Somerville.
Central Square
A4 Arcade is all about the simple pleasures: '80s arcade classics (Galaga, Ms. Pacman), grilled cheese and soft serve from the adjoining Roxy's Grilled Cheese, and potent cocktails to help get conversations flowing freely.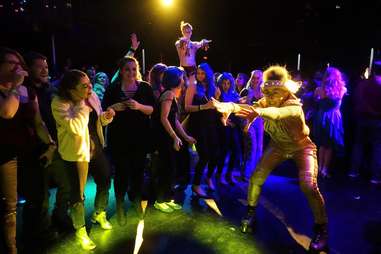 Harvard Square
The Donkey Show at Oberon has to be experienced to be believed, a show full of mirrored balls and feather boas and roller skates and disco tunes galore, all inspired, incongruously enough, by A Midsummer's Night Dream. The dance party continues long after the show ends -- take a spin on the floor and then take all that sexy energy home with you.
Show off your trivia prowess
Citywide
Everyone knows we're a bunch of smartasses, so why not show it off? There's a trivia night for every nerd in town, whether it's a chill evening at Bella Luna & The Milky Way, a tequila and BU student-fest at Sunset Cantina, '80s music and MIT know-it-alls at Phoenix Landing, or Sunday evening trivia in the shadow of the State House at 21st Amendment.
Canton
Winter is still but an abstract concept, but it doesn't hurt to plan ahead. Did you know that Blue Hills is just a few miles south of Boston proper and is even accessible by public transit? Not only that, but tickets after 5pm are just $30 and still grant you four hours on the slopes thanks to the ski area's flood lights.
Somerville
Tired of catering to the whims of your (or your friends') children? Reclaim that time on the third Wednesday of every month when the Assembly Row playland kicks out the young'uns and lets adults ride the rides and play with the exhibits without fear of disapproval from both parents and kids.
Coolidge Corner
You can always Netflix some '80s horror movie at home in your PJs, but how often can you catch that same B-grade classic in an Art Deco movie house? On Friday nights at 11:59pm, Coolidge Corner Theatre shows all manner of underground showpiece that are well worth the late-night venture. (And who says you can't still wear your PJs?)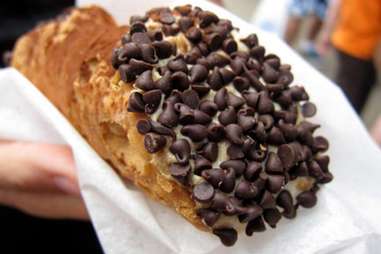 Go on an overnight cannoli run
North End
There's a singular pleasure in wandering the North End in the middle of the night: the cobblestoned streets, the smell of baking bread, and -- wait, is that an open bakery? Bova's Bakery, purveyor of arguably the best cannoli in town, also happens to keep 24-7 hours. And why limit yourself to a 3am cannoli when tiramisu, cream puffs, and red velvet whoopie pies are also on the menu?
Commit to a night of natural wine
Citywide
Who'd a thunk natural wine would become so ubiquitous around these parts, never mind that it would turn out to be so fun? But some of the city's best bars right now are natural wine-centric, including Rebel Rebel, Nathalie in the Fenway, and the Tasting Counter's late-night wine bar. What does it all mean? A much lighter hangover the next day.
Dorchester
Why hit the clubs when you can hit the lanes? The 24-hour fun-o-rama includes both regular and candlepin bowling on top of billiards, batting cages, and an arcade. Yes, there's food and beer, and there's even a separate adults-only "Xperience" bowling corner complete with a private bar (though that sucker only stays open until 2am on Saturdays).
Back Bay
Don't let the restaurant's reinvention cause any stir: Uni's late-night ramen is still there. For years, those with a hankering have been gathering well before the 11pm start time to nab a first-come bowl of the revered $10 deal. The special happens every Thursday, Friday, and Saturday night, goes till 1am, and is best enjoyed with a group that doesn't mind conspicuous slurping.
Forgo McDonald's for a better late-night burger
Citywide
We totally understand a night's end hankering for beef and bread. But there are much better options than the drive-thru. Boston Chops does a late-night, $6 cheeseburger with all the classic fixins and a three-buck shot of Fernet. Charlie's Kitchen slings its famous double cheeseburger until 1:45am on Thursday through Saturday. The Tasty Burger in Harvard Square stays open until 4am on the weekends. Deep Ellum's late-night menu includes a classic quarter pounder with cheese for just six bucks. We convinced you yet?
Follow the lead of your LGBTQ brethren
Citywide
Some of our most iconic gay clubs may have gone poof in recent years, but the LGBTQ stalwarts endure. Hit the dance floor at South End institution Club Cafe, catch a game at Cathedral Station, meet the bears in a cave that is The Alley, hang with the leather granddaddies at The Eagle, or keep the night calm at The Trophy Room.
Dumpling hop in Chinatown
Chinatown
There really is nothing not to love about Chinatown (unless you're a vegan), but it wins special accolades for having long saved the city from its still-hungry-at 3am self. Wander the streets way past your bedtime and you'll shake your head at how much remains open (Peach Farm is the gold standard). Is there alcohol to be had? Ask for "cold tea" and see what happens. And don't forget South Street Diner just around the corner, one of the city's rare 24-hour greasy spoons.
Davis Square
Sure, there's probably no cheesier Tufts University dating maneuver than taking a potential paramour up to the library roof at night to see the city skyline. But! The rooftop is also open to anyone willing to climb the outdoor stairs. And it's actually kind of cool -- and free.
Burrow into bivalves past midnight
Citywide
Happy-hour oysters can be found on pretty much every corner at this point, but the late-night one-buck shucks require a little more sleuthing. Okay, fine, we did the sleuthing for you: Spots like Russell House Tavern, Grafton Street Pub, Il Molo, and State Street Provisions offer up $1 oysters starting at 10 or 11pm, a far cry from the boxed mac and cheese you're used to after an early T ride home.
Get jazzy
Citywide
It's clandestine to be sure, but we have ourselves a decent little jazz scene. Wally's Cafe is the standard-bearer, an intimate, 70-year-old mainstay housed inside a brownstone. The Beehive, right around the corner, is cavernous but still casual. The Lounge at the Top of the Hub -- a haven for tourists -- actually features live jazz every night and stays open until 1am. Across the river, Regattabar and Scullers both grant you your bebop fix.
Plan a night at the museum
The Fenway/Seaport
Art-gazing isn't just for daylight hours. Every Thursday night from 5 to 9 p.m., admission is free at the ICA, and on the first Friday of every month, both the ICA and the MFA throw an adult party that runs until 9:30pm.
Downtown Crossing
Sorry, cynics: Escape rooms are fun—and Escape the Room offers three different rooms with nighttime ticket hours. Choose The Apartment for the most city-themed challenge.
Bay Village
You'll swear you're in the wrong place until the moment you slip inside. Seven nights a week, the showgirls of Jacque's Cabaret treat you to all manner of performative raunch, from drag karaoke to drag stand-up comedy. It's a magnet for bachelorette parties and birthday babes, sure, but also medical students, strippers, suburbanites -- anyone aware of the cabaret's allure. The tiny, well-heeled enclave of Bay Village seems an unlikely home for the city's best drag shows, but here we are.
Sign up here for our daily Boston email and be the first to get all the food/drink/fun the Hub has to offer.
Meaghan Agnew is a one-time night owl who now prefers to dine with the early-bird set. See how she parties with the septuagenarians by following her on Twitter and Instagram.