Portsmouth, NH

| Jo Ann Snover/Shutterstock
Portsmouth, NH

| Jo Ann Snover/Shutterstock
It's hard to beat city living... except, you know, the traffic, the real-estate costs, and the general sense that the "haves" have taken it all from the rest of us. If you're looking to set down roots someplace more affordable, it's worth shaking up your urban ideals and looking farther afield. Whether you want a mountainous backyard, a restaurant scene that rivals the city's, or a shore town that grants you year-round beach access, each of these towns could make you reconsider your Never Suburbs stance. And when we say "suburbs," for the record, we're not talking Brookline or Newton; at minimum, there must be a commuter rail involved.
Newburyport
Population: 17,800
The first time you visit a Newburyport transplant, you'll go home grumbling about your own dirty-city existence. The second time, you'll start perusing real estate. The tiny coastal city is a charming enclave that still grants you big-city trappings. Want to live in a 19th-century New England classic? Tons of condos have been carved out of historic properties. Like to exercise first thing in the morning? Boutique exercise studios abound, although there are also kayak launch points all around town, as well as walking trails on nearby Plum Island. Enjoy walking to fine-dining spots? Ceia Kitchen + Bar and BRINE are just two of your of-the-moment options. And then there's the Newburyport/Rockport commuter line that takes you straight into North Station in about an hour... no 93 traffic headaches required.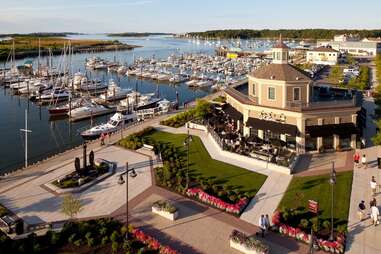 Hingham
Population: 22,150
Just a 45-minute water ferry ride away from the city, Hingham is the ideal refuge for boaters who still want to dip a toe in Boston waters now and then. The Hingham Shipyard is where you'll find your fellow yachties; even if you can't afford your own boat, you can join the Freedom Boat Club and have temporary access to an expansive fleet. The shipyard is also a shopping and dining haven that includes Alma NoveandWahlburgers, Paul Wahlberg's high- and low-end dining ventures, respectively. Real estate ain't cheap, but you're buying into a town whose public parks rival Boston's: World's End, Wompatuck State Park, and Weir River Farm combine to provide more than 600 acres of outdoor shenanigans. Hingham is also minutes from Nantasket Beach… and did we mention that the water ferry has a bar on board?
Worcester
Population: 182,500
When the New York Times takes notice, you know a city's on the up-and-up. The Woo has suddenly become a home for sophisticates -- or maybe it always was, but now it's getting the love it deserves. The shopping is one of the most pleasant surprises: the Crompton Collective brings together local artisans and antique dealers, and the Canal District includes retail spots and a farmers market. The canal itself is like the Charles River of the west: kayak it in summer, skate on it in winter. But the food is the real story here: Wormtown Brewery Tap Room, Armsby Abbey, The Canal, The Fix, and deadhorse hill are just a few of the newer ventures attracting outside attention -- and outsiders moving in. Start Zillowing now, because the Downtown condo prices will shock and amaze you.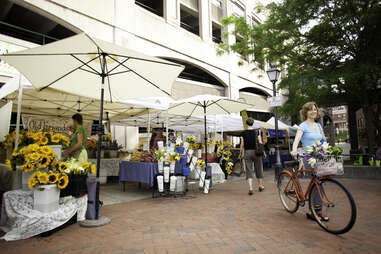 Northampton
Population: 28,590
Jonesing for a 'hood even more progressive than JP or Union Square? It doesn't get more Birkenstocks-and-granola than Northampton. Coffee shops, veggie restaurants, music venues, indie hemp shops... hippie stereotypes are alive and well in this hamlet. But what makes Northampton so singular is its remarkable urbanity, including a vibrant arts community, museums, and a walkable Downtown, which is full of unpretentious, high-quality restaurants like Jake's and Paul and Elizabeth's. And then it gets even better: look out a window, and you're gazing not at a smoggy skyline, but upon picturesque mountains. With Amtrak now offering daily train service into the Back Bay station, you could make an actual go of the commuter life… but then again, you might have problems tearing yourself away each morning. Is Smith College hiring?
Duxbury
Population: 15,050
Who wouldn't want to live in the same town as Island Creek Oysters? Or a place dotted with shingled saltbox homes, the likes of which you normally only see on the Cape and Islands? Or a South Shore shelter so revered that locals never want to leave? It's all about fulfilling your coastal living fantasies in Duxbury, where you can take sailing lessons at the Duxbury Bay Maritime School, tavern hop from Sun Tavern to Milepost to Winsor House, and revel in the residents-only parking at Duxbury Beach.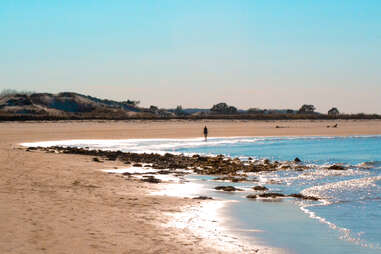 Ipswich
Population: 13,175
For starters, just consider what it would mean to live within spitting distance of Crane Beach, miles of pristine shoreline where you can hike, ride horses, and walk the dog -- and it's pretty much all yours in the offseason. Then, consider what it would mean to be minutes away from the iconic Clam Box (OK, we know what it would mean: you'd put on 20lbs of sheer happy weight). There's a higher-falutin' dining world beyond fried clams in this town though, especially at spots like Salt and 1640 Hart House. If you're a cycling enthusiast tired of the mean streets of Boston/Cambridge/Somerville, you'll be thrilled by the expansive mountain biking scene, or if you're more into horses, stables are plentiful in this bucolic, stone-walled area.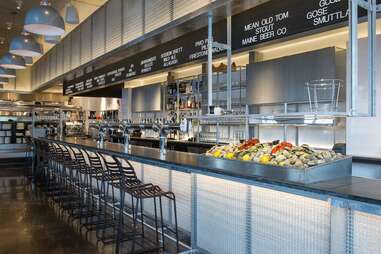 Portsmouth, NH
Population: 21,440
Portsmouth is like that dependable hometown friend you assume will never change… except now it totally has. Where once there were the same dependable restaurants and bars, now there are concerts, galleries, and chi-chi restaurants and watering holes (Row 34, Street, Block Six) to augment all the classics. Oh, and a bookstore that serves alcohol. And don't forget about that whole no-taxes thing. Live free and die smug, y'all.
Sign up here for our daily Boston email and be the first to get all the food/drink/fun the Hub has to offer.
Meaghan Agnew (@meaghandeth) can't lie: she's firmly in the #NeverSuburbs camp—but gift her a beach cottage somewhere and she might reconsider.