Whether you're putting up the parents, keeping friends off your futon, or just trying to escape your roommates for a night (seriously, is that too much to ask?!?), we scoured thousands of listings to find the most extravagant, historic, or downright sexy Airbnb rentals in Boston. (Note: prices may fluctuate based on seasonality/demand.)
South End
Price: $350/night
Bedrooms/Bath: 1/2.5
It's not often you can tell friends that you stayed in the same home as a notable civil rights leader. This 1860s historic Victorian row house in the South End once hosted A. Philip Randolph, founder of the Brotherhood of Sleeping Car Porters, the nation's first labor union run by African-Americans (1925). The six-story renovated luxe property boasts inlay hardwood floors, marble baths, chandeliers, and leather couches. Also, a ballroom.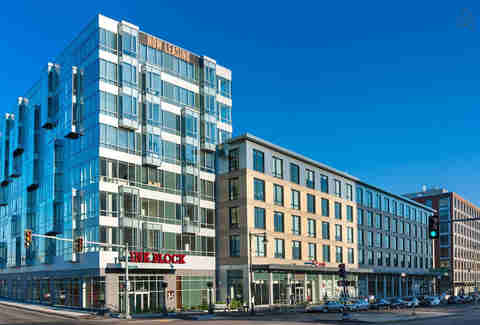 South End
Price: $219/night
Bedrooms/Bath: 2/2
A six-acre complex built on top of the old Boston Herald building (the original brick signage is visible inside the Whole Foods), Ink Block's newest luxury "it" condos. Stay the night and you get a state-of-the-art gym, rooftop pool, 24hr dry-cleaning, and even a shoe-shine service. Also, if you're an animal lover who brings the family dog on vacation, you'll pleased to know they also offer a 30-minute in-home pet sitting service.
Downtown Crossing
Price: $299/night
Bedrooms/Bath: 3/1
Imagine staying steps from the Opera House, strides from Stoddard's and JM Curely (two spots you're gonna want to hit), and seconds from the Common? If big-city action is your jam, then this 1,200sqft condo in the heart of DTX is your move. It rocks 12ft ceilings, polished concrete floors (for that ultra-chic, urban vibe), and filtered shower heads -- you know, so you don't accidentally drink unfiltered shower water. Gross.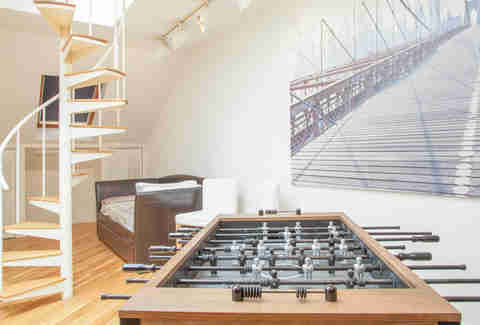 Beacon HIll
Price: $650/night
Bedrooms/Bath: 3.5/2
Mention historic Beacon Hill and you no doubt think elegant brownstones, cobblestone streets, brick sidewalks, and gas lamps. Also, mustachioed Brahmins holding bags and bags of old money. Updated in 2015, this four-story brownstone dates back over 100 years and actually has a post office on the first floor -- so, there's no excuse for not sending grandma a postcard. There's a newly-renovated kitchen, a pellet stove, and a foosball table if you're hanging in. And if you're not, the place is right on Charles St, one of Boston's top boutique shopping spots. Just don't leave before grabbing a beer at The Sevens.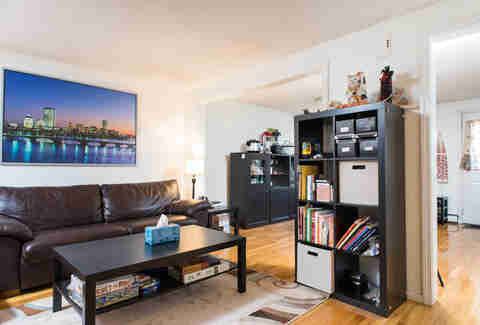 Kendall Square
Price: $210/night
Bedrooms/Bath: 3/2
There's hipster, bohemian Cambridge and then there's academic, techy Cambridge -- this house sits in the latter, near the heart of Boston's tech hub. A three-bed, two-bath, 1,200sqft ode to the environment comes equipped with solar panels, a house-wide water filter, a solar hot water system, and low energy A/C heat pumps. So you can change your sheets every night and still not feel guilty about destroying the planet. And if all of those earthy amenities aren't enough, there's also a professional meat slicer in the kitchen!
South End
Price: $67/night
Bedrooms/Bath: 1 (shared)/1
Ok, so this is a shared space and yes, you do have to sleep on an air mattress in the living room -- but hey, it's a freakin' ballroom (!!). And, honestly, how else are you going to stay in the South End for under 70 bucks these days? In addition to sky-high ceilings and giant windows, you're minutes away from all of the neighborhood's cafes, restaurants, and bars. Be sure to pop by Wink and Nod for a cocktail and Gaslight for brunch.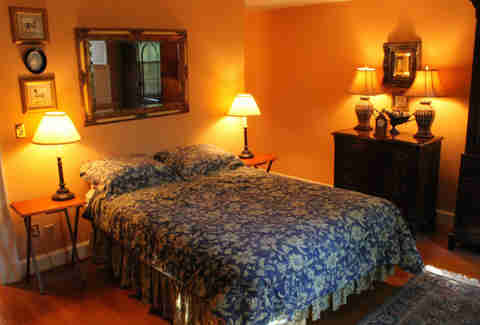 Charlestown
Price: $450/night
Bedrooms/Bath: 3/3
Located in the historic Bunker Hill district, this house along the Freedom Trail dates back to 1790 and was once home to Admiral Henry A. Wiley, a distinguished veteran of not one, not two, but THREE WARS (the Spanish-American, World War I, and World War II). What an absolute badass. The three-level historic building is classic, colonial, and decked out with all the antique furniture you hoped and dreamed it would have. Plus, if you get tired of reading leather-bound books by the fireplace or in the sitting room, you can easily check out the neighborhood's many historical sites including the Bunker Hill Monument and Charlestown Naval Yard.
Fenway
Price: $1,000/night
Bedrooms/Bath: 4/3.5
A short walk to Fenway Park, this ultra-mod, 3,500sqft "urban oasis" was built in 2012 and sleeps 10 in four bedrooms. It also comes equipped with a chef's kitchen, floor-to-ceiling windows, an entertainment space, and a large yard/outdoor grilling area for tailgating before the big game. High five.
North End
Price: $600/night
Bedrooms/Bath: 2/2
Located in the heart of Boston's Italian section of town (the North End), this newly-renovated, two-story spot may as well come with a pizzeria and pastry shop built into the living room; that's how close you'll be to all the action. And when you're not stuffing your face with the city's best cannoli, you can admire the unit's exposed brick walls and gorgeous wooden beams.
Back Bay
Price: $200/night
Bedrooms/Bath: 2/1
Here's the ultimate irony: for whatever reason -- cash, charm, space -- you've eschewed a fancy hotel in favor of staying in somebody's apartment. But, if you stay in this spot on Newbury Street, it turns out you're actually spending the night in an OLD HOTEL! Yep, this elegant 19th-century hotel, which sits across from the Boston Public Library and Old South Church, was renovated into an apartment building. And it has, mind you, a sweet rooftop deck on which to sit and soak up all the bustle of the Back Bay.
Sign up here for our daily Boston email and be the first to get all the food/drink/fun the Hub has to offer.
Christina Ng is a Boston-based food and recipes editor. She's one of those annoying girls who has to take a picture of everything she eats, and when she's not wreaking havoc in the kitchen or taking pictures of food, she's out visiting her favorite open-air markets. Follow her crazy adventures at EastMeetsKitchen.com.