Let's be honest: a lot of Boston-area getaways are vastly overrated during the peak season. There's the traffic, the crowds, and -- let's just be honest -- the many, many children. Look, we're not anti-kid or anything, but nobody in their right minds has ever has said, "Oh, let's go to that charming little seaside restaurant; there are so many screaming kids there, it's delightful." Fall is really where it's at, especially in these top spots. When it comes to seasonal travel, we say go rogue or go (uh... stay) home.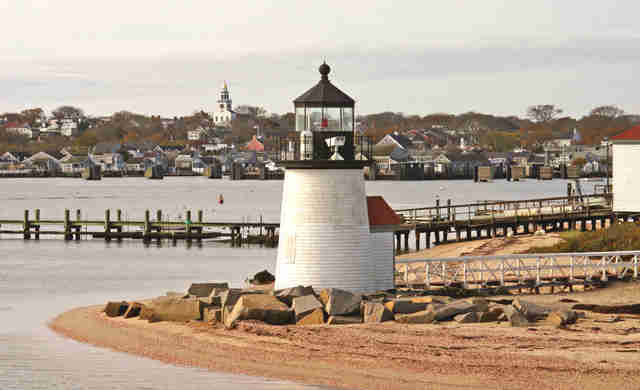 Nantucket
Summertime in Nantucket has gotten a little nuts. Sometime in the last few years, the island went from low-key retreat to popped-collar party central. But post-Labor Day, the isle resets to its original pleasures, like bucolic beaches and accessible, first-rate restaurants.
Where to stay: 21 Broad grants you Downtown walking access and an autumn-ready fire pit out back; it also has a cool midweek deal this month. The Nantucket Hotel & Resort, a rare year-round resort, fully embraces the season with fire pit fondue, a hot cocktail hour, and an inviting hot tub.
What to do: Bike to Siasconset Beach without fear of a rental Jeep plowing you down, then call for reservations at Straight Wharf or Topper's without fear of being laughed at. Do the indoor things you'd never bother with in summer, like catch a movie at Starlight Theatre, or peruse the Shipwreck & Lifesaving Museum and Whaling Museum (they're both pretty cool!). Luxuriate at an actual table at Cisco Brewers and Instagram the Sankaty Head Light against a fall sunset. Reserve a JetBlue flight without fainting from the indulgence of it all (seriously, price it against ferry + gas + parking).
Provincetown
The entirety of the Cape is a revelation in fall: relatively sane bridge traffic, normal pedestrian traffic, zero Bugaboo traffic. And P-town is the peak of the off-peak destinations: the restaurants and bars are accessible, the shop owners can stop and chat, and the dunes are gorgeous in the autumn light. And as a little birdie pointed out to us, prices start dropping in all your favorite Commercial St. boutiques, which usually go into fire-sale mode in October.
Where to stay: Now's the time to rent that waterside Airbnb cottage you can't even pretend to swing in July.
What to do: Plan a visit around Cape Cod Restaurant Week, or just book a last-minute table at Jimmy's HideAway and then brag about it online. Check out the fall lineup at the Provincetown Theater (the Tennessee Williams Festival, who knew?). Start sewing your costume for Spooky Bear Weekend (yay). Drive down the coast to Truro Vineyards for the annual Grape Stomp on September 18th or the Vinegrass Music Festival on October 2nd. Drive further afield for the Wellfleet OysterFest in mid-October (Ocean Edge also offers a whole package around the oysterfest).
Martha's Vineyard
The Aquinnah sunsets are epic this time of year, and this place is also seriously QUI-ET in the fall. Year-rounders exhale and take some time to smell the wildflowers, and the biking vistas are genuinely gorgeous -- all rolling hills and burnt-ember foliage.
Where to stay: Two of the island's newest hotels -- Summercamp and The Christopher -- are both seasonal, closing at the end of October, which means there are some excellent room deals, especially at Summercamp.
What to do: Throw your rod in the ring for The Derby (or cheer the catches of those that do), or drink like a Desperate Housewife at the Food & Wine Festival. Go birding at Felix Neck and take a late-season tour with Island Spirit Kayak (they run through October) or a guided wildlife refuge tour with the Trustees. If you're around in November, take any and every opportunity to gorge yourself on in-season bay scallops.
Kennebunk
Fall foliage starts north and creeps south, which means your earliest doses of crimson leaf tides are happening in Maine, so you can hit up both Kennebunk and Kennebunkport early for that double New England whammy: waterside leaf-peeping. Plus, The Clam Shack stays open until mid-October, when the lines become considerably less terrible than they are mid-summer.
Where to stay: The entire Kennebunkport Resort Collection, including beachside boutique lovely Tides Beach Club, lowers its prices considerably and offers a third night free on a two-night stay at all of its hotels.
What to do: Drive along Goose Rocks Beach and hike the Eastern Trail in Arundel. It's probably time to start fasting for Coastal Maine Restaurant Week (October 21st-28th), and get super seasonal at the Kennebunk HarvestFest. Day-drink with locals at David's KPT (inside The Boathouse) while gazing out at the water.
Stowe
It's fall in Vermont, folks. It doesn't get any better than that.
Where to stay: Indulge in fireside tubs and fireplace butlers at Edson Hill, or check out Field Guide -- their pool is open through September, and their restaurant, Picnic Social, does outdoor fireside seating. Stowe Mountain Lodge keeps its heated pool open all year round (hot tubs too), and can set you up on a ziplining trip through the fall foliage.
What to do: Splurge for dinner at Hen of the Woods in Waterbury, one of the best restaurants in New England, and drink under the leaves at Idletyme Brewing's outdoor bar (mix in a little cornhole while you're at it). You can sample dry hard cider in the Stowe Cider tasting room, or hit up the Boyden Valley Winery Harvest Festival (September 17th-18th). Buy some Barr Hill gin directly from the purveyors at the Stowe Farmers' Market, then drive Smugglers' Notch before it closes for the season. Even if you don't stay there, spa it up at Stowe Mountain Lodge -- the lounge area offers crazy-cool views of the nearby Mt. Mansfield.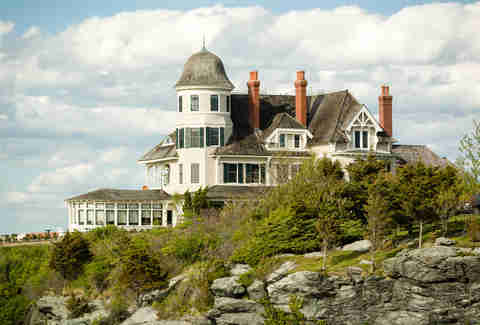 Newport
Newport is another New England beaut that becomes far less lovely when you're doing a conga line down the Cliff Walk. Wait until the masses dissipate, and the whole area becomes hella more appealing.
Where to stay: The Attwater is the perfect city getaway: an urban boutique hotel just far enough removed from the Downtown bustle. Or go completely nuts and splurge for a night at Castle Hill Inn -- the bonfire and s'mores continue through the end of September.
What to do: Hit up the jazz brunch at Ocean House, giggle at the mix of boat shoes and lederhosen at the International Oktoberfest, or take a schooner cruise of the harbor. Take your last dip of the season at Easton's Beach, then get fried clams at Flo's. If you want the full Bowen's Wharf experience, get drinks at Wharf Pub before dinner at Fluke.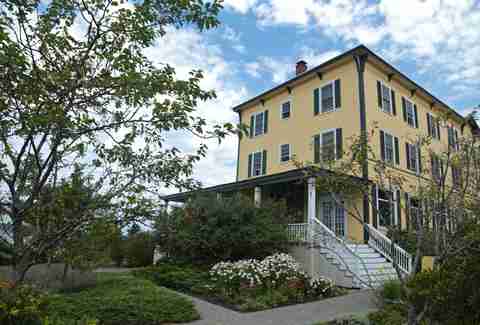 Chebeague Island
There's actually no bad time to escape to Chebeague, one of Maine's loveliest islands, but locals know that September is the island's peak time. The summer crowds go away, and the foliage is already beginning to peek through. The crisper evenings demand bonfires and s'mores, and best of all, the water is downright temperate -- the warmest it will be all year.
Where to stay: Chebeague Island Inn (open through October 15th) is the only game in town; good thing this grand hotel is one of the loveliest places you'll stay in your lifetime. Simply appointed rooms, a grand fireplace in the main room with board games aplenty, a wraparound porch facing the sunset, nary a TV to be found... you're forced to do that relaxing thing.
What to do: Bike the circumference of the island -- the inn lets you borrow bikes for free -- and wave at everyone you pass, because they'll wave at you. Grab lunch at the Ebb & Thyme Bakery & Cafe, and make sure you walk over to Little Chebeague island when the tide is out. Take a late-afternoon dip at Hamilton Beach when the tide comes back in (the inn will set up chairs for you). Savor the surf and turf at the inn's award-winning restaurant, which sources many ingredients from the island's only farm.
Boston
Wait, what? Yes, we're talking staycay, because Boston is actually pretty grand in the fall, but sometimes you have to approach it like an outsider to appreciate its gifts.
Where to stay: The Boston Harbor Hotel is one of those hospitality stalwarts we take for granted, even as the decade-old hotel has graced us with free summer movies and concerts and wintertime ice skating. As a waterside locale combined with amenities like in-room bartending services... we're extremely down. The Envoy is another great bet -- nautically styled rooms, water views, and first-dibs access to the hotel's rooftop bar (or Barking Crab down below if the crowds get too nuts). And if you're craving a deep autumn experience, the fireplace butlers at the Taj Boston are at your service.
What to do: Why, we have a whole list for ya -- everything from free movie nights to fluff festivals!
Sign up here for our daily Boston email and be the first to get all the food/drink/fun the Hub has to offer.