I've heard it all before -- friends who say they've done everything there is to do in Boston. But I'm willing to bet that's just not true. If you're not with a local, chances are your idea of visiting this city consists of trekking the Freedom Trail or seeing the Cheers bar. Both of which have been exhausted to hell at this point. Plus, nobody knows your name at Cheers (sorry, had to). But seriously, if you're looking to really tour Boston, hang with a local; you'll be able to experience some stuff that only happens here, and even do some actual cool things. Like these...
Cambridge
Price: Free
Kendall Square -- Boston's tech hub and home to the likes of Google and Microsoft -- may not sound like an ideal travel spot, but at the top of 4 Cambridge Center is an urban oasis that's open to the public. It offers great views of the city and is lined with benches, grass, trees, and a community vegetable garden.
Recommended Video
Wine Workouts Are Just What We Need in our Fitness Routines
Walk through Jamaica Plain's Centre St
Jamaica Plain
Price: Free
A neighborhood that was once on the decline, JP is now the area for artists, hipsters, and young professionals in Boston. It's filled with authentic ethnic restaurants, great boutique shops, and vintage stores throughout the main drag.
Catch a movie in the Hatch Shell
Beacon Hill
Price: Free
Every summer, the Hatch Shell opens up for "Free Friday Flicks" -- and it's exactly what it sounds like. Every Friday, a free movie is screened in the shell after sundown. The grass is lined with blankets and movie-goers galore. It's a great way to chill out with friends and explore the esplanade (and the Hatch Shell itself).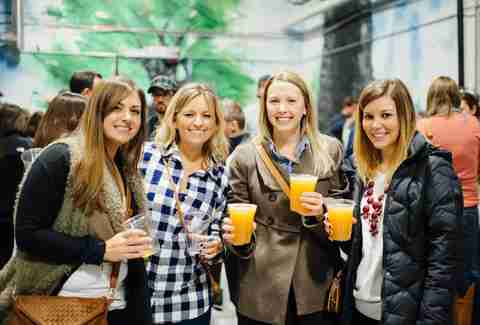 Go on a brewery tour that's NOT at Samuel Adams
Charlestown
Price: Free
There are a lot of breweries to tour in Massachusetts, many of which are not Samuel Adams and cost nearly nothing to check out. Charlestown's Downeast Cider is a perfect example. Sure, it's located in a (somewhat) sketchy, old-looking warehouse, but the tours offer board games and beer. Or, in this case, cider. Note: it's a free tour, but a flight of cider will run you $10, and you can bring home a four-pack for $9.
Stroll through Union Square
Somerville
Price: Free
Though small, Boston's Union Square boasts many of the best restaurants in town, from biergarten-style eateries like Bronwyn, to more sophisticated choosings (hello, Journeyman). It's also home to some of the best donuts in Boston. Of course, those would make this choice a non-free option, but the stroll won't cost you anything.
Boston Public Garden
Price: $
Swan boat rides are open to the public every day from April to mid-September. At just $3.50/ticket, it's the most picturesque and relaxing way of touring through the Public Garden. Just remember: feeding resident swans Romeo and Juliet is prohibited. They're fed daily by park personnel and don't need your Reese's Pieces.
Somerville
Price: $
You've probably seen Taza at either some hip gourmet food store, a cafe, or even at the airport. The company operates out of a 17,000sqft factory in Somerville and produces Mexican stone-ground chocolate. Take a tour of the facility (it'll cost you $8/person) and you'll be able to see the stones used to grind the chocolate, which gives it that signature gritty texture, and the bags of cocoa nibs used in production. Plus, there's an on-site chocolate store where samples are aplenty.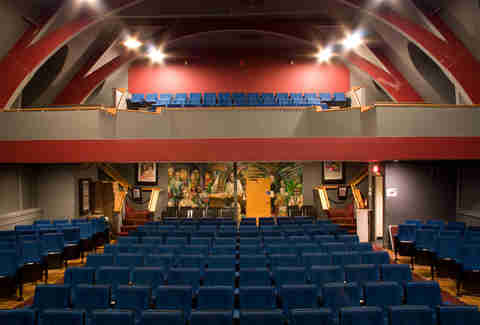 Cambridge
Price: $
The Brattle is an experience much cooler than your standard AMC. It's an old-school arthouse theater that opened up back in 1871. This place only has one screen and shows a mixture of independent, foreign, and classic films. For you film nerds, it's one of the few movie theaters in the country that uses a rear-projection system. GA tickets are $11. Check out the website for the schedule.
Fenway
Price: $
Just because you can't make it to a Sox game doesn't mean you can't hang out at Fenway. Many don't know that you can show up three hours before and see the players up close and personal during batting practice. The tour goes for $18/person and takes you through the historic grounds of the Fenway Park, finishing along the Green Monster. It's the next best thing to seeing an actual game (though it is less crowded).
Cambridge
Price: $
If you know anything about Bostonians, ice cream is eaten pretty much all the time. Whether it be cold and rainy, warm and sunny, summer or winter, we just can't get enough of it. Toscanini's is undoubtedly the city's most famous ice cream spot, so it would behoove you to go and try one of the 32 flavors available at any given time.
Kayak on the Charles
Allston (& other locations)
Price: $-$$
While Boston might not be able to match New York in the restaurant scene (though we're right behind you!), we do shine in scenery. Plus, let's be honest, the Hudson River cannot even compare to the Charles. For about $15/hour, or $60 for the whole day, you can rent a kayak from the Allston/Brighton end of the river, head downstream to Kendall Square, and take in some of Boston's greatest sites. Specifically all the major universities (BU, MIT, and Harvard).
South End
Price: $-$$
Deciding to either (a) eat, or (b) go shopping, is usually the best bet when someone comes to town. But don't go just anywhere. Stop by SoWa Markets' artsy South End on any Sunday and take your pick from the many options available. Check out the open market, peruse the vintage and farmers markets, and then walk the rows and rows of food trucks. Best part: it's all bunched up into one location so you never have to travel too far to the next great eat. Obviously, the prices will vary depending on your purchase.
Eat at Inman Square
Cambridge
Price: $-$$$
Inman Square is lesser known to tourists than its more famous cousin, Harvard Square. It runs down Cambridge St and is home to some top-notch restaurants. Tupelo offers incredible chicken & waffles and alligator po-boys, and Puritan & Company is a great modern American choice with a slew of New England fare. Afterwards, grab dessert down the street at Christina's Homemade Ice Cream, or FoMu, a vegan ice cream popup.
Visit a speakeasy
Boston (& Somerville)
Price: $$
There's more to Boston's drink scene than old Irish pubs and a bar based on a 1980s NBC sitcom. If you're looking for an intimate and chill vibe, stop by one of the city's speakeasy bars. Backbar in Somerville, Drink in Fort Point, or Wink & Nod in the South End are all choices that'll most likely please any out-of-towner.
Eat at Marina Bay
Quincy
Price: $$
If your friends want to eat seafood (which they inevitably will while visiting Boston) and you want to pair that with the quintessential Boston waterfront experience, head on over to Marina Bay. It's located just 20 minutes outside of the city in Quincy. You'll see cute restaurants lining the boardwalk and boats docked in scenic Dorchester Bay.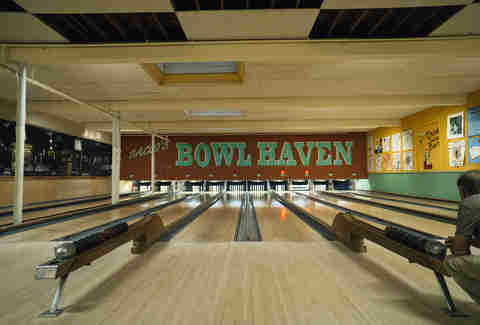 Somerville
Price: $$
Candlepin bowling is unique to New England, and therefore a definite must-do in Boston. Unlike normal, 10-pin bowling, the bowling balls are small and the pins are thin, making it a bit easier to play. And because Sacco's is located inside a Flatbread Pizza, you can get food delivered right to your lane while you bowl. Renting a lane will run you $25 for the hour, plus $2 for the bowling shoe rental.
Shop on Charles St
Beacon Hill
Price: $$-$$$
Forget Newbury St. The cute and colorful boutique shops, gourmet grocery stores, and restaurants on Charles St are the real shopping destinations when you're looking for a nice relaxing stroll. There's no hustle and bustle of Newbury here. Charles Street is located in the historic district of Beacon Hill, where you'll see cobblestones and brick townhouses lining the streets, which calls for a charming walk. Of course, depending on what you buy, prices are going to vary.
Dine at a Cambridge restaurant
Cambridge
Price: $$$
Plenty of friends have said they weren't wowed by the restaurant scene in Boston, but that's because the restaurant scene isn't (totally) in Boston: it's in neighboring towns like Cambridge. This area is rich in both diversity and culture, with award-winning restaurants such as the Mediterranean, Middle Eastern-focused Oleana, or the New American-French bistro Craigie on Main. So if your friends are looking for something a little different, head to Cambridge.
Prudential Center
Price: $$$
OK, this one is admittedly pretty touristy, but think: you're up 749ft in the sky, you get a 360-degree view of Boston, and you get a great meal. Where's the problem?
Backbay
Price: $$$
This is a one of the coolest shops for sneaker-heads and secret-agent nerds alike. Hear me out: the shop is disguised as a run-down convenience store complete with chips, drinks, and cleaning supplies. But when you trigger a tile on the floor in front of the old Snapple machine, the whole thing opens up and leads you into the actual store, which sells highly sought after shoes, clothes, and other accessories. If you're looking to impress your out-of-town friends, this is the place to do it. Even if they don't buy anything, the experience alone is worth it.
Sign up here for our daily Boston email and be the first to get all the food/drink/fun the Hub has to offer.