In recent years, the American Asian and Pacific Islander community in Boston has made history. In November, the city celebrated Michelle Wu becoming Boston's first woman and Asian American mayor. And in that same month, a report showed that Asian Americans are the fastest growing individual racial group in Greater Boston.
So as we enter May, which is American Asian and Pacific Islander Heritage Month, we're here to remind you that you don't have to be a policy maker or elected official to necessarily make a change here in Boston and support our AAPI community. So whether you're looking for ways to lend a hand, get educated, or patronize small businesses in Chinatown and around the city, we've got you covered—so get out there and show your support during AAPI Heritage Month and beyond.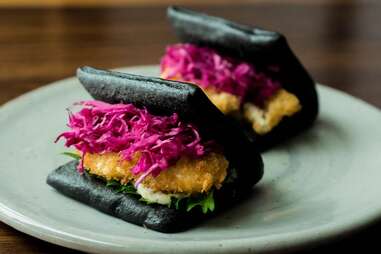 Dine at these AAPI-owned restaurants
It's no secret that Boston is home to some incredible restaurants, and AAPI-owned spots make up a lot of the list. In the South End, Myers + Chang is a favorite for dim sum. PAGU is a lauded Japanese tapas restaurant in Kendall Square. Fenway's Mei Mei is a destination for dumplings. And don't miss other spots like Southie's Moonshine 152, Brookline's Six Po Hot Pot, Longwood's Noodles King, Brighton's Our Zone and MDM Noodles, Allston's Mala Restaurant, Quincy's Bánh Mì Lê and China Pearl Restaurant, and Watertown's Cha Yen Thai Cookery (try their homemade ice cream!).
If you're looking to take on a food crawl that supports local small businesses, look no further than Chinatown. The neighborhood is bustling with some of the best eats in the city from the namesake dishes at Gourmet Dumpling House, Happy Lamb Hotpot, and Kaze Shabu Shabu to Shojo's modern small plates and Shabu Zen's Japanese hot pot. Lucky for locals, there's no way you can hit all the best restaurants in one visit, so you'll be back.
Support small businesses and coffee shops
Whether you're taking a break during work or looking for something to do on the weekend, check out our guide to Chinatown for a plethora of small businesses to venture to including Essex Corner, an arts and crafts store for accessories, jewelry, gifts, and souvenirs, and Tao's beauty and skincare store (which has another location in Allston).
Beyond Chinatown, you can also grab a bite at spots like Reign Drink Lab in Dorchester, Phinista in Fenway, Ogawa Coffee in the Financial District, and Flour Bakery + Cafe, which has locations in nearly every local Boston neighborhood.
When sweet cravings hit, check out local bakeries like Bao Bao Bakery and May's Cake House or authentic supermarkets including Jia Ho Supermarket and Ho Toy Noodle (now located across Chinatown Cafe).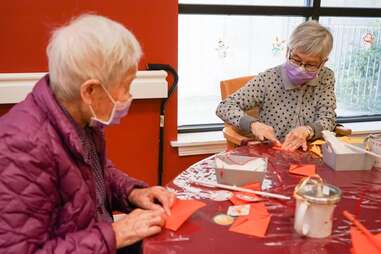 Contribute to a local nonprofit or advocacy group
There are a number of organizations across Boston that are always accepting donations and volunteers including the Asian American Civic Association (AACA), Asian Community Development Corporation, Asian Sisters Participating in Reaching Excellence (ASPIRE), Asian Women for Health, Boston Asian Youth Essential Service (YES), Chinese Progressive Association, Greater Boston Chinese Golden Age Center, NAAAP Boston, South Asian Workers' Center, and VietAID.
Boston-based nonprofit AACA, which helps limited English-speaking and economically disadvantaged members of the community achieve financial independence, has opportunities available for local volunteers, particularly within the organization's English Second Language (ESL) classes from tutoring to conversation groups to data entry.
Asian Women for Health is currently looking for volunteers to help with wellness-focused peer support to events/outreach to health advocacy. To sign up, fill out their online application or email info@asianwomenforhealth.org with questions.
If you're a gardening enthusiast (or beginner), VietAID, which aspires to build a strong Vietnamese and American community in greater Boston, is looking for Dorchester residents to reserve a plot at Town Field Park. The goal is to create a beautiful gathering place for residents from different neighborhoods to come together as a community. Interested in applying? If this sounds like a fit for you, get your tools together and check out their online form for more.
And for those interested in educating themselves during AAPI month and throughout the year, on the last Sunday of every month, nonprofit ASPIRE hosts a class on nonviolent communication for compassionate conflict resolution. You can drop-in or watch via Zoom (also on Thursdays 1-3 p.m). For more information, email nvclaurie@gmail.com.