On Tuesday, a mass shooting at two massage parlors in Atlanta claimed eight lives, six of which were Asian women. Conversations and protests have erupted across the country, bringing attention to the eye-opening reality of anti-Asian hate crimes. This violence serves as a tragic apex of anti-Asian sentiment this past year with notions of the "Chinese" COVID-19 virus, and in centuries past with legislation like the Chinese Exclusion Act of 1882.
According to a report by nonprofit organization Stop AAPI Hate, since last March, approximately 3,800 hate incidents have been committed against Asian Americans, with women reporting cases 2.3 times more than men. In Massachusetts alone, Stop AAPI Hate received 67 reports and, according to The Wall Street Journal, Boston is among a number of U.S. cities with anti-Asian hate crimes increasing by 149% in 2020. However, as the Stop AAPI Hate website mentions, it's important to remember that these statistics represent only a fraction of incidents that actually occur.
To support the local Boston AAPI community, and help advocate for better treatment, there are many ways you can get involved. For a few ideas on how to get started, take a look at our list below. You can also follow Stop AAPI Hate on Facebook, Twitter, or Instagram for up-to-date facts and statistics, even more ways to donate, and easy access to educational resources.
If you've witnessed acts of hate in your neighborhood, Chinese for Affirmative Action (CAA) has an online form to report such incidents. It's simple and takes less than 10 minutes to fill out.
Donate your time and money to a local nonprofit or advocacy group
On Thursday, March 25 the Massachusetts Asian American Commission is holding a free virtual town hall on anti-Asian racism, with more on how the Asian American community is organizing against racism and ways for you to get involved in the fight. You can also sign up for free bystander intervention training hosted by Hollaback!, an organization that provides workshops and educational tools to stop harassment, on March 24, April 6, April 7, and April 8.
There are a number of organizations across Boston you can contribute to including the Asian American Civic Association (AACA), Asian Community Development Corporation, Asian Sisters Participating in Reaching Excellence (ASPIRE), Asian Women for Health, Boston Asian Youth Essential Service (YES), Chinese Progressive Association, Greater Boston Chinese Golden Age Center, NAAAP Boston, South Asian Workers' Center, and VietAID.
Boston-based nonprofit AACA helps limited English-speaking and economically disadvantaged members of the community achieve financial independence, has opportunities available for local volunteers. The organization is currently looking for individuals to help teach computer classes through The Mulan Society, which offers workshops to help Asian women develop core skills and confidence during challenging transitions. There are also tutoring and intern opportunities always available in addition to open administrative positions. For those interested, you can fill out an online volunteering form or contact hr@aaca-boston.org to learn more.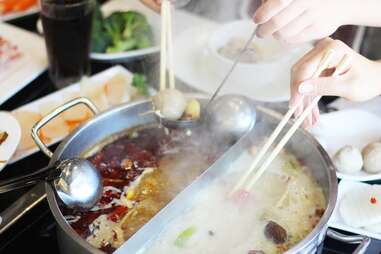 For more indoor dining options or for grabbing takeout in other neighborhoods, you can visit the South End's Myers + Chang, Kendall Square's PAGU, Fenway's Mei Mei, Brookline's Six Po Hot Pot, Longwood's Noodles King, Brighton's Our Zone or MDM Noodles, and Allston's Mala Restaurant or Shanghai Gate to name just a few go-to and satisfying options.
In case you're in search of other small businesses to support, check out Essex Corner arts and crafts store for accessories, jewelry, gifts, and souvenirs or 8090书店 bookstore for many different Chinese titles in a variety of subjects.