How New England's First Black-Owned Jazz Club Plans To Keep The Music Going
Since 1947, Wally's Cafe Jazz Club has been a beacon for jazz legends and students alike.
DESIGN: GRACE HAN
DESIGN: GRACE HAN
Amid the cookie-cutter brownstones on Mass Ave in Boston's South End, one entrance stands out. A quirky sign and black saxophone cut-out dangles above a bright red door, which leads to the underground Wally's Cafe Jazz Club.
As the first Black-owned jazz club in New England, Wally's was founded in 1947 by Joseph L. Walcott, who immigrated to Boston from Barbados in 1910. Now, nearly 75 years later, the club remains under the family name. Walcott's daughter, Elynor, serves as the owner while her three sons have taken over managing the bar, including GM Frank Poindexter.
"First and foremost, it's important for us to set an example for the family business community and also for the minority community," Poindexter said. "When Wally's was originally founded by my grandfather, there was no integration of live entertainment venues in Boston."
As a cultural touchstone in the city of Boston, it's hard to imagine Wally's not being there. But COVID-19 threatens to shutter one of the city's most iconic venues and it's up to the community that the club has built to keep the music going.
Wally's exists today thanks to the city's young musicians. By way of recruitment, local college students—from Boston University to Berklee College of Music—headed for Wally's in the early 20th century to perfect their passions and get the chance to play in front of a real, live audience.
Eventually, word of Wally's spread, and soon the club would welcome both Boston residents and beyond to the establishment. The original venue was across the street and surrounded by other white-only clubs, like the Hi-Hat, which was inspired to integrate once they saw the popularity of Wally's. In 1978, the club moved to its current location and has been open as a venue and gathering place ever since.
"It's like an American tradition," Poindexter said. "We've seen generations of families practice at our venue."
Wally's has hosted many industry stars throughout the years, including jazz legends Sarah Vaughan, Charlie Parker, and Dizzy Gillespie and more contemporary names like Grammy award-winning bassist Esperanza Spalding, trumpeter and composer Christian Scott, and various members of The Roots.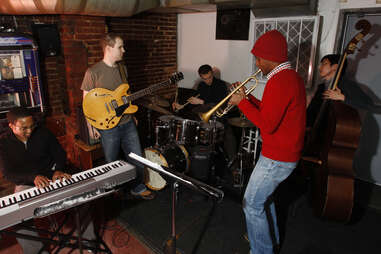 Over the years, the cavernous and smoky venue dripped with red and blue lights as musicians crowded onto the tiny tiled stage and patrons—of all backgrounds—nodded their heads while sipping pony beers at the bar or grooved on the tiny dance floor. According to Boston Magazine, one night Angela Davis was there listening to music and smoking a pipe. Another, Bill Murray danced with strangers to Latin jazz. An audience of 60 felt like a packed house.
But Wally's never forgot its roots as a way for students to showcase their talents. In 2005, the club created the Student to Student Music Project, designed by students for students to provide a hands-on opportunity to learn more about jazz music while fostering the tools necessary to succeed in the industry.
"We wanted to work with students who don't normally get the chance to play instruments with other young people and help them pick up skills to perform in front of their peers," Poindexter said.
Between its student-focused initiatives, jam sessions, and regularly scheduled bands, Wally's stayed quite busy. But, of course, the music came to a screeching halt on March 12, 2020, when the club had to close at the beginning of the COVID-19 lockdown.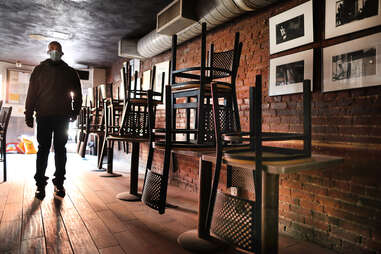 Since then, Wally's has remained closed and lost almost 90% of its revenue, according to Pointdexter. To help raise money to keep the business afloat, the club started selling merchandise on its website and created a GoFundMe page in June 2020. Besides financial recovery, the fundraiser's mission is to expand into the building next door, which would become a production facility for musicians to network, practice, creative podcasts, provide lessons, and collaborate with each other. The goal, originally $30,000, was met in less than a week and Wally's has currently raised $52,000 and counting.
The club has also joined the Boston Black Hospitality Coalition, which provides support for Black-owned businesses affected by COVID-19.
"Minority-owned businesses are a super small portion of live entertainment in Boston," Poindexter said. "It's especially hard right now, but by joining the coalition, we found that it's important for us to stand together and create a collective voice."
Now, with COVID-19 vaccinations becoming more readily available every day, and with the support of the local community, Poindexter is confident in a triumphant return for Wally's. He looks forward to new endeavors, like adding streaming capabilities so that musicians can air their performances online, along with renovations to prepare the cafe for when it's time to re-open.
"People are missing social activities and actual contact," Poindexter said. "They miss the vitality. But pretty soon, we'll all get to appreciate our neighbors and the people around us again."