Explore the Shelves at the Best Independent Bookstores in Boston
Sift through carts of vintage books and poetry collections to discover your next read.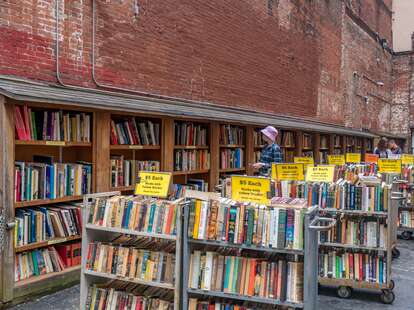 Brattle Book Shop

| NoyanYalcin/Shutterstock
Brattle Book Shop

| NoyanYalcin/Shutterstock
In the age of Kindles and iPads, it's easy to forget the feeling of holding a physical book. However, no matter their convenience, e-readers will never be able to replace the sense of joy and curiosity that arises from wandering through stacks of books, with their crisp pages and inimitable aroma.
Luckily, there are plenty of places in Boston dedicated to preserving that very experience. Boston is home to shops dedicated to poetry books, progressive book collectives, and, of course, popular new releases and bestsellers. So whether you're looking to peruse or pick up your next great read, here are the best indie bookstores to visit in Boston.
Lucy Parsons Center

| Voluntary Amputation/Flickr
Named after the radical labor organizer and anarcho-communist, Lucy Parsons Center is a nonprofit bookstore and community space dedicated to selling books, magazines, newspapers, and journals covering the progessive movement. In addition to informational books and publications, the volunteer-run shop also sells new and used books, Spanish-language books, and children's books. The spot also serves as a meeting space for local activists and frequently hosts lectures, readings, and discussions on works by authors and revolutionaries like Angela Davis and Anuradha Ghandy.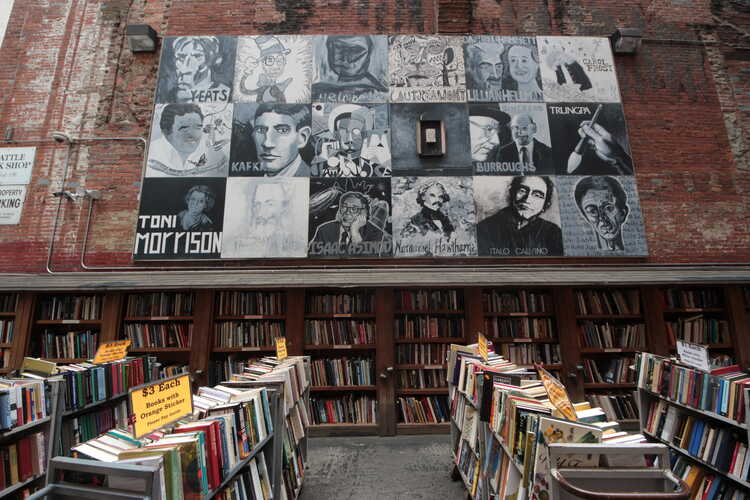 Brattle Book Shop

| biminator/Shutterstock
With its iconic alley filled with shelves upon shelves of vintage books, there's no way you can walk past Brattle Book Shop without taking a peak at what the famous store has to offer. Brattle Book Shop is one of the oldest bookstores in America, dating back to 1825. The first two floors of the shop are filled to the brim with used books, while the top floor is known for its selection of rare and antique books, housing offerings including first editions and signed novels. Making the trip even better, Brattle is located steps away from the Boston Common, so find a shady tree and dive into your next read.
Entering Papercuts is like walking into your quirky grandmother's home; the inside is cozy and welcoming, covered in colorful and eclectic decor. The award-winning, woman-owned independent bookstore has been open for almost eight years and has an extensive collection of books equipped with detailed staff recommendations from their team of friendly professional booksellers. Pop in if you want to have an in-depth literary conversation or quickly pick up a book to read on a bench at nearby Jamaica Pond—Papercuts is the perfect place for every mood.
Raven will fuel your book addiction at a fraction of the price, with its broad selection of about 15,000 used books that are practically in mint condition. The Cambridge store, which is merely steps away from the Harvard T, adds more than 1,000 books to its collection each week on topics ranging from philosophy, architecture, political theory, and more. The shop even has sections dedicated to books in Spanish, French, and Portuguese. Owner John Petrovato believes in the art of searching for a book in person and therefore does not sell any of the store's selection online. So get lost in the small but mighty and deeply eclectic shop, as this is the perfect place to discover a hidden gem.
Grolier Poetry Book Shop is a bit of a landmark; like Raven, it is right near Harvard Square. Because of its prime location, the shop was frequented by famous Harvard undergrads and poets like Frank O'Hara and Robert Bly. Pulitzer Prize-winner Conrad Aiken even used to live above it. Over the course of its 95 year run, the shop has built a roster of distinguished regulars (Anais Nin and Seamus Heaney, for example) that led them to be deemed "friends of the Grolier." And the shop lives up to its rich history, with wall-to-wall shelves of poetry books, myriad of events featuring local poets, and knowledgeable shopkeepers.
Many people feel the experience of scavenging through a bookstore is spiritual in itself, but this unique shop makes that feeling literal. Seven Stars is a metaphysical bookstore, specializing in New Age books with entire bookcases dedicated to Buddhism, Wicca, Kabbalah, and more. Along with the transformative and esoteric book selection, the store is filled with boxes of precious stones and crystals, with a staff waiting to explain concepts ranging from astrology to tarot. They'll even print and interpret your birth chart for you for $10!
Located aptly in the heart of the North End, I AM Books is considered the country's first Italian-American bookstore. Referred to as an "Italian American cultural hub," I AM offers fiction and nonfiction by Italian-American authors, carrying books in Italian and English, bilingual literature, as well as guides for people looking to pick up the language. The store also features an array of Italian cookbooks and a couple times a month, I AM hosts Italian-American authors and musicians. Make sure to purchase a bottle of olive oil on your way out!
Calling all (board) gamers, Pandemonium Books & Games is bound to become your next safe haven. Once you've got your fill of Catan, take a quick stroll past the bevy of board games and you'll find Pandemonium is home to a myriad of science-fiction and fantasy books, perfect for anyone passionate about imaginative storytelling and world building. The Cambridge store also hosts a book club every month called Book Moot, where enthusiastic readers gather and hold discussions based on books they vote on.
Treasured by locals and staffed with knowledgeable booksellers, family-owned Brookline Booksmith is one of Boston's most prominent indie bookstores. Since its conception in 1961, the store has been dedicated to selling a range of diverse books, with a section solely featuring "banned books." However, the well-kept secret of the bookstore is the expansion into the storefront next door, which features two massive cookbook sections separated from the fiction collection, stocked with everything from books on iconic women-inspired cocktails to dishes served at Chinese bakeries.
Endlessly searching through stacks of books is bound to work up some sort of appetite. Thankfully, Trident Booksellers & Cafe houses an extensive food menu and large seating area along with its collection of books and trinkets. Even if you just want to sit and sip coffee as you dive into your new purchase, the spot has a laid-back atmosphere and is open until 10 pm every night. The store's calendar is constantly filled with various events: think poetry open mics, trivia nights, writing groups, and more, where you're bound to run into prominent local writers. Stay up to date on what they have to offer here.