The weekend getaway season is officially upon us, which 'round these parts means bridge traffic, long restaurant wait times, and blinding "no vacancy" signs. Unleeesss, you commit to thinking beyond the biggies. Massachusetts is awash with smaller towns and cities that never get their proper summer due. For every Provincetown there's an Eastham; for every Lenox there's a Pittsfield; for every Nantucket there's a Wood's Hole. These less-heralded towns still offer architectural charms, fine dining, and pictorial beaches, without needing to book an Airbnb six months out. Summer spontaneity isn't dead yet.
Recommended Video
This Husky Cafe Is Doggie Heaven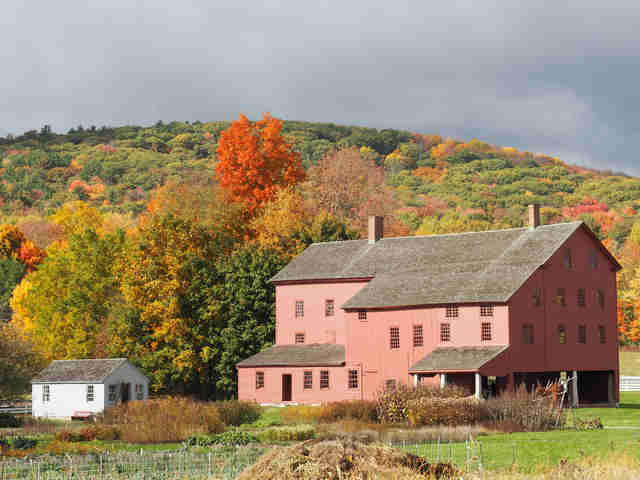 Pittsfield
Why it's so great: No longer just a pit stop on the way to Lenox, Pittsfield boasts Berkshires attractions aplenty. The Hotel on North, a cosmo boutique hotel ensconced in two 19th-century brick buildings, serves as the launching pad from which you can explore this chic throwback town. There's a farmers market, a monthly arts walk, the Hancock Shaker Village (with farm dining and goat yoga!), a cultural district boasting an indie movie theater (serving beer and wine!), and the Berkshire Museum, initially founded to bring culture and history to this rural area. Those seeking a little calisthenics with their cultivation can meander over to Pittsfield State Forest for waterfall hikes and a gander at Balance Rock (technically in Lanesborough, though owned by the City of Pittsfield).
Must-eat foods: Eat on North for oysters and tacos, Methuselah for cocktails and craft beer, Mission Bar & Tapas for snacks and live music, and Dottie's for a breakfast/brunch burrito.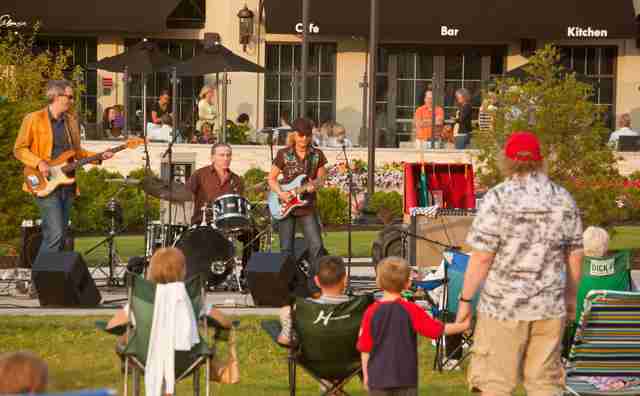 Hingham
Why it's so great: Have you noticed that lifelong urbanites have been packing up and relocating to this South Shore haven? For starters, there's a harbor ferry that leaves straight from Rowes Wharf every weeknight. That's right: Monday through Friday, you commute by water -- and yes, there is a bar on board. For visitors, the ferry drops you off right in Hingham Shipyard, a shopping and dining enclave that lets you enjoy your chardonnay with a side of harbor views (yeah, you're going to get boat envy). Hingham is also a stone's throw from some of the South Shore's loveliest beaches, including Nantasket, and Stodder's Neck offers dog-friendly harbor-side walking paths. Hey, if a Wahlberg made his home here, it has to be good, right? (Paul, not Marky Mark, but still.)
Must-eat foods: Tosca for homemade pastas and wood burning oven pizzas; Trident Galley & Raw Bar for small plates and oysters. Wahlburgers gets all the reality show accolades -- and an adult shake is still a must -- but Paul Wahlberg's first venture, Alma Nove, is still a bastion of Italian fine dining. Either way, you'll still hit up Hingham Beer Works before taking the ferry back to reality.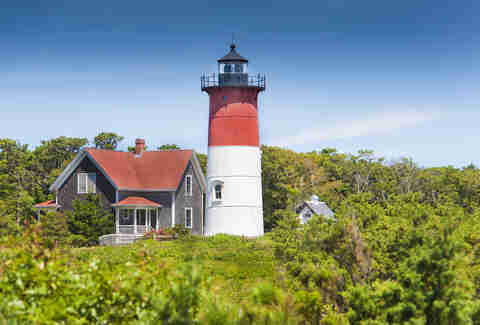 Eastham
Why it's so great: We know what you do: You zip down the 6, right through Eastham on the way to Wellfleet and P-town. Fool: You're skipping out on some epic and epically beautiful nature time. The Cape Cod National Seashore is dog-friendly, open year-round, and the bayside beaches offer under-sung sunset views (and no shark attacks). The Nauset Bike Trail starts in Eastham, granting you another gorgeous view of the water, and the town is awash in mini-golf courses for all you putters. And of course, Eastham is home to Nauset Light, probably the most photographed lighthouse on the entire Cape.
Must-eat foods: Karoo for authentic South African cuisine (yes, really), Arnold's for Food & Wine-approved fried clams, Local Break for gumbo and po-boys, and Hole in One Donut Shop for, well, you know. We're also suckers for the bucket of takeaway fried chicken from Russ and Marie's, just over the border in Wellfleet.
Deerfield
Why it's so great: Feeling a hankering for small-town living? Head west of Boston for two hours, and soon enough you'll be daydreaming/day-drooling over a Main Street so picturesque that it puts Norman Rockwell paintings to shame. The historic district is actually an outdoor museum populated by 18th-century homes, many hosting live art and cooking demonstrations. Foodies can poke around the Cooks' Garden, which grows veggies and herbs used in on-site culinary classes. The renowned Deerfield Inn, built in 1881, was nearly destroyed by Hurricane Irene back in 2011, but a full restoration beckons you back to the renowned B&B. Yes, the town plays host to a couple of private boarding schools, but you can suffer a few privileged teens for a setting this picturesque. It's great year-round, but in the summer, you must go tubing down the Deerfield River!
Must-eat foods: Champney's for beer-braised short ribs and, if it's a cold evening, a fireside drink; Berkshire Brewing for taproom drafts.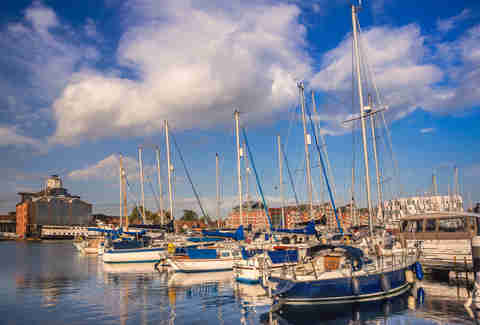 Ipswich
Why it's so great: You have to start with Crane Beach. The crown jewel of the The Trustees of Reservations holdings is a miles-long shoreline where you can also hike the dunes and let your dog off-leash in designated areas. And ever notice how many mountain bikers populate the streets of Ipswich? It's basically a cycler's nirvana, with many a recreational club hitting the town on weekends. It's also a terrific place to literally get back on that horse, as stables and horseback riding lessons abound throughout the bucolic and stone-walled area. Then there's Wolf Hollow, a North American wolf sanctuary that aims to correct the narrative surrounding these maligned creatures. (No, you still can't pet them.)
Must-eat foods: 1640 Hart House for prime rib, Ithaki for authentic Greek, True North Ale Company for local IPAs, Russell Orchards for locally made dandelion wine, and Ipswich River Provisions for any one of the many great sandwiches. Oh, and did you know the Clam Box is technically in Ipswich? Yes, that Clam Box. Queue up now. (Head across the Essex border to JT Farnham's and Woodman's if you feel like doing a local fried-clam taste test.
Salem
Why it's so great: OK, so Salem isn't bypassed year-round, but its reputation is as an autumn locale -- pity given its ever-evolving hotel and restaurant scene. The Merchant is an upscale boutique hotel in a historic building by the water, while The Hotel Salem boasts the only rooftop bar in town. Bit Bar, a restaurant/throwback arcade, is alone worth a day up north. And then there are the evergreen attractions: the pedestrian mall, the floating maritime museum, harbor cruises, and plenty of sailing opportunities. Itching for some sand between your toes? Singing Beach in Manchester-by-the-Sea is just a few minutes away.
Must-eat foods: Bit Bar, duh. Ledger for wood-fired cuisine in a former bank. Counter for handmade pasta inside a former department store, Adriatic for Mediterranean-inspired seafood dishes, Finz for incredible water views and lobsters.
Woods Hole
Why it's so great: Yes, it's home to an oceanographic institute, and yes, it's the launching pad for the Vineyard, but Woods Hole is a hipster destination in its own right. Proof? Longtime Brooklyn comedian Eugene Mirman up and moved there. There are a couple of small beaches, several museums, a lighthouse, enviable shingled real estate, and enough dining and drinking options that you'll start to pity all those whale belts scurrying for the day's last ferry. Those itching to go a little farther afield can meander up the road to Falmouth, an under-sung Cape destination in its own right; the recently opened Coonamessett hosts big-name acts like G Love as part of its summertime Black Dog Concert Series.
Must-eat foods: Morning java and a bread pudding made with Gosling's rum from Pie in the Sky, grilled cod burritos at Quick Holes Taqueria, ferryside margaritas at Landfall, and, for a waterside date night, the oysters and short-rib burger at Water Street Kitchen.
Worcester
Why it's so great: The Woo is where it's at. Hell, even NPR named Worcester the new "it" town last year. The Crompton Collective brings together local artisans and antique deals for a one-stop shopping experience and tours around town in the summer. The Canal District includes retail, a farmers market, and a historical walking tour. New restaurants and breweries seem to open every week, the lower overhead costs continuing to lure chefs and brewers from Boston. And did you know that famed shoe and clothing designer Loeffler Randall hails from Worcester (or as our GPS lady pronounces it, "Wochester")?
Must-eat foods: Colorado lamb chops at Deadhorse Hill, Rocket Pale Ale at Wormtown Brewery, beery mac & cheese at Armsby Abbey, charcuterie and wine at Kummerspeck, Korean fried chicken sandwich at Simjang, craft beer and donuts at Doughnuts & Draughts, Broth for New England clam bake ramen.
Sign up here for our daily Boston email and be the first to get all the food/drink/fun the Hub has to offer.