Spoiler alert: We're all gonna die. We know that; what we don't know is what comes after. So much of what can be considered "haunted" comes down to mysterious things, events that can't be explained, or simply unknown phenomena. That's why Halloween is so fascinating and why visitors flock to Salem every October, but the infamous 1692 witch trials weren't the area's only examples of otherworldly creepiness. Here are the most haunted places in Massachusetts.
Danvers
Long before proper psychiatric care became commonplace, the mentally ill went to places like Danvers State Hospital, also known as (take your pick): the State Lunatic Hospital at Danvers, Danvers Lunatic Asylum, and Danvers State Insane Asylum. Built in 1874, it was designed under the Kirkbride Plan, a design meant to aid in healing patients. It's also known as the birthplace of prefrontal lobotomy, a gruesome procedure that was meant to calm mood swings but would instead make patients incoherent and permanently disabled. The hospital eventually closed after reports of shock therapies, more lobotomies, and the use of straitjackets surfaced. The building was demolished in 2007, but some of its tunnels are still in use today.
The hospital has made several appearances in pop culture and TV, including the horror movie Session 9 and the 1958 drama Home Before Dark. Most famously, the site inspired horror-fiction author H.P. Lovecraft to create a setting known as "Arkham Sanitarium" for his story, "The Thing on the Doorstep."
Fall River
If you ever decide it might be fun to sleep where Lizzie Borden is alleged to have hacked her mother-in-law and father to death in 1892, be our guest. The murders were so horrific and sensational that Borden's guilt and/or innocence is still debated. The fact that she was acquitted of the murders, despite massive holes in her story and gross mishandling of evidence speaks to the ailing judicial system back then.
If you ever decide to sleep in the house, which is now a bed and breakfast, rest assured the owners will do everything they can to make you feel as uncomfortable as possible, including strategically placing pictures of the murder scenes throughout the house. If you've seen those pictures once, you don't need to see them again.
Salem
We couldn't write this list of haunted places in Massachusetts without mentioning Salem, could we? Established in 1925 and a member of the Historic Hotels of America, the Hawthorne Hotel is deemed one of the most haunted in America. According to historichotels.org, alleged witch Bridget Bishop, one of the first witches to be executed in the Salem Witch Trials, grew an apple orchard where the hotel now stands. Guests have reported odd feelings and smelling baked apples where there are none. Rooms 325 and 612, along with the entire sixth floor, are supposed to be the most haunted in the building. Female apparitions (possibly of Bridget?) have been spotted and crying has been heard. Despite the hotel's dark aura, people still marry here. Honestly, the scent of apples doesn't seem that bad.
Concord
Surgeries during the Revolutionary War were rather crude affairs. Doctors hacked open patients using handsaws and hooked knives, and performed amputations in an attempt to save soldiers. Those who didn't make it were stored in a makeshift morgue at this historic hotel, which dates to the early 1700s. Dr. Timothy Minot used Room 24 as an operating room, while Room 27 was borrowed as the morgue during the war. People say they've seen apparitions at the hotel, and some guests report being tucked into bed by… Something.
Cape Ann
Dogtown is an abandoned settlement on Cape Ann, an area split between Gloucester and Rockport. It was known as a safe area for people in the 1600s trying to avoid Native American and pirate attacks. It's forested and rocky, a place New England painter and poet Marsden Hartley once called a "cross between Easter Island and Stonehenge." After it was deserted, packs of wild dogs were seen roaming the area. Legend has it they're remnants of Revolutionary War widows' pets, if you believe that sort of thing. People like Tammy Younger, Molly Jacobs, and Peg Wasson were said to practice witchcraft there. Though many of Dogtown's homes are gone, lots of cellar holes remain. Strange messages like "If work stops, values decay" are carved into some large boulders, making the area an ideal spot for a haunted hike.
Belchertown
Opened in 1922, this "school" was notorious in Western Massachusetts as a place of cruel and barbaric treatment of the mentally ill and disabled. Patients were sometimes found sitting in their own excrement. Some had teeth pulled to make feeding easier. The staff was limited and overworked. And besides that, vermin found their own home in the school. Beginning with the civil rights movement, people finally began to realize those with disabilities deserve equal human rights. It's frankly shocking that positive change didn't take place in American societal culture until the mid-20th century. Several lawsuits and unnecessary deaths later, the school finally closed in 1992.
North Adams
Hoosac Tunnel, also known as Hoosick Tunnel, is a railroad tunnel in the Northern Berkshires that runs from North Adams to Florida, Massachusetts. The tunnel has also been dubbed the "Bloody Pit," for the ungodly number of people who died during its construction. The final number is disputed, but according to Atlas Obscura, about 200 men died over its 24-year construction, from 1851 to 1875. During one disturbing accident, a 1,000-foot central exhaust shaft exploded, destroying a hoist that was used to lower men and equipment down the tunnel. Miners near the top tried to rescue those below, but eventually gave up, assuming no one survived. Months later, they found a makeshift raft, meaning there had been initial survivors, but that they died shortly after.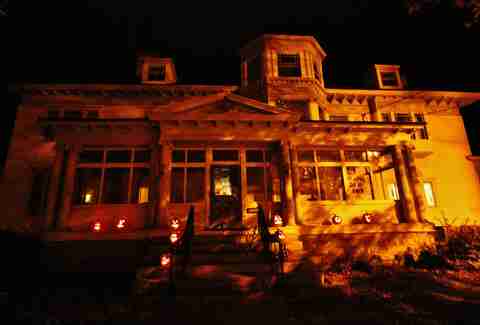 North Adams
A tragic car accident heaped misery on this wealthy family in the early 20th century, and this town nestled in the northwestern part of the state still hasn't forgotten it. Albert Charles Houghton was the first mayor of North Adams and president of Arnold Print Works, what is now the Massachusetts Museum of Contemporary Art (MassMoCA). He and his family lived in an opulent mansion (Houghton's third house in the town), which was built in the Neoclassical Revival style. On August 1, 1914, Houghton, along with his daughter, Mary, their chauffeur, John Widders, and a couple friends, Robert and Sybil Hutton of New York, went out for a morning drive up to Vermont in Houghton's first car, a Pierce-Arrow touring vehicle.
In Pownal, Vermont, the car caught the soft shoulder of the road and careened down a embankment. The car rolled over Sybil, killing her; Mary died later that day; and Houghton died 10 days after. Widders was cleared of any wrongdoing, but couldn't forgive himself for the accident. The next day, he used a horse pistol to kill himself in Houghton Barn. The mansion, on the National Register of Historic Places and rumored to be haunted, has been featured on Travel Channel's Ghost Adventures and the show Ghost Hunters.
Stockbridge
The Berkshire hills, in the western part of the state, is often considered a hotbed of hauntings, what with its isolated dense forest and wetlands. The Red Lion Inn has been in operation there since 1773, allowing any number of creepy ghosts to pay a visit. Travelers who've reviewed their stay have reported several haunted undertones, such as some force tugging at the bed sheets, odd disturbances in Room 301, and a man in a top hat who would disappear into a hazy mist. Members of the cleaning staff have also claimed spooky sightings all over the fourth floor.
Waltham
Metropolitan State Hospital, a mental-health facility across parts of Waltham, Lexington, and Belmont, was founded in 1927. It closed in 1992 for cost-cutting reasons. Another hospital built on the Kirkbride Plan, it wasn't always successful in its efforts, such as when patient Melvin Wilson murdered Anne Marie Davee in 1978. The murder story itself is tragic: The Department of Mental Health was neglectful in conducting the case, and her missing-person report lacked proper documentation. Wilson himself was found to have seven of Davee's teeth a month after her disappearance. The department officially closed her case in 1979, but parts of her body weren't found on the grounds until 1980. The building was the inspiration for American Horror Story: Asylum, but Davee's sad and true-to-life murder is a scary enough story on its own.
Sign up here for our daily Boston email and be the first to get all the food/drink/fun the Hub has to offer.