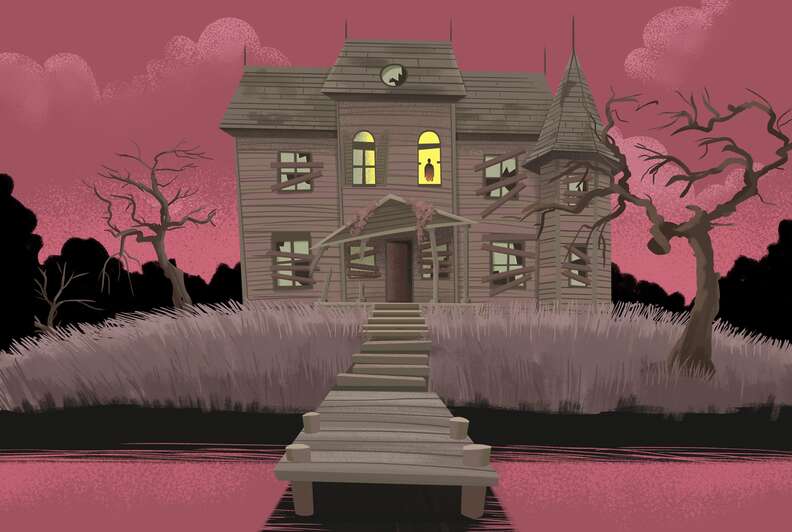 A healthy dose of doubt should always accompany ghost stories. Fact-checkers like me know this. But when the fall chill sets in and dead leaves collect on the ground, it becomes more difficult to separate fact from fiction.

There is no better time to investigate these odd ghostly occurrences and suspicious sightings than October, and no better place to experience them than in Massachusetts. One of the original 13 colonies, the history of The Pilgrim State stretches far into the past. Legends and horror stories about gruesome deaths are intertwined with ancient Native American folklore. Remnants of old stone settlements are still fragmented throughout the Commonwealth, inviting the possibility that ritualistic behavior and supernatural activity really did take place.
But it will be up to you to decide whether these stories are true. Are you up for the challenge?
Southeastern Massachusetts
We've all heard of the Bermuda Triangle, that watery grave where Amelia Earhart and others mysteriously vanished. But Massachusetts has its own unexplained phenomenon. It's the Bridgewater Triangle, so named by paranormal researcher Loren Coleman in his 1983 book, Mysterious America. The Bridgewater Triangle comprises 200 square miles and 17 towns -- and Abington, Freetown, and Rehoboth serve as the "tips" of the triangle.

The Triangle harbors oodles of bizarre, supernatural tales -- a "huge black killer dog" spotted in Abington in 1976; UFO sightings; "George" the ghost (he frequents Bridgewater State University); tall, winged creatures; moving orbs of light; and even Bigfoot. Do you need more proof that the Triangle is haunted? How about stories of mutilated cattle, a strange hitchhiker, and a "large, light tan cat the size of a Great dane" called Mansfield Mystery Cat? A TV series about Bridgewater Triangle will eventually hit FX, too, so its reputation won't fade anytime soon.
Leicester
Spider Gates Cemetery, or Quaker Cemetery or Friends Cemetery, was founded in 1740. The black metal arms of its iron gates, which arrived in 1895, were meant to resemble the Sun's rays, but instead remind people of spider webs. Hence the name.

You can even visit the Eighth Gate To Hell here, if you're interested. Legend says if you go through the other seven gates of the cemetery (which aren't really there), then enter Spider Gates, which is the eighth door, it will lead you to another dimension. "The Altar" is allegedly the site of satanic rituals, and someone was allegedly hanged there. Spider Gates is also home to Marmaduke Earle's gravesite, where people leave coins to hear Marmaduke talk. Leave some change, say his name 10 times while walking around his grave, then listen.
West Bridgewater
It's right there in the name -- "hockomock" is Algonquin for "place where spirits dwell." Native Americans thought the swamp was magical, but it freaked Puritans out. They called it "The Devil's Swamp" and "The Devil's Bowl." It's the site of an old burial ground, so naturally, Poltergeist-like spirits could bubble up from the netherworld at any moment. Turtles "as big as a Volkswagen Beetle" and monster snakes, oh my.
Then there are the pukwudgies. In Wampanoag folklore, the name translates to "little wild man of the woods that vanishes." Pukwudgies can make fire, use magic, and appear and disappear whenever they like. They like to push people off cliffs, attack them with spears and kidnap them. Paranormal researcher Christopher Pittman says that, whenever he's at the swamp, he feels like he's being watched. People who know the area well get lost in there and never come out. Was it the Pukwudgies?
Fall River
If you ever decide it might be fun to sleep where Lizzie Borden is alleged to have hacked her mother-in-law and father to death in 1892, be our guest. The murders were so horrific and sensational that Borden's guilt and/or innocence is still debated. The fact that she was acquitted of the murders, despite massive holes in her story and gross mishandling of evidence speaks to the ailing judicial system back then.
If you ever decide to sleep in the house, which is now a bed and breakfast, rest assured the owners will do everything they can to make you feel as uncomfortable as possible, including strategically placing pictures of the murder scenes throughout the house. If you've seen those pictures once, you don't need to see them again.
Gardner
Houses rumored to be haunted can be a tough sell on the market, but caretakers of the SK Pierce Mansion in Gardner have embraced its mysterious past. The Victorian-style home, built in 1875 by Sylvester K. Pierce, has 10 bedrooms and 11-foot-high ceilings, just enough room for ghosts and orbs to roam freely.
The book Bones in the Basement mentions homeowners Edwin Gonzalez and Lillian Otero, who bought the home in 2009. They heard the stories, but weren't convinced. In the fall of 2011, they moved out. Get the book to find out what made them flee. The SK Pierce Mansion is now a haunted attraction -- you can even spend the night there, though you probably shouldn't.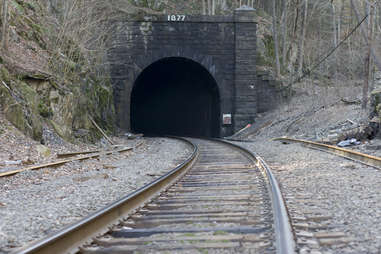 North Adams
Hoosac Tunnel, also known as Hoosick Tunnel, is a railroad tunnel in the Northern Berkshires that runs from North Adams to Florida, Massachusetts. The tunnel has also been dubbed the "Bloody Pit," for the ungodly number of people who died during its construction. The final number is disputed, but according to Atlas Obscura, about 200 men died over its 24-year construction, from 1851 to 1875.
During one disturbing accident, a 1,000-foot central exhaust shaft exploded, destroying a hoist that was used to lower men and equipment down the tunnel. Miners near the top tried to rescue those below, but eventually gave up, assuming no one survived. Months later, they found a makeshift raft, meaning there had been initial survivors, but that they died shortly after.
Assonet
There is enough gory lore in this area inside the Bridgewater Triangle to warrant its own blood-curdling entry. Several real-life murders have taken place in this deeply warped forest. The body of Mary Lou Arruda, 15, was found tied to a tree in 1978 -- she had been abducted from her Raynham home. A homeless man mistaken for a police officer was murdered there. Two men were shot and killed on Bell Rock Road, which runs through the forest. Satanic cult activity has also been reported. In 2016, someone stretched wires across the trails, possibly to cut off motorbike riders at their necks. Do you want us to keep going?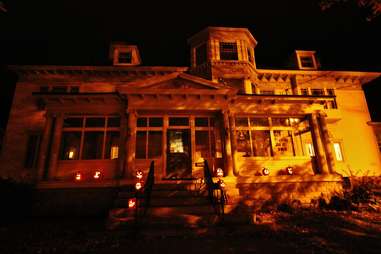 North Adams
A tragic car accident heaped misery on this wealthy family in the early 20th century, and this town nestled in the northwestern part of the state still hasn't forgotten it. Albert Charles Houghton was the first mayor of North Adams and president of Arnold Print Works, what is now the Massachusetts Museum of Contemporary Art (MassMoCA). He and his family lived in an opulent mansion (Houghton's third house in the town), which was built in the Neoclassical Revival style. On August 1, 1914, Houghton, along with his daughter, Mary, their chauffeur, John Widders, and a couple friends, Robert and Sybil Hutton of New York, went out for a morning drive up to Vermont in Houghton's first car, a Pierce-Arrow touring vehicle.
In Pownal, Vermont, the car caught the soft shoulder of the road and careened down a embankment. The car rolled over Sybil, killing her; Mary died later that day; and Houghton died 10 days after. Widders was cleared of any wrongdoing, but couldn't forgive himself for the accident. The next day, he used a horse pistol to kill himself in Houghton Barn. The mansion, on the National Register of Historic Places and rumored to be haunted, has been featured on Travel Channel's Ghost Adventures and the show Ghost Hunters.
Rehoboth
Route 44 near the Seekonk-Rehoboth line is known as one of the most haunted roads in the country. Late at night, you may pass a hitchhiker with shocks of red hair and dark eyes who's dressed like a lumberjack. He's the Red-Headed Spectre. You DO NOT want to pick him up. If you see him trying to thumb a ride, please drive in the opposite direction, though he may still appear in your back seat. You might just hear him laughing through the static on your radio.

Route 44 also cuts through the "Cursed Forest of Massachusetts," which we've already determined is not a friendly place. So whatever you do, don't slow down to take in the scenery. If you've seen one tree, you've seen 'em all, right?
Waltham
Metropolitan State Hospital, a mental-health facility across parts of Waltham, Lexington, and Belmont, was founded in 1927. It closed in 1992 for cost-cutting reasons. Another hospital built on the Kirkbride Plan, it wasn't always successful in its efforts, such as when patient Melvin Wilson murdered Anne Marie Davee in 1978. The murder story itself is tragic: The Department of Mental Health was neglectful in conducting the case, and her missing-person report lacked proper documentation. Wilson himself was found to have seven of Davee's teeth a month after her disappearance. The department officially closed her case in 1979, but parts of her body weren't found on the grounds until 1980. The building was the inspiration for American Horror Story: Asylum, but Davee's sad and true-to-life murder is a scary enough story on its own.
Sign up here for our daily Boston email and be the first to get all the food/drink/fun the Hub has to offer.
Emily Reily is a freelance writer who once saw the witchcraft high priestess Laurie Cabot inside a Salem CVS. Send all supernatural messages to @Radiobites.