It's time again to hit the road to take in New England's most hype-worthy offering: its fall foliage, of course. We're talking all six states here—our home of Massachusetts, plus Maine, New Hampshire, Vermont, Connecticut, and Rhode Island—with popular pitstops and lesser-known destinations that are nothing short of glorious along the way.
We're here to help you map out your next weekend adventure for the fall best sights this region has to offer. This year, Vermont is predicted to have the brightest leaves, and in general Northern New England is the best leaf-spotting spot. Most important to you, though, is that the leaves are slated to change earlier than ever this year—so read on and get your plans in order.
New Hampshire
If you decide on New Hampshire for your fall foliage getaway, you have your pick of places. From the famous White Mountains to the Great North Woods, there are enough state parks along the way to those destinations to get some major leaf peeping in.
Speaking of the White Mountains, the New Hampshire mountain range is arguably one of the most scenic destinations in New England. So if the mountains have anything to do with your autumn bucket list, add the drive along the 35-mile Kancamagus Pass immediately to the top. The NH roadway, nicknamed The Kanc, takes you directly through the White Mountain National Forest, and at one point, you'll have climbed as high as 3,000 feet above sea level all while on wheels. Just a heads up, there are really no gas stations or services along this stretch, so be sure to fill the tank up ahead of time. End the day by refueling at the Tamworth Distilling, at the White Mountains base.
The Great North Woods region of the state is far less popular with leaf hunters, but just as breathtaking, and you're a lot more likely to encounter friendly forest animals (although, no guarantee that they're actually friendly). Along the route, stop at Milan State Park, which holds a 132-foot fire tower that alone is worth the visit—from there, you'll be gazing at the red and yellow treetops all the way into Maine, Vermont, and Canada.
If you'd prefer to take a backseat during the adventure, you're in luck. From North Woodstock's Cafe Lafayette Dinner Train to North Conway's Conway Scenic Railroad, you can pick up a train ticket specifically for kicking back and taking in the fall sights.
Vermont
All of New England has leaf peeping that is equally fantastic, so you certainly won't be disappointed wherever you decide. But Vermont is one of the most talked-about states for fall road trips and it's destined to have the prettiest foliage in all of New England this year.
For those having trouble deciding on a point A to point B within Vermont, Route 100, the state's largest highway, is a more than 200-mile thoroughfare that's popular with nature photographers and fall enthusiasts alike. Why so special, you ask? Other than it being a natural knockout, the route's lack of billboards and close proximity to the Green Mountains are standout selling points. The other telltale reason is that the highway leads you directly to some of Vermont's most charming small towns, from Weston (which houses the revered Vermont Country Store) to Plymouth Notch (home of the award-winning Plymouth Artisan Cheese).
But the main event comes when you turn off Route 100 onto the Green Mountain Byway, which takes you from Waterbury to Stowe. This means leaf-watching against a backdrop of bucolic mountains and farmland, cider donuts from Cold Hollow Cider Mill, and a detour into the Ben and Jerry's Factory. Lesser known is historic Route 7A, AKA the Shires of Vermont Byway, which takes you between 17 tiny towns and villages, including the historic enclaves of Bennington and Manchester. Have some extra time? Park and take the Gondola SkyRide on Mount Mansfield in Stowe to get a bird's eye view of the foliage.
One of the essential leaf-viewing spots in the state may well be atop the 306-foot-tall stone obelisk Bennington Battle Monument (typically open through October 31, but check the website for details). Or you can (carefully) cruise up the hairpin-y Skyline Drive, a privately owned toll road favored by motorcyclists that winds up to the top of Equinox Mountain. There—at 3,848 feet above sea level—you'll have simultaneous views of the Green, White, Adirondack, Berkshire, and Taconic mountains. If you're craving a little exercise, head into Burlington and hop on some two-wheelers to tour the Burlington Greenway.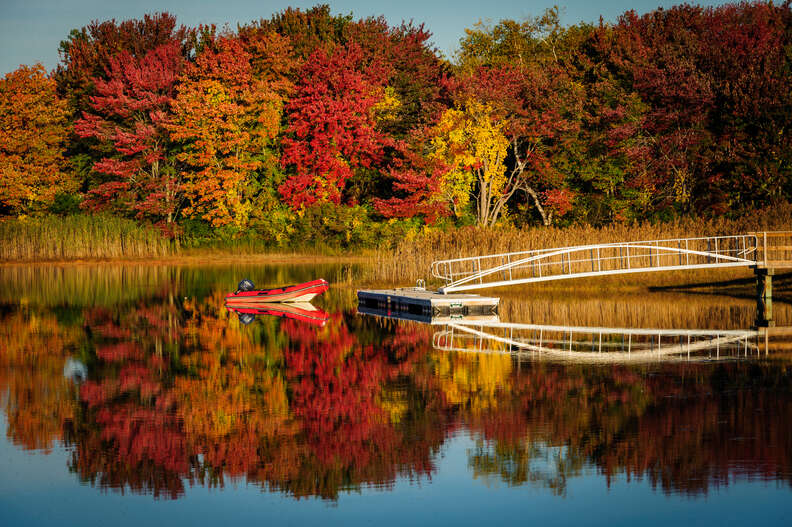 Maine
There's never a bad time to meander up the coastline via Route 1, but in the fall you get the double whammy of water and foliage views. If you wanted, you could start in Kittery and spend hours winding your way up the coast toward Bar Harbor.
But for the sake of worthwhile pit stops, Ogunquit offers a leaf-peeping stroll along the Marginal Way, while Kennebunkport offers a colorful drive through Cape Porpoise and along Goose Rocks Beach and the Bridle Path invites you to bike through the foliage. Wells Reserve lets you add a little bird-watching to your leaf-peeping, and there's a more active hike to be had on the Eastern Trail in Arundel.
Or think more outside the box: Maine's many islands might not even be on your radar in the summer, never mind as a foliage destination. But between the ferry ride over and the destination itself, any archipelago hop will force you to slow down and marvel at our region's color show Chebeague Island is a personal fave for an autumnal respite. If a rocky ferry ride isn't your cup of off-season tea, make the drive up to Acadia National Park and Mount Desert Island for more accessible island visits. If you want to leaf-peep with the locals, commit to a hike on Blue Hill Mountain, an area favorite.
Connecticut
The Last Green Valley is a National Heritage Corridor and a no-brainer for foliage hunters. Seventy-seven percent of its lands are either forest or farm, which means a whole lotta psychedelic leaf patterns and not a lot of commercial builds to distract. The 36-town-strong route also offers all manner of classic New England autumnal fun: apple- and pumpkin-picking at Buell's Orchard, wine-tasting at Sharpe Hill Vineyard, and hiking at Macedonia Brook State Park.
Want to take in the same fresh autumn air as Meryl Streep? You heard us right. Head for CT's still-undersung Northwest Corner where Streep has a home. Come fall, Litchfield Hills and its 26 charming towns actually get their moment in the fading fall sun, owing to the truly singular foliage along Route 7. The roadway also shows you two gorgeous covered bridges (West Cornwall Covered Bridge and Bulls Bridge) and leads toward the working farm Kent Falls Brewing Co. Detour a bit more to hike up the Heublein Tower in Simsbury—the 165-foot-tall relic grants you one of the best panoramic views in the state.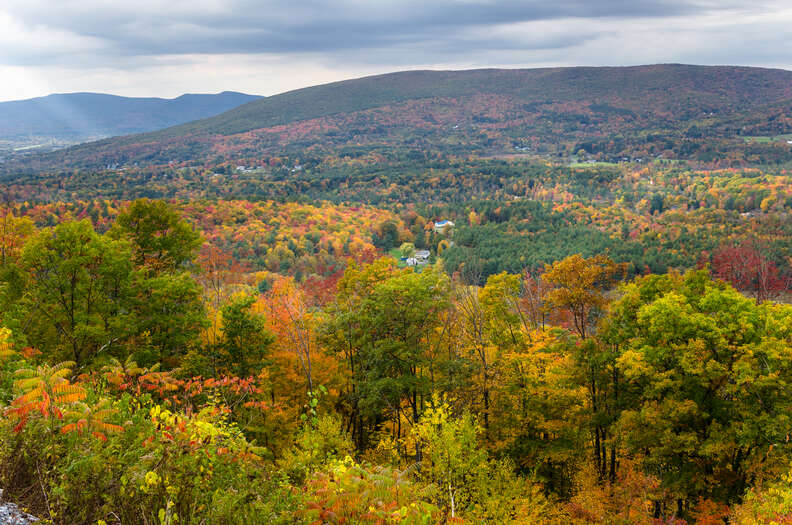 Massachusetts
Route 2 is the state's foliage highway. The drive through Central and Western Massachusetts takes you through the need-no-introduction Berkshires, where the prismatic flora is truly breathtaking. By the time you hit the 42-mile Mohawk Trail, you'll be at a loss for words over the scenery—then doubly astounded as you maneuver the infamous hairpin turn just before North Adams. If you're looking to get out of the car, The Clark Art Institute's 140-acre grounds are open 24-7 for hikes, picnics, and a perusal of the outdoor art installations—and leaves, of course. If you can't get enough art, there's also a self-guided artwork tour throughout Berkshires County.
But you'd be sorely missing out to discount the Cape in the fall. Once you cross the Sagamore Bridge, detour over to Route 6A for a leisurely, color-speckled meander through the towns you typically pass by on the way to Provincetown. The Old King's Highway also invites foliage-friendly stops at the Heritage Museums & Gardens and the stone Scargo Tower in Dennis—the latter a little-known lookout. In the meantime, still-open farm stands along the route let you stock up on fall veggies and decorative gourds. One last thing: Don't forget about the many apple-picking options near Boston—leaf-peeping close to town is a perfectly fine option.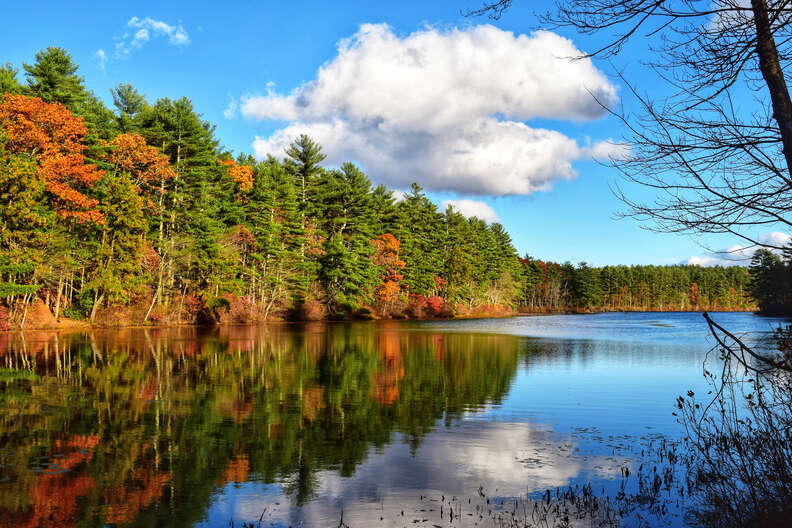 Rhode Island
Start in Woonsocket on Route 146, taking time to grab a candy apple at Jaswell's Farm, and continue through Providence for a double-dose of autumnal vistas and classic New England architecture. Then turn onto Route 114 and meander into Portsmouth for a leafy pedal aboard the Rail Explorers. Eventually, you'll end up in "America's First Resort" for two archetypal leaf-peeps: a slow car crawl down Ocean Drive and a stroll along the Cliff Walk (which is actually maneuverable in the fall).
Or you can take I-95 south to Blackstone Valley for a twofer of leaves and water. The Scituate Loop is a favorite, taking you around much of the serene Scituate Reservoir (just brake for bikers, as it's a favorite motorcycle ride).