Ever have one of those mornings when wholesome autumn fun beckons, but so does sleeping in? No need to choose. There are great places outside Boston and in New England to take in some fall foliage without dedicating your whole weekend. The colors are especially fabulous this year thanks to our weirdly temperate, just-rainy-enough spring and summer. Foliage peaks at different points around the region and country, meaning the show has already started and goes through late October. Fortunately, you've still got some time to check out the spots on this list. Whether you're interested in a relaxed day trip or just a post-prandial wander about town, we've got something for everyone. Just scroll through the options below, rated and ranged from least to most lazy. Happy wandering.
Recommended Video
France's Fête des Lumières Is a Light Festival Unlike Anything You've Ever Seen
Jaffrey, New Hampshire
Who it's for: Hikers who don't have all day.
What you get: New Hampshire's White Mountains are the epicenter of fall foliage. But the nearly 4-hour drive from Boston makes day trips exhausting even if you manage to miss tour-bus traffic -- you won't -- and summiting the best peaks takes the better part of a day to begin with. So check out Monadnock instead! It's only a couple hours from Boston, and if you're feeling feisty, there are summit routes that take as little as four hours to complete. The wee town of Jaffrey, nestled up against a 3,165-foot-high backdrop of blazing color, could not be any more quaintly New England. For more food options, though, check out the even quainter college town of Keene about a half hour further up the road.
Caveat: This is not exactly a hidden gem, so if you go on a weekend during peak color season, be prepared to make friends on the trails.  
Lazy Level: 6/10 since you do need to actually get out of your car, but do keep in mind that it's emotionally one million percent easier than a White Mountains excursion.
Fairfield County, Connecticut
Who it's for: New Yorkers who magically have access to a car. Anyone who likes the idea of the Taconic but just can't even.
What you get: Connecticut's Route 15 was built for pleasure driving. Nearly 40 miles of well-maintained road that curves through wooded hills and under dozens of Art Deco bridges that were literally just built to be pretty. They are, in fact, very pretty. The colors are peak here a bit later than the more famous northeast drives like the Taconic Parkway. If you happen to be driving between Boston and New York, this is a no-extra-mileage required way to peep all your leaves. Gloriously, no trucks are allowed on the parkway.
Lazy Level: 9/10 if you can make this part of your commute. It still requires driving in Connecticut. Sorry.
Princeton, Massachusetts
Who it's for: Beer nerds. Hikers without cars. People with cars who don't like hiking but do like mountaintops. Families.
What you get: A tiny nook of the state that nonetheless has everything you could want for the perfect autumn day, and it's only an hour from Boston by car. You can also -- finally! -- take the commuter rail to the Wachusett stop on the Fitchburg line, then grab a Lyft for the remaining few minutes to the trailhead. Wachusett Mountain State Reservation offers 17 miles of trails that will take you by lakes, streams, and rolling hills. Much of it is friendly and approachable, perfect for those of us who only see a trail once or twice a year. While you can drive to the summit, you don't have to. The 5-mile summit loop has some tough bits if you're into that sort of thing.
After your hike -- or, er, grueling drive? -- stop for a beer at Wachusett Brewing Company. Only a few minutes down the road from both the reservation and the commuter rail station, they're famous for their Green Monsta IPA and strangely good Blueberry Ale. They have a relaxed taproom surrounded by trees and if you go on a weekend, you may catch live music in their fire-pitted, Jenga-tabled brew yard.
Lazy Level: 9/10 if you drive to the summit. 7/10 if you do a bit of hiking and then get a beer, which, why wouldn't you.
Cambridge, Massachusetts
Who it's for: City-dwellers. Anyone who wants a bit of fall color time immediately followed by a latte and Wi-Fi.
What you get: One of the oldest landscaped cemeteries in the country, Mt. Auburn is a truly beautiful place to get your nature on. Thanks to the wide variety of plantings, color here starts early and goes late. Take one of the guided foliage tours to explore all the nooks and crannies, or climb the lookout tower. The open-air top offers panoramic views packed with fall color and landmarks, from the Zakim Bridge sailing on the horizon to the Romanesque curve of Harvard Stadium. Keep an eye out for the many birds roaming the property -- it's wild turkey heaven up in here. When you're done, Ana Sortun's tiny, deliciousness-crammed Sofra is just across the street. And you get bonus Halloween points for checking out prime fall colors from a cemetery.
Lazy Level: 10/10. I mean, you can drive right up to the tower and park by it. For free. MBTA buses 71 and 73 also stop right outside the gates.
Boston, Massachusetts 
Who it's for: Nature lovers. Families. Those for whom the Charles River might as well be the Mason/Dixon line.
What you get: Right in the middle of Jamaica Plain, Harvard's arboretum provides 281 wander-licious acres. It was designed by Frederick Law Olmsted -- you know, that guy who did Central Park? Broad paths take you through a variety of trees and other plantings. In September, keep your eyes (and nose) peeled for a tree that smells like cotton candy when its leaves turn. Nature is rad.
Lazy Level: 10/10 if you take the Orange Line in. 7/10 if you choose to drive on the Jamaicaway, you fool.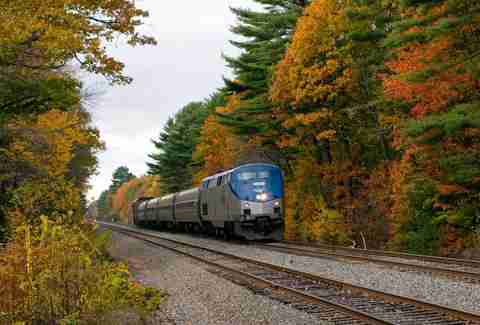 Boston, Massachusetts to Portland, Maine
Who it's for: Foodies who hate traffic.
What you get: Let Amtrak do the dirty work as you travel in comfort from Boston to Portland for an easy day trip. The ride is a couple of hours each way, giving you plenty of time to look at the gloriously changing scenery, which ranges from woodland to salt marsh. Tickets for the Amtrak Downeaster route start at just $24 one way, even on weekends. It's totally worth it to head down in the morning, get some Duckfat fries or a lobster roll at Becky's, and trundle back on board for a sunset ride home.
Lazy Level: 10/10. It's just so civilized.
Sign up here for our daily Boston email and be the first to get all the food/drink/fun the Hub has to offer.