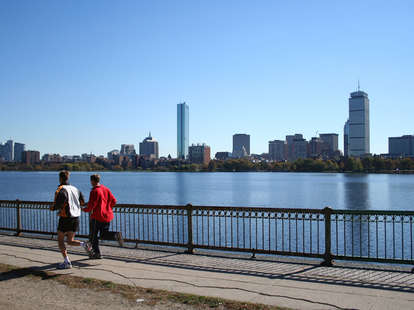 Stephen Finn/Shutterstock
With the weather getting warmer, it's only natural that you'd want to leave the treadmills behind and head outside to get your exercise. The gym can give you some serious cabin fever, especially if you've been doing the same routine all winter. So if you're in search of new places to sweat it out while soaking up some much-needed sunshine, we recommend trying out these gorgeous spots along the Charles.
Boston/Cambridge
This beautiful 18-mile loop lines the Charles from Science Park to Watertown Square, making it a great route for the cycling crowd. It passes by the Hatch Shell, where you can stop to catch a concert, or one of many other summer events, as well as several fitness parks maintained by the Esplanade Association. Go the whole way to see the skylines of both Boston and Cambridge in one go.

Cambridge
This park runs the length of Memorial Dr from Eliot Bridge to Western Ave. During the summer, it's closed to motor traffic on Sundays from 11am-7pm (starting the last Sunday in April) to facilitate public recreation. While this totally sucks for drivers, you can take advantage of the open roads on your bike, or just enjoy all the green space. You're bound to see people skateboarding, slacklining, or walking six dogs at once, all with panoramic views of the city in the background.
Various locations
The Esplanade Association maintains five different sets of recreational docks that you can use for fishing, picnicking, or lounging around. The westward view from the Boston docks makes for a great spot for evening yoga or tai chi, and the Adirondack chairs are perfect for chilling out when you're done. The docks are a regular haunt for zouk dancers, and on particularly windy days, you can watch a flurry of sail boats moving back and forth along the river.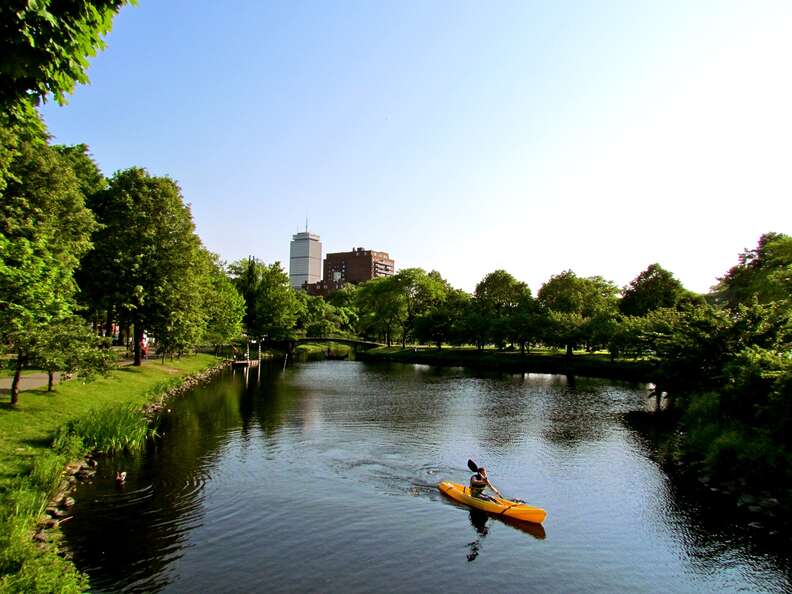 Boston University
If you're sick of the rowing machine, but still want that full-body rowing workout, rent a kayak or stand-up paddleboard and take it out on the Charles. It's a great way to see the city from a new perspective while really working up a sweat. And if you'd rather just be on a boat (cue the T-Pain), you can head over to BU's boathouse to sign up for a sailing class. Sadly, sailor outfits are not provided.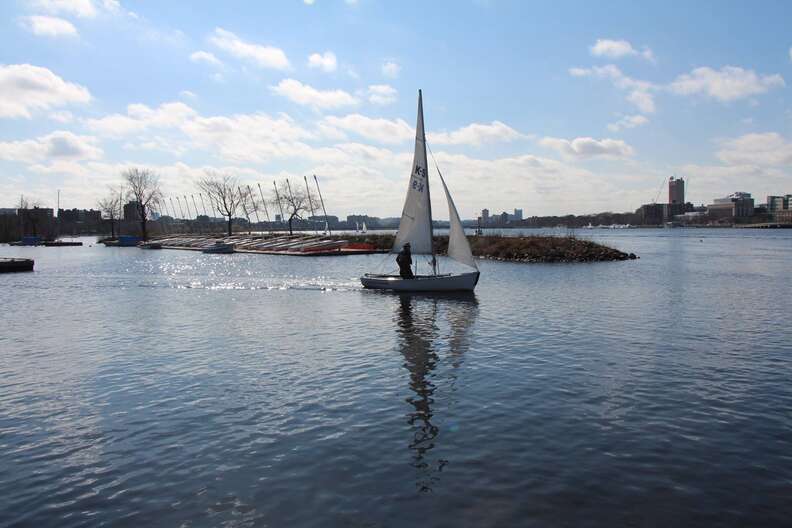 Beacon Hill
Starting each year on April 1st, Community Boating offers affordable lessons for kids and adults at every level of experience in stand-up paddleboarding, kayaking, and windsurfing. Find them between the Hatch Shell and Longfellow Bridge, and make sure to leave the iPhone in the car (because you really don't wanna be that guy).
Fitness Park
Boston University
The Fitness Park located by the Silber Way footbridge has pull-up bars, benches, and other basic steel structures for the playground warrior in you. And since it was designed as a free fitness space, there are plenty of suggested workouts sprinkled on signs throughout (including a few for people in wheelchairs). It's a great place for a stretch break, or to knock out a body-weight WOD.

South End
This former South End landfill has been transformed into a 350-acre park with miles of walking trails, a canoe landing, nature study paths, and an outdoor amphitheater. With the Charles on one side and Sawmill Brook on the other, much of the park offers up a fantastic view of the water. You might forget that you're supposed to be exercising.

Central Square
This Cambridge-side park has a swimming pool as well as athletic fields, playground space, and walking trails, making it excellent for frisbee, dog wrestling, partner acro, and all the other ways you trick yourself into doing cardio. The 15-acre space is also home to the oldest building on the Charles, a granite powder magazine built in 1818.
Boston/Cambridge
The Esplanade's Healthy, Fit & Fun program offers a ton of free classes along the Charles all summer. And they're actually good. The Association works with top fitness sponsors like Clif (as in "bar"), Reebok, Athleta, and Zico to pay for expert instructors from all over the city. Think CrossFit, Zumba, yoga, tai chi, and dance instructors from those Back Bay studios you'd normally be paying hundreds of dollars for. It's an amazing way to get top-notch instruction outdoors for free -- or close to it. Just remember to register, since demand is always high.

Newton
Those looking to show off their backhand can visit one of Charlesbank Park's four lighted tennis courts, all free for public use. Play against someone you know or someone you don't; either way, you'll get a great workout. Just remember that you'll get kicked off when the lights go out. Because seeing the ball is kind of an important part of hitting it.
Sign up here for our daily Boston email and be the first to get all the food/drink/fun the Hub has to offer.
Kim Prosise is a Boston-based travel & lifestyle writer who does every pull-up with her toes pointed (or it doesn't count!). Follow her on Twitter at @kimprosise.