Why Boston Is Definitively Better Than New York: A Manifesto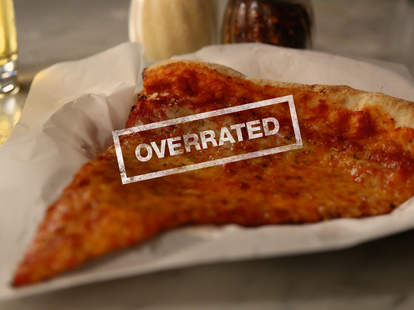 Because there's nothing quite like a good old-fashioned fight, it's Rivalry Week. Keep tabs on simmering feuds across the country right here.
Oh hey New York. It's us, Boston. We know you think no other city in the US is on your level. And that you can only really be compared to places like London, Mars, and the city where the Elves live in The Lord of the Rings. But because this is Rivalry Week, we pessimistic, provincial, Sox cap- and green/black '98 North Face fleece-wearing, Dunkin' Donuts-swilling, Good Will Hunting Blu-ray-/laser disc-/VHS-/DVD-/MiniDisc-owning, Tom Brady Deflategate-truthing Bostonians think there may be some cracks in your armor made from Katz's overrated deli meats. 
"Good one," you say, as you tuck your Wayne Chrebet Jets jersey into your work slacks. "But is that all you've got?" Oh no, friends. Let's just cycle through some topics. 
On pizza:
Your over-confidence in thin, reheated slices that aren't half as good as pizza made in a college town in Connecticut 90 miles away from you is somewhat astounding. You don't get extra credit for your pizza just because the oil pools in the tiny pepperoni cups when you put it back in the oven. It's no wonder that rat carrying the stuff into the subway was so popular: he was doing everyone a favor. 
"But your pizza..." you say accusingly, untucking your John Tavares Islanders jersey from your jeans. "Outside of the North End and Eastie, your pizza is all a Greek-style mess."
You are somewhat correct. But that Greek pizza is a suburban Boston legend. Every town has their own House of Pizza with a guy named Manny who doles out slices for $2.50. And Manny lets you sprinkle as much fake Parmesan cheese onto the already-gratuitously cheesed slices as you want, and hang out in those booths until someone's parents eventually go out to dinner, which is more than enough time to watch half of The Pelican Brief in their basement and French kiss a girl from your World Geography class named Kate. Our pizza isn't just about taste. It's a goddamned suburban lifeline. 
Also, Papa Gino's is actually kind of underrated. I don't care what you say about its overuse of oregano.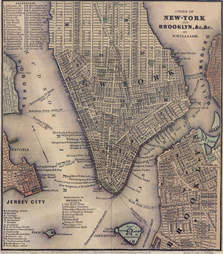 <a href="https://upload.wikimedia.org/wikipedia/commons/9/92/1847_Lower_Manhattan_map.jpg" target="_blank">Wikimedia</a>
On city planning: 
Your Manhattan grid system of streets and avenues with numbers is logical and easy to parse. Tourists from anywhere can just, like, count or whatever and get to places. Boston's system of random one-way streets that may or may not be alphabetical and wind around in surprising ways means you have to earn your way into new parts of our city. If you don't know that New Chardon turns into Bowdoin when you cross over Cambridge St from the North End, HOW DO I KNOW I CAN TRUST YOU?!?    
 
On accents: 
Boston's accent is nationally celebrated by the endless parade of television and movie actors trying to replicate it by hiring speech coaches out of Limey's Pub in Norwood. It has a subtle R-less flavor that kind of tastes like Dr. McGillicuddy's, Kelly's Roast Beef, and the free popcorn you get at the Jordan's Furniture in Natick.
The NYC accent sounds like a baby walrus dying inside a bouncy castle filled with gravel and broken promises. It sounds like a monkey banging a cymbal into a Lee press-on nail scraping a chalkboard while a laryngitic Roseanne Barr sings the national anthem during the second game of a Brooklyn Cyclones rain-out weekday doubleheader.  
 
On zoos: 
Hmmm. Actually, our zoo is basically just geese and, like, three arthritic lemurs. Probably shouldn't have brought this topic up.
On hipsters: 
Brooklyn is now shorthand for the bougie gentrification of anywhere else in the country. In Boston, we think Allston has hipsters because three dudes who work in bars on Cambridge St wear beanies in inclement weather. So congrats… I guess you win that one too (he says, using an extremely sarcastic, but also bored-sounding tone).  
 
On the people running your city (not hipsters):
I hate to be the bearer of more bad news, but the mayor, police commissioner, and richest man in New York City are all either from, or spent a great majority of their time in the Boston area. Need a public works commissioner? My buddy Joe's cousin coaches eighth grade football at Acton-Boxborough. I can get you his Facebook.
 
On attitude, in general: 
New York's favorite pastime: talking about yourselves like you live in Taxi Driver, when in reality, you live in the middle episodes of Bored to Death. 
Boston's favorite pastime: talking about ourselves like we live in The Town, when in reality, we kind of… live in The Town!!!
 
On attitude, with celebrities: 
Everyone in New York just thinks they're big shits because Joy Behar lives there. You try and play the "oh, it's cool -- we always run into Joy Behar outside the Bowery" type moves because you want us to know that celebrities like Joy Behar are always hanging out in your general vicinity and you remain unfazed. 
Well, outside of Tom, Gisele, and the other professional athletes that are forced to live in Boston because of their jobs, we don't have to pretend we don't care. Because NO FAMOUS NON-ATHLETES LIKE JOY BEHAR LIVE IN BOSTON. And so there's no feigned ambivalence here. If Mayor Marty Walsh's Chief of Staff Dan Koh walks into 21st Amendment to get a Guinness, you're goddamned right I'm going to Tweet about it. That's a big day for me.
On theme songs: 
This goes hand-in-hand with the attitude. Back in the '80s & '90s, you might've had a theme song written by someone like Eric B. & Rakim, or A Tribe Called Quest, or even pre-sitcom LL. Even a few years ago, at least it was Jay-Z. And now it's Taylor Swift. And though I respect the shit out of her ever-growing #squad, she does not go hard. Nor is she from New York. Which seems about right for your city at this time.  
Anyway, I'm pretty sure Boston's theme song would be The Standells' "Dirty Water" as covered by the Dropkick Murphys, but actually performed by a group of guys from North Quincy coming out of TC's Lounge (RIP) in 2007 around 1:30am.
 
On sex:
From what I've read in Redbook, you guys are having it in New York. Well, people in Boston are also occasionally doing sex. This one's a tie!
 
On subways: 
What's that, New York? Your subway has 24 lines and services 5.6 million people per day? Oh yeah? Well, let me ask you a question: ARE ANY OF YOUR SUBWAY CARS PAINTED AN EXTREMELY BOLD RED OR A SOMEHOW EVEN BOLDER ORANGE? CAN ANY OF THEM TAKE ME DIRECTLY TO MALDEN CENTER SO I CAN CATCH THE 132 BUS TO REDSTONE SHOPPING CENTER? I didn't think so.  
 
On sports: 
NYC has, like, 70 teams across all the major sports. You even have two MLS teams. Sports fandom across NYC is fractured amongst the locals, and that's BEFORE you factor in all the expats of other cities trudging to their Packers bar, or their Trinity Bantams squash bar. Whereas we root as one passionate, loyal, highly annoying, hyper-critical, always-feeling-persecuted-even-when-we-are-winning-everything, irrationally pessimistic fan base. 
You think when I go home for Thanksgiving, my mom isn't going to spend the entire car ride back from the airport explaining in crazy detail all of the fights Zdeno Chara got in versus the Montreal Canadiens, even though I don't even really like hockey? Or that my conversations with my buddies from high school aren't littered with references to obscure, mid-'90s Boston Celtics, like Chris Corchiani and Wayne Turner (Beaver Country Day!)? That's Boston fandom, friends. Long memories and short fuses.
 
In conclusion: 
New York is a city of contrasts. 
Sign up here for our daily Boston email and be the first to get all the food/drink/fun the Hub has to offer.
Kevin Alexander is Thrillist's Executive Editor and wants some Jordan's Furniture popcorn now, please. Follow him to the Natick store @KAlexander03.