10 Suburbs Outside of Boston That Are Absolutely Worth a Visit
With picturesque main streets, scenic waterfronts, and under-the-radar restaurants, there's a lot to explore in these towns just outside of Boston.
Newburyport, Massachusetts

| Wangkun Jia/Shutterstock
Newburyport, Massachusetts

| Wangkun Jia/Shutterstock
Aside from the traffic, crowds, and high stress that Bostonians face, it's hard to beat city living. All kidding aside, no matter how much we love our city, sometimes it's time to shake up our urban ideals and start socializing farther afield.
Whether you seek shopping, sightseeing, beach time, or a restaurant scene that rivals Boston's top spots, there's a suburb just outside of Boston that has it covered—in fact, some of these destinations are so great, we wouldn't blame you if you wanted to put down roots. From idyllic hamlets and beachside locales to true dining destinations, here are 10 suburbs outside of Boston that deserve a visit ASAP.
Distance from Boston: 30 minutes
Who knew one of the best dining scenes in the state would pop in unassuming Burlington, of all places? Yet there's The Bancroft, a fantastic, classic steakhouse; L'Andana, a special-occasion trattoria; and the suburban outlet of oyster bar Row 34. But this northwest suburb has multiple appeals. Beyond the top-notch food options, there's also the stunning natural oasis at the Landlocked Forest, history to be discovered, and a beautiful overnight boutique spot at the Archer Hotel.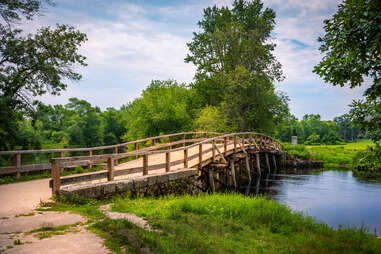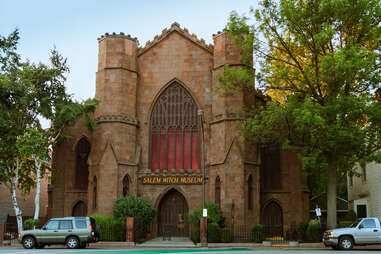 Distance from Boston: 45 minutes
Honestly, the Halloween celebration is the least exciting feature of this historic town, given how overrun the place gets every year (although we're excited that as of 2023, the Salem Horror Fest is now taking place in April). Instead, it's about the history, the architecture, and the ever-more-exciting dining scene. You could spend a whole day museum-hopping, between the Peabody Essex Museum, the Salem Witch Museum, and The House of the Seven Gables. Explore the water with Mahi Cruises, or investigate its maritime history via the Salem Maritime National Historic Site. Bit Bar scratches your arcade itch and is alone worth a trip north, while fine-dining spots like Ledger, Counter, and Settler remind you that Greater Boston is hardly the only fine-dining game around. And you can't skip town without grabbing a drink at The Roof, which affords you craft cocktails as well as panoramic views of the harbor.
Distance from Boston: 50 minutes
Here's a bit of trivia for you: Jack Kerouac AND Ed McMahon grew up here. The historic mill town fell on hard times for decades (see: The Fighter), but these days is a full-scale artistic haven. The Lowell Public Art Walk takes you past all manner of outdoor art, while Mill No. 5 is an indoor indie shopping mecca that hosts regular comedy shows, movie nights, and literary events. Boarding House Park hosts live music in the summer, Rogers Fort Hill Park offers easy in-city hikes, and of course, the town is still home to the Lowell Spinners. Once you work up an appetite, hit up Cobblestones for oysters and filet mignon in a former gentlemen's club, then mosey over to the Worthen House, Lowell's oldest tavern–where, by the way, Kerouac was known to knock back a few with the locals.
Distance from Boston: 55 minutes
Hudson is another industrial town in the midst of a renaissance. For starters, there's a speakeasy: Less Than Greater Than, which you access through the ice cream parlor next door. That's on top of the two local breweries, Medusa and Ground Effect; in other words, when you visit, you'll be drinking well. The Main Street here is also as iconoclastic as it gets, and shopping local in the downtown area is a pure joy, what with home and clothing spots like Haberdash and Vintage Anthropology. Speciality food shops also abound (Mullahy's Cheese Shop is a must), but don't shop and run—stay to sample the divine pizza at Rail Trail Flatbread Co., excellent sushi at Feng, and the liquid nitrogen ice cream at New City Microcreamery.
Distance from Boston: 45 minutes
Just a ferry ride away from the city, Hingham is the ideal refuge for haughty yachtie wannabes. The Hingham Shipyard is where you can stare at beautiful boats for hours—and it's also a shopping and dining haven that includes Alma Nove and Wahlburger's, Paul Wahlberg's high- and low-end dining ventures, as well as Trident Galley and Raw Bar. You're also visiting a town whose public parks rival Boston's: World's End, Womaptuck State Park, and Weir River Farm combine to provide more than 600 acres of outdoor shenanigans. Hingham is also minutes from Nantasket Beach—and did we mention that the water ferry has a bar on board?
Distance from Boston: 50 minutes
For starters, Crane Beach and its miles of pristine shoreline offers plenty of space to hike, fly kites, and walk the dog—and it's pretty much all yours in the off-season. This town also offers a true taste of the Gilded Age thanks to the stunning Crane Estate. To bring you back down to earth, there's the iconic Clam Box (and, if you dare cross the border into Essex, additional fried clam options at Woodman's and J.T. Farnham's). But Ipswich opens visitors up to a higher-falutin' dining world beyond fried clams, too, especially at 1640 Hart House. If you're a cycling enthusiast tired of the mean streets of Boston, you'll be thrilled by the expansive mountain biking scene, or if you're more into horses, stables are plentiful in this bucolic, stone-walled area.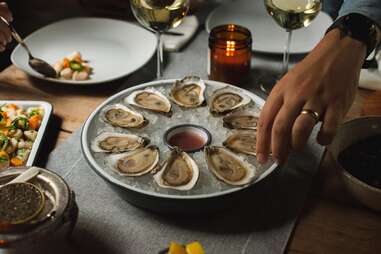 Distance from Boston: 1 hour
Who wouldn't want to visit (or live in!) the same town as Island Creek Oyster Farm? Or a place dotted with shingled saltbox homes, the likes of which you normally only see on the Cape? Or a South Shore shelter so revered that locals never want to leave? It's all about fulfilling your coastal fantasies in Duxbury, where you can take sailing lessons at the Duxbury Bay Maritime School, tavern hop from Sun Tavern to Milepost to the Winsor House, which was recently reimagined by the Island Creek Oyster team. And, if you're lucky, revel in the residents-only parking at Duxbury Beach.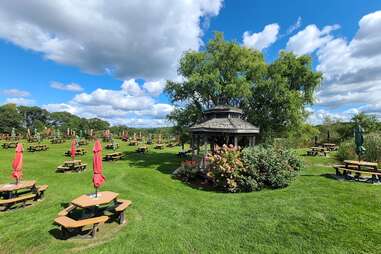 Distance from Boston: 1 hour
Looking to reconvene with nature? You need only head northwest for less than an hour to get your fix. The Luina Greine Farm lets you meet up with alpacas, miniature donkeys, and dwarf goats. Then see what critters you can spot at the Rocky Hill Wildlife Sanctuary (we're gunning for baby porcupines). Get some exercise by hiking the Nashua River Rail Trail, then toast your back-to-nature habits with some locavore drinking at Nashoba Valley Winery, which also houses a brewery and distillery. Giblet Hill Grill might be the best steakhouse you've experienced and the buzzy Forge & VIne, which specializes in wood-fired fare and interesting wine pours, offers plenty of opportunities to snag a seat thanks to its barn-like space. And looking ahead, you should make time for the swimming pool and swim-up tiki bar at Nashoba Valley, slated to reopen June 1.
Distance from Boston: 1 hour
The first time you visit, you'll go home grumbling about your own dirty-city existence. The second time, you'll start perusing real estate. The tiny coastal city is a charming enclave that still grants you big-city trappings. You'll start the day by strolling the streets and gawking at the 19th-century New England homes. Amazingly, you can also rent and launch a kayak right in town, but exercise can also be had on the walking trails on nearby Plum Island. Enjoy walking to fine-dining spots? BRINE brings you oysters and crudo, Sea Level Oyster Bar gives you a further fish fix, Michael's Harborside provides the classic waterside dining experience, and The Poynt grants your palate an international experience.
Meaghan Agnew is finally, maybe, sort of feeling a little bit of optimism? See how long that lasts by following her on Instagram.