The Most Beautiful Places to Visit in Massachusetts
Get some fresh air.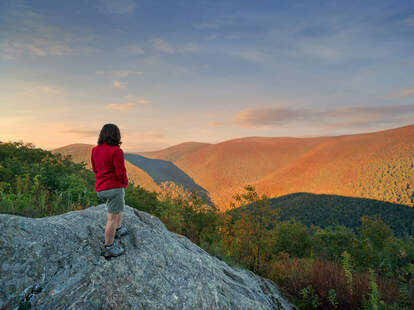 If you're itching for an adventure or to see simply something outside of your apartment window, we've rounded up some of the best sights worth seeing across Massachusetts, even in winter. With safe social distancing in mind, pack up your bag and set out for a few of New England's finest and fresh-air-filled discoveries. For an updated list of open parks and reservations, check out The Trustees' latest reopened properties for even more.
Lincoln
If you don't yet feel comfortable visiting an indoor museum—though the DeCordova is taking all the necessary precautions plus some—you can still spend an afternoon traipsing through the museum's 30-acre sculpture park, the largest such park in New England. Allow yourself two hours to explore the 60 large-scale installations (no touching right now) and you can even bring your leashed pup to make an afternoon of it. Just be sure to book your visit ahead of time.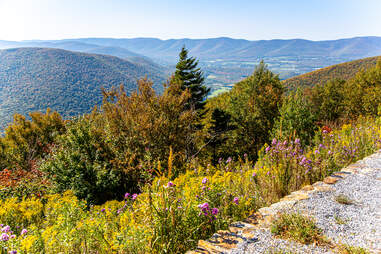 Mount Greylock

| Katkami/Shutterstock
Lanesborough/North Adams/Williamstown
As the highest point in Massachusetts, Mount Greylock sits at 3,491 feet, providing views as far as 90 miles away. Here's the bad news: the summit driving routes are closed in the deep winter. The good news? The reservation offers plenty of year-round hikes, both easy and invigorating, that offer stunning nature sites and views.
Coastline of the Menemsha Hills

| Linnean/Shutterstock
Chilmark
Surrounded by rocky edges and the ocean, venture off to Menemsha Hills to enjoy one of the longest walks on the Vineyard. Make sure to stop at the top of Prospect Hill, the second highest point on the Vineyard, for exceptional sights of the Elizabeth Islands. The reservation is open year round.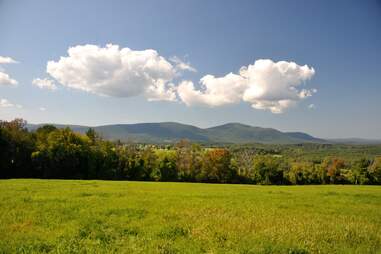 Bartholomew's Cobble

| Flickr/phoca2004
Sheffield
A historic and rugged landscape created by geologic upheavals 500 million years ago, in the summer Bartholomew's Cobble boasts grassy meadows, shady forests, and freshwater marshes, but its five miles of hiking trails are beautiful year-round. For added adventure, head to Hurlburt's Hill for panoramic views of the Housatonic River Valley. And plan on returning in mid-April to early May, when the wildflowers are in full bloom.
Through Lee, Becket, Chester, Huntington, and Russell
If you're looking to embark on a picturesque drive throughout the Berkshires, set your GPS to Jacob's Ladder Scenic Byway. The route features top-notch scenic overlooks and winds its way through quaint towns worth taking a pit stop for some fresh air.
Sign up here for our daily Boston email and be the first to get all the food/drink/fun the Hub has to offer.