I'm a stand-up comedian. My comedy career was born in Boston, and I've performed thousands of hours of comedy there, which makes me pretty close to being an expert on it. Ask Malcolm Gladwell. Or don't. (He might not know what you're talking about.) Either way, here are some great places to see comedy in Boston, based on both my brain's memory and speaking with smart comedy-savvy friends... who have different brain memories.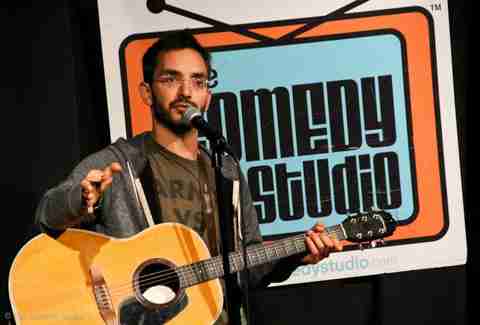 Harvard Square
This is where I started out, so this is where I'll start out. For the past 20 years (this April is the 20th anniversary), the attic of the Hong Kong restaurant in Harvard Square has been home to one of the coziest, friendliest, smartest, funniest, and most enjoyable comedy venues in the universe. Do you like Chinese food? Doesn't matter. There's no two-dumpling minimum. And there's no laughing maximum. It's open almost every night of the week for you to enjoy the comedy magic. (And one night of the week for you to enjoy an actual magic show. The rest of the time it's metaphorical magic. You know, wonderful comedy.)
Theater District
Want to see a comedian you've probably definitely heard of? This is your best bet. The Wilbur hosts some of comedy's biggest names doing stand-up shows, live podcast tapings, and probably other things. What more could you want? Specifics? Fine! Coming soon, you can see folks like Trevor Noah, Norm Macdonald, Maria Bamford, etc. (I love the comedy stylings of "etc."). If you have a time machine, feel free to go back to 2013 and see me tape my first hour special there. Things like that happen.
Allston
Great Scott! This venue has a name that sounds like a Christopher Lloyd quote. By day, it's a mild-mannered bar. But by night (every Friday at least), it becomes The Gas, a showcase featuring the best in local comedy and beyond. If you enjoy alcohol and/or finely curated comedy, with hopefully an emphasis on the latter, then I think I've said enough.
Central Square
You can see both sketch and stand-up comedy at this venue, which is actually located in Cambridge. (THE NAME IS A SHAM!) Of course, Cambridge is in the Boston area, and they do have improv. So never mind, it's fine. Anyway, I once saw them improvise a full-length episode of The Love Boat. But that's not all they do. So if you love love, love boats, love love boats, or don't, this is a lovely place to see improv, sketch, and/or stand-up. Who knows what it'll be... check the schedule.
North End
This venue IS in Boston, but doesn't say it. Also, it ISN'T an asylum, but it DOES have shows that combine audience-inspired improv with pre-written sketches that won't ask you for any inspiration at all.
Seaport District
As the self-proclaimed "stand-up sister to the Improv Asylum," Laugh Boston is the city's newest full-time place to laugh (with a name that makes a lot of sense). Of all the places on this list, it's the one I've haven't been to yet, so hopefully that adds a dash of mystery to the experience. What will it be like? I don't know. Probably great! They're bringing in a lot of funny comedians.
Jamaica Plain
This place has a number of worthwhile shows to check out, from Casey Malone's Fine Line Comedy to Will Smalley and Andrew Mayer's Two Kids in a Trench Coat. Fun people in a fun place.
Financial District
A Boston staple whose impact and influence on the scene goes back decades, the Comedy Den is the latest incarnation of Dick Doherty's Boston comedy club evolution. Personally, Dick Doherty was one of the first Bostonians to pay me to perform on his stage, so his establishments hold a special place in my heart. They can hold one in your heart, too.
Theater District
According to Google, "This no-frills theater with a full bar has been showcasing local comedy since 1977." And it's true. As long as you believe the Internet...
Sign up here for our daily Boston email and be the first to get all the food/drink/fun the Hub has to offer.
Myq Kaplan is a comedian named Mike Kaplan. He does comedy and eats food and goes for walks and writes things like this. Follow him @myqkaplan.