Sure, we have an eponymous band (who never sang a word about Boston), and yes, we have Aerosmith. But there are are some songs that simply capture the essence of our great city. Therefore, we've ranked the most "Boston" songs ever recorded, weighing factors of local authenticity and overall quality -- sorry, "Dream On" -- and capped it off with an all-star Boston Spotify playlist for your listening pleasure.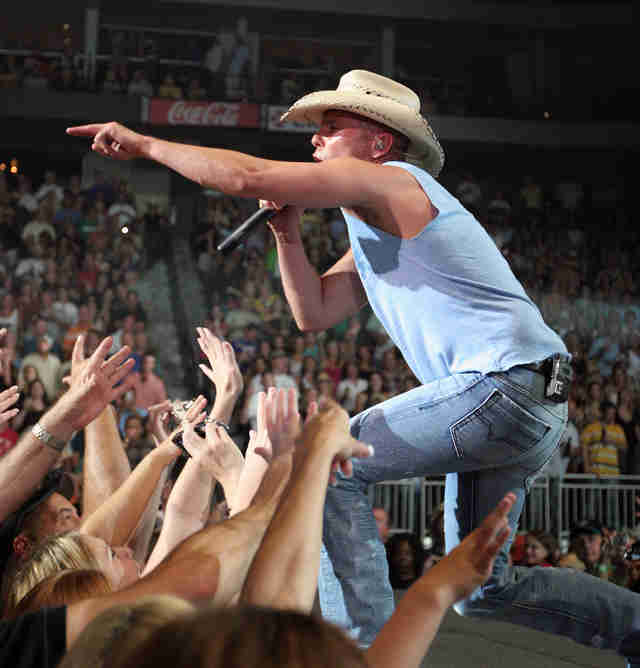 14. "Boston" by Kenny Chesney
Most Boston line: "She wears a Red Sox cap to hide her baby dreads..."
Boston has its share of country music fans (the way San Francisco has its conservative Republicans): they exist, even though they might not thrive. So is it so weird for Kenny Chesney, Tennessee native and Renee Zellweger marriage survivor, to write a song about Boston? Well, maybe so. Its geographically suspect references to "the jewelry store down in the Harbor" make you wonder how much of the city Chesney explored beyond TD Garden, or wherever he was engaging in his delightful adult contemporary country music.
13. "Boston Rag" by Steely Dan
Most Boston line: "Tell all your buddies that it ain't no drag / Bring back the Boston Rag."
A not-particularly-great song off of a not-particularly-successful album by a not-particularly-interesting band... that also sets its scene in New York. But, you know, they mention the word "Boston." Plus, Steely Dan is definitely one of your guilty pleasures, anyway.
12. "Somerville" by Pernice Brothers
Most Boston line: "Gonna take her back to Somerville / Don't care if she's pretty as we leave Suck City."
Alt-country songsters the Pernice Brothers are so Dorchester, the label they own is called Ashmont Records (Ashmont Hill being an outer Dorchester neighborhood). But you know how Bostonians are: we argue about everything. So of course the Dot rats have an axe to grind against Slummerville.
11. "Night Train" by James Brown
Most Boston line: "Take me home / Boston, Massachusetts."
Is it a Boston song? Well, it's kind of an everywhere song, spreading the wealth around many cities. From hated New York, to beloved Miami, to no-major-complaints-about Raleigh, "Night Train" makes many stops. But tip your cap to the Godfather of Soul for his indelible contribution to Boston. His '68 Boston Garden show helped keep the peace the night Martin Luther King was shot; Brown even allowed a radio broadcast of his concert to encourage people to stay in. How many artists can say they actually saved the city of Boston? Kenny Chesney sure can't.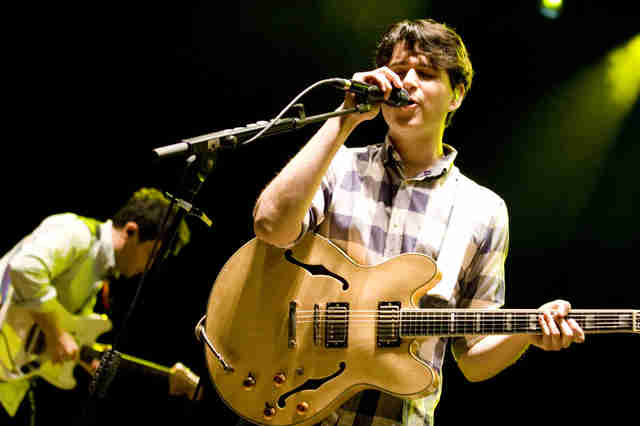 10. "Ladies of Cambridge" by Vampire Weekend
Most Boston line: "I've had dreams of Boston all of my life / Chinatown between the sound of the night..."
Before indie pop darlings Vampire Weekend signed their first record contract, a 2007 single had as its B-side this rockin' little number. The song never made it onto their first album, which merely adds to its allure. Does it get more Boston than a song about Boston getting cut from a New York City band's debut, which then goes on to achieve massive commercial success?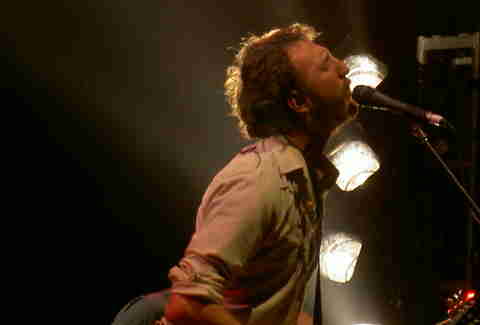 9. "Homecoming King" by Guster
Most Boston line: "Back in Massachusetts / To your golden age where they tuck you in at night."
They began playing Tufts University frat parties and then made it to the Top 40. But almost a decade after graduation, the harmonizing threesome got nostalgic about those responsibility-free undergraduate years outside Davis Square and decided to toss "Homecoming King" on their 2003 release, Keep It Together.
 
8. "Subway" by Mary Lou Lord
Most Boston line: "And I've seen drowning hobos and rich men who pass / Reflected in fragments of Boston-bound glass."
Before she was (allegedly) shtupping Kurt Cobain and having this young guy named Elliott Smith open for her, folkie Mary Lou Lord was a busker who still managed to get a write-up in Rolling Stone. Her publishing label was called On the Red Line because that's where she got her start: in underground MBTA stations, specifically the Red Line. Of course she's waxing lyrically about trains.
7. "The Rascal King" by The Mighty Mighty Bosstones
Most Boston line: "A hero or a hooligan? Well, that part's just never clear."
What's that you say, a ska song about former Boston Mayor James Michael Curley? One set to the dulcet tones of the Middle East's Hometown Throwdown local boys made good, the Mighty Mighty Bosstones? And on their big 1997 crossover album that turned them into national superstars? Indeed.
6. "For Boston" by The Hold Steady
Most Boston line: "For Boston, you can solve all your problems in the Commons right by Downtown Crossing."
Yeah, yeah, they're a Brooklyn band, but lead singer Craig Finn grew up in Boston and went to Boston College. He's ours. The proof? A love letter referencing Bob Cousy, Allston-Brighton, Lansdowne St, and even the fetishization of the Shamrock Shake (available now!).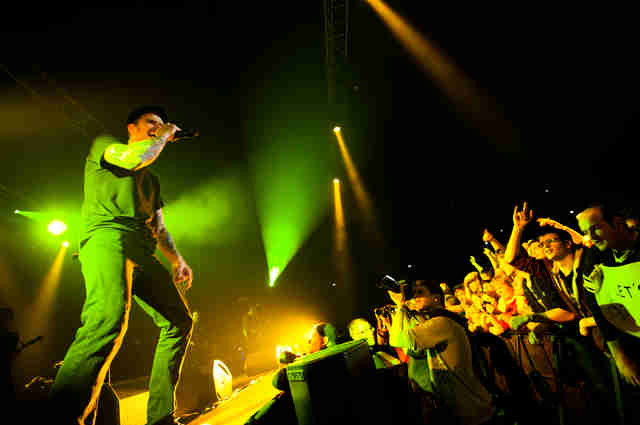 5. "I'm Shipping Up to Boston" by Dropkick Murphys
Most Boston line: "I'm shipping up to Boston whoa / I'm shipping off to find my wooden leg."
It's unavoidable. The single found national fame in The Departed and is an official anthem of Red Sox Nation. If a lazy music supervisor needs to signal "Boston," they loop in Dropkick Murphys. Listen to the Celtic punk and try to not picture a fat bearded white guy sporting a goatee and a backwards Sox hat.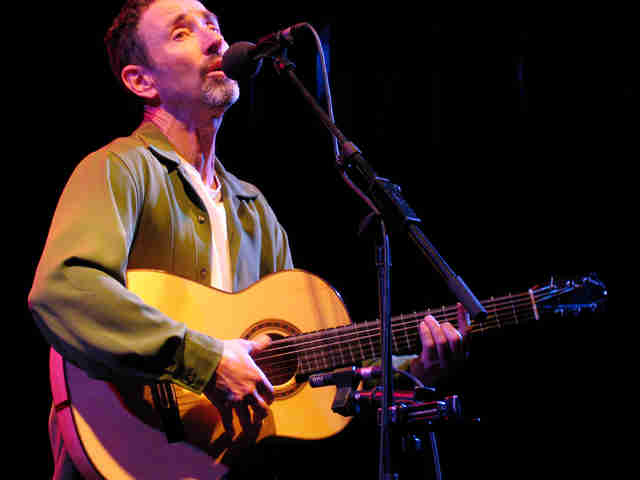 4. "Roadrunner" and pretty much that whole first Modern Lovers record
Most Boston line: "I'm in love with Massachusetts."
Elder Boston rocker Jonathan Richman formed the wildly influential late-'70s art-punk band with the likes of future Talking Head Jerry Harrison. This album plays like a Bostonian love letter, be it exhortations to drop out of BU or a love letter to Government Center. Richman still comes home every year to play at the Middle East, so it's clear the devotion is deep. Meanwhile, the state continues to battle over whether or not to declare "Roadrunner" the official state song. Its competitor? "Dream On." To which we say, come on.
3. "Where Everybody Knows Your Name" by Gary Portnoy
Most Boston line: "Making your way in the world today takes everything you got..."
I mean, try not to tear up at the first piano chords. The Cheers theme song is not your typical sitcom lead-in (Blossom this is not). Instead it's a wry, very Boston-like recitation of life's maddening stumbling blocks and the resultant need for community. You know, sort of like The Rembrandts' Friends theme song... except good. Also? The entire song is actually far darker than its truncated version suggests. Example: "All those nights when you've got no lights / The check is in the mail / And your little angel / Hung the cat up by its tail / And your third fiancée didn't show / Sometimes you want to go..." Yeah, we can't get enough of it.
2. "Sweet Caroline" by Neil Diamond
Most Boston line: "Good times never felt so good / So good! / So good! / So good!"
What began as a tribute to first daughter Caroline Kennedy became an 8th inning mainstay introduced, Rally Monkey-style, when the Sox were trailing badly. When Neil Diamond flew in from LA to perform after the Boston Marathon bombing, the "Sweet Caroline" legacy was cemented.
1. "Dirty Water" by The Standells
Most Boston line: "Well I love that dirty water / Oh, Boston, you're my home."
Who cares if they were an LA band? The Standells learned what anyone with a hit Christmas song knows: find your niche market and you'll collect royalties in perpetuity. This is the song that plays any time the Red Sox win, which makes it about as Boston as it gets. Winner winner chicken dinner.
NOTE: "For Boston" by The Hold Steady is not on Spotify
Sign up here for our daily Boston email and be the first to get all the food/drink/fun the Hub has to offer.
Meaghan Agnew actually doesn't hate Aerosmith -- she even saw them perform at the former Boston Garden on New Year's Eve 1994. Follow her non-musical exploits at @meaghandeth.