The Most Insane Abandoned Places in Massachusetts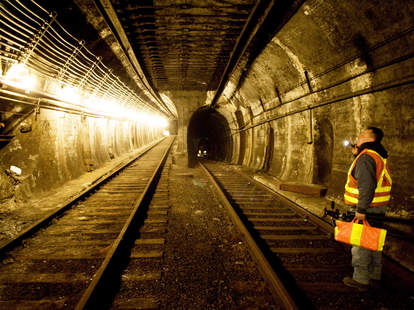 Yoon S. Byun/Boston Globe/Getty Images
And when we say "insane," we really mean it. In 1836, a movement began in Massachusetts to establish asylums for "idiots and lunatics not furiously mad," which led to the rapid expansion of a well-meaning but fairly screwed-up mental health care system. While most of those asylums have since fallen into disrepair, there are some that haven't been demolished and are wasting away unused. And they're damn creepy.
Add to them old theaters, T stops, and a former luxury hotel, and you have 11 of the Commonwealth's most eerily abandoned places.
 
The T
Boston
The MBTA is home to a network of abandoned train lines, stations, and tracks, including the streetcar loop at Maverick station, the Court Street station (closed in 1952), the lost station at Northeastern, and the abandoned Tremont Street Subway segment. The end of the streetcar era also caused the abandonment and partial demolition of the Green line's A branch -- because, no, the MBTA didn't just skip the first letter of the alphabet in their naming scheme. The A line ran through BU down Brighton Avenue towards Watertown, and some tracks still remain today.
Plymouth County Hospital
Hanson
This abandoned tuberculosis hospital, built in 1916 and shuttered in 1992, is one of many gorgeous Massachusetts medical facilities that closed their doors in the early 90s. Development plans have so far fallen through, and officials warn potential trespassers that the floors might, too.
Taunton State Hospital
Taunton
The majority of Massachusetts State Lunatic Hospitals (tactfully renamed later in their history) have been leveled, but this one -- built to deal with overcrowding at the state mental institution in Worcester -- still stands. Most of the crumbling Kirkbride complex was destroyed by fire and demolished in 2010, but many of the newer buildings remain on the campus, along with an underground system of rails for laundry and other household operations.
Hingham Naval Ammunition Depot Annex
Hingham
This decommissioned military bunker system held ammunition during the World Wars, as well as parts for the Navy's first nuclear depth charge. As of spring 2015, most of the bunkers and buildings had been demolished and filled in to create hiking trails and park land, but one building, several large wooden barricades, and some railroad tracks remain.  
 
The Publick Theater
Allston-Brighton
Built in 1971, this riverside amphitheater was used as an outdoor arts venue for Shakespearian and other classical theater productions until the 1990s. It's one of the few abandoned sites in-state that you can just walk right into, and it's absolutely worth it.
Walter E. Fernald Developmental Center
Waltham
True fact: this Victorian sanatorium was originally called "The Massachusetts School for the Feeble-Minded" and used its over 2,500 residents as test subjects for radiation experiments. There were many reports of abuse throughout the institution's history, including the lack of informed consent for participation in invasive medical procedures. While it continued to operate in a WAY more legit capacity through the 1990s and 2000s, the facility was permanently closed in 2014 due to the rising cost of patient care.
Franklin Park Zoo bear cages
Boston
Somewhat removed from the present-day Franklin Park Zoo are the decaying ruins of the zoo's first exhibit: a bear enclosure -- iron bars and all. The exhibit, which opened in 1912, includes a stone staircase decorated with reliefs of bears. So far, the city has no plan to put the space to any use.
Chester-Hudson Quarry
Becket
Now part of the state's parks system, this quarry produced granite for monuments and commercial buildings up until the 1960s, when it was unceremoniously abandoned. Much of the machinery is still in place, from railroad tracks, to rusted trucks, to specialized quarrying equipment. It's one of the most visually stunning sites on this list, and it's free to visit year-round.
Fort Standish
Lovell's Island
Of the Boston Harbor Islands, Lovell's is one of the more infrequently visited, despite its lovely swimming beach, picnic grounds, and extensive overgrown bunkers. Maybe it's the creepy history of shipwrecks on the island that gives people the willies; in 1786, a betrothed couple was found dead and clinging to each other after their ship wrecked just off the coast. So lest you decide that "Lovers' Rock" sounds like a great date destination, trust us: it's not.
Kristoff Pig Farm
Sterling
The Kristoff family's 600-acre farm produced dairy products, corn, apples, and pumpkins throughout the 1950s, all of which went to feed not only the surrounding population, but also their prize pigs. Kristoff pigs were apparently so coveted by pork distributors that there were more pigs in the town of Sterling than people! Sadly, the farm fell into disrepair, but many of its structures still stand.
Hotel Alexandra
South End
This dilapidated South End building once represented the lap of luxury in turn-of-the-century Beantown. The 50-room residential hotel was purchased by the Church of Scientology in 2008, but since the Scientologists haven't been able to raise enough money to do anything with it, they've been regretting the decision ever since.
Sign up here for our daily Boston email and be the first to get all the food/drink/fun the Hub has to offer.
Kim Prosise is a Boston-based travel and lifestyle writer who does not endorse any bad decisions you may make as a result of this article.