Jason Hoffman/Thrillist
Jason Hoffman/Thrillist
Half the fun of going to a Celtics game is watching the people in the crowd. Bostonians have no trouble flaunting their veering-on-pathological team spirit. There's the Black Leprechaun; the dude with the chicken hat; the ghost of Tupac; just "that guy." The gang's all here, dressed in costumes and busting their signature dance moves, at nearly every. single. home game. With the gracious help of season ticket holder Will Weiss, here's everyone you'll probably definitely see when you've joined the stadium seating at TD Garden.
Bob Marley, aka Black Leprechaun
Generally seated in one of the front rows, but not quite court-side, Belize-born Lynsdale Ford is best recognized by his dreads, green velvet top hat, and signature green jacket with Bob Marley patches. He's become an iconic Celtics character, dancing throughout the game, posing with fans, and making regular appearances on the jumbotron. (And yes, he really goes by "Black Leprechaun" -- we did not make that up.)
Celtics Queen
Agnes Nobile is famous for being the most fashionable Celtics fan in Boston. With her green designer suit, green Chanel earrings, custom Celtics jewelry, and green Manolo Blahniks, the "Celtics Queen" is all about the head-to-toe approach to fandom, even dying her hair orange to resemble a basketball.
That Guy With the Chicken Hat
The Leprechaun's sometime compatriot -- yep, that guy with the chicken hat -- is well known for yelling, "Number one!" into the camera while proudly displaying his index fingers. Many have noted that he looks uncannily like Will Ferrell. The significance of the chicken hat is unclear, but it has seen several iterations over time, from the green chicken of yester-season to today's more realistic rotisserie look.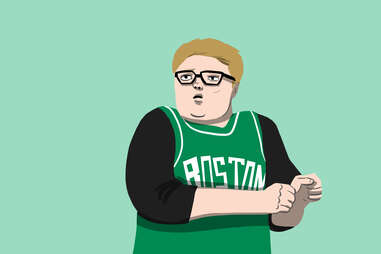 Glasses Kid
He appears on the jumbotron during the "Fan of the Game" segment and on the TV screen itself during pretty much every game. You'll recognize him by his black-rimmed specs and signature arm-swinging dance moves.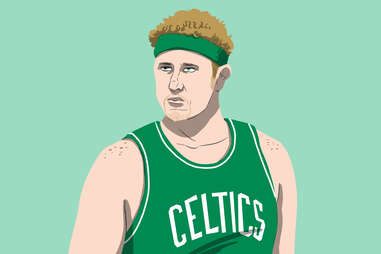 Brian Scalabrine, aka White Mamba
The former Celtics non-great (known for his flaming red hair and moderately effective play) is a broadcaster for the team and a superfan, saying in a 2014 interview, "I was kind of like the fans, except I had a courtside seat for free and if we were up by 20 with less than two minutes to play, I would get to go into the game." See if you can spot him pacing around.
"Tupac"
Ever since a lookalike was photographed at a Celts-Warriors game in 2014, it's been rumored that Tupac is alive -- and he's a fan! People have reported sightings at most every game since. Buy enough beer and he'll be there. Just wait.
Guy With the Green Hair
Frequently referred to as "Green mullet dude," Russell Medeiros' schtick is pretty self-explanatory. All the hair on his head -- beard and sideburns included -- is dyed green to match the Celtics jacket he always wears.
Chest Pump Guy, aka Suit Coat Santa
Season ticket holder Carl Lenhart is the white-bearded, chest-thumping high school classics teacher known as "chest pump guy." He wears Paul Pierce's #34 with a mustard yellow blazer for every game, pounds his fists on his chest, and throws his hands up in the air in a gesture that inevitably makes everyone go apeshit.

Runway Arm Guy
He wears glasses, a green striped scarf, and a beret, and it looks like he's trying to guide the plane that is the Celtics to the gate of victory. There can be no other explanation.
This Guy
Enough said.
Sign up here for our daily Boston email and be the first to get all the food/drink/fun the Hub has to offer.

Kim Prosise is a travel and lifestyle writer who is devising her Celtics fan costume and nickname as we speak. Follow her at @kimprosise.