10 Cool Things to Do in Boston This Winter
Ski trips, art shows, and more winter fun.
Despite the harsh temperature drop, there are still plenty of activities worth exploring during wintertime in Boston. From skiing and ice skating to making your rounds at local pop-up markets, Boston has all the tools necessary to fill up your to-do list and chase away SAD. Whether you want to embrace the cold or stay inside, here's some inspiration for how to enjoy all the city has to offer to kick off this year.
Various locations
Whether it's thrown around as a potential idea for a date, group outing or you're just itching to get out on the ice, Boston is rife with rinks in and around the city. From the Rink at 401 Park in Fenway to the Common's always popular Frog Pond, you're sure to find a place where you can lace up those skates this winter. For more spots, check out our list of the top destinations for ice skating across the city.
Various locations
If you're keen on hitting the slopes this winter—or maybe you're looking to learn—you've come to the right place. Boston is not far from a slew of mountains that are guaranteed to help you unleash your winter sport skills including Wachusett Mountain, Killington, Ski Butternut, and plenty more. For a complete list, check out our roundup of the best slopes and resorts to get you ready for your next getaway.
Cozy up in a cabin
Various locations
What's a New England winter without enjoying the sights of falling snow from inside a cabin in the woods (preferably from a cozy chair next to a fireplace)? To point you in the right direction, and help get you planning, there's the Owl Hill House near the Clark Art Institute in Vermont, an artist cottage in the Berkshires, a secluded stay in Maine, and a renovated lodge in the White Mountains to name a few.
Various locations
Support the local businesses and artisans behind one-of-a-kind projects by popping by SoWa's First Fridays. On the first Friday of each month, SoWa Art + Design District's artists, galleries, and showrooms open their doors (for FREE) so you can peruse through the exhibitions and shops. While you're in the area, you can also make a reservation at some of the nearby award-winning restaurants.
Various locations
There's nothing like a good ol' brunch reservation to look forward to. And when it comes to brunch in Boston, the list does not disappoint. The Friendly Toast (with locations in Back Bay and coming soon, Harvard Square) is always a great option as long as you don't mind the wait—same goes for The Paramount in Beacon Hill and South Boston. Mike & Patty's is another famed breakfast joint, with locations in Downtown Crossing, Bay Village, Somerville, and JP. More hotspots worth adding to your list include Buttermilk & Bourbon in Back Bay, North Street Grille in the North End, Cafe Luna in Central Square, Lulus in Allston, Monument in Charlestown, and Trina's Starlite Lounge, Sound Bites Cafe, The Neighborhood and Juliet in Somerville.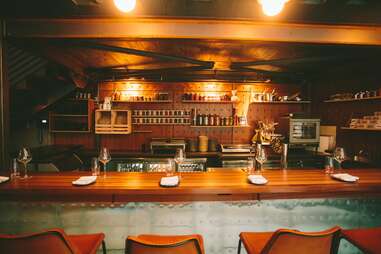 Wind down at a wine bar
Various locations
For those that love a good, full-bodied red when the temperature drops, we have some recommendations for you. Because nothing goes together like a dimly lit wine bar and a crisp winter night. There's haley.henry in Downtown Crossing and its sister wine bar nathálie in Fenway, Troquet on South in the South End, Spoke Wine Bar in Davis Square, Bin 26 Enoteca in Beacon Hill, Krasi in Back Bay and Barcelona Wine Bar, which has three separate location in Brookline, Cambridge, and the South End.
Cheer on the home teams at TD Garden
Downtown
Colder weather means basketball and hockey, so what better way to lean into the season than by sitting courtside at a Celtics game and heading to the rink to watch the Bruins. And with the North End right next door, you might as well make it a whole night and make a reservation at some of the beloved Italian restaurants like Giacomo's, La Famiglia Giorgio's Ristorante, Mamma Maria and Tony & Elaine's. On the boozier side of things, there's always the nearby West End Johnnie's, Tavern in the Square, Causeway, and Nightshift Lovejoy Wharf for an afternoon drink or night cap.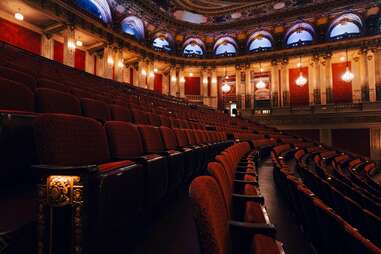 Theater District
A night at the opera may sound like something out of a movie but it's actually well within reach. Citizens Bank Opera House is known for its lineup of popular and award-winning musicals and plays from Hamilton to Jagged Little Pill. Tickets tend to be a bit pricey but every once in a while, especially when you're looking for indoor activities, it's worth the splurge. Not to mention you're in a bustling area with plenty to do before and after from dining at the elegant Yvonne's restaurant or for some more casual, the city's favorite watering hole, The Tam.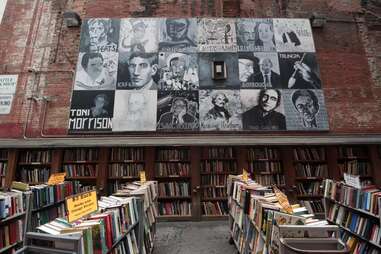 Various locations
Whether you're the ringleader of a book club or just looking to cozy up with a solid story, you can find your next good read in and around Boston. Take your pick from local businesses including Brookline Booksmith in Brookline, Brattle Book Shop in Downtown Crossing, Porter Square Books in Porter Square and Seaport, Trident Booksellers & Cafe on Newbury, and Beacon Hill Books & Cafe in Beacon Hill (they even list at the bottom of their website addresses to famous authors' residences located around town).