Actually Cool Things to Do in Boston This Fall
Leaf peeping, apple picking, beer guzzling, day tripping, and more.
As we say so long to summer, it's important to remember that fall is one of the best seasons to spend in New England. Despite the temperature drop, September, October, and November are packed with outdoor activities aimed at making the most out of the East Coast's epic autumnal scenery. And here in Boston, there's no shortage of things to do. From day trips to cozy Airbnb stays, laid-back beer garden hangs to swanky speakeasies, we're setting you up with a bounty of ideas bound to fulfill all your fall fantasies.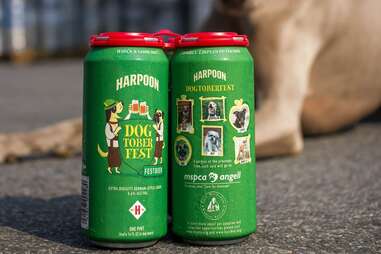 Seaport
Following the brewery's traditional Oktoberfest on Friday, October 1 and Saturday, October 2, Harpoon is hosting the fourth annual Dogtoberfest on Sunday, October 3rd from 10:30 am to 4 pm. Guests can enjoy a one-mile fun run/walk with their four-legged friends, plus a "barking lot" party filled with Harpoon beer, food trucks, and music. And if you're on the lookout for someone new in your life, there will be adoptable pups onsite. In honor of the event, Harpoon is also bringing back their limited-edition Harpoon Dogtoberfest beer, brewed with Munich malts and German noble hops.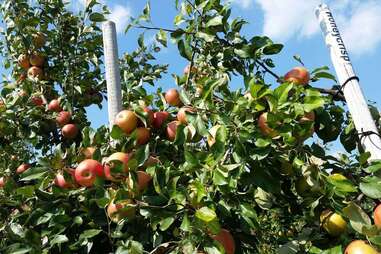 Various locations
There are fewer things more wholesome than a day spent plucking ripe apples from clusters of verdant trees. Throw in a drop dead gorgeous New England background and you're golden. From North Andover's Smolak Farms to Stow's Honey Pot Orchards, we've got you covered with our list of the best farms near Boston for all things apples.
Join in on the fan fare of Boston sports
Fenway & TD Garden
If you didn't make it to the ballpark this summer, redeem yourself by grabbing a seat at not one but several major sporting events stretching into the fall. Whether you're a Red Sox fan, a Bruins fan, or a Celtics fan, tickets are available. Make sure to mask up and grab your spot early, as prices tend to skyrocket the closer it gets to gameday.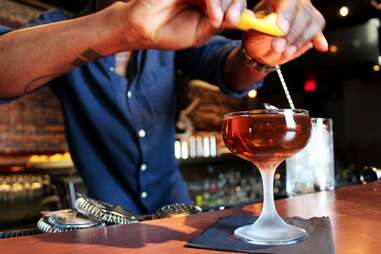 Various locations
For the more discreet set, Boston and its surrounding neighborhoods have a host of speakeasy-themed bars that make for a standout date night. From the nationally renowned Backbar in Union Square to the always satisfying and sophisticated Brick and Mortar in Cambridge, it's hard not to fall in love with these (not-so) hidden gems.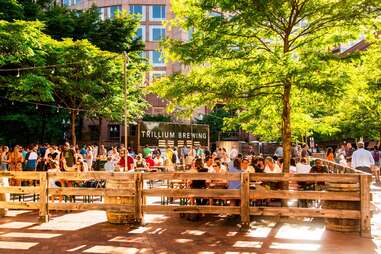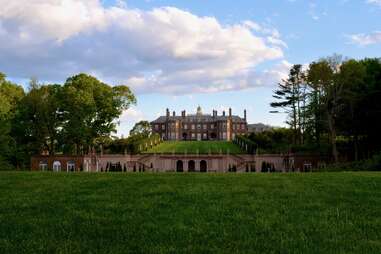 Various locations
Little known fact: Boston is surrounded by a whole host of exciting suburbs, each chock full of new activities and attractions worth adding to your fall bucket list. Whether you opt for the commuter rail or hop in the car, you can gear up to spend the day walking along Newburyport's quaint streets and scenic docks or getting lost inside Ipswich's majestic Crane Estate. Hingham isn't hard to get to either, with its popular shipyard The Launch offering a shopping center and even a Wahlburgers for when you need to fill up.
Various locations
If you prefer to stretch your road trip into a verifiable weekend getaway, check out these hand-picked accommodations surrounded by the ocean, mountains, and even among the trees. Whether you remain in Massachusetts or venture out to New Hampshire or up to Vermont, you'll find everything from tiny houses and cabins to rustic tree houses tucked away in the forest with help from our list of the best Airbnbs near(ish) Boston.
Union Square
The hub for quaint entertainment, dining, and drinking, Union Square's Bow Market has a ton of activities packed in one spot. Wash down a Mike & Patty's sandwich with one of Remnant Brewing's IPAs, then poke around Vinyl Index to pick up your next soundtrack or wall decor. Oh, and don't forget to stop by Saus for a helping of fries paired with the perfect dipping sauces.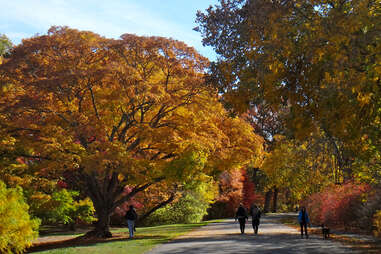 Various locations
When you need to upgrade your walking routine, the city is rife with nearby trails to help you pick up the pace while taking in the sights. And one of the best places in Boston to see the fall foliage is none other than Arnold Arboretum in JP. For a list of even more trek-worthy locales, check out this collection of the best hikes near Boston.
Seaport
Seaport's Flight Club Darts takes a night out to a different level. Brought to you by UK-based chain Flight Club, there are currently only two existing locations in the US, one in Chicago and of course, one here in Boston. You can book an hour of darts and drinking online but groups are limited to six people. The menu has a lot to offer too, with your choice of flatbreads, burgers, fries, and pub-inspired apps.