Actually Cool Things to Do in Boston This Winter
Make plans for the next few chilly months.
Before you start sulking, winter is one of the most magical times to be in Boston. Between the neighborhoods that look like they're straight out of a Hallmark movie to the nearby ski slopes that bring in visitors from all over the world, the change in seasons doesn't have to be so daunting after all. And with more indoor and outdoor activities open for the 2021-22 season, there are plenty of things to do that are bound to move to the top of your winter bucket list. So read on to check out our list of all actually cool things you can do in Boston this winter, and make your plans for the next few chilly months.
See Boston Ballet's world-famous rendition of The Nutcracker
Theatre District
The Nutcracker is returning to the Citizens Bank Opera House from November 26 to December 26 for a jam-packed, 35-show run. Tickets range from around $40 to $200 each so if you've ever dreamed of seeing the historic performance live in the flesh, now's your chance to grab a seat while there are some still available.
Lace up your skates at these outdoor rinks
Boston Common, Brookline, Fenway, Jamaica Plain
Looking to dust off your ice skates? You're in luck because outdoor skating rinks are back open in Boston for the 2021-22 season. Take your pick from Boston Common's popular Frog Pond or Fenway's trendy The Rink at 401 Park (conveniently located next to Trillium Brewing). There's also Jack Kirrane Ice Skating Rink in Brookline and Kelly Rink in JP for even more options. Just make sure to double-check the COVID guidelines beforehand—some rinks may require reservations at this time.
Various locations
For the more discreet set, Boston and its surrounding neighborhoods have a host of speakeasy-themed bars that make for a standout date night. From the nationally renowned Backbar in Union Square to the always satisfying and sophisticated Brick and Mortar in Cambridge, it's hard not to fall in love with these (not-so) hidden gems.
Various locations
Looking to dig your skis out this winter? Whether you want to stick close to the city or venture out for a bit of a road trip, New England has some of the best skiing in the country. Between the nearby Blue Hills or the picturesque Butternut Mountain, you can still unleash your winter sport skills this holiday season. For a complete list, check out our roundup of the best slopes and resorts for your next getaway.
Union Square
The hub for quaint entertainment, dining, and drinking, Union Square's Bow Market has a ton of activities packed in one spot. Wash down a Mike & Patty's sandwich with one of Remnant Brewing's IPAs, then poke around Vinyl Index to pick up your next soundtrack or wall decor. Oh, and don't forget to stop by Saus for a helping of fries paired with the perfect dipping sauces. Plus, now that we're in the colder season, you can now book a reservation at a toasty fire pit for a cozy outdoor hang.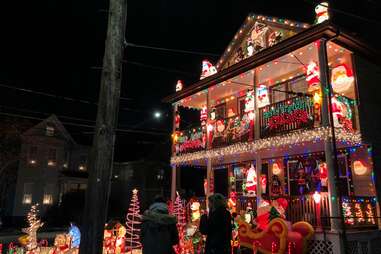 Sip and stroll under the holiday lights
Various locations
Grab a holiday beverage and get out there. For an extra festive holiday light tour, you must start at L.A. Burdick. The esteemed handmade chocolate shop can be found downtown or in Cambridge, featuring even more sweets on the menu to satisfy the evening's sweet cravings. With your holiday beverage in hand, make your way to Columbus Park's lit trellis near the waterfront or over to the Public Garden and Boston Common to gaze at the iconic light displays. There's also Somerville's annual Illuminations Tour, which will kick off at the beginning of December and last the entire month.
Various locations
Boston is surrounded by a whole host of exciting suburbs, each chock full of activities and attractions worth adding to your winter bucket list. Whether you opt for the commuter rail or hop in the car, you can gear up (with layers on layers) to spend the day walking along Newburyport's quaint streets and scenic docks or getting lost inside Ipswich's majestic Crane Estate. Hingham isn't hard to get to either, with its popular shipyard The Launch offering a shopping center and a Wahlburgers for when you need to fill up.
Various locations
If you want to stretch your road trip into a verifiable weekend getaway, check out these hand-picked accommodations surrounded by the ocean, mountains, and even among the trees. Whether you remain in Massachusetts or venture out to New Hampshire or up to Vermont, you'll find everything from tiny houses and cabins to rustic tree houses tucked away in the forest with help from our list of the best Airbnbs near(ish) Boston.
Escape the city for a snowy walk at the Arnold Arboretum
Various locations
As long as you don't mind the chill, the city is rife with nearby walking trails to help you get your daily steps in while enjoying one of the most peaceful times during the year—and Arnold Arboretum in JP is arguably one of the best spots to take it all in. For a list of even more trek-worthy locales, check out this collection of the best hikes near Boston.