10 Cool Things to Do in Boston This Spring
Outdoor events, free activities, and more seasonal things to do in Boston.
It's springtime in Boston, which means the city takes on an entirely new life featuring an abundance of outdoor activities set amongst blooming landscapes.
From Marathon Monday and Boston Calling to the return of patio season and making your way to the Esplanade, whether it's an annual event or leisurely plan, the city has plenty to offer. Here are 10 cool things to do in Boston this spring.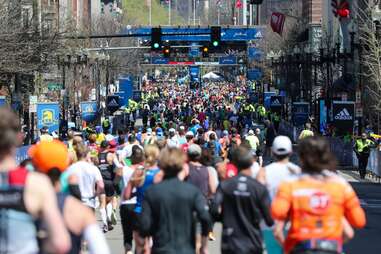 Celebrate Marathon Monday
Various locations
Monday, April 17 marks this year's Marathon Monday, arguably one of the most inspiring, exciting and triumphant events the city has to offer. Whether you're one of the 30,000 runners or one of the hundreds of thousands of bystanders, you can look forward to being part of this historic tradition. And leading up to race day, there will be a whole weekend of activities including the Boston Marathon Expo Friday, April 14 through Sunday, April 16, the Boston Marathon Fan Fest in Copley Square Friday through Sunday, a marathon-themed video projection show lighting up the Fairmont Copley Plaza hotel Friday night through Sunday night, One Boston Day of Remembrance, held annually on April 15, to honor the victims, survivors, and first responders of the 2013 Boston Marathon, and more.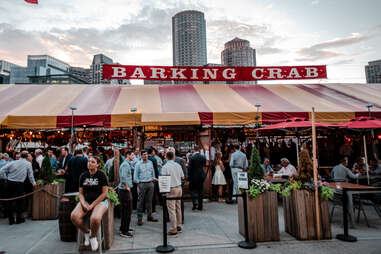 Seaport
To celebrate 4/20 this year, Harpoon Brewery in Seaport is hosting a Build-a-Pipe Pottery Party with Pottery with a Purpose founder, Samantha Hoff on none other than Thursday, April 20. Tickets are $105 per person, which includes the beginner-friendly 2.5 hour workshop on pottery basics, ceramic pipe overview, and how to create and decorate your own pipes using different techniques along with the materials to build and glaze your 1-2 pipes. Harpoon is always putting on unique gatherings so keep an eye out on their events page for even more fun things to do this spring.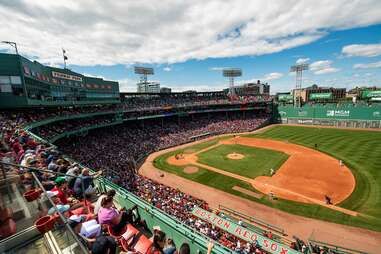 Take yourself out to a ball game
Fenway
Baseball is back, which means you can get your hands on a Fenway Frank paired with an ice-cold (sometimes lukewarm) tall boy, sitting amongst Red Sox fans from the city and all over. It's a sports enthusiasts' paradise, really. Outside of the game, you can also grab drinks, a bite to eat, and clock in some non-baseball activities by exploring the neighborhood. Just take a look at our list of best restaurants near Fenway Park for some inspiration.
Boston Common & Public Garden
You haven't experienced real joy until you've witnessed Boston's annual Duckling Day Parade, which will kick off at the Common at 10 am on Mother's Day. A tradition for more than 30 years, hundreds of kiddos dressed as little ducks parade around the Common and into the Public Garden, ending up at the park's famous Make Way for Ducklings sculpture. Families are welcome to join in on the festivities and encouraged to arrive in costume as well as decorate their wagons/strollers. Talk about wholesome.
Jamaica Plain
The Arnold Arboretum in JP is a stunning sight year-round but Lilac Sunday, happening on Mother's Day (Sunday, May 14) from 10 am to 3 pm, might take the cake for showcasing the city's—and even the nation's—most beautiful springtime blooms. We're not kidding, the lilacs at the Arboretum are known as some of the most premier collections in North America, with over 400 of the plants primarily sprawling across the edge of Bussey Hill Road. As part of the celebration, Arboretum experts will be on-site for guided lilac tours and picnicking in the landscape is permitted (and encouraged) on this day only.
Sunbathe on the Esplanade boat dock
Charles/MGH
While the Charles River Esplanade is no secret, known as a go-to destination for those that need some fresh air and outdoor activity, its historic boat docks are a top-tier spot for bringing a book, beverage and feeling some much needed sun on your face. Located west of Beacon Hill, and close to the Hatch Shell performance center, the floating concrete docks make for an ideal and refreshing environment change as you can peacefully watch the sailboats and river fanatics float on by.
Various locations
If you spent the colder months milling on travel ideas, now's the time to hit the road. With weekend and day trips more than accessible (either via commuter rail or if either you or someone you know comes in clutch with a car), there are plenty of places to venture off to not super far from the city. Explore the serene trails on Plum Island, drive past the castle-like real estate in Newport, or make reservations to enjoy some of the best oysters you'll ever experience in Portland—the list goes on. For more ideas, check out our list of the best nearby getaways.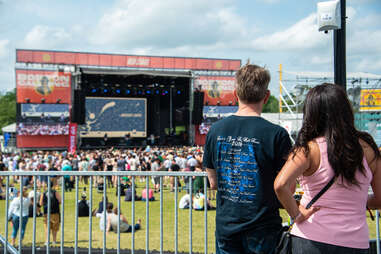 Allston
Boston's biggest music festival returns Memorial Day Weekend at Harvard Athletic Complex with three full days of musical and comedic lineups including headliners Foo Fighters, The Lumineers, Alanis Morisette and Paramore. Tickets are still available starting at $159.99 per day or three-day general admission passes for $359.99.