Sponsored By

11 Actually Cool Things to Do in Boston This Spring
Open-air markets, the return of baseball season, and so much more.
Sponsored By

Spring is in the air in Boston. After a long winter of chilly days and frigid nights, Bostonians are finally ready to head back outside for seasonal activities that are finally possible now that the temperature is warming up.
From our city's iconic Patriots Day festivities to new local breweries to visit and the start of baseball season for our beloved Red Sox, the city will soon be in full bloom. So clear your calendars for weekend plans and check out this list of all the coolest things to do in Boston this spring.
Celebrate Patriots Day
Various locations
Continuing on with one of the most cherished traditions the city has to offer, Patriots Day's Boston Marathon and all of its fandom are back. Welcoming 30,000 participants to the running course, you can find yourself cheering on the sidelines with thousands of fellow bystanders. Th race's rolling start kicks off at 9 am, and if you're looking to grab a nearby drink or bite to eat, signature spots like Cleveland Circle's Cityside Tavern, Washington Square's Washington Square Tavern, Fenway's Lansdowne Pub, Kenmore's Eastern Standard and Copley's Parish Cafe are all along the route.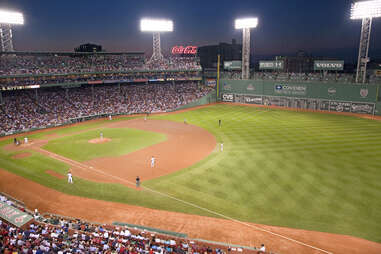 Get ready for the start of baseball season
Fenway Park
The MLB lockout has officially ended, which means opening day for the Red Sox is happening April 7 against the Yankees in New York. A week later, the team will return home to play the Minnesota Twins on April 15. Dates may be subject to change, but head to the Red Sox official website to take a look at their upcoming schedule and available tickets and enjoy your sweet return to the ballpark.
Shop for your newest read in an alley
One of the city's best-kept secrets (unless you happen to walk past on your way to Park Street), Brattle Book Shop's outdoor sale lot is officially open. Located directly next to the book shop on West Street, the outdoor lot is tucked in an alley with stacks on stacks of selections. Not to mention it's quite the sight for some quality snapshots of the city's unique offerings.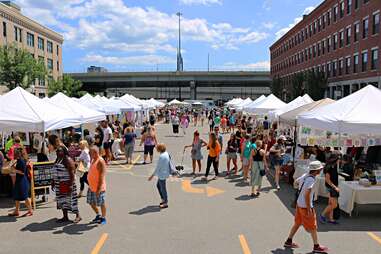 Seaport
Starting in May, SoWa Open Market will be back for its 2022 season featuring food trucks, local vendors, artwork, and more. If you can't wait that long, you can always peep their weekly Vintage Market located downstairs at 450 Harrison Avenue. Open year-round on Sundays, the market offers vintage antiques, apparel, and art made for your thrifting dreams.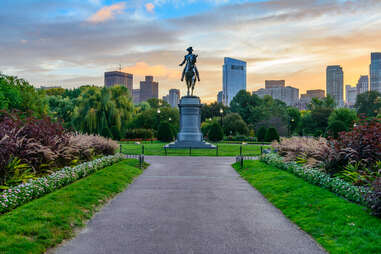 Stroll through the Public Garden and Boston Common
Downtown
This is pretty much a given but what's a spring stroll without heading into the city during the first blooms? Peep all of the life coming back to the trees and the famous landscaping that has made Boston so classically beautiful.
Ready for a state-of-the-art sports experience like no other? Look no further than the TRACK at New Balance, a new, world-class sports and research complex designed to break records. Located at the New Balance headquarters in Boston, the TRACK welcomes athletes of all ages and experience levels. The facility has over 24,000 square feet of warm-up space, full turf for soccer, lacrosse, and other sports, a separate live music venue, and much more. It's designed to be the fastest track in the world after all.
Explore the Emerald Necklace
Various locations
With the elements becoming more acceptable, the city is rife with nearby walking trails to help you get your daily steps in while enjoying one of the most lively times during the year. One of the most popular spots to get outside, the Emerald Necklace has no shortage of trails stretching from Back Bay to Dorchester. Fun fact, the park system, founded by Frederick Law Olmsted is celebrating the landscape artists' 200th birthday this year. Arguably one of the most beloved parks within the system, the Arnold Arboretum is a goldmine for spring sights, with lilac season in full bloom in late April and the beginning of May. For a list of even more trek-worthy locales, check out this collection of the best hikes near Boston.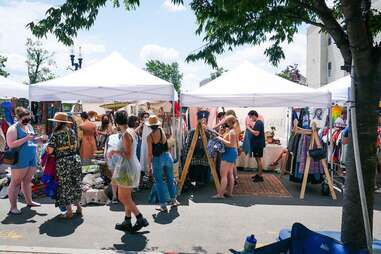 Union Square
The hub for quaint entertainment, dining, and drinking, Union Square's Bow Market has a ton of activities packed in one spot. Order a Mike & Patty's sandwich and complete the meal with one of Remnant Brewing's IPAs, then poke around Vinyl Index to pick up your next soundtrack or wall decor. Oh, and don't forget to stop by Saus for a helping of fries paired with the perfect dipping sauces.
Various locations
Boston is surrounded by a whole host of exciting suburbs, each chock full of activities and attractions worth adding to your spring bucket list. Whether you opt to take the commuter rail or hop in the car, you can gear up to spend the day walking along Newburyport's quaint streets and scenic docks or getting lost inside Ipswich's majestic Crane Estate. Hingham isn't hard to get to either, with its popular shipyard The Launch offering a shopping center and a Wahlburgers for when you need to fill up.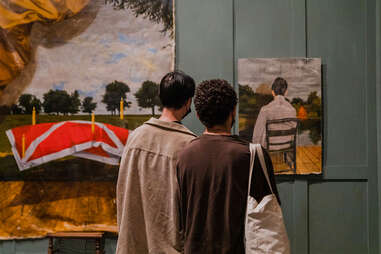 Various locations
If you want to stretch a New England road trip into a verifiable weekend getaway, check out these hand-picked accommodations surrounded by the ocean, mountains, and even among the trees. Whether you remain in Massachusetts or venture out to New Hampshire or up to Vermont, you'll find everything from tiny houses and cabins to rustic tree houses tucked away in the forest with help from our list of the best Airbnbs near Boston.