We know the drill: Your hard-to-impress friends or family are coming to visit, and you're suddenly panicked about how to entertain them. What will they want to do? What cool events in town can you take them to? And what activities and events will put Boston in the best light and most definitely not involve a Duck Tour?
To make sure your guests come away with a thumbs-up appreciation of the city, we've rounded up the truly cool things to do in Boston -- many of them super-cheap (and we've included price ranges, so you don't spend next month's rent trying to impress your friends' friends). Some are classic must-see attractions, some are off the beaten path, and absolutely none of them are Cheers.
Recommended Video
Model, Influencer & Entrepreneur Lindsey Pelas Reveals Celebrity Pick Up Stories
Free
Jamaica Plain
Harvard's impressive tree sanctuary is a unique spot for nature walks, picnics, and other chill outdoor activities. One must is Lilac Sunday, held every year on Mother's Day as a way to honor the blossoming, fragrant plant. It's a sight to behold, as the arboretum has one of one of the best lilac collections in all of North America.
Free
Cambridge                           
Mary Lennox would be proud. Atop a multi-story parking garage in Cambridge's Kendall Square sits a clandestine garden made up of tulips, trees, and rose bushes galore. Though not as undiscovered as it was a few years back -- there's actual signage now, and a ping-pong table, too -- the garden remains the perfect spot for a restorative midday lunch.
Slurp one-buck shucks
$
Various locations
Are they aphrodisiacs? No, not so much. But the placebo effect has to be worth something, especially when so many spots around town offer $1 bivalves, from La Brasa to Waypoint to The Red House (50 cents an oyster!) to Boston Public Market to Marliave to Bastille Kitchen to seriously the list goes on and on. And by the way, if you're craving something a little different: Island Creek Oyster Bar has one of the best brunches in Boston.
$
East Boston
This historical, cash-only, East Boston pie joint slings the best pizza in all of Boston (runner-up: Regina Pizzeria). It ain't fancy, but a large sausage pizza and a pitcher of Bud, and you're in gustatory Nirvana. By the way, we've got you covered with recommendations if you'd rather go for a full Italian restaurant experience instead.
Visit the Mapparium to throw your voice across the world
$
Back Bay
This is a stress-free journey to the center of the earth that even Jules Verne would approve. Built in the 1930s, this three-story, stained-glass orb puts you inside the globe -- and puts your world geography skills to the test (including identifying countries that no longer exist). Once you've spent some timing gazing at countries from the inside out, have fun with the acoustics: a mere whisper on one end of the walkway can be heard on the other side of the globe. It's also one of the best museums in Boston.
Free
Boston Common
Never forget: The Bard was a man of the people who wrote for the masses. So 'tis far nobler to take in a free summertime production of one of his greatest hits. Every summer the Commonwealth Shakespeare Company puts on an outdoor, two-week production; viewers need only bring a lawn chair and their favorite picnic provisions (and get there early, because anyone in town treats this as a must-do).
See an outdoor movie at the Hatch Shell
Free
Various
In the summer, the city is overrun with free second-run screenings. The famous Charles River-adjacent Hatch Shell mostly focuses on family fare, while the Boston Harbor Hotel shows newer classics (Jaws! Back to the Future!) on an inflated outdoor screen. But the city also screens free movies in smaller parks throughout Boston, Cambridge, Brookline, and Somerville.
Free
Various
There's a double humiliation in paying beaucoup bucks to have some personal trainer kick your ass. Sweat for less -- which is to say, nothing -- with the November Project -- which started here in Boston and hosts early-morning, large-scale group workouts in outdoor spots around the city. No time like the present to finally tackle the Harvard Stadium stairs.
Free
The Fenway
We freely admit this one is weird and not for everyone -- so send the party poopers to the Museum of Fine Arts. The rest of you can enjoy a rather macabre exhibition of Civil War-era surgical instruments, a walk through the yesteryear practice of bloodletting, and those aforementioned kidney stones. But lots of people come to see the skull of Phineas Gage, the medical miracle and mystery who survived being impaled in the head by an iron rod, and whose personality changed after that.
$
Boston Public Garden
It's a seasonal classic. The paddle boats date back to the 1870s and were actually inspired by the opera Lohengrin (real-life resident swans Romeo and Juliet came much later). The super slow pace of the ride itself demands you take a pause and simply enjoy the beauty of the Public Garden, the first public botanical garden in the US.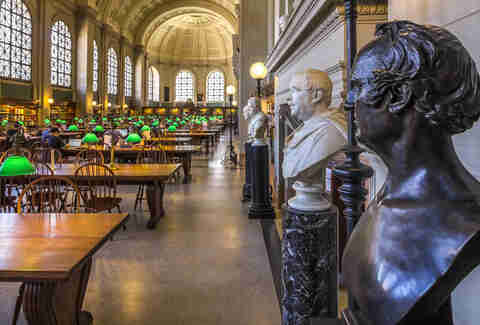 Free
Back Bay
The main branch of the Boston Public Library is a strange beast: half 19th-century McKim masterpiece, half modern mishmash (a recent, and massive, renovation has finally brought the 1970s-era wing into the 21st century). Get the deets during a complimentary hour-long architectural tour, then return for a guide through the library's surprisingly robust art collection.
Free
Waterfront
One by one, our city's observation decks have disappeared -- except for one. Right on the Harbor Walkway is a semi-hidden, 14th-floor deck that gives you terrific views of the harbor and the surrounding buildings. Bring your binoculars and your ID (you can't go up without it), and you can check out the Harbor Islands and watch planes land at Logan Airport. This also happens to be a great cheap date idea if you're out and about with someone sweet.
Free
Milton
Boston is no Denver, but there are still a couple of mountains to climb. Just a few minutes outside of the city proper is a 7,000-acre reservation with 125 miles of resplendent hiking trails. Climb Great Blue Hill and you earn an unmatched view of the city skyline; just prepare for crowds in the warmer months.
Browse local art at SoWa First Fridays -- or just shop there on weekends
Free-$$
South End
Every first Friday of the month, the SoWa arts district becomes part of the public domain. More than 60 artists invite guests inside their studios to peruse (and purchase) their work and works in progress, while the many area galleries stay open late and lure in passersby with wine and cheese. Then, on Saturdays and Sundays from May through October, the area erupts into a weekly street fest that draws visitors from all over the city and beyond. A farmers market, a Food Truck Court, and a beer garden are only some of the attractions (and yes, you can now drink in designated areas in both the farmer's market and food truck areas). And there's more inside the nearby SoWa Artists Guild building -- the SoWa Vintage Market offers stall after stall of quirky vintage clothes and housewares and is open year-round.
$
Somerville
This was our city's first hipster chocolate, and one that has since gone national. A tour of the 17,000-square-foot facility give you a primer on stone ground chocolate, including the grinding room and the cocoa nibs from Mexico from which the chocolates are made. The factory store is where the free samples come in.
Grab dim sum in Chinatown
$
Chinatown
It's not as grand as the Chinatowns of other cities, but it's still a gastronomical joy filled with some of Boston's bucket-list foods, especially when you consider the gigantic dining rooms wheeling around small plates of dumplings, congee, and other less identifiable tidbits. Locals are passionate in their loyalty to one dim sum place over another, but some steadfast favorites include Hei La Moon and China Pearl, and we've got a full guide to the rest of the best, as well as the best ramen in town, if that's what you're craving. (Insider tip: Chinatown is also great for after-hours food and drink.)
$-$$$$
Various locations
The Boston culinary tradition is varied, vibrant, and filled with surprises -- including new restaurants opening all the time. Sometimes it can be hard to keep up! Fortunately for locals and our guests alike, we keep an updated list of the best new restaurant openings in town as well as the mainstays you can't miss if you're a true foodie. Happy feeding.
$
Financial District
The Rose Kennedy Greenway is one of the Big Dig's greatest (only?) triumphs. The 15-acre-long park takes you through the heart of the city, past murals, interactive installations, and seven different water fountains (the Harbor Fog Sculpture emits mist and noise when it detects movement). Food trucks line a portion of the walk, and a seasonal beer garden is the area's newest draw in summer.
$
Roxbury
Brothers Dave and Will Willis long ago changed the city's cocktail scene with its craft spirits, but now they've gotten into the bar act themselves. It's a New Orleans-like lair, a gothic, 26-seat affair decorated with Prohibition-era spirit bottles; you can grab a velvet booth or sit at the bar and gaze through the huge window at the distillery's 750-gallon copper pot still. The best news? Each cocktail -- all made with BB spirits, natch -- is just $10. It's one of our best bars for a reason.
$-$$
Jamaica Plain
The small pond in the middle of Jamaica Plain -- itself worth a wander -- gets re-stocked with trout and salmon every season (they're raised in state hatcheries in the off-season). Cast a line from shore or rent a rowboat to head out to the middle. Just be aware; you need a permit first.
$-$$
North End
It took years, but we finally got our own year-round indoor market a la the Ferry Building in San Francisco. You can sample everything from artisanal cheeses to regional wine (which makes for a cheaper afternoon), before grabbing lunch at one of the numerous takeaway spots (Beantown Pastrami Company, Bon Me, Noodle Lab). The in-house kitchen offers cooking demos and lectures, and every Thursday and Friday during Sip & Shop, you can also nurse a local beer or glass of wine as you wander the aisles.  
$$
South Boston
Bocce, corn hole, ping pong, Jenga, and glow swings. Honestly, what else do you need? Beer and wine? You got that too. Hit up the outdoor space anytime during open lawn hours for some gratis G-rated fun. Many nights also include special events including movie screenings and live music performances, and interactive art installation is almost guaranteed at some point during the summer.
$$
Fenway
You can try to land last-minute tickets to a Sox game, but you're much better off guaranteeing admission by taking a ballpark tour ahead of time. Your group will wander the grounds, pause on the warning track, and sit atop the Green Monster. The tours start three hours before game time, which means you'll also catch some batting practice. Feeling hungry for more? Grab a beer at the Bleacher Bar before the first inning, and you can stare out onto the outfield while the players shag fly balls.
$$
Dorchester/Roxbury
Yes, as it happens, Boston has an 18-hole course right in the middle of the city (beat that, NYC).  The William J. Devine Course is the second oldest public course in the country, a par-70 course that's part of Franklin Park, the city's 527-acre wooded parkland. The clubhouse includes a restaurant and bar; if you're lucky, you'll be able to take a pause at the grill set up next to the sixth hole.
$$
Somerville
Bet you don't even know what candlepin bowling is, right? It was developed in Worcester, Massachusetts, in the 1880s and today is unique to New England and parts of Canada. Think much smaller bowling balls and thinner pins (it's both easier and harder than 10-pin). And Sacco's is the perfect place to try out this foreign sport, as it gives you the full lane experience plus access to flatbread pizzas and beers delivered right to your lane.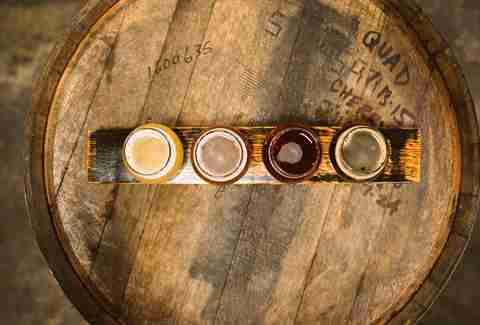 Take a brewery tour (and it doesn't have to be at Sam Adams)
$-$$
Various
In the last five years, our town has almost become overwhelmed with craft brewers. But take it as a good thing. You can tour the facilities of Harpoon and Sam Adams, our two biggies, but it's also worth checking our smaller outfits like Night Shift Brewing, Dorchester Brewing Company, and Trillium Brewing Co.
Revel in (or glare at) our city's sports championships at The Sports Museum
$$
Boston Garden
This is cool, semi-hidden, and another great museum in town. On levels five and six of the TD Garden, home to the Celtics and Bruins, there's a museum dedicated to all of our local sports history with all sorts of memorabilia and exhibits. The museum tour also includes a visit to the arena's top floor, where you'll come eye-to-eye with all the building's championship banners. In the offseason, you also get to take a peek inside the visiting team locker room.
Shop on Charles Street
$$-$$$
Beacon Hill
Newbury Street is certainly iconic, but it's also mobbed and a little thin on non-chain boutiques. Whereas, the indie shops, antique stores, and gourmet grocers of Charles Street will cause you to linger a lot longer. Plus, the tourist crowds are relatively contained.  Anytime you crave a jolt of architectural history, just turn down a side street for carriage houses, cobblestones, and street lamps. (Beware: Real estate envy is inevitable.)
Take a fried clam tour on the North Shore
$$-$$$
North Shore
We Bostonians harbor passionate opinions about where to get the best fried clams, but most of us agree that the North Shore is your starting point. The top three competitors are Woodman's, JT Farnham's, and the Clam Box, each of which tweaks its recipe ever so slightly to give you a different tasting experience.
$$-$$$
Cape Cod
The Provincetown fast ferry changed our lives. In just 90 minutes you can go from downtown Boston to the tip of Cape Cod, spending your day exploring the Cape town beloved by artists and the LGBTQ crowd. You can spend a lot of money or a little, but the best part is knowing you can have a couple of drinks and not worry about a two- to three-hour drive back to the city (and psst: the ferry has drinks, too).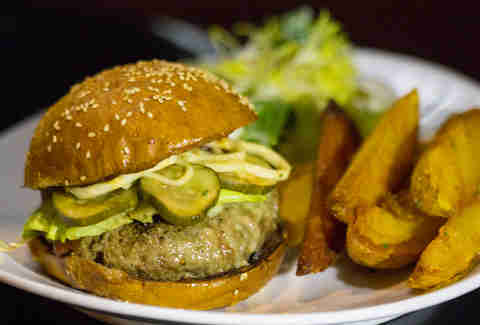 Partake of a cover model burger at Craigie on Main
$$$
Various
When chef Tony Maws' burger hit the cover of Bon Appétit some years back, it became the single most coveted order in town, and certainly one of the best burgers you can get in town. This burger is now a limited-edition, off-menu item, with just 18 served nightly, so make a reservation for 5pm. And bring your vegetarian friends, because the restaurant's new veggie burger is quickly earning equal accolades.
$$$
Back Bay
By all means you can hit the Charles River by renting a canoe or kayak, or even a sailboat on many days. But you can also leave the steering to someone else entirely -- that would be the gondolier -- as you enjoy a leisurely ride and a BYO picnic.
$$$
Back Bay/Symphony
Shoe-shopping is so much more exciting when it's clandestine. Hidden behind an innocuous-seeming convenience store is Boston's best sneaker shop, selling every limited-edition import you could ever hope to slip your feet into. There's cool-kid clothing and cool-kid accessories, too, making back-to-school (well, work) shopping that much easier.
$$$$
Boston Harbor
Everyone comes to town demanding lobster, but who knew you could catch it yourselves right in town? Guests board an authentic lobster boat for a cruise around Boston Harbor as the captain fills you in on New England's rich lobstering tradition. At the end of the tour, you get to haul up two actual traps -- and keep every legal lobster contained inside.
$$$$
North Andover
Save this one for a special occasion (or special visitor). It's a private 45-minute tour over all of the city's most iconic sites, including Fenway Park, the State House, and the USS Constitution. If the ocean beckons, you can instead choose the route that follows the Merrimack River and eventually floats above the North Shore and some of the state's most beautiful beaches.
Sign up here for our daily Boston email and be the first to get all the food/drink/fun the Hub has to offer.