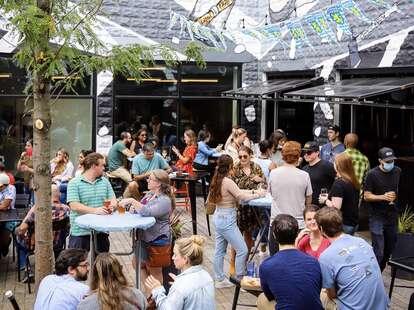 Bow Market

| Photo courtesy of Bow Market
Bow Market

| Photo courtesy of Bow Market
Somerville is the Tetris-scape of the Greater Boston area—somehow cramming an unfathomable number of colorful puzzle pieces (over 15 district "squares" and 50 languages spoken)—into just four square miles.
You can eat the globe, shop for vinyl, or try your hand at welding (and kite-making!) all in one day here. At this glorious mishmash of OG neighborhood haunts and fresh riffs, Somerville's where it's at. Here's everything you need to know about the city's eclectic food, art, and fun.
Spend the day at Bow Market and want for nothing
Nestled in a quiet nook of Union Square, Bow Market is a two-level enclave ideal for outdoor hangs. Located at the intersection of niche and necessity, the small-but-mighty destination has nearly two dozen eateries and retail spots to explore.
Wile away the afternoon in the breezy courtyard, and visit Rebel Rebel for natural wines and viticulture know-how in equal measure. Or for hoppy hydration, the folks at Remnant Brewing are happy to oblige. While there, look for Brewer's Foods, a local brand that upcycles spent brewers' grains into tasty AF snacks.
At Adorn Me Africa, shop Ghanaian-inspired fashion and ask about the travel adventures and Supper Clubs that are part of the brand's Afrovybe Travel Tribe. Head to Saus for legendary vegetarian vittles (hello, poutine with crispy shallots!) and Buenas for a South American-inspired menu. Once you've snacked, sipped, and vibed, treat yourself to some fresh flowers at Rococo Floral Co.; culinary zines and must-have cookbooks at Wild Child; and records at Vinyl Index.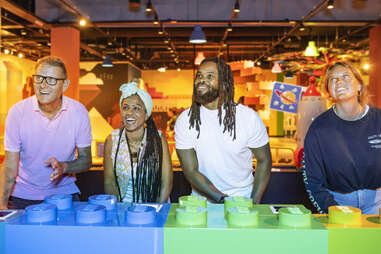 Lean into the local brickmaking legacy and dabble in the arts
Experiencing Somerville is more than just a trip to the hallowed grounds of Union Square Donuts. To see what it's all about, you'll definitely want to add art to your itinerary.
Second only to New York City, Somerville has more artists per capita than anywhere else in the country, and with that comes oodles of artisans and handcrafted wares like those from Monadnock Glass Arts or Myrth Ceramics, where deeply-hued earth tones reign supreme. For a more hands-on outlet, Artisan's Asylum has workshops along with classes on figure drawing, welding, or even kite-making.
The city's creative and industrial roots intermingle at Assembly Row—a shopping, dining, and entertainment hub. Somerville has shifted over the decades—from assembling cars to meatpacking and brickmaking, and in a quirky full-circle moment, Assembly Row is also home to another big name in brickmaking—LEGO® Discovery Center Boston.
Relish its heritage of innovative food-craft
When you hear locals muttering, "What the Fluff," they're not avoiding a swear jar deposit but chatting about one of their annual events. Marshmallow Fluff was invented here—a feat so sweet, it's celebrated each fall at the What the Fluff? Festival.
In keeping with its history of edible innovation, the city still celebrates culinary craft. Discover entrepreneurial delights, such as the spiced sunflower butter stuffed dates (drenched in chocolate, no less) from Hot Date Kitchen, which you can get at Forge Bakery & Ice Cream Bar. While there, be sure to grab a Cardamom Bun, which is a croissant bursting with cardamom filling and, quite possibly, the most delicious edible sorcery since flaky dough lamination came along.
Sometimes, the beauty of simplicity makes the vibrant food-craft scene shine. Stop into Q's Nuts for Chocolate Lavender Almonds. Fans of culinary mushrooms can grab fistfuls of Chanterelles, or take a class, at The Mushroom Shop—where Tyler Akabane and his merry band of fungi friends unearth the Morels of modern-day life. For a pairing, there's Michette Bakery, where chef Thomas makes sourdough with fanatical French passion.
Dine within a shiny rail car, Hollywood set, or farm-to-table restaurant
Over the years, Somerville has navigated many industry shifts—along with alleged associations with organized crime—but, ultimately, shed the nickname "slummerville" to become a popular area. This growth naturally yields discussions of gentrification, but there's one area, in particular, where old and new blend harmoniously: The restaurant scene.
Rosebud American Kitchen & Bar—a dining car diner around since 1941—has weathered the city's changes and is still slinging Eggs Benny (but also Prosciutto Fig Flatbread). Then there's The Thirsty Scholar, which remained humble even with its moment of fame from the movie The Social Network.
The city's Powderhouse Circle gives a quick glimpse of the depth of the food scene, boasting Tu Y Yo Mexican Restaurant, Mint Indian Eatery, Noor Mediterranean Grill, and Yoshi's for a hybrid of Korean and Japanese dishes—all within steps of one another.
Those looking for near-endless beers on tap can saddle up to the bar at Olde Magoun's Saloon to catch the game and devour Street Corn Dip. Fans of Miller High Life, retro vibes, and gourmet hot dogs are quite at home at Trina's Starlight Lounge. Ah, but then there's date night, and Union Square's Field & Vine is a go-to serving a whimsical wellspring of garden-fresh plates and wood-charred goodies. For those living a vegetable-forward life, the mother-daughter duo at Koshari Mama offer vegan Egyptian-style street food, including their namesake Koshari, which—after the first bite—might live rent-free in your head for a while.
Melanie Carden is a private chef turned travel writer. She's equal parts adrenaline-seeker and
Golden Girls
vibes. You can find her trying new things, thrifting for treasures, grinding it out on a trail, or lounging on a picnic blanket—Aperol spritz in hand. She's fickle about social, but the sporadic nuggets are worth the wait—cricket tacos, anyone?