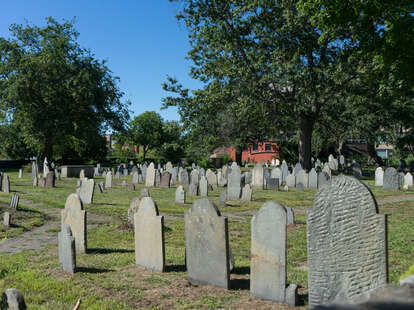 Old Burying Point Cemetery

| CiEll/Shutterstock
Old Burying Point Cemetery

| CiEll/Shutterstock
Every year, people from all over the country flock to the bona fide hub of horrors: Salem, Massachusetts. It is undeniably the perfect Halloween backdrop, complete with autumn leaves, pumpkin patches, and a rich, fascinating history that never gets old.
Salem is better than ever, as the city reinvigorates this spooky season with psychic readings, an exhibit about what really happened during the Salem Witch Trials, a masquerade ball, and scary movie screenings. Here's everything you can do to have your best Halloween yet in this spooky town.
Salem's oldest Witch Shop holds more than metaphysical books and crystals; it is also home to Salem's famous Love Clairvoyant, Lorelei, who you may recognize from the most recent season of TheBachelorette. She provides readings on all things love and attraction, whether you're flying solo and want to see what prospective romances your life holds or have a boo you want to conduct soulmate magic with. Each session consists of tarot readings, palm readings, as well as a witch's circle to finish it off. Book your reading here.
This year, the Salem Art Gallery at The Satanic Temple of Salem is hosting Carnaval Satanique: Masquerade Ball. The extravaganza will feature Victorian-inspired portraiture, rituals, and magic, as well as a myriad of performance art pieces throughout the evening. Throw on your favorite mask and get swept up in occult traditions as you take in multiple art forms. Purchase tickets here.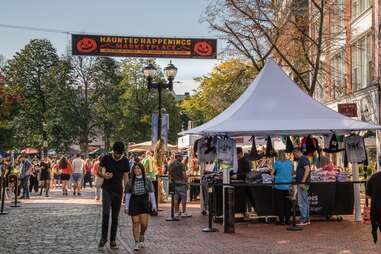 Amidst the eerie events occurring around town, take a break and make sure to indulge in some retail therapy while you're there. The Haunted Happenings Marketplace features more than 100 artisan vendors every weekend in October, with booths selling items including handmade jewelry with magic crystals, vintage treasures, sculptures and prints made by local artists, and more. This year, the marketplace has three locations, however, the Salem Common is the only location where you can catch the live music and peruse a food court while you shop.
The esteemed Salem Horror Fest may have moved to April, but that doesn't mean you can't get a good fright. The beloved Cinema Salem screens eerie cult-favorites every day, like Halloween and Scream, as well as a Videocoven series that presents more esoteric, psychological films such as Alone with You and Threshold.
Every innocent person who was persecuted or killed in the Witch Trials is a tragedy, but Rebecca Nurse's story was a particularly egregious case. One of the oldest women to be accused of witchcraft at 71, Nurse had many defenders but she was still hanged. Oral tradition dictates that her body was buried at this homestead. While guided tours are on pause for the month of October, a detailed audio tour is offered along with a map that will direct you to spots like the Nurse Family Cemetery, Rebecca's candlelit home, and more. Tours run on Tuesdays, Saturdays, and Sundays, and you can purchase tickets onsite.
The Salem Psychic Fair and Witches' Market is the town's longest-running psychic fair. Find unique enchanted gifts like voodoo dolls, incense, and enchanted candles at the Witches Market. Then meet practicing witches and delve into your destiny with crystal balls, tarot cards, and palm readings—there's even a couple's reading. Register here for a 15- or 30-minute appointment.
Kick off your Halloween night by gathering with witches in the Salem Common and participating in the Dragon Ritual Drummers' drum circle hosted by modern day Warlocks Christian Day and Brian Cain (who is also a practicing psychic). The event encourages attendees to come with an open heart as they mourn and celebrate friends and loved ones. The celebratory circle will also include live speakers and dancing, and everyone is welcome to join in on the magic ritual.
This storied site is one of the oldest timber-framed homes in North America, and inspired Nathaniel Hawthorne's novel of the same name. Over its lifetime, it's grown from a two-room, two-story house into a 17-room, Georgian-style mansion measuring more than 8,000 square feet. Tickets also include a 30-minute audio tour of the gardens and grounds. Online reservations for the tour will be available on a rolling basis.
Celebrate pumpkin season without getting too much of a scare at the newest version of the Hollowed Harvest. This year, the festival features an indoor Wicked Labyrinth full of hundreds of jack-o-lanterns. Sip on a cup of hot apple cider and wander around the family-favorite haunted labyrinth that is only offered in Salem. Tickets must be purchased in advance, so pick a time slot and grab a ticket here.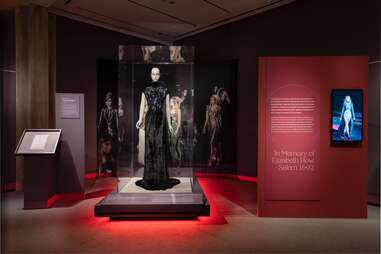 Gain a new perspective on the Salem Witch Trials
This year, the Peabody Essex Museum is subverting what we were taught about the Salem Witch Trials with their exhibition "The Salem Witch Trials: Reckoning and Reclaiming." The exhibit features rare, original documents from the trials, personal stories, artist statements, and interviews. Watch artists such as fashion designer Alexander McQueen and photographer Frances F. Denny reclaim the word "witch" and learn how the trials contributed to the inspiration behind their art.
Unravel myths about the trial
The Salem Witch Trials were rooted in hysteria. More than 200 people were accused of practicing witchcraft, and 25 died, all because several young women pointed the finger at others. To this day, the infamous event is dramatized and misconstrued. But the Myths and Misconceptions daytime walking tour debunks still-lingering common beliefs about that dark time. The one-hour tour stops at the Witch Trials Memorial and the 17th-century jail that held accused witches. Get your tickets here.
Visit all the film locations from 'Hocus Pocus'
On the heels of the Hocus Pocus sequel, why not revisit the original film's on-location sites sprinkled throughout Salem? There's Pioneer Village ("Salem Village"), Phipps Elementary School (Max & Allison's school), Ropes Mansion ("Allison's House"), or Old Town Hall, the site of the Halloween party. Visit this list to pick your poison. Have some extra time? Wrap up the tour with a free screening of the infamous film at the Salem Common on October 28 (where most of the outdoor scenes were filmed).