A Visitor's Guide to South Carolina's Best Beaches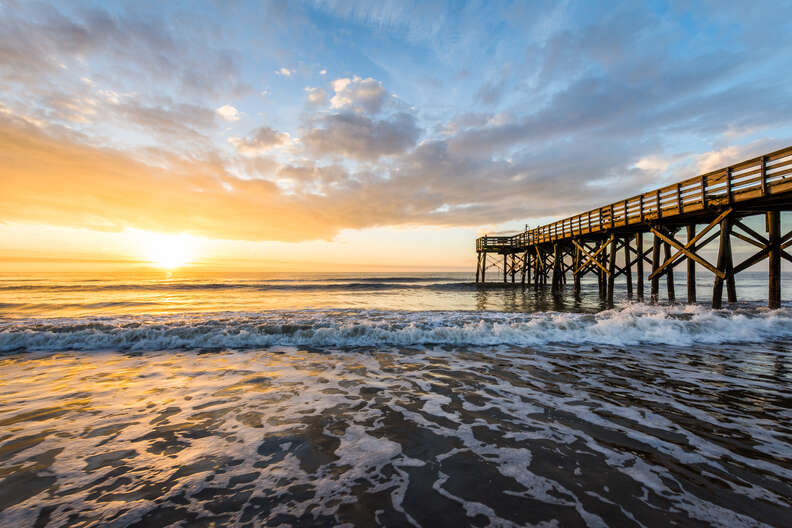 Isle of Palms

| Christian Hinkle/Shutterstock
Isle of Palms

| Christian Hinkle/Shutterstock
Most beach vacationers in South Carolina opt for the putt-putt and pancake houses of Myrtle Beach, or the golf-and-family-bike-rides feel of Hilton Head. In between the state's two main beach draws, though, SC's 200-mile coast becomes broken by river inlets, salt marshes, and the shallow waters of the vast Cape Romain -- and scattered along this coastline are tiny barrier islands with sandy shores, each sporting their own cultural and natural attractions. In other words, no matter what kind of vibe you're after, there's a stretch of sandy shore perfect for you.
From shag dancing, to rich fisheries, to hanging 10 on a wave, South Carolina's beaches shape and embody the state's culture. Traveling north to south, here are the top eight road-accessible beaches worth exploring, along with some key details to know before you hit the road.
North Myrtle Beach
The birthplace of shag music is still a cultural landmark
These days the city of North Myrtle Beach sprawls almost to the North Carolina border, but its historic downtown and adjacent beach remain intact and as endearing as ever. Shag dancing and beach music (think: "Under the Boardwalk") still thrive here, and strolling Main Street on a Saturday night is like stepping half a century back in time. Inside Fat Harold's Beach Club, the dance floor is an all-ages sea of spinning partners and fancy footwork.

Know before you go: North Myrtle is popular with families and lined with resorts offering chair and umbrella rentals -- but if you don't need those services, walk a few hundred yards north to escape the crowds. The city's beaches do have strict "shading" laws between May 15 and September 15 to keep the beach open and walkable -- umbrellas are allowed, but tents and pop-ups are banned unless you have an infant under 18 months old. Dogs are also prohibited on the beach from 9am to 5pm during summer months, and surfing is not allowed except at five designated "surfing zones" spread throughout the beach. North of the main beach, it's a 15-minute stroll to the quieter Cherry Grove Beach, which has an idyllic oceanfront park and the iconic Cherry Grove Pier, where you can cast for tarpon and sharks and take in the view up and down the coast.
Where to eat/drink: The beach itself doesn't have much in the way of notable food, but a daiquiri and a burger at Coconuts Tiki Bar & Grill (at the Maritime Beach Club) can hit the spot midway through a hot afternoon. A five-minute drive inland, SeaBlue sources local fish and sports a solid wine selection; blue mood lighting and an aquarium make up for the strip-mall locale. Rockefeller's Raw Bar is a more authentic-feeling seafood joint, with inviting captain's chair bar stools for slurping raw bivalves. Pro tip: You'll want to arrive early during summer, when lines back up out the door.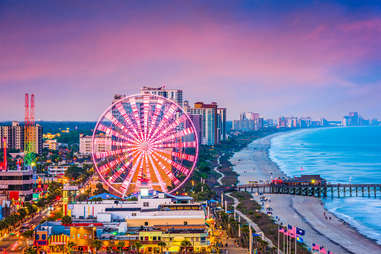 Myrtle Beach Boardwalk and Promenade
The Grand Strand's hub offers family fun and kitschy delights
Collectively known as the Grand Strand, Myrtle Beach's 60 miles of sand and condos quickly begin to all look the same, but the stretch from 1st Ave North to 14th Ave North stands apart for its boardwalk and promenade, which extend along nearly a mile of oceanfront. This is a lively, jam-packed section of sand where you can walk back and forth and people watch all day. On hot summer nights, attractions like the SkyWheel and Adventure Matrix Aerial Park at Zipline Adventures are teeming with eager families and packs of teens, and it's an experience just to walk the strip -- although you won't want to bypass the stalwart Gay Dolphin gift shop, open since 1946. If you somehow tire of the beach, don't worry: there's still a ton of fun, non-touristy things to do in Myrtle Beach.
Know before you go: If you're making a day of it, arrive before 10am to snag a parking spot close to the sand; you'll still likely pay around $5/hour, but it's more convenient than the Pavilion Garage or surface lots a block or two from the ocean. Shade tents are banned between Memorial Day and Labor Day, but umbrellas are allowed, and only fabric blow-up rafts are allowed in the ocean (no plastic). From May 1 to Labor Day, dogs are not allowed between the hours of 10am and 5pm.

Where to eat/drink: On the north end of the boardwalk, you'll want to order a beer and a platter of fried oysters at Pier 14, where you can sip and slurp while you peer across the ocean. In the heart of the boardwalk between 7th and 8th Ave., Art Burger Sushi Bar covers several bases surprisingly well, and doubles as a free-to-display gallery for local painters. For the best seafood in town, continue your walk another mile-and-a-half past the boardwalk to Sea Captain's House, a 1930s beach cottage that's survived the condo creep that surrounds it by appeasing the circling developers -- and hordes of visitors -- with its toothsome crab cakes.
Pawleys Island
Life slows down when the coast turns to salt marsh and barrier islands
Famous for its rope hammocks, Pawleys Island directs most of its visitors to the Hammock Shops Village that fronts Highway 17 -- but those who venture off-highway to the island itself are rewarded with sweeping marsh views, an uncrowded beach, and a slower pace of life. This is the northern end of what's considered "Lowcountry," and the culture shift is evident at spots like the Sea View Inn, a pre-Airbnb throwback with communal meals for guests and a welcoming lack of TVs and electronics. This is a self-service, relaxed beach, meaning you'll need to bring your own chairs, umbrellas, and snacks. About 20 minutes north on Highway 17, the sprawling Brookgreen Gardens sculpture garden and zoo is definitely worthy of an afternoon visit.

Know before you go: The lack of crowds on Pawleys means that rules are few: tents are allowed, and you can surf anywhere except next to the pier. The residential nature of the island also means parking can be scarce on holidays and weekends; head to the free lot at the island's south end, or arrive early to get a spot at one of the eight public access points. Dogs are allowed, but must be leashed from 8am to 8pm.
Where to eat/drink: Meals on the island are pretty much down to whatever you bring with you, but there are plenty of options a mile away on the mainland. Frank's is the fine dining mainstay -- reserve a table on the terrace and order the local grouper -- but for casual eats, Habaneros has tasty fish tacos and Hog Heaven BBQ is a country cooking institution where no one leaves hungry. Pawleys Island Tavern (or the PIT, colloquially) serves up great pizza on a shady patio with live blues bands playing on the reg.
Isle of Palms
Charleston's family beach is also the gateway to a wildlife refuge
Known locally as "IOP," this 6.5-mile-long island has a lively commercial hub that boasts a legendary oceanfront concert venue, The Windjammer. Its heyday was Hootie's early-'90s glory years, but it's still a sought-after stage for local bands and comes alive during their bikini contests and beach volleyball events. Here in the center of the island, the beach draws an all-ages crowd on weekends, with the party congregated around "the Jammer." The island is also home to Wild Dunes Resort, a gated family paradise with bike trails, pools, golf, and a couple miles of sparsely used beach, which is open to the public if you hoof it north from the last public access off Palm Blvd. at 56th Ave (it's an excellent running route for beach joggers). On the north end is Isle of Palms Marina, where Tidal Wave Water Sports departs for parasailing trips and rents boats and Jet Skis for exploring the Cape Romain National Wildlife Refuge. Ride out to Capers Island to see a boneyard beach, where the ocean is gradually eroding away at the forest.
Know before you go: Parking is at such a premium on IOP that the city has considered instituting a quota for daily visitors. There are public lots on Pavilion Drive and along Front Beach, as well as at Isle of Palms County Park, but if you arrive after 10am on a summer weekend, you'll likely face an extended hunt for parallel parking along Palm Blvd. Once you're on the beach, however, IOP's rules are light -- leashed dogs are allowed, as are tents.
Where to eat/drink: IOP's strip sports oceanfront tourist joints like the cheesy-but-charming Coconut Joe's (come for live reggae on Sunday afternoons) and inspired fine dining at Italian/seafood trattoria, Coda del Pesce. Next door, Papi's Taqueria quietly dishes out some of the best tacos in all of Charleston -- try the meatball "Don Corleone" on a locally made Mitla tortilla. The marina restaurant, Morgan Creek Grill, is a local hotspot on weekends, when it fills up with boaters docking up for a cold one and a game of bean bag toss on the lawn.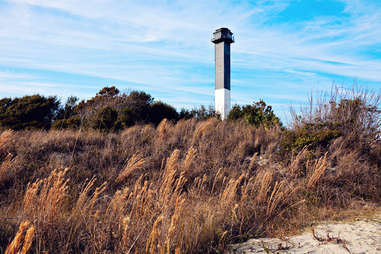 Sullivan's Island
History and the high life come together on an island that knows it's good-looking
Sullivan's property values are the highest in the state, thanks to its proximity to Charleston, large lots, and genteel atmosphere (although neighbors like actor Bill Murray keep the mood light). Edgar Allen Poe was stationed here with the U.S. Army in the 1820s, and his legacy remains at the town library and a burger joint named in his honor, as well as at Fort Moultrie, a national monument operated by the U.S. National Park Service. South Carolina's archetypal state flag has its roots here -- the original fort withstood British cannonballs thanks to the shock-absorbing attribute of palmetto tree logs. From the fort, take in the views of Charleston Harbor and then head to the beach at Station 28.5 (on Sullivan's, beach blocks are called "stations") to watch kitesurfers shred in a unique, natural lagoon formed by an offshore sandbar. Sealand Adventure Sports offers lessons if you're ready to join the wind riders. Station 16 is the starting point for a nature trail that winds through a 200-acre forest before emerging through the dunes onto a peaceful, low-traffic beach.
Know before you go: Sullivan's has evolved from a barefoot getaway to a wealthy community of second homeowners, and although the beach is public, the rules (and their enforcement) reflect that. Dogs are allowed, but only if you acquire a $50 annual permit at Town Hall. Although alcohol bans are strictly enforced at every beach on this list except Edisto, you're most likely to get ticketed on Sullivan's if you're openly drinking. There's no public parking lot, so arrive in time to find (free but sparse) street parking.
Where to eat/drink: A visit to Poe's is a must for anyone on Sullivan's -- order the Tell-Tale Heart or the Gold Bug burger -- while across the street, Home Team BBQ is known for its pulled pork, hearty sides, and frozen painkillers. On an island with several excellent food options, though, the star is a few blocks beyond the main drag; The Obstinate Daughter is a destination unto itself, where you'll indulge in ricotta gnocchi and the Duck Amuck pizza, topped with gorgonzola, roasted grapes, and duck confit. Downstairs, Beardcat's offers excellent coffee and gelato.
Folly Beach
Hang ten and get laid back on the Edge of America
There's an end-of-the-road vibe at Folly Beach, where a long-standing reputation as the working man's beach is dragging its heels in the face of new million-dollar homes and condos erected along the route to the island. The dudes still abide here, thanks to legendary surf breaks at The Washout (where the island narrows to a couple hundred feet and washes over during hurricanes) and at the Folly Beach Fishing Pier, where the less wave-inclined can sip a cold beer and cast a line into the ocean. The park at Folly's north end is the primary viewing point for the ghostly beautiful Morris Island Lighthouse, although you shouldn't swim here as tides whip through the inlet and the beach drops off steeply (the rest of Folly Beach that faces the ocean is ideal for swimming). To get even closer to the lighthouse -- or to spend the day with a remote beach all to yourself, searching for shark teeth -- catch a ride over to Morris Island with Captain Dickey of Flipper Finders Boat & Sea Kayak Tour Co.
Know before you go: There's only one way on and off of Folly Beach, so the two-lane road can back up for miles by 10am on weekends and holidays. Once you're on the island, however, parking is relatively easy. There's a public lot at Folly Beach County Park on the west end, and at access points at every block along the beach. Parallel parking is legal everywhere, provided drivers keep all of their tires completely off the pavement (among the most common citations on the island). Dogs are not allowed on the beach between 10am and 6pm from May 1 to September 30. Surfing is welcomed everywhere except within three blocks of the pier -- which is also the most crowded section of the beach, due to its accessibility to the concentration of restaurants and bars on Center Street.
Where to eat/drink: Massive flavors emerge from the minuscule kitchen at Jack of Cups Saloon, a destination for curries, pastas, and shareable dipping bowls. Next door, the Drop In Deli is a go-to for sandwiches and the pop-up "Sushi by Lisa" bar every Tues-Fri night. If you can't get a table at Lost Dog Café during the Sunday afternoon rush, the unassuming LowLife, across Center Street behind the BP Station, serves a monstrous bacon, egg, and cheese and breakfast burrito at their daily brunch, from 10am to 3pm. For seafood straight from the source, rustic Bowens Island is a Lowcountry legend. For even more dining options here, you'll wanna check out our comprehensive Folly Beach restaurant guide.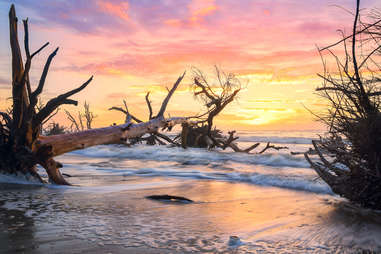 Edisto Beach
A sleepy drinking town with an occasional beach problem
It's worth visiting Edisto just for the drive down Highway 174, a National Scenic Byway that's lorded over by live oak trees draped in Spanish moss. Once on the beach, the geographical isolation maintains a lost-in-time community feel, where attractions like The Serpentarium (a family-run museum of live snakes) still thrive. There's an intriguing mix of family vacationers and salty-dog locals here, but hurricanes have taken their toll on Edisto Beach, and erosion has left only a small strip of beachfront at high tide -- the positive side of which is the boneyard beach left behind at Botany Bay Plantation, where trees emerge from the surf as the ocean overtakes the maritime forest.
Know before you go: Edisto is quiet, and the rules reflect that. Parking is easy at any of the 37 public beach access points. Dogs are allowed, but must be leashed from May 1 to Oct. 31. If you want to drink a beer on the beach, you won't be hassled on Edisto -- as long as it's not in a glass bottle. It's a long (and gorgeous) drive out here for daytrippers, which keeps out the riff-raff.
Where to eat/drink: Edisto's dining scene is mostly fried-seafood-and-beer joints like the timeless Whaley's, where you'll find a rollicking local crowd every weekend. Just off the beach, the refined Southern fare at The Old Post Office has long given Charlestonians an excuse to take the scenic drive out to Edisto. Inside Edisto's golf course community, Ella & Ollie's is the island's most upscale bistro, but it's still casual enough for after-beach shorts and flip-flops, and suitable for families.
Coligny Beach
The heart of Hilton Head offers a little bit of everything
A premier vacation destination for decades, Hilton Head has a dozen miles of beaches, two dozen golf courses, and hundreds of ways to while away a week of family downtime. The road onto the island dead-ends into Coligny Beach, making it the island's activity center. The beach itself has lifeguards on duty and chairs for rent, plus parking, bathrooms, and a big play fountain for little kids not yet ready to swim in the ocean. It's also home to the Coligny Theatre, perfect for cooling off with an afternoon matinee.
Know before you go: Coligny adheres to the same rules as all beaches on HIlton Head, including bans on glass, shark fishing, and removal of live animals like starfish. Dogs are not allowed on the beach between the hours of 10am and 5 pm, from Memorial Day to Labor Day, and stunt kites are also banned during summer. In designated swimming areas, including at Coligny, fishing, surfing, and frisbee are banned from April 1 to September 30. Coligny has free parking across the street, but it's several hundred yards from your car to the sand, so pack accordingly to bring everything in one trip.

Where to eat/drink: Coligny's sunset scene is centered around the Tiki Hut, a beachfront bar where live bands play to an audience dancing in the sand. If you need a satisfying meal but don't want to leave the beach, The Porch (inside the Beach House Resort) offers a tasteful menu of gussied up Southern fare, priced for the location. You'll need to shower the sand off and put on slacks, but nearby Michael Anthony's is an island staple highly regarded by locals for its homemade pasta and Italian fare.
Sign up here for our daily Charleston email and be the first to get all the food/drink/fun in town.
Stratton Lawrence is a writer and editor based in Folly Beach, South Carolina, where he catches waves just outside his front door. It took some convincing to move his wife, a lifelong Isle of Palms native, over to the Edge of America. When his family escapes for the weekend, they're most likely found kicking back on Edisto Beach. Find Stratton on Instagram and at his website.