Being situated on the Atlantic coast and surrounded by a number of rivers (we know, location, location, location) means that Charleston has no shortage of aquatic activities. Whether you're looking for something low key or an activity that gets your adrenaline pumping, you can find it out on the water in the Holy City!
Dive in and enjoy a swim
Sullivan's Island/Folly Beach/Isle of Palms
The tamest and most universally beloved summer water activity is an ocean going for a swim. Charleston is nestled between three gorgeous beaches, each with benefits and unique personalities of their own. Folly Beach is a party destination for younger, hipper folks (think more red cups and less baby bottles) while Isle of Palms attracts more families with young kids. Book rental property Wild Dunes if you're looking for something a bit more upscale or just pack an umbrella and head to Sullivan's Island if you're in the mood for a more residential and relaxed beach day.
Stand on the water
Folly Beach
Stand up paddleboarding is all the strange-looking rage and Charlestonians were more than happy to hop on the SUP bandwagon (so eager that the College of Charleston even offers a stand up paddleboarding elective course). There are a few companies in Charleston that offer SUP rentals and lessons, but Charleston SUP Safaris is one of the best with informative and patient instructors who will make sure you have an awesome time. Test your flexibility on the water with some SUP yoga, or opt for a tour.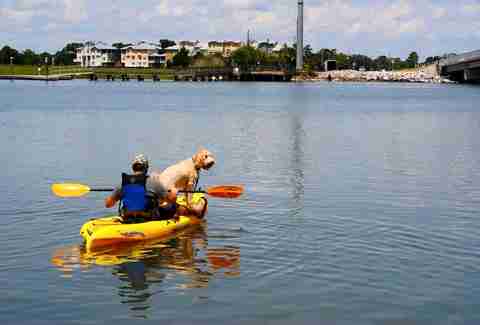 Grab a paddle and go sea kayaking
Shem Creek
If your only kayaking experience has been on a river, prepare to have your mind blown. Sea kayaking is a whole different ballgame -- you need more endurance and bicep to fight the waves, but it's totally worth it. You can get down and dirty with Pluff Mudd -- the stinky mud-sand you can find in South Carolina marshes -- on a Coastal Expeditions' Shem Creek trip, get romantic on a sunset tour of the Charleston Harbor, or just rent a kayak for a couple of hours to explore Shem Creek and the Atlantic on your own.
Ride a wave
Folly Beach
When most people think of surfing, they think of California or Hawaii and gigantic waves that just about swallow a person whole. While Charleston doesn't have any of that, the surfing down at the Washout on Folly Beach is really popular. If you're a surfing newbie or needing a refresher course, the folks at Carolina Salt Surf Lessons on Folly Beach are more than happy to help you hang 10.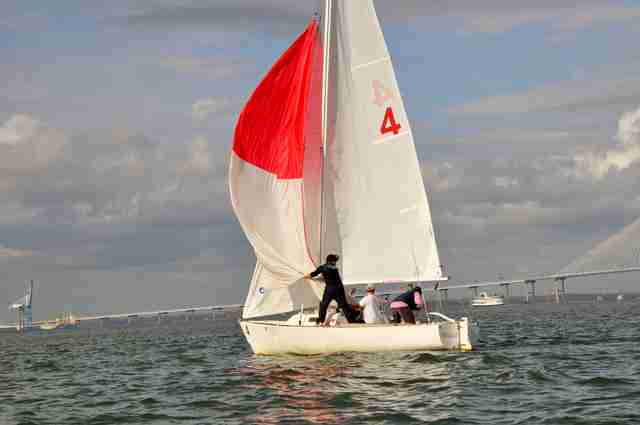 Hoist your sails and cruise
Mount Pleasant
Sailboats can be associated with affluence and luxury, but it's actually a very approachable (and affordable!) activity. Whether you want to take a sunset cruise on the harbor, host a bachelor party, or learn some of the basics of sailing for yourself, you have a great time out on the water! Charleston Classic Sailing boards right over the Cooper River Bridge in Mount Pleasant, where the calmer waters offer fantastic views of downtown Charleston and easy access to the ocean.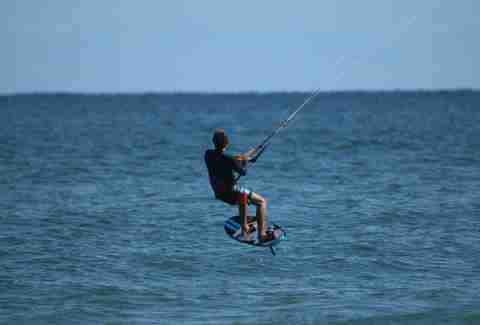 Let the wind take you places on a kiteboard
Sullivan's Island
If you spend much time on wind-swept Sullivan's Island or Isle of Palms, you're likely to see adventurers kiteboarding close to the shore. Sealand Adventure Sports on Sullivan's Island offers kiteboard lessons so that you can strap in and feel like Dorothy as you get carried away on a gust of wind -- but not blown off course.
Coast high above the water
Isle of Palms
If you're feeling extra adventurous (and aren't particularly afraid of heights), then parasailing is the perfect aquatic activity for you! Get hooked up to a parachute on the back of a speedboat, feel the wind in your hair while you take in amazing views of the ocean and the lowcountry. Tidal Wave Water Sports' USGC captains have plenty of experience to make sure you survive your trip unscathed.
Jump on the motorcycle of the sea
Folly Beach
Jet Skis (aka WaveRunners) are basically the motorcycles of the ocean. They can be really fun, but also dangerous if you don't operate them correctly. The folks at FB Watersports help make sure you're safe and secure and fully trained so you can hop on a Jet Ski and explore the open ocean. They also offer Jet Ski safaris -- guided tours on Jet Ski that will likely blow your mind. Be sure to plan your reservations in advance because they book quickly!
Cast a long line
James Island
While it's easy to grab a rod and reel and plant yourself on the shore, you miss out on a lot of the experience of taking a fishing trip. Charleston Charter Fishing takes you out on the water to explore the lowcountry and catch fish that don't normally swim close to shore. You can choose the amount of time you want to spend on the water, from four to eight hours, and grab a couple of your fishing buddies for a unique and personalized fishing experience. They supply all the equipment (plus snacks!), so all you have to do is show up and be ready to reel 'em in.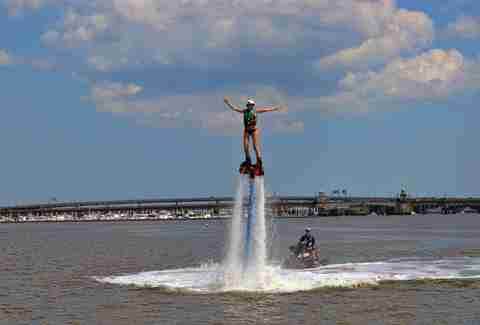 Strap into an aqua jetpack
Downtown Charleston
For the more adventurous aquatic enthusiast, flyboarding may be the craziest and most fun experience you'll have offshore. Flyboarding is likely the closest thing to flying by jetpack and uses water and propulsion to allow you to hover 20ft in the air. Hydrofly Watersports sets the mood by chartering a boat ride in their floating tiki hut into the Charleston Harbor so you can see what it's like to fly in the air like a dolphin.
Boat tour
Folly Beach
In Charleston, there's pretty much a boat tour for almost anything sea-bound -- we've got dolphin cruises, sunset cruises, harbor cruises, afternoon cruises, booze cruises (perhaps the best kind of cruise), dinner cruises, BBQ cruises... the options are endless! One of our favorites is this sunset dolphin cruise, which offers spectacular sunset views and gets you up close and personal with some dolphins in their natural habitat, along the quiet marshes and tidal creeks near Folly Beach.
Sign up here for our daily Charleston email and be the first to get all the food/drink/fun in town.