The Best Beaches for a Day Trip From Charleston
There's a beach near Charleston that fits your mood.
It's a testament to Charleston's rich history and food culture that its beaches are rarely the main draw for out-of-state visitors. That said, one of the East Coast's longest protected stretches of coastline (Cape Romain) is just 30 minutes north of the city, and communities like Sullivan's Island have been retreats for Charlestonians for centuries.
The under-the-radar nature of Charleston's beaches may be due to geography. Myrtle Beach and Hilton Head each encompass huge areas, but around Charleston, each beach is a barrier island, and these thin slivers of sand possess their own identity, both culturally and ecologically. If you're willing to work for it -- by kayak, ferry or scenic drive -- it's possible to have miles of beach all to yourself (perfect in an era of social distancing). At the busier islands like Folly Beach and Isle of Palms, mask ordinances and limited group size regulations are in place. If you venture away from commercial centers, it's easy to find your own wide space in the sand.
In other words, whether you're looking for a place to shag dance on a pier under a full moon, or you prefer complete isolation and solitude, there's a beach near Charleston that fits your mood.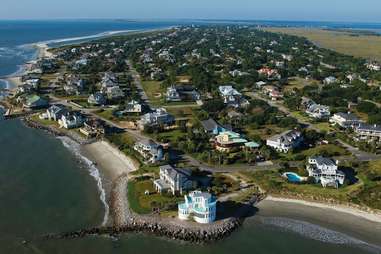 Few beaches in the world bear the weight of history more than Sullivan's Island, which served as an entry point into North America for nearly 200,000 enslaved Africans. Situated at the mouth of Charleston Harbor, its location was also integral to the defense of the city during the Revolutionary and Civil Wars, and the well-preserved Fort Moultrie still stands at the island's southwest terminus. But apart from those who visit the fort, most day-trippers come to Sullivan's for the broad beach, one of only a few in the state where accretion is outpacing erosion. This means there are tide pools aplenty, and an offshore sandbar that blocks some wave action for peaceful swimming (and creates a kiteboarder's paradise in the lagoon at Station 28.5). Add a concise, charming restaurant district -- anchored by Poe's Tavern -- and a 15-minute commute from downtown (without traffic), and it's easy to understand why a tiny cottage on Sullivan's Island sells in the millions. Fortunately, there's no charge to enjoy the beach.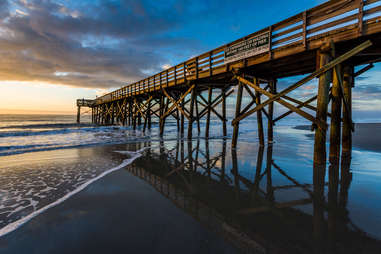 Just across Breach Inlet from Sullivan's Island, the Isle of Palms sacrifices some of its neighbor's quaint coastal motif for accessibility. A block of kitschy shops and restaurants fronts the ocean, welcoming barefoot revelers of all ages. Papi's Taqueria stands out among Charleston's crowded market for fancy tacos -- it's worth the drive to "IOP" even if the waves weren't steps away. The island's north end is home to the gated Wild Dunes Resort, featuring swimming pools, tennis courts, bike rentals, and an oceanfront pavilion. It's an idyllic retreat for families seeking a break from the hustle of the inland world. Parents can sneak out after the kids go to sleep to catch a live band at The Windjammer, a one-of-a-kind oceanfront music venue. The outdoor "Sunset Stage" allows for socially distant concerts when the main stage is closed.
Retirees and second-homers have discovered Folly's more affordable prices, bringing with them a building boom of upscale houses. Still, the six-mile-long island retains its funky, off-beat vibe thanks to the more than 20 restaurants along Center Street that employ the resident population of millennial renters and beach bums. Folly is also home to the Washout (named for what hurricanes do to this skinny part of the island), where waves tend to break cleaner and more consistently than anywhere else in the area. To nosh after a surf session, grab a poke bowl or falafel burger at Lowlife, where the outdoor bar and seating offer the island's most seamless socially distant dining experience.
The Lowcountry's islands were once home to dense maritime forests of pines, oaks, and hollies, extending all the way to the dune line. On the few islands that have been left to nature, when the ocean breaks through the dunes and erodes away at the forest, a "boneyard" of tree skeletons are left on the beach, emerging eerily from the waves at high tide. Bulls Island, reachable only by private boat or a daily ferry service (during the summer), offers the area's most expansive example. Exploring this part of the Cape Romain National Wildlife Refuge is well worth the effort.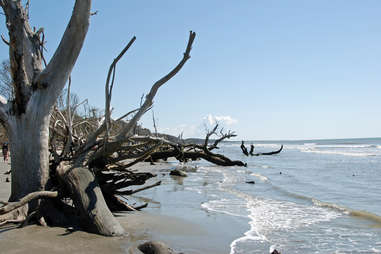 There aren't many places left where you can legally pitch a tent just above the high tide line and let the waves lull you to sleep. Uninhabited Capers Island is one of those places, though, and overnight permits are free (but required). The catch? You'll want plenty of bug spray, and it's only accessible by boat, so you'll have to either find a friend or talk a local boat charter into a delivery and pickup.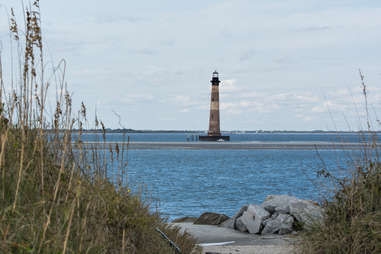 Once a sprawling island at the mouth of Charleston Harbor (home to Fort Wagner during the Civil War, immortalized in the movie Glory), Morris Island has been reduced to a tiny spit of land by erosion. Its iconic candy-striped lighthouse, however, has been reinforced and still emerges from the water between Morris and Folly Beach. To visit the island, charter a trip from Flipper Finders on Folly, and ask Captain Dickey to drop you off with beach cruiser bicycles so you can fully explore the island. Sharks' teeth are plentiful in the eroding dune banks along the beach.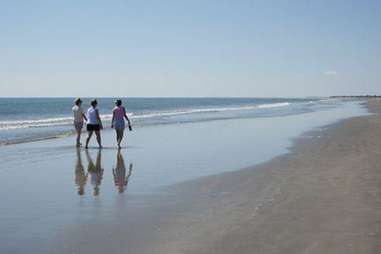 Consistently ranked among the best beaches in the country, Beachwalker offers easy access, smaller crowds, convenient parking, and lifeguards on duty during summer. To fully experience this place, walk to the end of Captain Sam's Spit (the sliver of land the park sits upon) until you're strolling along the Kiawah River. This riverfront beach is a unique feature, and one of the most consistent places in the world to see bottlenose dolphins chase fish onto the beach with a technique called "strand feeding."
Once a private island, this untouched stretch of beach on Edisto Island was opened to the public in 2009; it's arguably the wildest place on the South Carolina coast that's accessible by car and foot. The most popular stop along the driving route is a footpath across the marsh to the eerily beautiful boneyard beach where at low tide, there's an array of massive whelk shells (look but don't take -- shelling is prohibited and enforced).
South Carolina is home to the world's longest free-flowing blackwater river, the Edisto. It's not as scary as it sounds -- the "black" water is more of an iced-tea color, stained by the decomposing leaves of the cypress and tupelo trees along its banks. When water levels are low, many turns along the river are marked by a wide, inviting sandbar, where it's possible to while away entire days at a time. The river is best enjoyed by canoe or tube (rent one and schedule a shuttle from Edisto River Adventures). Neraby, Givhans Ferry State Park offers drive-in access and a small beach.
Once a sleepy coastal inlet town, Pawleys has gradually been overcome by the creep of Myrtle Beach development to the north, but still feels "Lowcountry." The island itself is quaint and well-preserved, offering an unplugged, step-back-in-time experience. Inland along Highway 17, however, is the place to pick out the perfect rope hammock to complete your backyard. The Original Hammock Shop has grown into an outdoor mall offering everything required for laid-back coastal living.
Sign up here for our daily Charleston email and be the first to get all the food/drink/fun in town.
Stratton Lawrence is a writer and editor based in Charleston, SC, where the ever-growing food scene provides ample cause for exploration. He lives by the sea with his wife and two small children. On summer evenings, find him in the water for a sunset paddle-surf session followed by a curry bowl from Jack of Cups.