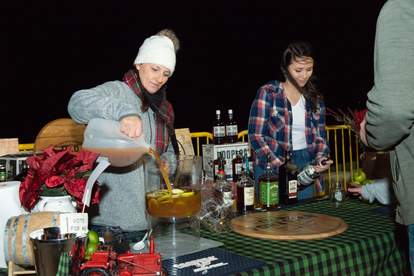 Everything You Absolutely Must Do in Charleston This Winter
When the temperature dips below 70 degrees, Charlestonians officially declare it sweater weather. And although there might be a chill in the air (or at least a distinct lack of humidity), the events calendar this winter is staying red hot with everything from Broadway musicals to oyster roasts and everything in between. We've compiled a list of the best activities to attend this winter if you want to avoid being left out in the cold. Here's everything you need to do in Charleston this winter.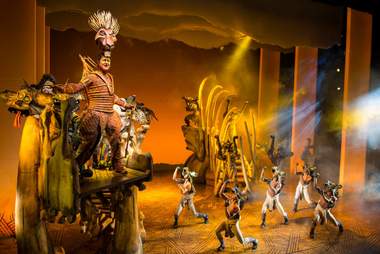 The Lion King

| North Charleston Coliseum & Performing Arts Center
Now through December 15
North Charleston Performing Arts Center
Disney's
The Lion King
cartoon came out in 1994, which was followed by a couple of sequels, an animated series, and -- most recently -- a live-action remake. But the only thing that really stands out as equally as good (or better, depending on who you ask) is the Broadway musical, which premiered in 1997. Don't miss your chance to see this Tony Award-winning musical for yourself at the North Charleston Performing Arts Center.
Price:
$25-$224
December 7
Port of Charleston
Back for another year, the Lowcountry Hoedown invites you to a night of eating, drinking, and do-si-do-ing to support the Harbor Entrepreneur Center. Be sure to dress up in your finest flannel paired with your bluest jeans, and don't forget cowboy boots and a cowboy hat to tie the whole outfit together.
Price:
$59-$80
December 8
Herd Provisions
Now that we're solidly into the "R" months, it's time to eat your bodyweight in oysters, as is the Charleston way. Tickets are $35 (with a portion benefiting Florence Crittenton) and include unlimited oysters plus two free cocktails from Herd Provisions. Don't love oysters? That's okay because burgers, fries, and Brussels sprouts can be purchased separately.
Price:
$35
December 12
Voodoo
Yaaaasss Queen Drag Bingo is one of Voodoo's most popular nights, and this month they're giving it a holiday twist by encouraging attendees to wear their fugliest sweaters with a chance to win prizes for having the ugliest or naughtiest sweaters. Bingo winners will receive prizes from Badd Kitty, while everyone else enjoys festive drinks featuring Pickers Vodka. Emcee Ava Clear will be calling balls, while DJ MJ12 will be in charge of the music. Get there early if you want a seat!
Price:
Free to attend, drinks and food extra.
December 13
Fam's Brewing
Everyone's favorite Christmas-movie-that's-really-a-Halloween-movie is the subject of Fam's Brewing Co.'s latest trivia night. Watch the movie a time or two and come ready to show off your knowledge on Friday the 13th (I mean, could there be a better night for it?). The top three teams will all win house cash.
Price:
Free to attend, food and drink at cost.
December 15
Frothy Beard Brewing Company
Two of Charleston's favorite brands are coming together for an epic night of unforgettable fun. Start the night with a slice of pizza and a pint of Frothy Beard's award-winning brews before boarding a shuttle to the Stingrays game against the Jacksonville Icemen. You'll also get a sweet Stingray's X Frothy Beard t-shirt to wear to the game to support the home team.
Price:
$35 includes ticket to the game, a slice of pizza, a pint at Frothy Beard, and a t-shirt.
December 21
Edmund's Oast Brewing Company
This monthly nighttime local artisans market is always popular, but if you're in the market for a last-minute local and unique gift for someone special, this is one-stop shopping that really can't be beat. Libations and snacks will be available for purchase from Edmund's Oast Brewing Company, Workshop, and Merrow's Garden Bar.
Price:
Free to attend; food, drink, and goods purchased separately
December 27
Palmetto Brewing
Every Friday, Palmetto Brewing and Blade & Bull's mobile division invite you to release the tension from a tough work week with a pint and a nice, relaxing night of throwing axes. Be sure to get there early, as check-in stops promptly at 8:30 pm.
Price:
$10 to throw axes; food and drink can be purchased separately
December 30
Smoky Oak Taproom
If you're the person who carries your trivia team when it comes to music questions, then you won't want to miss music bingo at Smoky Oak. Even if you don't know a ton about music, it's super easy to play and a really fun way to spend a Monday night.
Price:
Free to play; food and drink can be purchased separately
January 2
Bohemian Bull
Love a good oyster roast? Good news! Bohemian Bull is doing an old-fashioned oyster roast in the beer garden every Thursday until January 30 to celebrate oyster season. You'll enjoy all-you-can-eat local oysters, live music, and beer specials, so grab a glove and get ready to shuck your heart out.
Price:
$15 for all-you-can-eat oysters; drinks and other food can be purchased separately.
January 5
Bowens Island
This annual fundraiser invites oyster lovers out to one of the most picturesque restaurants in Charleston, Bowens Island, to eat oysters in order to help save the historic Morris Island Lighthouse. Tickets are all-inclusive and include fresh steamed oysters and other delicious food options (last year there was also hot dogs and chilli), plus live music and a lot of fun.
Price:
$45 in advance; $50 at the gate (if available)
January 9-19
Various locations
The weather outside is dreary, so it's a perfect time to brighten up your week by trying a new restaurant or two. Luckily, Winter Restaurant Week is here to help get you out of the house without breaking the bank. You can get a three-course meal at that restaurant you've "been meaning to try" for less than or about the same as what it would normally cost you for just an entree. Better make reservations quick!
Price:
Menus vary, starting at $25
January 12
Joseph P. Riley Jr. Park
If running isn't usually your cup of tea, the Betty Carlton Beer Mile is here to provide you with an incentive to lace up those sneakers. You'll do four laps around the Joseph P. Riley stadium (with one beer for each lap) helping to support I GOT LEGS, a nonprofit aimed at helping athletes with physical challenges.
Price:
$25-$90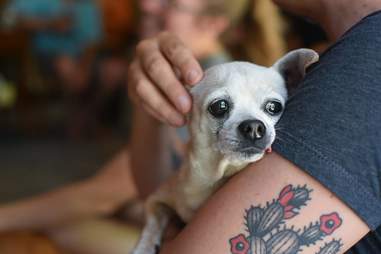 Eat, Drink, and Rescue

| Lowcountry Dog Magazine
January 18
Smoky Oak Taproom
The fifth annual "Eat, Drink, and Rescue" event is put on by
Lowcountry Dog Magazine
and benefits a number of local dog-focused charities. You'll enjoy great BBQ and drinks from Smoky Oak, and all the dog snuggles you can handle at this free event. There will also be live music, a raffle, and the opportunity to adopt dogs in need of a furever home.
Price:
Free to attend, $10 for BBQ plates, $5 Tito's drinks
January 19
Charles Towne Fermentory
The Christmas season might be over, but that doesn't mean you still can't enjoy a little shopping. Gift yourself whatever Santa forgot to bring you, support local artisans, and drink local beer all at the same time at Charles Town Fermentory's January Artisan Market.
Price:
Free to attend; goods and beer purchased separately
January 25
The Brick
This onesie bar crawl was so popular last year, they had to bring it back again for 2020. Grab your best onesie and a group of your best friends and crawl down King Street's finest bars. Your ticket includes free entry to every bar on the list, bar crawl-themed swag, drink specials at each bar, a professional photographer, and more.
Price:
$10-$30 entry; drinks purchased separately
January 25-26
North Charleston Coliseum
There's something cathartic about watching giant monster trucks race around an indoor track while music blares from the loud speakers. It's hard to explain unless you experience it for yourself. Upgrade to the "Pit Party Pass" to be able to see the trucks up close, meet the drivers and crews, get autographs, take pictures and more.
Price:
$17-$37 for seats, $15 for pit party upgrade, $25 for meet and greet. Additional upgrades available
February 1
Charleston Music Hall
Second City is known for producing some of the top talent in the comedy world, and this is your chance to see them live. This touring show is meant to make you rethink everything you thought was funny. This is your opportunity to see the next generation of comedy superstars before they hit it big. Get your tickets before they sell out!
Price:
$33-$105
February 7-9
North Charleston Performing Arts Center
The movie-turned-hit-Broadway-show brings its touring company to the North Charleston Performing Arts Center.
Waitress
tells the story of a (you guessed it) waitress who is in a relationship with an abusive husband, who uses a pie contest as a chance to escape to a better life. With music and lyrics by Sara Bareilles, you're pretty much guaranteed to have a toe-tapping good time.
Price:
$40-$75
February 8
South Carolina Aquarium
We're calling it right now: 2020 will be the year of the Great Gatsby-themed party. There were a few for NYE, but the first official Gatsby party of the new roaring '20s is happening at the SC Aquarium and is produced by Bluesteel Promotions. Wear your best flapper dress or tuxedo/fedora combo and enjoy the live music, decadent food, and flowing booze all night long. Proceeds benefit the Charleston Animal Society.
Price:
$100-$140
February 8
Memminger Auditorium
Back for its second year, the Charleston Winter Wine Festival features 50+ wines, mimosas, ciders, and beers for attendees to sample. Your ticket gets you a souvenir wine glass for tastings, unlimited beverage samples, and live entertainment, while food will be available to purchase for an extra cost.
Price:
$45-$60
February 8
Various locations
Still waiting on your letter from Hogwarts? While not officially affiliated with the Harry Potter franchise (hence names like "Badger's Burrow" and "Lions Den"), you'll feel the magic during this wizard-themed bar crawl complete with drink specials, costume contest, and a house points competition. All wizards, witches, and muggles 21 and up are welcome to attend!
Price:
$20-$25
February 9
Lo-Fi Brewing
The Charleston Coffee Fest brings together java junkies from all over the area to celebrate the best of coffee culture in Charleston and around the Southeast. This family-friendly event comes to a new venue this year, Lo-Fi Brewing, and will feature samples from local and regional coffee shops and roasters, a latte art competition, mimosas, craft beer, tea, local brunch favorites, artisans, and lots of activities for the whole family to enjoy.
Price:
$20-$25
February 14-16
Various locations
Kicking off the start of festival season in Charleston is the annual Southeastern Wildlife Exposition. Entering its 38th year, SEWE celebrates the best of wildlife and outdoor entertainment with a mix of demos, animal shows, cooking competitions, art, and more, all in the name of conservation and nature.
Price:
$20-$50 for general admission; add-on events range from $20-$150 per event
February 19
Charleston Music Hall
It's been more than 25 years since the premiere of Clerks, which first introduced the iconic characters of Jay and Silent Bob to the world. Since then, they have been featured in seven other films in the "View Askewniverse" including
Mallrats, Dogma
, and even a brief cameo in
Scream II
. Now, enjoy a brand new star-studded Jay & Silent Bob film with commentary from writer (and Silent Bob himself) Kevin Smith.
Price:
$40-$60
February 22
The Brick
Can't make it to New Orleans for Mardi Gras? Let Mardi Gras come to you during this Big Easy-themed bar crawl down King Street instead. Tickets include drink specials throughout the night, free entry to participating bars, themed bar crawl swag (while supplies last), and more. Costumes are encouraged.
Price:
$20
February 23
Charleston Music Hall
Celebrating all things Irish, the Lowcountry Irish Festival features live music, dancing, history, culture, pipes and drums, and lots of fun activities for the whole family. From Irish plantation owners to Irish pirates and more, this event celebrates all of the ways that Irish people have left a mark on the Lowcountry. Go ahead, learn something!
Price:
$15-$25
February 28 - March 1
North Charleston Performing Arts Center
Adapted from the 1982 novel by Alice Walker, the Tony Award-winning Broadway revival makes a stop at the North Charleston Performing Arts Center for four shows only. The play is a story about one woman's journey to love and self-acceptance in the American South and features a score of jazz, gospel, ragtime, and blues.
Price:
$45-$75
Sign up here for our daily Charleston email and be the first to get all the food/drink/fun in town.
Sydney Gallimore is a food writer who is currently enjoying the cooler weather, seemingly endless oyster roasts, and holiday lights displays. Follow her foodie adventures on Twitter @queenofthefoodage.