Actually Cool Things You Can Do in Charleston Right Now
Even locals love this stuff.
The world might not be totally back to normal, but that doesn't mean you can't still have a fun and exciting fall in Charleston. Whether you're entertaining out-of-town guests or just looking for a way to add some excitement into the doldrums of your quarantine experience, we've put together this list of all the cool things you can do this autumnal season. We've included a mix of virtual and socially distanced IRL ideas, so there's a little something for everyone.
$
North Charleston
Continuing from the success of its summer Safe Sounds, Firefly Distillery is introducing a fall socially distant concert series every Saturday. Enjoy food trucks, Firefly spirits, cocktails, and live music. Bring your own blankets and lawn games and pick out a socially distant spot on the field during the day and stay for evening concerts with a weekly rotating food truck.
$
North Charleston
The Bend, the 20-acre venue on the banks of the Ashley River, is taking advantage of its vast open space to play host to a series of fall concerts in partnership with the Charleston Music Hall. The series encourages safe social distancing by providing 250 squares (with a maximum of four people per square from the same party) with six-foot aisles in between. No food or drink will be sold at the event, but guests are encouraged to bring their own lawn chairs, coolers, blankets, and snacks. Upcoming performances include Shovels and Rope, Susto, St. Paul & The Broken Bones, and tributes to both Aretha Franklin and the music of Motown.
$$
Mt. Pleasant
Halloween might look a little different this year, but it's not canceled! Boone Hall has made some changes to adhere with local and CDC guidelines to ensure everyone has a safe and healthy Halloween season. Choose between three different attractions (or get VIP tickets to all three), Maximum Security (a prison-themed haunted adventure), Tiny's Toy Factory (a spooky, clown-filled experience), and Scary Tales: The Final Chapter (a nightmare carriage ride in the woods). Organizers are limiting tickets each night's outdoor haunted houses, taking temperature checks, and sanitizing regularly to make sure that the only thing scary about their haunted houses are the clowns hiding in the shadows.
Go on a ghost tour
Free-$$
Downtown
Now that fall is creeping in, it's a perfect time to combine Charleston's storied history with the creepiness of the fall season with a ghost tour. Go the free route and keep it to your own family with this self-guided tour from Lowcountry Walking Tours, or opt for a small group tour from some of Charleston's most popular tour companies, like Bulldog Tours or Old Charleston Tours. Don't forget to wear your mask, which will definitely add to the spooky factor (and is also required by law in Charleston County for the foreseeable future).
Free-$
French Quarter, Online
Charleston is home to a plethora of artists who display their works in over 40 art galleries in downtown Charleston. If you haven't had a chance to visit the recently remodeled Gibbes Museum of Art, there's no better time to take a virtual or real-life stroll through the museum's many exhibits. CofC's Halsey Institute for Contemporary Art is also re-opening this fall, the recently remodeled Gibbes Museum of Art, or enjoy perusing the many smaller, independent galleries with art available for purchase if your guests want to take a little piece of Charleston home with them.
Go for a walk on the beach
Free
Various locations
There's no denying that one of Charleston's major attractions, especially during the warmer months, are its many area beaches only a short drive away. Plan to practice safety while at the beach -- both by applying sunscreen and maintaining at least six feet of distance between yourself and other beachgoers. Try less crowded beaches like Morris Island at the mouth of Charleston harbor or Edisto Island about an hour south of the city.
Free-$$
Aquarium Wharf, Online
The SC Aquarium is home to over 5,000 animals, and every other week on their facebook page, SCA is taking you on a tour of South Carolina's wildlife population. From the Piedmont to the Saltmarshes to the Sea Turtle Recovery center to the two-story Great Ocean Tank, there's always something new to discover. If you'd prefer to get a little more up-close-and-personal, the Aquarium has once again opened its doors on a limited basis. There are gorgeous exhibits, a Sea Turtle Recovery center, and a two-story Great Ocean Tank with 220-pound loggerhead turtles. If you plan on taking guests often, consider signing up for a yearly membership to save some serious dough.
Scope out the cool murals around town
Free
Various locations
Between the Shepard Fairey murals, David Boatwright's restorations, and Patch Whiskey's many colorful acid monsters, there are a ton of street artists who've left their mark in Charleston. You can find colorful street art everywhere from downtown to West Ashley to Mount Pleasant (and even on the trains that run through the port). Taking a drive to explore the various murals is a great excuse to get out of the house for a couple of hours, and the unique artistry makes for a great backdrop for an Instagram post.
Stroll along The Battery
Free
Downtown
The Battery is the edge of Charleston's peninsula downtown, and includes a sidewalk (which used to be the walls of the city) that stretches roughly from Tradd Street to Water Street. You'll get fabulous views of the harbor (if you squint, you can even see Fort Sumter), and the area's also adjacent to White Point Gardens, a city park with a gazebo and old cannons throughout. The sidewalk is wide enough that you should be able to enjoy the view while still keeping a safe distance from other people out for some fresh air, but maybe wear a mask during your walk, just in case.
Walk "The Bridge"
Free
Eastside
One of Charleston's most iconic sites is the Arthur Ravenel Jr. bridge (aka the Cooper River Bridge), which connects downtown Charleston to Mount Pleasant. The spires adorn everything from clothing to local business logos, and are the star of the Cooper River Bridge Run every year. Make sure you bring some good walking shoes and set aside an hour or so to trek across the bridge. While the walkway is wide enough at most places to social distance, it can get kind of crowded up at the top of the bridge, so be sure to exercise caution and wear a mask. Going early in the morning is one strategy for ensuring social distance.
Tour some VERY old cemeteries
Free
French Quarter
Sure, the idea of touring a cemetery might seem a little macabre, but Charleston's cemeteries date back to before the U.S. was a thing, and feature the final resting place of prominent American figures -- so it's actually pretty cool, in addition to being creepy. Plus, The Unitarian Church graveyard features a relaxing, tree-lined path between King Street and Archdale that's super picturesque. With lots of winding walkways, you should be able to get out and explore while still maintaining proper distancing.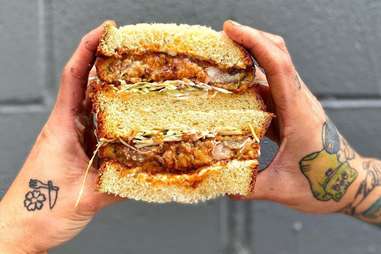 $-$$
Various locations
While Governor McMaster has declared restaurant dining rooms and patios officially open, not all restaurants are opening their doors as normal, and a lot of us might not feel comfortable heading back out into the real world yet. You can still order takeout and delivery from many of Charleston's favorite restaurants, like breakfast from Baguette Magic, lunch from Zero Restaurant, or dinner from Jackrabbit Filly.
Wander through the Old Village and take photos at the Pitt Street Bridge
Free
Mt. Pleasant
If you're sick of walking around your neighborhood for the hundredth time, consider going out to explore different areas of town for a little fresh air exercise. The Old Village in Mount Pleasant is somewhat off the beaten path -- in that you might not even know it was there if you weren't looking for it -- and was recently featured in Netflix's series The Outer Banks. See some of the iconic filming locations, and then take a walk down the Pitt Street Bridge, a fun hidden gem that's just as picturesque as Cooper River.
Explore the city by bike
Free-$
Various locations
Charleston isn't necessarily the most bike-friendly city in the world, but we're working on it! Going for a bike ride is a classic way to see some of the city's iconic architecture, while giving you a chance to stretch your legs and enjoy some of the early summer weather. This is a totally free adventure if you've got enough two-wheelers for your group, but if not, don't fret: you can rent bikes from Holy Spokes for only $20 a day, just be sure to BYOCW (bring your own Clorox wipes) and use plenty of hand sanitizer before and after riding.
Appreciate some local craft beer
$
Various locations
With over 25 local breweries in the county, Charleston is serious about its craft beer culture. Lots of the city's breweries have reopened for social-distanced in person visits, with outdoor seating a lot more comfortable now that the weather is starting to cool down. As always, you can still stop by and get growlers and cans to-go if you prefer to drink from your own home. Plus, there are plenty of patios around town to enjoy including Holy City Brewing, Frothy Beard, or Revelry Brewing.
Get some local produce at a farmers' market
$
Various locations
Fall weather means a whole new crop of seasonal veggies are coming into harvest, and you don't want to miss out on an opportunity to add all this local goodness into your diet. The Sunday Brunch Farmers' Market on James Island operates every Sunday with a rotating list of vendors, food trucks, and entertainment, while the Charleston Farmers' Markets are operating as Essentials Markets (i.e. just vendors, no food trucks or entertainment) downtown on Wednesdays and in West Ashley on Saturdays. Note that masks are still recommended (and required in some areas) even when outdoors, and social distancing is still important as well.
$-$$
Cannonborough, Online
Enjoy the calming sounds of live jazz and support local musicians and Forte Jazz Lounge by buying tickets to a live jazz show with the Joe Clarke Big Band. Forte Jazz Lounge has limited the number of tickets and is following all local guidelines for in person events, and will be live streaming performances as well for those who'd prefer to watch from home.
Have a photoshoot in front of the pineapple fountain
Free
Downtown
The pineapple fountain is iconic of Charleston for a reason: it's a gorgeous symbol of southern hospitality, and a must-see for those who've never been. Waterfront Park in general is a fun place to visit (as long as the weather is nice), and with the green marsh grass and brilliant blue of the harbor as that fountain's backdrop, it's a scene that's practically begging to be used for a photoshoot. Just be sure to socially distance from others who are ready for their close-up.
Free
Online
It's been scientifically proven that coloring can reduce stress and boost creativity, and what better image to color than scenes from our very own city? Texture Design Co. is temporarily offering their 5-page illustrated coloring book, "inspired by the architecture and floral designs of Charleston, South Carolina" for free! Download the PDF here.
Free-$
Online
Right now is a very stressful time for all of us, and it's important to take some time to calm our minds and try to relax. Guided meditation is a great way to do that, there are a few local companies and instructors who are leading virtual meditations every week. Classes tend to be very affordable (from free to about $10 per class), and it's a great way to recenter yourself and alleviate some anxiety.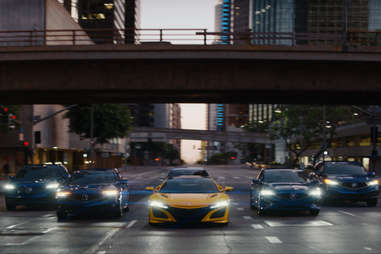 Playing tour guide around Charleston requires a versatile ride. The 2020 Acura RDX can handle a trip to the beach with your crew as well as a tour of the city's murals.
Get off the couch with a virtual workout
Free-$
Online
While getting out for a walk around the neighborhood is an easy way to get your blood flowing, it's always nice to switch up the kind of exercise you're getting, in order to keep things fresh and exciting. Local companies are offering virtual classes in everything from yoga to barre to sweat therapy to aerial fitness to personal training to HyLo home workouts to going on a virtual jog. If you've been interested in trying new fitness trends, this is a great time to start exploring classes.
$
Online
While Charleston might not have a big name comedy troupe like The Second City or UCB, we do have some hilarious improv talent at Theatre 99 who will make you and your guests double over with laughter. For the foreseeable future, they're streaming their hilarious improv shows online, which means you get to laugh from the comfort of your own living room, while supporting an awesome local theatre at the same time. Win win! Or, if you want to try your hand at bringing levity into others' lives, you can take one of their intro classes online, learning the basics of improv from Theatre 99's seasoned professionals.
Free
West Ashley, Online
The Charleston County Public Library brings a virtual trivia night to your Facebook screens every Thursday at 8pm. Gather a group of friends via text, Zoom, Facetime, or whatever application suits your fancy, and enjoy 3 rounds of virtual trivia. Or if you prefer to meet face-to-face, Charleston Sports Pub is hosting a few different themed trivia nights in the next few weeks, including Saved By The Bell trivia and The Office trivia.
Sign up here for our daily Charleston email and be the first to get all the food/drink/fun in town.
Sydney Gallimore is a food writer from Charleston, SC whose favorite thing to do in Charleston is eat. Follow along with her nom-ventures on her Instagram @QueenOfTheFoodAge.