Everything You Absolutely Must Do in Hilton Head, South Carolina
The beach is just the beginning.
Located just about two hours from Charleston, Hilton Head is a quiet, quaint beach town beloved by families and retirees alike. Named after Captain William Hilton, who founded the island in 1663, it's been a national vacation destination since the late 1960s, and still retains much of its original, small town charm -- you just need to know where to look for it. So if you're looking for an escape from being cooped up for the past few months, a day or weekend trip to Hilton Head might be a good way to get some socially distanced change of scenery. Note that the island, like much of Charleston, is currently under a mask ordinance, so be sure to bring your mask while you visit. Here are some recommendations for what to do while you're there.
Drink on a rooftop
If you like your cocktails a little more elevated (literally), Poseidon's Rooftop Bar offers just that. With one of the best sunset views on the island, the Rooftop also hosts a number of events on the weekends, including live music, dance parties, and more. During this time, the bar is offering a limited number of tickets available each night to try and maintain social distance. The cocktails are inspired by "flavors from our favorite coastal adventures," which presumably means they pair well with salty ocean air.
Eat some fresh seafood...
Although the island is small, Hilton Head is home to a number of restaurants that are sure to please even the pickiest of palates. Of course, when most people think of the beach they think "seafood," and there's plenty to be had on HHI. Head to Hudson's Seafood House on the Docks for an excellent water view and a Lowcountry Boil or marsh beauty and the famous Salt and Vinegar Crab Cakes from Skull Creek Boathouse. Just be sure to wear your mask if you choose to eat inside.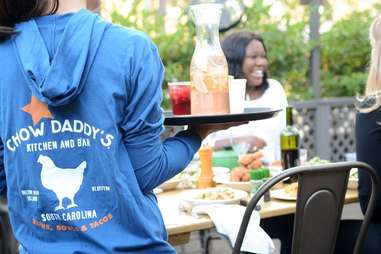 …or whatever the hell else you want
If you're no fan of the sea's bounty, there are plenty of restaurants that focus on non-seafood fare, like traditional southern food from Lowcountry Backyard, or burgers and tacos from Chow Daddy's. For more adventurous or sophisticated eaters, Porter & Pig gastropub features creative small plates and cocktails (and amazingly intricate charcuterie boards to go), and Frankie Bones Restaurant and Lounge serves up some killer Italian food, perfect for when a pasta craving strikes (and it's available for dine in, takeout, and delivery!). If you'd rather go for something completely different, Ruan Thai Hut has some of the best curry and pad thai on the coast.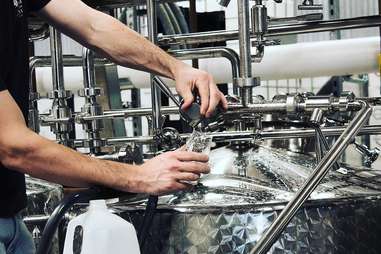 Take a distillery tour
Although it doesn't have quite the party scene as Charleston or Myrtle Beach, Hilton Head still has plenty of cool spots at which to whet your whistle. Liquor lovers will appreciate a tour and tasting of Hilton Head Distillery's flagship brands, Mountain Peak Espresso Rum, Aermoor Vodka, Redlock Spiced Rum, and Two Traditions Rum. Come in for a socially-distanced tasting or grab a few bottles to take home for a much cooler souvenir than a seashell.
…or drink a frozen cocktail near the beach
The Tiki Hut encompasses that quintessential beach vibe, especially since it is literally on the beach (on Coligny Beach), and is known for its live music, frozen cocktails, and ice cold beers, which will definitely put you in an island state of mind. Pool Bar Jim's beach club bar is located poolside at the Sea Crest Beach Bar and is run by a mustachioed man named Jim, who is a self-described "connoisseur of frozen cocktails." Try the Lava Flow cocktail, a dangerously tasty frozen beach drink consisting of strawberry, coconut, bananas, and rum, topped with whipped cream. Both are out on the water, so as long as you maintain a safe social distance, they can be safe options for still having a little fun this summer.
Climb up a lighthouse
For all of the pharologists -- a word we totally didn't look up just for this article -- visiting the island, the Harbour Town Lighthouse and Museum is definitely worth a visit. Home to the only female lighthouse keepers in North America, this 47-year old lighthouse is one of the most iconic sites on Hilton Head. Your $4.95 admission fee means you can climb up the 114 steps (or 90 feet) to the top and get some pretty fantastic views of the Harbour Town Golf Links, the island, the ocean, and the surrounding marsh. Note that face coverings are required and they're open every day from 10 am until sunset.
Hit up happy hour
Wiseguys is technically an upscale steakhouse, but is beloved by locals and visitors for its fantastic happy hour early dining menu. For just $18.95, you get a two-course meal, plus soft drink (or glass of house wine for a $5 upcharge) between 4:30 and 5:45 every day. The bar also features creative cocktails, a healthy bourbon and whiskey list, and detailed wine selection -- even offering a free bottle of wine with a $50 takeout order! The Sandbar Beach Eats features happy hour every day of the week from 4-6pm on the outdoor patio, with $3 house margaritas and well liquors, $2 Landshark and Bud Light pints, and $2 off all beach snacks (the sweet potato tots with mango pepper sauce are a game changer).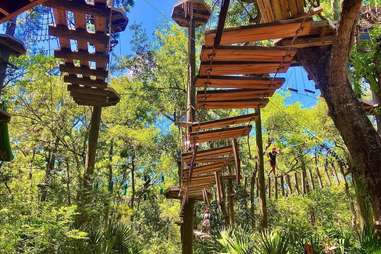 Get a bird's-eye view
If you're looking for something to really get your blood pumping, Zipline Hilton Head is perfect -- provided you aren't afraid of heights. It also gives you a one-of-a-kind view of the island and all of its natural beauty, which more than makes up for possibly peeing your pants. While the zipline tour is currently suspended (pun intended), their aerial adventure challenge course features challenging activities between 12 and 36 feet off the ground, allowing you to see the island from a totally unique perspective. If you want to take social distancing to new heights, you can consider becoming a sky pirate on a parasail adventure, which gets you 500 feet above the water (and away from other people).
Hit a hole in one
There are three family-friendly mini golf courses on the island, and they're each pretty popular. Pirate's Island is (as you may have guessed) pirate-themed, complete with skeletons clinging to treasure chests and smoking cannons, and features two courses which vary by level of difficulty. Adventure Golf is both a putt-putt course and arcade (the only one on the island), and both of its courses are lagoon-themed, with waterfalls, ponds, and bridges.They make a point to sanitize all balls and clubs after every use, and have limited certain arcade games to maintain social distancing. If you're a total minigolf expert, Legendary Golf's professional and a championship course (which have been recently renovated) should up the challenge level, and there's even an "all day play" option for a slightly higher price.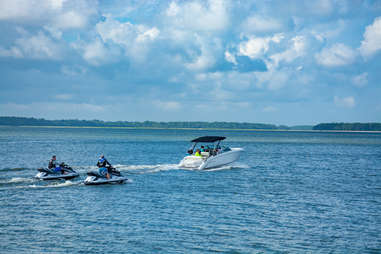 Have an ocean adventure
Being an island, Hilton Head has it covered when it comes to watersports. Whether you're after boating, tubing, jet skis, kayak and other watercraft rentals, dolphin tours, or stand-up paddleboarding, you're basically guaranteed to find something that'll interest you -- provided you actually like the water. For those who are happiest on deck with a fishing pole in hand, Hilton Head's also home to a number of fishing charters that offer inshore, offshore, deep sea, and shark fishing excursions.
Sign up here for our daily Charleston email and be the first to get all the food/drink/fun in town.