Myrtle Beach is known for being a tourist's paradise, complete with water parks, neon lights, and enough chain restaurants to make a mall food court blush. But just because you're visiting the tourist capital of South Carolina doesn't mean there aren't hidden, local gems to visit while you're in town -- here's a rundown of things in Myrtle Beach that are actually worth doing.
Hit the beach
But be sure to pick the beach that's right for you. For a more family friendly atmosphere, head down to Surfside or stay close to the Boardwalk; to go where the college students hang, choose the beach near 21st Avenue, or venture into Garden City or Murrells Inlet. There's even a gay-friendly section of the beach located at 82nd Avenue!
Rent a kayak or paddleboard
Tourists tend to flock toward the motorized watersports, so if you'd prefer to take the path less traveled, consider renting a kayak or paddleboard to explore the area's waterways. There are plenty of options for both guided and DIY tours.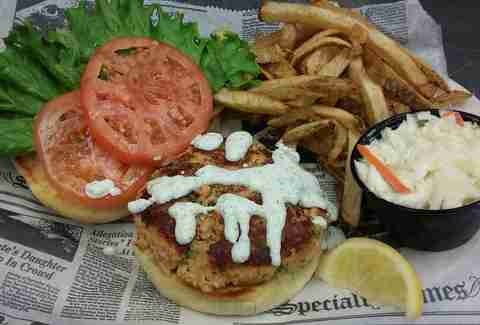 Eat some seafood...
There's something about smelling the ocean air that really puts you in the mood for some seafood. Well, rest assured, The Grand Strand is definitely not lacking in marine cuisine -- just be sure you find a spot that isn't trying to feed you frozen fish. Mr. Fish might have a cheesy name, but inside this family-run institution you'll find delicious local crab, triggerfish, and sushi that utilizes the seafood sold at the Mr. Fish Seafood Market right next door.
... or whatever else you might be craving
It's been said that one can't subsist on seafood alone (OK, maybe it's just us saying that), so it's good that Myrtle Beach has such diverse food options. La Poblanita is a local favorite for Mexican food that's definitely off the beaten path; The Cheesesteak Factory will make you feel like you've been transported to Philadelphia; the wings at Fat Jack's will have you licking your fingers afterward; and the falafel at Habibi's is some of the best on the Strand.
Grab a cup of truly great coffee
Set in a little old house in Murrells Inlet, The Local Grind feels like a coffee shop that's straight out of a fairy tale -- y'know, one of those fairy tales with coffee shops in them. The house's brightly colored walls, fairy lights, blooming garden, and ivy-lined walls (yes, there's real ivy growing inside the coffee shop from between the floorboards) come together to offer a touch of whimsy to the entire space. This will definitely be one of the most Instagrammable cups of coffee you've had in awhile.
See a show
Located in a somewhat touristy section of town called Barefoot Landing, the House of Blues is a place where locals and tourists alike come together to rock out to their favorite bands. Yes, fine, the rock and blues-themed venue might be a national chain, but it still always makes for a good time. In addition to the concerts, it also features an excellent gospel brunch, tap takeovers by local and national beer brands, murder mystery dinner theater, and a fabulous outdoor deck.
Eat (or drink) on the water
There's no shortage of great restaurants and bars along The Grand Strand that offer scenic views of the ocean or marshes on the coast. Hot Fish Club in Murrells Inlet features an outdoor gazebo bar and patio that looks out over the marsh and is absolutely stunning at sunset. The Boathouse's back patio looks out over the Intracoastal Waterway and often features live music on the backyard stage (as long as you bring your own lawn chair). If you've got a boat, feel free to park it in the water behind Graham's Landing while you enjoy fresh local seafood on the back patio.
Camp out
If you're feeling a little adventurous, plan to eschew the typical resort stay for an experience that will put you in touch with nature. Both Huntington Beach State Park and Myrtle Beach State Park offer everything from tented campsites to hookups for an RV or camper. Huntington features a gorgeous backdrop of live oaks and is great for fishing, and Myrtle has easy beach access and a number of self-led tours and programs for you to explore.
Play a few holes
With over 100 courses, Myrtle Beach has a reputation as a world-class golf destination. Whether you're a seasoned pro or don't know a putter from a 9 iron, you'll be able to find a golf course that fits your skill level. Or, as long as you don't mind a little kitsch, you'll find nearly every themed putt-putt course you can possibly think of along the Grand Strand. Myrtle Beach takes the title of Mini Golf Capital of the World very seriously.
Grab a cold one
The Crafty Rooster is a beer bar in Conway that features more than 100 craft beer selections. The bar was started by former Coastal Carolina students, and the name is a reference to CCU's mascot, the Chanticleer. Atlas Tap House features a great beer selection of its own, and its location right across the street from the Sky Wheel (which you can see from the back patio/tiki bar) offers an atmosphere that's tough to beat.
Go to a festival
One of the most unique ways to experience Myrtle Beach is by attending one of its many festivals throughout the year. The city celebrates everything from country music to Irish Italian heritage to blue crab, and everything in between; be sure to check the calendar of events before you visit, so that you can plan your trip accordingly.
Sign up here for our daily Charleston email and be the first to get all the food/drink/fun in town.