Actually Cool Things to Do in Myrtle Beach
Myrtle Beach is known for being a tourist's paradise in the summertime, complete with water parks, neon lights, and enough chain restaurants to make a mall food court blush. But the tourist capital of South Carolina is actually ideal to visit in the fall—when the crowds have calmed, kids have returned to school, and the ocean water feels just right. From shagging on the beach to exploring an exciting inlet town, here's a rundown of things in Myrtle Beach that are actually worth doing.
Appreciate the other waterfront in Murrells Inlet
Yes, you go to Myrtle for the beach, but just a half-hour south of downtown is Murrells Inlet's saltwater estuary, where you can take in the picturesque waterfront view, enjoy local wildlife (ask about the goats!), and even partake in boating and fishing excursions. The seafood and new fall cocktail menu at Wicked Tuna is spectacular, the Hot Fish Club features an outdoor gazebo bar and patio that looks out over the marsh, and you can stroll along the marshwalk with an open container to take in live music and a stunning sunset.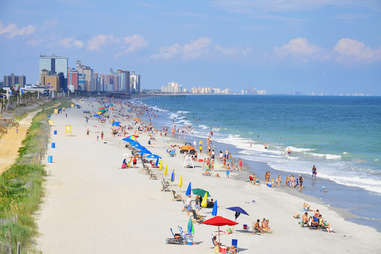 Kick back on the beach
Despite sand and surf being Myrtle Beach's logical main attraction, the abundance of go-karts, shopping destinations and amusement parks means that many tourists spend the majority of their time inland. Myrtle's 60 miles of beach rarely get too crowded, apart from directly in front of major resorts. For a more family-friendly atmosphere, head down to Surfside or stay close to the Boardwalk; to go where the college students hang, choose the beach near 21st Avenue, or venture into Garden City or Murrells Inlet. There's even a gay-friendly section of the beach located at 82nd Avenue!
Sip a local craft beer
The Crafty Rooster in Conway features more than 100 craft beer selections. The bar was started by former Coastal Carolina students, and the name is a reference to CCU's mascot, the Chanticleer. Atlas Tap House features a great beer (and bourbon) selection of its own, and its location right across the street from the SkyWheel -- which you can see from the back patio/tiki bar -- offers an atmosphere that's tough to beat.
Rock out with the locals
The backyard at The Boathouse looks out over the Intracoastal Waterway, making a strong case as one of the East Coast's premier outdoor music venues. That's bolstered by their free Sunday concert series that attracts touring jambands and country acts like Big Something, Afroman and Riley Green. Right in the heart of town at Barefoot Landing, the House of Blues features national acts like Drake White and the Flaming Lips in an intimate, tiered room, but their main attraction may be the Sunday morning gospel brunch.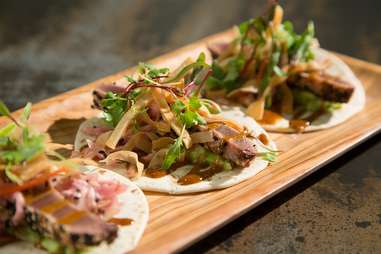 Dine on the local bounty
Myrtle Beach is lined with fried seafood joints slinging the "Calabash style" made famous just across the border in North Carolina. A gut-busting Calabash buffet is a prerequisite for any Myrtle trip, but more discerning diners will appreciate the French influence at SeaBlue, the rustic and creative menu at Strong Waters, the Italian-oriented local fish preparation at Costa Coastal Kitchen in Murrells Inlet. Eat seafood directly from the folks who sell it fresh at Mr. Fish, a family-run institution with local crab, triggerfish, and sushi, and an onsite seafood market. For an especially unique experience, make a reservation at The Parson's Table, a chef-owned fine dining spot in a charming wooden building that was once a Methodist church.
Explore the quaint, nearby town of Conway
You'll feel like you're in a mini-Charleston when you pull into the town of Conway with its tree-lined streets, historic homes, and even a towering church steeple. The best way to experience the town might be to bounce along the downtown streets and along the Wacamaw River, popping into antique shops and restaurants like the Rivertown Bistro for sophisticated Southern fare or Bonfire Taqueria for the irresistible combination of tacos and barbecue.
Camp out
If you're feeling adventurous, eschew the typical resort stay for an experience in nature. Both Huntington Beach State Park and Myrtle Beach State Park offer everything from tented campsites to hookups for an RV or camper. Huntington features a gorgeous backdrop of live oaks and the ruins of Atalaya, a sprawling mansion that's a National Historic Landmark. Myrtle SP has easy beach access and a number of self-led tours and programs for you to explore.
Play 18 holes
With more than 100 courses, Myrtle Beach has a reputation as a world-class golf destination. Whether you're a seasoned pro or don't know a putter from a 9-iron, you'll be able to find a golf course that fits your skill level. In the evening, hone your putting game at Hawaiian Rumble, where the ProMiniGolf Master's tournament is hosted each October.
Get a shot of wet adrenaline
There's no faster way to escape the tourist circus than to head straight out into the Atlantic. Downwind Sails rents Hobie Cat sailboats so you can harness the breeze. If you'd prefer to be a passenger, Captain Dave Wallace offers charters on his 40' Beneteau in Winyah Bay. If dropping in and hanging ten are more your style, rent a surfboard from Eternal Wave Surf Shop in Surfside Beach, where they'll point you toward the best break for the day's conditions.
Explore the wild waterways
Myrtle Beach is surrounded by the Atlantic to the east, and the Waccamaw River to the west. Black River Outdoors offers guided explorations of both the blackwater and salt marsh ecosystems that make this coastline unique. Kayak into a cypress swamp, or paddle with dolphins and seabirds through a vast grassland. If you're a diver—or want to learn—Coastal Scuba leads guided dives to Civil War-era shipwrecks and artificial reefs just off the coast.
Get your shag on
The shag is South Carolina's state dance, and its home base is Main Street in North Myrtle Beach, where clubs like Fat Harold's, OD Arcade & Lounge, and Duck's fill up on weekends with dance floors that mingle 20-somethings with senior shaggers still cutting a rug. The scene at Fat Harold's on a Saturday night feels like jumping back 60 years in time. Take home a bit of that nostalgia by visiting Judy's House of Oldies, a throwback record store specializing in beach music and R&B.
Absorb some art
Brookgreen Gardens' 9,127 acres form the most expansive sculpture garden in the country, featuring 2,000 works in both indoor galleries and immaculately maintained botanical gardens. There's also an attractive zoo and evening concerts on summer evenings. If you're in need of both mental stimulation and air conditioning, the Franklin G. Burroughs and Simeon B. Chapin Art Museum features touring shows and local artists that draw from the rich culture of the Carolinas. If you're a history or architecture buff, spend a day strolling the historic district in Georgetown.
Sign up here for our daily Charleston email and be the first to get all the food/drink/fun in town.
Stratton Lawrence writes about travel adventures, good food, and his favorite city -- Charleston, South Carolina -- from his home on Folly Beach, known fondly as the Edge of America. He's a full-time content marketing editor, a sunrise paddle surfer, and a proud father.
Jess Mayhugh is a cities editor at Thrillist and channels her Southern roots every time she visits the Carolinas.