An event almost 100 years in the making (99 years, 3 months, and 13 days if we're being persnickety), a total solar eclipse will be making its way across the United States on August 21, from Oregon to South Carolina. Many cities in our state (including Greenville and Charleston) have the privilege of being squarely within the path of totality, which is considered a once-in-a-lifetime event; the next cross-country solar eclipse won't pass through South Carolina until 2078. You pretty much have no excuse for not checking this thing out.
Everything you need to know about the eclipse
Although there are different kinds of eclipses, this year we're looking at a total solar eclipse, which occurs when the moon passes between the Earth and the sun, plunging the portions of the Earth within its pathway into total darkness for about 2 minutes. If you're not inside the path of totality, though, don't worry: most of South Carolina's still within range of the total eclipse, and you're basically guaranteed to catch at least a partial eclipse if you're in the United States. Unless it's cloudy, in which case... good luck next century?
To view the eclipse, you need special glasses (note: do not look directly at the eclipse without proper protection). You can buy some on Amazon, or check with your eye doctor, as many places are giving them out for free. Or, with a few household items, you can even make a pair of glasses yourself at home, with the added benefit of decorating them with your own personal flourishes (cat ears, glitter, and the words "OH YEAH" come to mind).
Where to view the eclipse
Anderson
Partial eclipse start time: 1:09pm
Totality start time: 2:39pm
The city of Anderson is hosting a few different viewing parties for the public on Monday and will have events happening all weekend long. They kick off the weekend with a showing of The Lego Batman Movie at Carolina Wren Park on Friday, followed by the Electric Light City Festival on Sunday, and will be hosting BYOC (bring your own chair) events at Anderson Recreation Center and Carolina Wren Park on Monday during the blackout.
Bowman / Orangeburg / Santee
Partial eclipse start time: 1:14pm
Totality start time: 2:44pm
Yonder Field in Bowman, the Lowcountry's newest outdoor music venue, will be hosting an eclipse festival on Monday, August 21, inviting attendees to camp (with tents or RVs) at the festival site from Sunday at 4pm until Tuesday at 10am. Events include The Great Inflatable Race (a giant inflatable obstacle course); a concert featuring Uncle Kracker, Edwin McCain, and Corey Smith; and a movie night afterward. You can also plan to watch the eclipse for free (or cheap) at the Edisto Memorial Gardens, SC State University, or Claflin University in Orangeburg, or Santee State Park in Santee, but you'll want to arrive early or call ahead to ensure space is available.
Charleston / Mount Pleasant / North Charleston
Partial eclipse start time: 1:16pm
Totality start time: 2:47pm
There are plenty of ways to enjoy the eclipse from Charleston. First, you can attend one of the many events happening around town, including parties on a brewery rooftop, at a field in North Charleston, on an aircraft carrier in Mount Pleasant, at the baseball stadium, or on one of Charleston's three public beaches, among others. Be sure to book your hotels or Airbnbs now if you haven't already; many hotels downtown are already booked to capacity, and flights are averaging eight-times higher prices than normal. If you want to fly in, but don't want to pay the extra fare, consider flying into Myrtle Beach or Savannah and renting a car.
Clemson
Partial eclipse start time: 1:08pm
Totality start time: 2:38pm
Expected to have one of the best views of the eclipse in South Carolina, Clemson University (aka Tiger Town) will be hosting a "tailgazing" event at the Snow Family Outdoor Fitness and Wellness Center along Lake Hartwell. Between 10am and 6pm on Monday, there will be approximately 900 spaces for tailgating available for about $50 each. Tailgazers are also invited to attend the Eclipse Over Clemson event, hosted by Clemson University, complete with expert demonstrations, vendors, and spectacular viewing of the eclipse itself.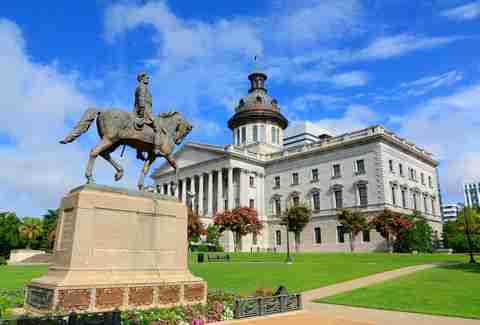 Columbia
Partial eclipse start time: 1:13pm
Totality start time: 2:43pm
South Carolina's famously hot capital is hosting a number of hot events throughout the city and surrounding 'burbs. Kick off eclipse weekend with a giant water balloon fight at the Robert Mills House & Gardens on Friday. On Monday, plan to watch the eclipse (which will pass over the city around 2:41pm) from Spirit Communications Park, where the Columbia Fireflies will be taking on the Rome Braves, while the park also hosts a STEM (Science, Technology, Engineering, and Math) Festival that lets ticket holders experience some hands-on STEM activities. If baseball isn't your thing, head over to Benford Brewery and taste its special release black IPA (appropriately titled Carolina Blackout).
Georgetown
Partial eclipse start time: 1:17pm
Totality start time: 2:46pm
The closest place to the Grand Strand to see the eclipse is in the historic town of Georgetown, about halfway between Charleston and Myrtle Beach. The Kaminski House Museum is hosting an eclipse party on the lawn, with free viewing glasses, beer, wine, and soda for sale, and DJ Jeff Benton entertaining the crowd all afternoon. You can also plan to watch the eclipse for free at the Old Bridge Fishing Pier, the Harborwalk downtown, or Morgan Park, but plan to arrive early and any of these locations if you want to get a spot, as they're likely to fill up quickly.
Moncks Corner
Partial eclipse start time: 1:16pm
Totality start time: 2:46pm
Located just outside of Charleston County, Moncks Corner is hosting a number of events for those wanting to experience the eclipse, our favorite of which is the creatively named Total Eclipse in the Park (and definitely just got Bonnie Tyler stuck in our heads). The event will be hosted at the Moncks Corner Regional Recreation Complex and will feature food trucks, icy treats (necessary for any outdoor activity happening in South Carolina in August), and eclipse-related activities for astronomers of all ages.
Sumter
Partial eclipse start time: 1:14pm
Totality start time: 2:43pm
Sumter is going all out for the eclipse, with one of the most comprehensive (and free!) festivals on this list. The Total Eclipse Watch Party will be held at Dillon Park and will essentially be an eclipse-themed carnival, complete with face-painters, balloon animals, a bouncy house, kickball, cornhole, Frisbee golf, drone racing (which sounds pretty awesome), and music from DJ Lady Diamond all afternoon long. Did we mention it's all free?
Sign up here for our daily Charleston email and be the first to get all the food/drink/fun in town.