If you live in Charlotte, it's a pretty safe bet that you're not actually from Charlotte, maybe you just flocked here for work or general quality of life. It's amusing that newcomers immediately feel right at home upon arrival thanks to the overwhelming surplus of other clueless non-natives that have landed right alongside them (I'm throwing myself in here too, folks). Transplants may outnumber the rest, but they can be spotted instantly among the born-and-raised Charlotteans through these 20 inherent differences.
Transplants: Somehow end up in NoDa when told to go Uptown. "Why can't it just be called 'Downtown Charlotte' like any other city center?"
Locals: Will respond to any Downtown reference with confused frustration. "Downtown from what? Do you mean South Charlotte?"
Transplants: Came here with an MBA from Wake to work for Bank of America.
Locals: Visit a Bank of America only when in need of immediate cash for Saturday's hungover visit to Price's Chicken Coop.
Transplants: Must buy new copycat vintage Hornets gear.
Locals: Actually own a #1 Muggsy Bogues jersey from 1990, and remember wearing it on the reg in middle school.
Transplants: Have been to Alive After Five at the EpiCentre more times than should be considered acceptable, and love any excuse to finish off the night at BlackFinn or Bubble.
Locals: Just say no to the EpiCentre.
Transplants: Think the Arboretum is a nature center.
Locals: Know it's the answer to accomplishing all Saturday errands -- Harris Teeter, Gap, Bed Bath & Beyond --  in one simple stop.
Transplants: Hit up the Knights game for the social scene pre-Friday night festivities.
Locals: Have been waiting ages for the Knights' stadium to actually be in Charlotte.
Transplants: Never miss the chance to attend the annual St. Paddy's Day crawl Downtown -- oops, meant Uptown.
Locals: Prefer to enjoy their festive beers in neighborhood bars, such as Sir Edmond Halley's and Kennedy's, with five of their closest friends.
Transplants: Have to use a GPS every time it's necessary to take a Queens Rd from Myers Park to Midtown.
Locals: Expect Queens Rd to connect to another Queens Rd which will then randomly change names multiple times for no reason whatsoever... and accept it as standard.
Transplants: Keep looking for this mysterious "traffic" everyone keeps complaining about. Hasn't anyone ever been to DC?
Locals: Avoid Providence Rd come 5pm, as well as the 77 lake route on Saturdays.
Transplants: Get lost trying to find the sandbar at Lake Norman, every single time. "How is a huge party on the water so hard to track down?"
Locals: Head on over to their buddy's house party on the lake instead, where they actually know people.
Transplants: Went to college in Pennsylvania or Virginia rather than North Carolina (gasp!).
Locals: The choices are: Tar Heels, Wolfpack, or not setting foot in public during hoops season.
Transplants: Grew up thinking Fast and the Furious drag racing was the epitome of car envy.
Locals: Spent their weekends back in the day watching "The Intimidator" do it right at Charlotte Motor Speedway.
Transplants: Have thought about adding "y'all" to their everyday lingo, but aren't sure they can pull it off.
Locals: Wish they could get themselves to stop.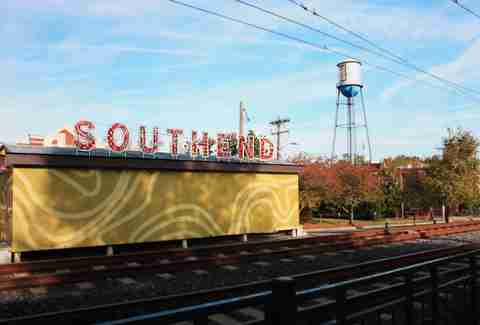 Transplants: Know the South End as breweries and brand-spankin'-new apartments to house drinkers.
Locals: Remember when it was the South Blvd boundary you never wanted to cross over.
Transplants: Are fascinated that it doesn't take 45 minutes to reach the suburbs, any Charlotte suburb, in fact.
Locals: Avoid making the trek out to Ballantyne to visit their parents if at all possible.
Transplants: Can't tell first ward apart from fourth ward... or second, or third. Actually, they can't quite specify what a ward is.
Locals: Can tell you exactly where on Trade St first ward ends and second begins, describe the recent changes to third, and disclose the history of fourth, in quicker time than it takes you to Google it.
Transplants: Out of every eight friends, maybe one went to high school in Charlotte.
Locals: Can name every Charlottean at Selwyn Pub that went to Providence.
Transplants: Order a cocktail at The Workman's Friend with more than three ingredients in it.
Locals: Prefer a beer at Common Market. Preferably local.
Transplants: Accept the Carolina Panthers as their own, despite only knowing Cam Newton.
Locals: Have been on board since 1995 and were never a damn "wine and cheese" crowd.
Transplants: Now that they're here, they plan on never leaving.
Locals: There's no place they'd rather call home (though they're looking into relocating).
Sign up here for our daily Charlotte email and be the first to get all the food/drink/fun in the Queen City.
Courtney Matinata is a freelance writer for Thrillist, who wasn't born and raised in Charlotte but likes to pretend she was.