It's been said many times before: Charlotte is a city in search of an identity. But that's far from the truth. Our tagline, "Charlotte's Got a Lot," fully encapsulates what our city is capable of achieving. From a wide array of high-quality restaurants and bars that complement our booming brewery and cocktail scene, to a rising profile in the world of art and culture, Charlotte will certainly surprise you. And these 33 activities are sure to give you a full picture of the Queen City.
1. Explore the edible variety of the animal kingdom with a Wild Game Dinner at The Fig Tree Restaurant
Greg and Sara Zanitsch opened The Fig Tree in 2005 with the hope of becoming the best dining experience in the city. Their focus on wine and specialty dinners has created a must eat meal in the annual Wild Game dinner that takes place during the the fall months. Boar, elk, ostrich, they like to switch it up. Pair it with a bottle of red from their 38 page wine list.
2. Take a stroll on the Greenway
With 37 miles of developed pathways and trails, the Greenway is a great place to take a break from the bustle of Charlotte. Enjoy an early morning or late-evening walk or jog on the Little Sugar Creek Greenway near Uptown between Freedom Park and Seventh St. The skyline views are spectacular.
Recommended Video
Fireball Whiskey Apple Pies: A Dessert Fit for a Frat Party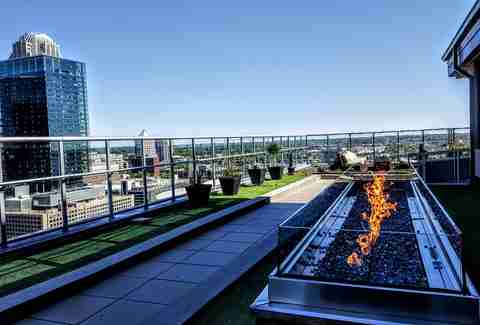 3. Visit Fahrenheit to enjoy a cocktail 21 stories off the ground
Take in the ever-expanding city skyline while getting boozed up with friends. Try one of the signature cocktails... although you can never go wrong with bubbles or bourbon to enjoy the view.
4. Spend an afternoon immersing yourself in Indian culture at the Charlotte Festival of India
Eat a samosa. Eat a dozen samosas and grab a mango lassi while you're at it. Be sure to check out the dancers on the main stage in Spirit Square. The jewelry and dress vendors also offer an excellent variety of custom-made wares.
5. Rent out the Funny Bus for you and all your friends and enjoy the ride around Uptown
If you want to learn about the history of Charlotte while laughing out loud and getting tipsy, Funny Bus is for you. The ride lasts 90 minutes and you can bring your own cooler of beer or wine.
This is 1,300 acres of outdoor fun, including ziplines, trails for running and cycling, and a custom-designed rafting course filled with 12 million gallons of fast-flowing water that simulate class II to class IV rapids. Be sure to sit right up front.
7. Order something from every food truck at Food Truck Fridays
Is there anything better than wearing your stretchy pants and indulging on a Friday evening? Not that we know of. Sycamore Brewing hosts a food truck rally that began with two trucks years ago in South End. There's a revolving list of mobile restaurants to keep things interesting each week, but Papi Queso gets special mention for its gourmet grilled cheeses.
8. Channel your inner-redneck while enjoying a NASCAR race in the infield at Charlotte Motor Speedway
Even if you're not a fan of Earnhardt, Johnson, or Busch, the energy at these races is contagious. Listen to the deafening roar of the engines as the cars flash around the track. And the people-watching is unreal. Be sure to check out the most popular one, the Coca-Cola 600. FYI: It's also BYOB.
Grab a lunch tray, grab some ribs or a gravy-smothered pork chop, two sides, and some cornbread. This is the best soul food you will find in the city. Accept no substitutes.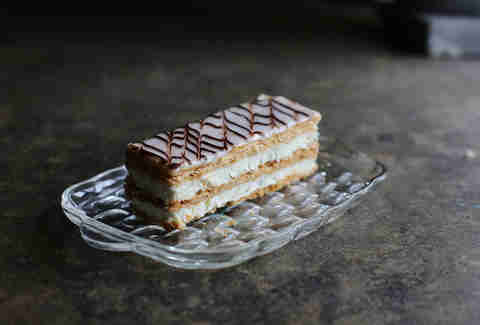 10. Order a salted caramel brownie and a French press at Amelie's in NoDa
It didn't take long for Amelie's to become Charlotte's favorite bakery. Be sure to check out their flagship store on North Davidson. It never closes. Grab a pastry and a comfy couch and you just might think you were in Paris.
11. Learn all the eccentricities and inside jokes about Charlotte at the annual performance of Charlotte Squawks at Booth Playhouse
Every year this theater production does its damnedest to skewer everything that is strange about the politics and culture of Charlotte. Get the inside scoop at the show and people will swear you're a native.
12. See the Charlotte Hornets play from your very own luxury suite
Go big or go home. Watch the fans come alive in the hive. Leave the cheap seats for somebody else and treat yourself.
13. Ride Fury 325 at Carowinds Amusement Park over and over and over again
Descend 325 feet at 95 miles per hour at an 81 degree angle, then keep flying around the track for what seems like forever. Enough said.
14. Order a #6 bahn mi and a bubble tea from Le's Sandwich Shop
This is a staple of Vietnamese cuisine and the best sandwich in Charlotte. Tucked away in an Asian strip mall, don't let the apocalyptic-looking parking lot scare you away. No cards. Cash only.
15. Fourth of July fireworks in Romare Bearden park after the Charlotte Knights game in the heart of Uptown
There's no better way to celebrate America than watching fireworks explode right over your head after eating hot dogs, drinking beer, and watching a baseball game. Buy your tickets far in advance and be ready for the area around the stadium to be slammed.
This event has become a local favorite in the Myer's Park neighborhood of Charlotte. Raise money for cancer research while riding the "Booty Loop" circuit through the historic and picturesque streets surrounding Queens University of Charlotte.
Another Charlotte food landmark that might have been missed by most newcomers to Charlotte. This classic American drive-in has been serving all the cholesterol-raising goodness you crave for 60 years. Not much has changed in its long history. There's no need to mess with something that has been doing so well for so long.
18. Take in an afternoon of culture on the Avenue of the Arts
Charlotte has several art and cultural museums worth your attention. The Bechtler is an imposing example of sleek architecture and houses modern and postmodern art pieces that range from Ernst and Picasso to Warhol and Giacometti. The Firebird sculpture out front of the museum has become a local landmark too. Across the street is the Mint Museum. The permanent collection at the Mint covers everything from sculpture and design to Ancient American pottery and modern American paintings. The Harvey B. Gantt African-American Center rounds out the Avenue, named for Charlotte's first black mayor, this museum explores the deep cultural roots of the area.
19. Lounge on a blanket at SouthPark Mall and take in the Summer Pops Series of the Charlotte Symphony
Get fancy. Sip on some bubbles. Listen to the popular Pops Series that the Charlotte Symphony presents on Sundays during the month of June. Bring a blanket, your booze of choice, and something to eat. Food trucks are also on site.
20. Embrace a tasty Southern tradition and stop by Price's Chicken Coop for a fried chicken dinner
Go for the ½ Chicken Dinner. If that's not enough, go for the whole chicken and fall into a deep-fried coma.
21. Pick the freshest strawberries at The Hunter Farm
Just over the border in Union County are some of the best strawberries you'll ever taste. Charlotte wasn't always a big city and this strawberry farm is a refreshing reminder of how far Crown Town has come in the past few decades. Go in May or June and enjoy the rural retreat from the busy city.
22. Order a homemade NY creamy cheesecake at the Landmark Diner
Diner culture in Charlotte used to be huge and has started to wane as food trends head in other directions. The Landmark has been in business for decades and is a true Charlotte original that still packs them in everyday. They specialize in breakfast food and handmade desserts. The king of the pastry case is the cheesecake. Come with some friends and plan to split a piece or two, the portions are huge.
23. Pretend to be a steamboat captain aboard the Catawba Queen dinner cruise
Do your best Mark Twain impression while cruising in style around Lake Norman. Book your table well in advance because this unique vessel is popular with both locals and out-of-towners.
24. Spend a lazy Sunday picnicking in Freedom Park
Grab some provisions from Earl's Grocery or Common Market and head to the park to enjoy the wonderful weather and greenery Charlotte has to offer.
25. Be brave and take a culinary trip around the world
Grab some barbacoa from Las Lupitas, a Shawarma Baladi Sandwich from Cedar Land, an order of stewed ox-tails at Mama's Caribbean Grill, and a bowl of Bun Tom Thit Nuong Cha Gio at Lang Van. Charlotte isn't just biscuits and barbecue anymore.
26. Let your geek flag fly while learning about science at the Discovery Place
Catch a newly-released blockbuster or nature documentary in the Omnimax Dome Theater that makes you feel immersed in the film by taking the image off the flat movie screen and throwing it onto a curved dome. The permanent exhibits are also a great way to transport yourself back to those thrilling middle school and elementary school science classes when the world seemed to come alive around you.
27. Take a Brews Cruise and explore the booming brewery business in Charlotte
The popularity of craft beers in the last few years has made this the best time to be a beer drinker in American history. Now home to more than 30 breweries, Charlotte has been riding the crest of this resurgence like few other cities. Grab a ticket and take the ride on the brews cruise that will highlight the best beer the city has to offer. What better excuse can you have for day drinking?
28. Shout "Opa!" at the top of your lungs at the Yiasou Greek Festival
Easily the most popular festival in Charlotte, Yiasou is a must visit event every September. Grab a gyro (pronounced ye-row, I'm looking at you New Yorkers) and take a stroll around the historic grounds of the Holy Trinity Greek Orthodox Cathedral. Dance through the evening with the traditional folk dancers and the Fabulous Grecian Keys band.
29. Be a glutton for punishment and claim victory in the Midwood Challenge
Calling the Midwood Challenge just another sandwich is like calling The Beatles a decent rock band. Weighing in at 2 ½lb with a large order of fries on the side, this is the Grand Poobah of sandwiches. Roast beef, ham, turkey, provolone, swiss, and american cheese topped with lettuce, tomatoes, onions, and horseradish mayo on a giant bun. It's okay though, you can sleep it off on the plane home and dream of your next visit to the Queen City.
You know you've taken your tailgate to the next level when NoDa Brewing Company creates a beer in your honor, which is exactly what happened to the Roaring Riot. Before a Panthers home game, join hundreds of your closest friends for a tailgate that includes food from Dilworth Neighborhood Grille, liquor, and wine, and beer from local breweries like NoDa. You must be a member or a guest of a member to participate, but it is so worth it.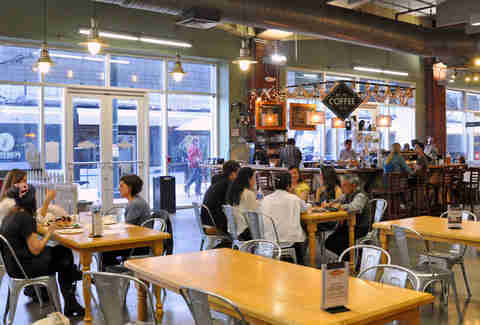 The 7th Street Public Market is a one-stop-shop where you can spend your day eating, drinking, and working. Chocolates, cheeses, crepes, coffee, beer, sushi… all of the major food groups are here. Start your day with a coffee from Not Just Coffee and breakfast at Local Loaf. Claim a spot at a table and tap away on your laptop, or just sit and recover from your meal. Wait for lunch and start the process all over again.
32. Eat a 1 pound donut at Stoke
Stoke in the Marriott City Center is doing great things for hotel restaurants. The food is delicious and the cocktails will absolutely sneak up on you, but the pièce de résistance is the 1 pound donut served for dessert.
33. Take time to smell the flowers
Whether you are a wannabe botanist, an actual botanist, or just someone who just Googled "botanist," Charlotte is home to some amazing gardens. Wing Haven Garden & Bird Sanctuary, Daniel Stowe Botanical Garden, McGill Rose Garden, and the University of North Carolina at Charlotte Botanical Gardens are perfect for an afternoon stroll or even a date.
Sign up here for our daily Charlotte email and be the first to get all the food/drink/fun in the Queen City.