12 Charlotte New Year's Resolutions You Can Actually Keep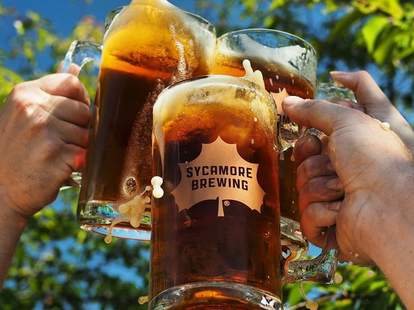 Ok, so it turns out that losing weight was a lost cause. We blame the "Y" for not having enough parking. Welp, it's 2016: why don't we just jump in full force toward furthering our foodie philosophies by trying all the best breakfast spots in the city? Yes, even if they don't serve mimosas. It's a start. Here are 12 more attainable resolutions for the New Year.

1. We resolve to limit our Sycamore social scene to once a month
Alright, once a week.
2. We resolve to avoid wearing our North Face vests to a bar past 7pm
No matter how comfortable they may be, fellas.
3. We resolve to take the light rail into Uptown instead of an Uber
... at least once. Talk about living on the edge.

4. We resolve to stop convincing ourselves that our cookie collection is healthy
Just because we bought it from Trader Joe's.
5. We resolve to actually experience the bar scene in Plaza Midwood
Because it's incredible.

6. We resolve to change our eating habits, one chicken biscuit at a time.
Sorry Bojangles', we're now limiting our ration to two... per visit.
7. We resolve to hit up a local market one of these Saturdays
Instead of joining the throngs of Teeter devotees. Our city is full of unique opportunities to support small businesses: Atherton Mill, 7th Street Public Market, and Kings Drive Farmers Market, to name a few.

8. We resolve to actually eat at the EpiCentre
Rather than only being dragged there to drink. Consequently allowing ourselves to be pleasantly surprised with the delicious offerings at places like
Enso
and
Vida
.
9. We resolve to check out a new place in NoDa that isn't a brewery
Or Cabo Fish Taco either for that matter.
10. We resolve to take advantage of the Little Sugar Creek Greenway trail for actual physical activity
It's more than just a responsible route to Montford or Midtown bars.

11. We resolve to participate in Sunday Funday without regrettable behavior
We can only blame our Sabbath sloppiness on the Panthers for so long. It's a tough one, we know.
Courtney Matinata
12. We resolve to explore the quiet and uninhabited parts of South End
While we have a chance because it will probably be new apartments in about five minutes.
Sign up here for our daily Charlotte email and be the first to get all the food/drink/fun in the Queen City.

Courtney Matinata is a freelance writer for Thrillist, who resolves to continue the delicious taste testing of Charlotte hot spots -- for educational purposes, of course.