Today, August 21, a total solar eclipse will cover parts of western North Carolina in darkness for anywhere from a minute-and-a-half to nearly 3 minutes -- better grab your eclipse glasses (and brush up on why they're so important!). And in most excellent news: the weather forecast is looking amazing. High pressure should make for clear skies and perfect viewing, so make sure you get outside! In case you need a refresher, a total solar eclipse is when the moon passes between the Earth and the sun, thus blocking our view of the sun's rays. If you're in the path of totality (the cities listed below all are), you'll experience darkness and a temperature drop.
This is actually the first total solar eclipse to happen since 1918, and for most of us, it's the only one we'll get to see in our lifetime. If the towns below are a little out of reach for you, you can always check this eclipse map that covers the whole path, from coast to coast. That said, you'll likely be able to catch some of the eclipse anyway... as long as you get out of your house before 2:30pm. Also, if you totally forgot this is happening, Neil deGrasse Tyson has you covered with his one ingenious hack.
Andrews
Totality start time: 2:34pm
Duration of totality: 2 minutes, 39 seconds
While the town of Andrews will experience more than 2-and-a-half minutes of darkness, the party lasts much longer during their Great American Eclipse Celebration, which promises food, music, beer, and wine. It's happening at Hall Park on First Street. The event is put together by Andrews Brewing Company, Calaboose Cellars, Hoppy Trout Brewing Company, and FernCrest Winery Tasting Room. For more details, head to Facebook. The best viewing areas for the eclipse include Heritage Park, Bear Ridge Mall, and Andrews Middle School.
Bryson
Totality start time: 2:35pm
Duration of totality: 1 minute, 57 seconds
Bryson City is going into total eclipse mode all weekend. Residents can purchase Total Solar Eclipse shirts (they have the date emblazoned on them to commemorate the occasion), and can head to the courthouse (deemed "Eclipse Central") to grab glasses for safe viewing. On Friday, August 18, enjoy a free, family movie at Riverfront Park. Bring a lawn chair or a blanket. On Saturday from 10am-4pm you can take part in a free, full-dome planetarium experience at the Fire Department on Main Street. On Eclipse Day, the city offers a number of suggestions for optimal viewing. This includes the railroad depot, Swain County Event Park, and Darnell Farms.
Brevard
Totality start time: 1:08pm
Duration of totality: 1 minute, 4 seconds
Gorges State Park, near Brevard, has designated August 19 as Nature Day, which includes a series of guided hikes in the park from 10am-4pm. On the actual day of the eclipse, they'll open the park gates at 5am. Visitors can take a pair of eclipse glasses for safe viewing, then enjoy food and music. The party is free of charge. Those hoping to check out the eclipse should hike to Rainbow Falls for a perfect view.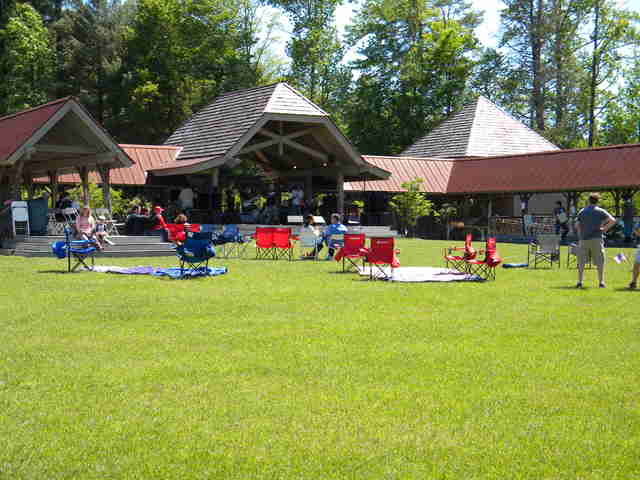 Cashiers
Totality start time: 1:07pm
Duration of totality: 2 minutes, 24 seconds
On August 21, head to The Village Green for an Eclipse Festival. You'll find food trucks, beer from The Ugly Dog Public House and Satulah Mountain Brewing, ice cream from Cream & Flutter, and live music from 12-4pm. They'll also have experts on hand who have equipment for safe eclipse viewing. Members of the US Postal Service will be present at the party for an official cancellation of their solar eclipse thermal stamp, which makes for the ideal souvenir from the day.
Cherokee
Totality start time: 1:06pm
Duration of totality: 1 minute, 24 seconds
If you're in Cherokee, take part in a two-day Cultural Eclipse Celebration. It will feature Native American performances, storytelling, food, and an appearance by the Warriors of AniKituhwa. Attendees can purchase protective eyewear for $5 at the event. Tickets are $25 for each day, and commemorative T-shirts are available for $20. It's happening at the Cherokee Indian Fairgrounds and the Museum of the Cherokee Indian.
Dillsboro
Totality start time: 1:06pm
Duration of totality: 1 minute, 49 seconds
Leave your car at Old Home Town Road for just $2, then take a free shuttle from 11am until 4pm into the heart of the village. Check out local shops, grab some food, and enjoy almost 2 minutes of total darkness. For a small donation to the local Merchants Association, you can get a pair of eclipse glasses to ensure safe viewing.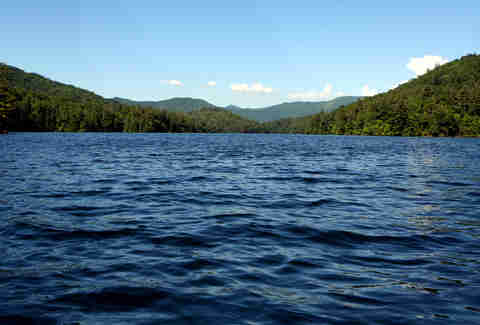 Lake Santeetlah
Totality start time: 1:05pm
Duration of totality: 2 minutes, 34 seconds
Want an especially unique eclipse viewing experience? Rent a kayak or a canoe and then paddle out into the middle of Lake Santeetlah. You'll have about 2-and-a-half minutes of total darkness.
Robbinsville
Totality start time: 1:05pm
Duration of totality: 2 minutes, 35 seconds
The Stecoah Valley Cultural Center in Robbinsville is hosting a viewing party. The first 500 visitors enjoy free admission that day and a free pair of eclipse glasses. There will be food and drinks for sale, plus music and educational activities.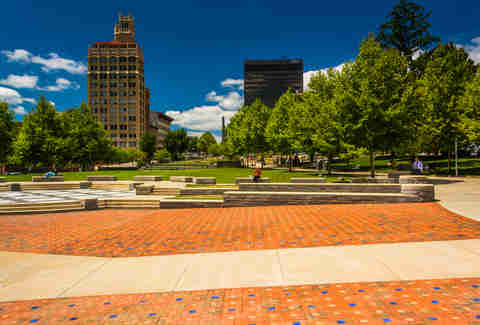 Asheville
Totality start time: 2:37pm
Duration of totality: Approximately 2 minutes
Downtown Asheville is throwing a Solar Eclipse Festival in Pack Square Park on August 21 from 12-3pm. It's put on in partnership with the Museum of Science and UNC Asheville, so you can expect eclipse-related activities, plus music and food, and glasses so you can watch the festivities safely. The eclipse will be 99 percent total from this spot. The event is free of charge.
Sylva
Totality start time: 1:06pm
Duration of totality: 1 minute, 44 seconds
Bridge Park in Sylva is hosting a weekend's worth of eclipse-related activities. It begins with Concerts on the Creek on Friday, August 18. Visitors can snack on moon pies (nice) as they listen to live music. On Saturday, there's more live music during the day, and in the evening Moonlight Madness begins. That's where the local shops stay open late and offer guests special deals in celebration of the weekend. On Sunday, August 20 at 6pm, take part in a series of educational panels at Southwestern Community College. On Eclipse Day itself, festivities kick off at 11am at Bridge Park. You'll find live music, food trucks, talks from eclipse experts, and a viewing party.