Election Season 2016 was stressful. So stressful, in fact, that we forgot exactly how beautiful our state really is. When it comes to getaways, North Carolinians have it all: from the mountains to the beach and charming historic towns dotted in between, there is no shortage of breathtaking views. Escape and (finally!) relax this weekend at one of these 15 exquisite spots that are off the beaten path.
Nags Head
The tallest natural sand dune system on the East Coast, Jockey's Ridge State Park offers a welcome reprieve from the constant "STAY OFF DUNES" signs of your childhood beach visits. Instead, you can seasonally hike, sand board, and even hang-glide among the massive ridges.
Ivy
Explore the vistas, passageways, and wild flora of Craggy Gardens. Mid-June is peak timing for the vibrant blooms of the native rhododendrons, but hiking and picnicking just 20 miles from Downtown Asheville make it a worthwhile destination year-round.
Brevard
Looking Glass Falls and its surrounding landscape in Pisgah National Forest are worth a visit any time of year, but major adventure seekers can't miss the awe-inspiring ridiculousness that is ice climbing. Despite the daring photos, Fox Mountain Guides does offer top-roped courses for beginners to try their hand at this winter wonder.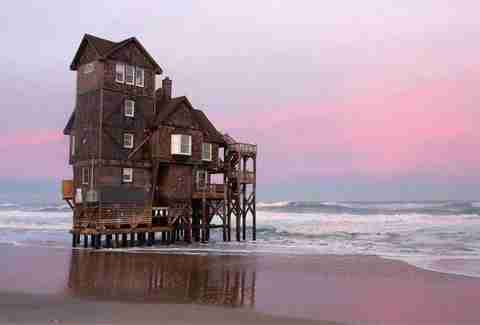 Rodanthe
Formerly known as the Serendipity House, the seaside inn strikes a whimsical, haunting balance that led to its cameo in the 2008 film Nights in Rodanthe, based on Nicholas Sparks' 2002 novel by the same name. Since its Hollywood moment, the house was moved to a more erosion-protected locale and renovated to mimic the interior sets from the film. And yes, you can stay in it.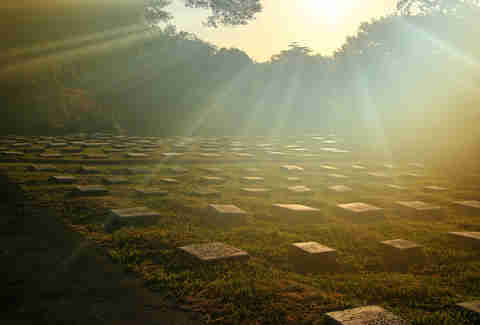 Winston-Salem
Between bustling Downtown and frozen-in-time Old Salem, there's plenty to keep you busy in Winston-Salem. Pause and pay your respects at one of the city's most peaceful spots, the Salem Moravian Graveyard, also known as "God's Acre." 
Spring Creek
Get a 360-degree view from the Max Patch bald, at the top of a short hike. Don't be surprised to find AT backpackers hiking through, but you'll also find day trippers who want to enjoy the wildflower-topped mountain or bask in the fall foliage. Watch the weather before you go up; as the highest open point around, the lightning warnings are no joke.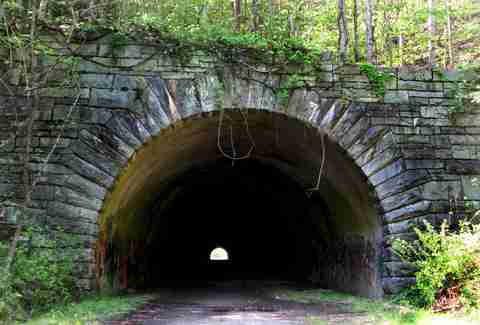 Bryson City
Kind of a good news/bad news situation with this one. After a six-mile scenic drive into the Great Smoky Mountains National Park, the originally named "Lakeview Drive" just... stops. The good news is, when you go through the dark quarter-mile tunnel and emerge on the other side, you're met with various hiking trails through the park. The bad news is, the tunnel is a bit symbolic of a broken promise from government to people -- a promise that a road would be built for Swain and Graham County residents who were dislocated due to the construction of...
Fontana Dam
The tallest dam east of the Mississippi, the 480ft Fontana Dam is a sight to behold in itself, having brought critical resources to the region since its construction in 1942. Beyond the dam, though, Fontana Lake is a welcome retreat for kayakers and fishermen, and is the surprising setting for multiple houseboat rentals. Wake up on the water, surrounded by mountains.
Manteo
Not all of NC's hidden gems are wild landscapes. Plan a visit to the Elizabethan Gardens and take in the vibrancy of this living memorial to the Lost Colony, built to entertain and delight Queen Elizabeth I during her reign. After all, if it's suitable for royalty, it's good enough for your inevitable Instagramming.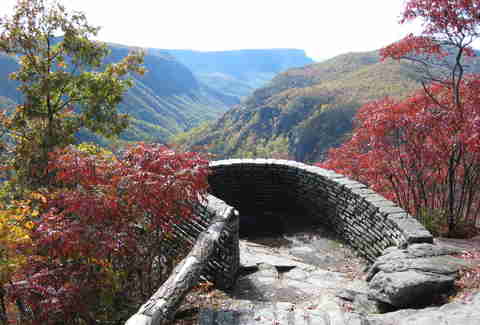 Marion
Get bang for your hiking buck from this vantage point; with sweeping views of Linville Gorge, you also get a peek at Hawksbill Mountain and Table Rock. And most importantly, those who visit September through November might be treated to a natural (or unnatural?) light show, thanks to the mysterious Brown Mountain Lights known to appear on the horizon.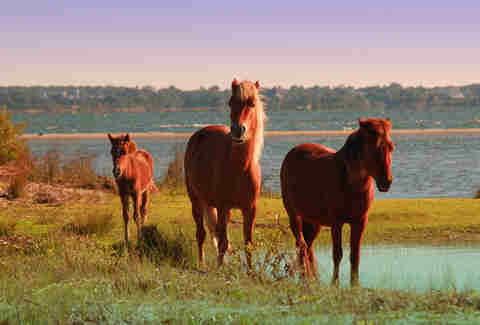 Off the coast of Beaufort
Any destination only accessible by boat immediately ups the cool factor. Free-roaming "banker ponies" have ruled this barrier island for more than 400 years, so nearby locals and visitors consider it a privilege just to ferry up and say hello. Or wave hello... for safety, the horses shouldn't actually be approached.
Canton
There's nothing that says Carolina summer like a good swimming hole. Sliding Rock is a favorite destination, but under-the-radar Whaleback is where locals go to avoid the crowds and enjoy a dip. About a mile from the fish hatchery, Whaleback is easily accessible during a stay at Cove Creek Campground.
Oak Island
Part of North Carolina's Brunswick Islands, this destination is known for family-friendly beach rentals and charming dining and shopping, but stick around in the evening to take in the true wonder of 10 miles of low-occupancy shoreline: incredible access to the starry skies. Because it's a sea turtle nesting area, rented houses keep their lights turned off even in peak summer season.
Brevard
For climbers, there's no more alluring draw in the Southeast than Looking Glass Rock. Enthusiasts at any level can find guides and equipment for an exciting excursion, and visitors who are daunted by the rock face (as shown) can drive around to the other side for a totally walkable trail.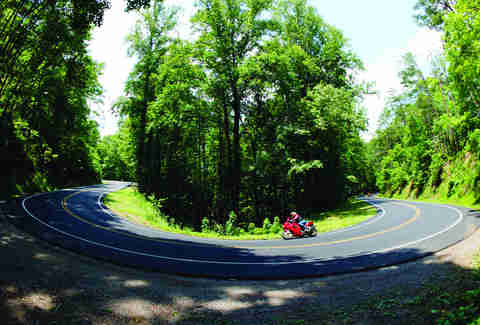 Bryson City
This is one view you can only get in motion. The notoriously curvy stretch of US Highway 129 at Deals Gap offers up 318 curves in just 11 miles. Take in the beautiful Smokies with a drive down this motorcyclist's mecca -- but be prepared for some serious stomach roller coasters.
Sign up here for our daily Charlotte email and be the first to get all the food/drink/fun in the Queen City.
Cristina Wilson is a writer, editor, and podcaster originally from Salisbury, NC -- or Charlotte to you Northerners. She now lives Uptown but is more likely to be found in a dog park. Follow her on Instagram: @cemwilson.