Courtesy of Asheville Glamping
Camping is great. There's the fresh air, campfires, crickets chirping, and a sky full of stars. You know what else is great? Running water and a memory-foam mattress. If you're the type of adventurer who still appreciates the finer things in life, North Carolina offers lodging that doesn't require roughing it. So whether you're willing to go off the beaten path to get there, or want to stay a little closer to civilization, here are a handful of unique accommodations you won't find on Travelocity.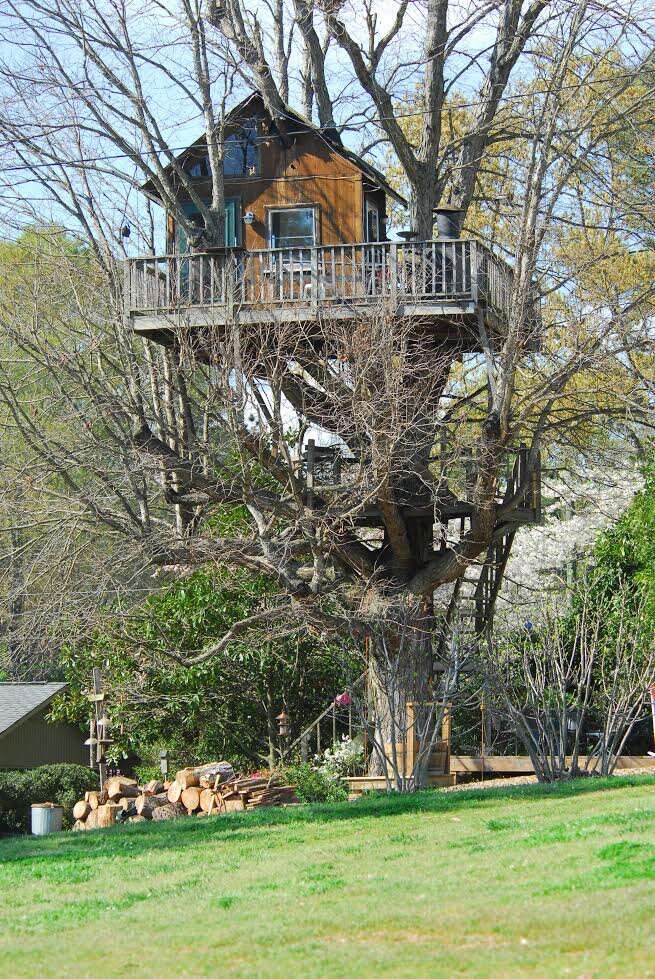 Monroe
When you were a kid, chances are you had the inclination to climb a tree and stay there for at least one night. Now that you're a grown-up and can do whatever you want whenever you want (depending on how many zeroes are in your bank account), you're gonna want to add "run away and live in a treehouse" to the list. Treehouse Vineyards is a family-owned and -operated winery just outside of Charlotte that also happens to have a treehouse you can live in for a night or two. Outfitted with running water, a queen-size bed, a kitchen, and a sunny deck that looks out over the vineyard, this place is so great that it'll probably take parental guidance to get you down. The best part? Definitely no shortage of wine. Do a tasting and take some to go (as in, upstairs to your tree fortress).
Asheville
This place does glamping right. Though there are several lodging options available (including tents, domes, and RVs), the most popular option is Silver Bettie, a fully restored 31ft glamper. The interior offers a cool retro vibe -- with comforts like a modern kitchenette, tiled shower, and memory-foam beds -- while the exterior has a patio and a private hot tub, perfect for soaking beneath the stars. Once you've had enough alone time with nature, you're just a few minutes from funky downtown Asheville (aka Beer City USA).
NC Coast
Formerly a US Coast Guard light station, the Frying Pan Tower is a lighthouse situated about 30 miles from Bald Head Island, NC. It was restored back in 2010 to preserve the look and feel of the original 1964 building, and is accessible by helicopter or boat only. Each room is modest in size and decor, and has electricity, running water, and even television and Internet access. The latter probably won't be necessary, though, as you'll be up 85ft in the air, surrounded by breathtaking panoramic views of the ocean. As far as dining, all meals are provided, but you'll be doing the cooking and cleaning with the rest of the crew (unless you make optional private chef reservations).
Clyde
Staying on a buffalo farm is cool enough. Throw a caboose into the mix and it's basically a Wild West adventure come to life. Seaboard Coast Line #0877 sits on a 65-acre bison ranch located in the Great Smoky Mountains. Furnished with a full kitchen, a bathroom, and even Wi-Fi, this place offers modern conveniences in a primitive setting. Wake up to watch the bison roam, fish in the Pigeon River (which runs right in front of the farm's entrance), check out some local hiking, and end the day with a few craft brews in the nearby town of Waynesville.

Beech Mountain
Arguably one of the most whimsical places to stay in NC is through the woods and down the yellow brick road. Yep, it exists, and it's where you'll find Dorothy's House tucked away atop Beech Mountain. Once home to the Land of Oz that closed in 1980, the old amusement park now opens one weekend a year for its annual fall festival. From June through October, however, you can experience a little slice of Kansas and stay in Dorothy's home. Decorated true to life with antique decor, the farmhouse features three bedrooms, one bathroom, and a working kitchen. The somewhat trippy location has plenty of outdoor attractions to entertain during the day, but really, there's no place like (Dorothy's) home.
Bryson City
By definition, a yurt is a traditional Mongolian tent. But unlike your run-of-the-mill type, this one doesn't require sleeping bags and bug nets. Instead, you'll be able to cozy up inside with a big bed, heat & air conditioning, a modern slate bathroom, and a spacious kitchen. It's surrounded by unobstructed mountain views, and just minutes from the Nantahala River, where you'll find epic whitewater rafting, tubing, and trout fishing. This place is the perfect choice to stay for a detox from reality.

Beaufort
An afternoon on the water is relaxing enough. But a weekend at sea? Pure paradise. Enter the ingenious concept that combines camping and boating: houseboat rentals. The way it works: a professional captain takes you to your destination along the beautiful Outer Banks and anchors the boat at a prime location. Once there, you'll have daily check-ins just in case you'd like to try out a new spot. The hardest decision you'll be making is whether to enjoy cocktail hour on the hammock, or the lounge chair of the upper sundeck.
Sign up here for our daily Charlotte email and be the first to get all the food/drink/fun in the Queen City.
Lauren Blake is a freelance writer who enjoys glamping just as much as the next 20-something gal. Follow her on Twitter and Instagram @palieblake.