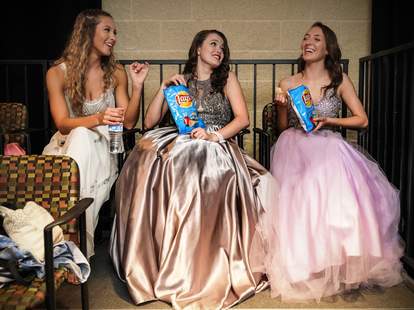 Actually Cool Things to Do in Charlotte Right Now
There's a lot of pressure when friends or family visit you in Charlotte for the weekend. You want them to feel impressed, sated by our amazing culinary scene, culturally enriched, and probably a little buzzed by the time they leave (ahem, best bars in Charlotte, ahem).
If your guests are return visitors, you might also feel inclined to take them to previously unseen attractions, thus verifying that their homecoming to the Queen City was worth it. Don't sweat it, here are a bunch of locals-approved activities that will leave your guests pondering whether they should relocate to Charlotte permanently.
Cost: $
Uptown
When you're looking to add some swank to your evening, head uptown to Merchant & Trade, the rooftop bar located on top of the Kimpton Hotel. The elegant space provides unbeatable views in an ultra-chic atmosphere. (Pro-tip: make sure you check out the dress code before you go).
Cost: $$
Mount Holly
Adrenaline junkies and more mild-mannered types alike will appreciate this sprawling space, packed with a day's worth of activities to explore. Hike, mountain bike, or jump in and try your hand at whitewater rafting. Thursdays, Fridays, and Saturdays from May through September are River Jam, which is a must-see outdoor concert.
Cost: $
Uptown
The Charlotte Knights minor league baseball experience is a must for locals and guests alike. The Knights' home, BB&T Ballpark, has been named the top stadium in the minors. From the quality of the food (not your average peanuts and Cracker Jack selection here) to the view of the city as you watch each pitch, an outing at the ole ball game should earn a top spot on your weekend itinerary.
Cost: $
Departs from uptown, but takes you throughout Charlotte's neighborhoods
Think of the Funny Bus as a comedy show on wheels. The 90-minute tour takes you throughout Charlotte's various neighborhoods, as your comedian guide offers a hilarious, PG-13 twist on the history and architecture of the places you're passing. It's a perfect way to get your friends familiar with the city, and it's also BYOB. Need we say more?
Cost: $
Lake Norman
Charlotte Cycleboats offers a unique way to spend a day on the lake. You'll use your own energy to paddle your catamaran. It's BYOB, and you can hop on an open cruise and meet new people, or book a private party.
Cost: $
South Park
Summer Pops is a series of outdoor concerts put on by the Charlotte Symphony, each with a different theme. Depending on when you go, you'll hear songs from your favorite Broadway shows, movies, and more, with Symphony Park as a lush backdrop. Added bonus? You can bring in your own snacks, including beer and wine. Symphony Park is also home to a number of festivals throughout the summer, so check the schedule to see what's coming up.
Cost: $
All throughout the city
Charlotte has an abundance of breweries, each with a unique selling point. Even your most discerning beer snob friend will be impressed. Take them to the tried and true classics, like Olde Mecklenburg Brewery and Sycamore Brewing, and then give newcomers like Resident Culture Brewing Company and Divine Barrel Brewing a shot.
Cost: $
Owned by Joe and Katy Kindred, of the ever-popular Kindred restaurant, Hello, Sailor is the perfect spot to grab a laid-back dinner, tasty drinks, and an unobstructed view of Lake Norman.
Cost: $$
All around Charlotte
Whether you're looking for the full arena experience (holler at the Spectrum Center) or a more intimate space that lets you get close enough to the musician to see their every facial expression (like the Evening Muse), the Queen City delivers a diverse array of concert venues. Other spots to try include the Fillmore at the AvidxChange Music Factory and the Neighborhood Theatre.
Cost: $
Belmont, NC
The Daniel Stowe Botanical Garden is a breathtakingly beautiful oasis. During the holidays, the place becomes even more of a magical (extremely lit up) wonderland, so add it to your list. Make sure to scope out Downtown Belmont while you're in the area. It's postcard-worthy. Nellie's Southern Kitchen, owned by Denise and Kevin Jonas (one of those Jonas brothers), provides delicious fuel pre- or post-garden visit.
Cost: $
Kings Mountain, NC
Just a 45-minute drive from Charlotte, Crowders Mountain offers trails of all difficulty levels. Make sure you pack good sneakers, and plan to spend time working hard to enjoy a view that makes it worthwhile.
Cost: $-$$$
All around Charlotte
Of course your pals are going to want brunch. It's boozy, delicious, fun, and you can wake up at 10 or 11 and still get a great table. Lucky for you, there's no shortage of spots around town that'll keep your Bloody's fresh, mimosas topped off, and eggs made to order. To wit: Charlotte's best brunches.
Cost: $
Plaza Midwood
Anyone who's spent at least a little time in a bar has thrown a round of darts before. But if you really want to impress your guest, put a beer in their hand and an axe and a target in front of them. Trainers get you comfortable, and before you know it, you're unleashing primal instincts and hurling axes at targets like it's second nature.
Cost: $
Dilworth
On a nice day, there are few better places to be than Freedom Park. Bring a picnic, grab a bike, relax with a book, or just take a walk. This September (the 21st through the 23rd), Festival in the Park returns, which features dozens of local artists displaying their wares, plus food and music.
Cost: $
Uptown
Charlotte has plenty of museums for when you're looking for a dose of culture during a visitor's stay. The Mint and Bechtler museums are unbeatable when you want to ogle art, but the Levine Museum of the New South provides a unique perspective on life in the region post-Civil War. The exhibits rotate frequently, and the building itself is gorgeous.
Cost: $$
Near Pineville and the North/South Carolina border
Have you really lived a full day if you haven't felt like you might puke after having your body whipped around at top speed? No. No, you haven't. If you're feeling brave, hop on Fury 325, one of the park's most notorious rides. Standing at 325-feet tall and traveling up to 95 miles per hour, it's the world's tallest and fastest giga coaster. When you need a break, musical performances happen throughout the day, so you can catch your breath and let your guts settle.
Cost: $$
Uptown
The Blumenthal Performing Arts Center consistently brings top-tier shows and notable figures to the area, so check the schedule to see who's going to be around when you've got visitors joining you. Upcoming performances include Bright Star (written and composed by Steve Martin) as well as The Lion King, the cultural phenomenon Hamilton, plus an appearance from former Vice President Joe Biden.
Cost: $$$$
Charlotte Motor Speedway
A NASCAR race is worth seeing live and in the flesh, even if you're not familiar with the sport. Pick a favorite driver, and grab tickets to the Coca Cola 600. Make sure to arrive early and give yourself time to walk the grounds. There are tons of activities and attractions to scope out, and you can bring in coolers, as long as they don't have glass. You'll also want to rent a scanner so you can get a good sense of what's going on during the race.
Cost: $
Location: Uptown
Speaking of NASCAR, while you're at it, a trip to the NASCAR Hall of Fame located in uptown is worth a pit stop (get it?! I'm so sorry.). Anyways, the highly-interactive experience is entertaining for NASCAR newbies and die-hards alike. Check out artifacts and explore hands-on exhibits.
Cost: $
Uptown
Though seasoned Charlotte veterans may be jaded by the Epicentre scene, to newcomers, it's impressive. Swing by Alive After Five, the free happy hour featuring live music on Rooftop 210. Even if you're all "been there, done that" you have to admit sipping cocktails on a rooftop while live music plays is pretty cool.
Cost: $$
All around Charlotte
You want to give company a look at Charlotte's diverse food scene, but you don't want to spend the whole time in the car driving from place to place. FEAST Food Tours are a perfect compromise. The walking tours let you sample the unique cuisine of various Charlotte neighborhoods, like Plaza Midwood and Dilworth, and you'll also receive expert guidance about the culinary delights you're sampling. Plus, you can burn off some calories from the delicious meals you just devoured.
Cost: $
NoDa
The McGill Rose Garden in NoDa is a tiny slice of floral heaven. Stroll through and admire its beauty, then head to nearby Birdsong Brewing after for some adult refreshments.
Say "FORE!" at Top Golf
Cost: $$
Location: Steele Creek
Regardless of whether you're hitting the links each weekend or have never swung a club in your life, you'll have fun at TopGolf. You're swinging micro-chipped balls into massive targets, so you're bound to find success at some point during your session. Sip a few beers as you go and the score matters even less.
Cost: $
South End
If you're looking to shake up your typical brewery experience, Hoppin' is the perfect pick. Grab a wristband and a glass, and then pour your own beer or wine based on whatever looks most appealing to you. They have 62 taps to choose from, so you've got plenty of options.
Sign up here for our daily Charlotte email and be the first to get all the food/drink/fun in the Queen City.