Event calendars and weekend plans look a little different these days. A year ago you could go anywhere and do almost anything at a moment's notice. Now we have to plan ahead and look into capacity limits, hours of operations, and whether or not our favorite spots are even open.

But never fear -- there are still plenty of things for you and your friends to do in and around the Queen City. The list below features just a sampling of some of the cool things that are open for you to do right now. Don't forget your mask and your hand sanitizer!
Support your favorite restaurant by ordering takeout, dining in, or dining on its patio
$ -$$$
Various locations
During the COVID-19 crisis, the restaurant industry has been hit hard, so this is the perfect opportunity to support your favorites. Enjoy the patio at Hello, Sailor, get takeout Vietnamese from Lang Van, or sit inside at the new RH Rooftop Restaurant. Whether you dine-in, order takeout, or eat on a patio, support local while taking a break from cooking for yourself.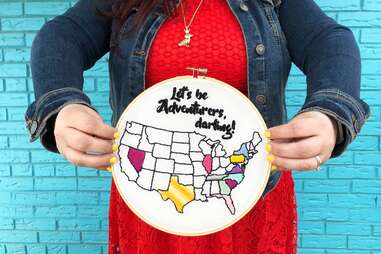 From basket weaving to breadmaking, learn something new
$
Various locations
Embroidery, sushi-making 101, and gnocchi from scratch, oh my! We may not have learned a new language during 2020, but many learned how to bake bread or developed a new appreciation of plants. With options such as Skillpop, Chef Alyssa's Kitchen, The Foodie School, or Crowned Sparrow Craft Co. the sky's the limit regarding new things to learn.
Let's (not) spill the tea
$
Various locations
Although Charlotteans love their coffee shops, it's now time for tea to get the appreciation it deserves. Over the past few years, tea bars have been popping up with different varieties of herbal refreshment. Pick your tea and your teacup at The Pauline Tea-Bar Apothecary, get a delectable dessert to go with your afternoon tea at Birch Fine Tea, or go all out and have afternoon tea at The Ballantyne Hotel.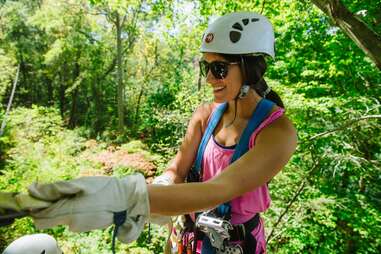 $- $$
Hawk Island
With the main gate and trails open, weather permitting, 365 days a year, there is plenty to do and see at the Whitewater Center even amidst COVID-19. Parking is $6, and you can hike, mountain bike, run the trains, and eat and drink to your heart's content. If you want to be more adventurous and spend some money, book your timeslot and try your hand at whitewater rafting, paddle boarding, or zipline over the rapids. You'll need your mask if you visit one of the retail shops or restaurants.
$
Uptown
The Charlotte Knights minor league baseball season was canceled, but that doesn't mean that you can't still head out to the stadium and enjoy a night under the stars. Flicks on the Field is a chance to enjoy a movie, but also allows visitors three options of seating to further experience BB&T Ballpark. Spread out on the field, hand at the Home Plate Club or a table on the concourse. Masks are mandatory, and ballpark concessions will be selling movie-themed food.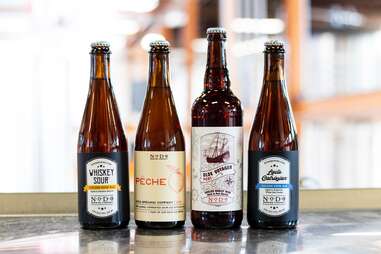 Take a tour of Charlotte's brewery scene at a socially safe distance of course
$
Various locations
In Charlotte, there is not one brewery to rule them all, and that's a good thing. With Charlotte's abundance of breweries, even the most discerning of palates will find something they like on tap. Support local by heading to the tried and true classics, such as Olde Mecklenburg Brewery and NoDa Brewing Company, and don't forget about relative newcomers like Resident Culture Brewing Company, and Divine Barrel Brewing.
$
Belmont
Walking through the Daniel Stowe Botanical Garden is like walking into a fairy wonderland. The Garden is open 10am-4 pm Thursday through Sunday to members only, and then on Saturday and Sunday to the general public. Tickets must be bought ahead of time and time slots reserved to ensure social safe distancing. Mark your calendars for October as the spectacular Chinese Lantern Festival will make a comeback just in time for and through the holidays.
$
Kings Mountain
Eleven trails ranging from pastoral to strenuous await you in just a 45-minute drive from Charlotte. Crowders Mountain State Park offers challenging hikes, areas for rock climbing, and 25-mile views of the surrounding area. If you go on a clear day, look closely and you may just see the Charlotte skyline rising in the distance.
$
Dilworth
Weeping Willow trees, tall oak trees, ducks quacking, and the central pond are all synonymous with Freedom Park. Take advantage of our temperate climate and pack a picnic, rent a bike, relax with a book under a tree, or just take a walk around the pond and enjoy your day.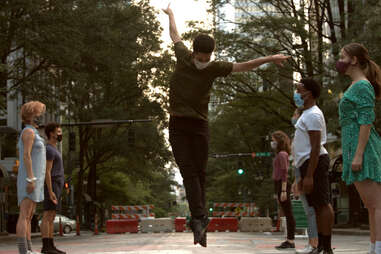 Ditch Netflix and catch a show
$
Uptown
Although we may not be able to gather for concerts and shows in person, that doesn't mean that the entertainment or the music has come to an end. Charlotte institutions like the Blumenthal Performing Arts Center, Charlotte Ballet, Opera Carolina, and Charlotte Symphony Orchestra are all providing safe distanced, and virtual shows and performances. Check their schedules regularly for concerts, performances, and special online events.
Sign up here for our daily Charlotte email and be the first to get all the food/drink/fun in the Queen City.