15 Reasons the Carolina Panthers Are Winning the Super Bowl
Kevin C. Cox/Getty Images Sport
With a star quarterback who's proven he's worth the contract money, the Carolina Panthers are running, diving, and dabbing into Super Bowl 50 with a can-do attitude and jovial brotherhood. The Panthers are unbeatable this season (save for a meaningless hiccup against the Falcons) and are having their well-deserved time in the sun. Haters and dimwits will say otherwise, but these are all the reasons why the Panthers are primed to put the Broncos out to pasture on Super Bowl Sunday. Not that you needed more convincing.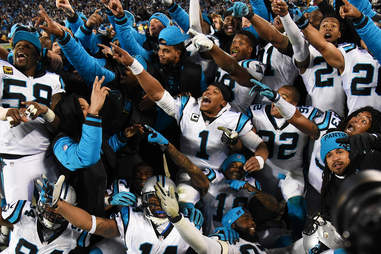 Ronald C. Modra/Sports Imagery/Getty Images
1. The bandwagon is at full capacity
Charlotte is a city mostly made up of transplants. That said, a lot of those Northern fans are now proudly wearing the blue and black and that's okay with us native Carolinians. We knew you guys would come to your senses one day. We are a city with a lot of hospitality, all fans are welcome here. 
 
2. The Power of Dabbing
3. We nearly pulled it off last time with Jake Delhomme
The one thing most people remember about Super Bowl XXXVIII is Janet Jackson's breast. Aside from the sighting of areola borealis, the football game was a 32-29 affair with the Panthers almost toppling the evil Patriots empire. Now mostly forgotten, Jake Delhomme wasn't having nearly the season that Cam is when the Panthers made their first trip to the big game in 2004. The current roster has an offense playing at the top of their form and a quarterback who can throw bullets, outrun most running backs, and carry linebackers with him.
4. We have the best radio announcers in the nation
They are "very, very, very, good."
 
5. Ted Ginn can do things like this
From "who's that?" to undisputed TD leader.
 
6. Kurt Coleman and The Luke-Ness Monster are interception machines
Luke Kuechly has had a pick six in both postseason games this season. Coleman has even more interceptions this season than Kuechly. Combine their shark-like ability with Peyton Manning's noodle arm and his 17 interceptions and you have a recipe for some big plays from the Panther's defense.
Jared C. Tilton/Getty Images Sport
7. Native Charlotteans have stood fast with the Panthers 
Yes, Charlotte born and bred folks do exist and we've always stood by our hometown team. As the city has doubled and tripled its population, pulling in lots of new residents from the North and Midwest, the Panthers have become a team to be remembered and feared. The team's youthful energy and down-to-earth charm reflect a city that is welcoming and up-and-coming. 
 
8. We want this more than Denver
Take a look at the Denver Broncos sideline on any given Sunday and tell me if you think they can match the calm and collected confidence that the Panthers have evidenced in every game this year. "The Sheriff" can ride off into the sunset with his chicken Parm and his mopey face, we'll take the ring thank you.
Dustin Bradford/Getty Images Sport
9. Peyton Manning is beyond his prime
Peyton Manning's AARP card ought to be arriving in the mail any day now, unless it got mixed up with some shipments of "definitely not HGH." The last quarter of the AFC Championship alone shows that the Broncos offensive engine is running on fumes. He is one of the best quarterbacks to ever play, but Father Time is undefeated and Kawann Short and Mario Addison are going to carve up Denver's O-line.
 
The embodiment of equestrian creepiness.
 
11. The Panthers do it for the kids
It's become a Panther's tradition. Every touchdown ball is handed over to a young Panther's fan near the uprights, easily a life highlight. Also, remember back to 6-year-old Brayden Beam stealing the show from Panthers FanFest.
Grant Halverson/Getty Images Sport
12. Riverboat Ron is calm under pressure but willing to toss that red flag
Ron Rivera came to Carolina in 2011 and has patiently built the team that now prepares to head to Santa Clara. He is a stoic leader who doesn't flinch under pressure, and if he's not Coach of the Year, something is definitely wrong. 
 
13. The Panthers have built a successful franchise in a short period of time 
The 1995 season was the Panther's first time competing in the NFL. They've have gone from a greenhorn expansion team in teal Starter jackets to being five-time division winners and two-time conference champions since 2003. Carolina has done more in that short period of time than most teams who have existed since before the AFL/NFL merger.
 
14. We've got a wall guarding Cam and too many targets to defend 
Ryan Kalil has been selected for the Pro Bowl 5 times and anchors an o-line that gives Cam plenty of time to get that ball down the field with his legs or his arm. Funchess, Philly Brown, Olsen, Ginn, Cotchery, Dickson. All have proven they can get down the turf and catch the ball. Even a defense as skilled as Denver cannot hope to hold back that offensive tide. 
Scott Cunningham/Getty Images Sport
15. Cam Newton may well be Superman
The naysayers who said he couldn't grow as a quarterback, lacked experience, couldn't hang in in the pocket, wasn't accurate enough, and would be a bench-warmer compared to Tim Tebow -- were all just tugging on the MVP's cape.
 
Sign up here for our daily Charleston email and be the first to get all the food/drink/fun in town.
  
Travis Mullis is the proud owner of Lolita Cat, the soon to be wife of Sir Purr. He lives a mile and half from Bank of America Stadium and swears he can hear the cheers. You can follow him on Twitter: @trex_mullis and on Instagram: trexmullis.