Paid Content For
Chevrolet
Chicago From the Willis Tower to the size of our food portions, Chicago is well known for thinking large (have you seen William "The Refrigerator" Perry???). But that doesn't mean there aren't still some excellent finds on the smaller side hidden throughout the City of Broad Shoulders. So when you're tired of going big, go home-y and cozy with our rundown of the top 10 small gems in Chicago.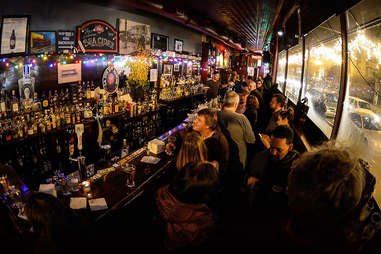 If you don't know the person next to you at this tiny 460-square foot corner bar, you will by the end of the night. As one of the smallest bars in Chicago (yes, smaller than Smallbar), this local institution has stood at the corner of North Ogden and Milwaukee for over 75 years -- having been privy to plenty more than just idle small talk over the decades. Head to "The Box" for a low-key beer or classic cocktail like a gimlet or Manhattan with strangers. Leave as friends. It's the Matchbox way.
This Southwest Side hole-in-the-wall offers little more than a tiny entrance and three yellow booths, yet offers large rewards in the form of some of the best fried chicken in the city, thanks in large part to its ridiculously addictive "butter crust." You can order your chicken by the boat (breast and thigh or leg and thigh) and, if you're too lazy to get off your bar stool, they also deliver to bars in the area.
As great as it is to see a show at Chicago Theatre or Second City, none of those big rooms can match the intimacy you'll find at this little storefront theatre off Elston where anything goes -- from 48-hour film festivals to Rhinofest, the city's premier festival of up-and-coming performance talent. Stop by on Saturday nights for Beast Women, an all-female revue featuring everything from music and burlesque to spoken word and acrobatics.
What the heck is a micro bakery, you ask? It's a miniature Lakeview confection slinger where little more than a counter and a couple of bench seats set the scene for your deep dive into a rotating selection of some of the city's finest donuts, plus adventurous small plates like handmade toast and jam topped with a tiny dollop of owl-shaped foie gras.
There is no seating. There are no bathrooms. You order your food and you eat it in your car parked out front. The reason this far South Side shack is so cramped for space? Because it's one of the few places left that smokes their fish on-site thanks to its natural wood smokehouse located out back. They've been doing it like this since 1948 and have made fans out of all who have made the pilgrimage, including Anthony Bourdain.
The name pretty much says it all at this closet-sized neighborhood hangout at Montrose and Lincoln, where a long narrow hallway is pretty much all that separates you from the bartender. Belly up to said bar, order a Tiny Cider (vodka, apple cider, lemon juice, simple syrup) and a Tiny Burger with a side of Tiny Fries. Do the best things really come in small packages? Tiny Lounge makes a pretty strong case.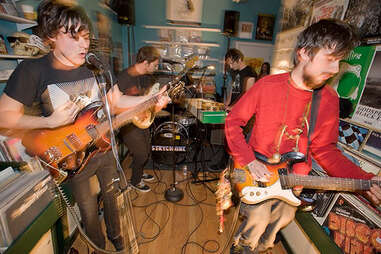 While Reckless Records has recently moved into a bigger storefront along Milwaukee Avenue in Wicker Park, West Town mainstay Permanent Records is content to keep things on the smaller side within its cozy, cheery Chicago Avenue digs stocked with all your obscure essentials, from cassette tapes to vinyl 7-inches. They even house their own (small) record label, Permanent Records.

With nine barstools and a total capacity of 37, The Drifter is not only one of the smallest speakeasies in Chicago, it's also one of the most authentic. The tiny space tucked away beneath the historic Green Door Tavern was an actual speakeasy during Prohibition. These days the space has been revived with drinks on tarot cards and all manner of oddball antics, from burlesque to bands and jugglers and contortionists.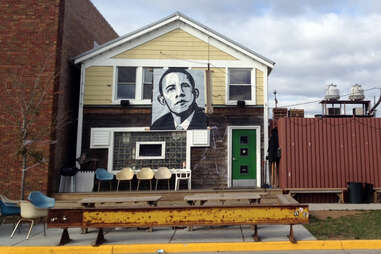 One peek inside its friendly, unassuming environs and it's easy to see why it's called "Chicago's Most Loved Small Venue" -- it's actually been described as looking like the real-life version of the house from Up. Check out up-and-coming indie acts and the occasional oddball comedy show. Stick around for the late-night dance party and good-time vibes that envelop the place at all hours of the night.
Few first-date spots in Chicago are more of a guarantee of a second date than the impossibly cute (it really is the only way to describe it) rooftop at Celeste, a luxurious space of Victorian-style seating and ivy-covered walls tailor-made for sharing punch bowls with that special someone (or the person you just swiped right on) while digging into appropriately small plates like grilled octopus, pork and beef meatballs, or the always romantic meat and cheese board. Space is extremely limited, so plan ahead if you know what's good for you, and for that all-important third date.
Jay Gentile is a Thrillist contributor and he is really hoping Guns N' Roses plays an aftershow at The Hideout this summer. Follow @innerviewmag on Twitter.