Anyone who's lived here long enough will agree that there's an interesting array of Chicago-specific problems that we'll all experience at least once. On top of dealing with rude passengers on the CTA, confusing overnight parking bans, and thundersnow, there are a handful of very special issues that only the women of Chicago have the pleasure of experiencing -- including these 15 problems.
 
1. Looking friendly and approachable is great -- unless you're Downtown
Any female who ventures Downtown frequently will quickly come to appreciate the power of "Resting Bitch Face" (RBF). When paired with "Dead Eyes," it's one of the most effective ways to do everything from scaring off creepy men on the CTA, to warding off clipboard people, to deterring the State Street Preacher from harassing you. It even has the power to force slow tourists to move out of your way!
2. The pressure of having to dress up when it's freezing cold outside
You know that it's not really acceptable to meet your friends for cocktails in River North wearing jeans, snow boots, and a sweater that could only be described as "matronly." Whatever, it's the middle of February, you haven't seen the sun in three weeks, and it took an act of Congress to get you to leave your apartment in the first place. Deal with it. 
  
3. Every female on Southport Ave is dressed exactly the same... except for you
There's nothing quite like walking down Southport Ave and realizing that you're the only girl not wearing some combination of North Face, Lululemon, and Tory Burch. Did I not get the memo that it's "Dress Like a Clone Day" in Lakeview?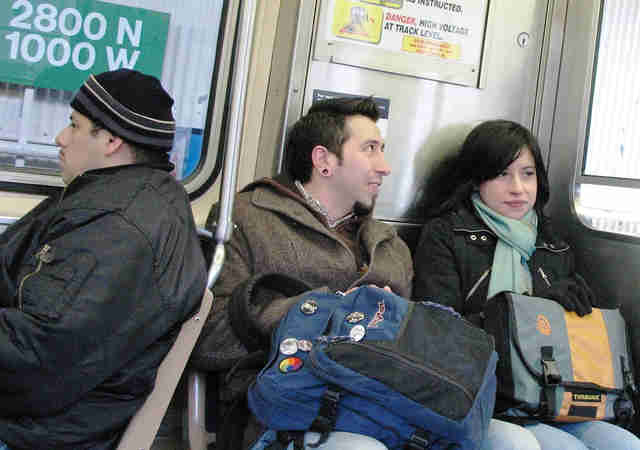 4. Dealing with "manspreaders" on the CTA
At one point or another, you've probably exited the 22 bus with sore thigh muscles because you've spent the entire ride with your legs squeezed together in order to avoid rubbing up against the bro spreading out next to you. God forbid you make him feel uncomfortable! (Although ladies, admit it: we can be just as bad when we're carrying too many bags.)
  
5. Feeling independent and self-sufficient... until you realize you're really not
No matter how happy you are living alone, there are certain things that will make you kinda wish you were coupled up. For instance, having your car get buried under piles of heavy, frozen snow and not being able to dig it out by yourself because you skipped arm day one-too-many times. Or, you know, thinking you're having a heart attack and worrying that you'll die alone in your apartment and no one will find you for weeks. The little things.
6. Accidentally flashing everyone around you on a windy day
Nothing can ruin your day faster than deciding to wear a skirt because it's perfectly tranquil by your apartment, only to get Downtown and walk right into the wind tunnel from hell. Incidentally, that whole "skirt flying up around your waist" look only works for Marilyn Monroe.
  
7. Having to deal with music festival porta-potties
There are certain things in life that will make even the most feminine women wish they were a dude, and the loos at Lollapalooza are one of them. Towards the end of the night, your best bet is to leave the festival, find the nearest Starbucks, and buy a bottle of water just for the luxury of not having to precariously balance over a pee-splattered portal to hell.
 
8. Feeling like your doorman and/or neighbors are secretly judging your life decisions
You may have thought you'd feel a sense of anonymity when moving to the city, but that's a lie. Knowing that your neighbors can hear everything you do or your doorman knows your every move can leave you feeling like they're judging everything from how often you do (or don't) go out to how frequently you order from GrubHub.
9. Getting FOMO from watching Sex and the City, Friends, or Girls
Pretty much every TV show that depicts single, urban 20/30-somethings is completely ridiculous and unrealistic, yet somehow, watching one-too-many episodes will leave you questioning your social life. Am I supposed to be going out on dates every other night? Am I the only one not going out for cocktails every night and brunch every morning? WHAT AM I DOING WITH MY LIFE?!
 
10. Getting hit on by underage guys in Wrigleyville
Reason #354 why going out in Wrigleyville is a bad idea: underage bros. Nothing will make you feel older (and more creeped out) than chatting with a seemingly normal guy who asks how old you are and responds with, "WOW! You look good for being that old! I'm 20."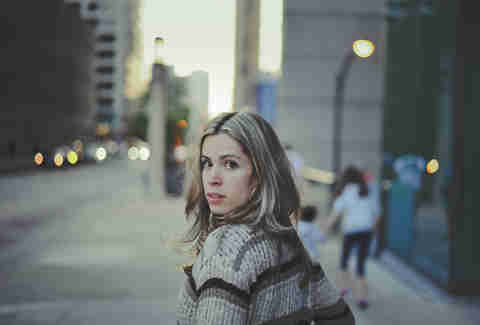 11. Dealing with particularly foul street harassers
Dealing with street harassment is a sad and unfortunate aspect of city life, particularly in Chicago. Nothing can take you from feeling self-confident to self-conscious faster than having a creepy guy yell that he wants to *bleep* your *bleep*, particularly when it's done loud enough for everyone else on State St to hear.  
  
12. Having your "smoky eye" turn into a black eye in summer
By now, you've probably come to terms with the fact that it's basically pointless to invest any time into doing your makeup during the intensely humid months of July and August if you're heading outdoors. Clearly those YouTube beauty bloggers that swear by primer have never had to ride on a CTA bus with a broken air conditioner.
13. Bumping into everyone you've been avoiding at summer street festivals
Fact: you will probably run into your ex-boyfriend's roommate, the snobbiest girl from high school, your chatty former coworker, and basically everyone else you hoped to never see again within the span of 15 minutes at Wicker Park Fest. Enter at your own peril.
  
14. Chicago bars with an inadequate number of bathroom stalls
There's nothing worse than waiting until the last minute to use the bathroom and suddenly realizing that a) there's only one toilet, and b) there are 10 wobbly women waiting in line. As if standing in line for the bathroom wasn't bad enough, now you're stuck waiting while Becky and her sorority sisters pile into the only bathroom as you stand outside, ready to die.
  
15. Two words: unsalted sidewalks
Falling on an unsalted sidewalk thanks to inappropriate footwear is basically a rite of passage. Whether you limped away with a bruised hip or just a bruised ego, you've probably learned a pretty important life lesson: stilettos and Chicago winters do not get along.
Sign up here for our daily Chicago email and be the first to get all the food/drink/fun in town.
 
Lisa Chatroop is one of the founders of Chicago-based lifestyle blog DailyUrbanista.com where she writes about these and other First World Problems. Say hi to her on Twitter: @Chicagoista.