Fotoluminate LLC/Shutterstock
If your knowledge of the South Side is limited to Midway International Airport, the Original Rainbow Cone, and the intro to Family Matters, it's time to change that. We asked nine South Siders from a variety of neighborhoods to share the places and things they think make the South Side great. Get ready to add these 20 items to your Chicago bucket list.
South Deering
"Order the catfish dinner with lemon pepper." - Evan F Moore, Chicago Lawn resident
Calumet Fisheries may look like a roadside shack, but don't let appearances fool you. Sure, it's located at the end of a rusty bridge you may recognize from Blues Brothers, there are no bathrooms, and you'll have to eat in your car, but that's part of the charm. This James Beard Award-winning, South Deering staple has been serving freshly smoked seafood for over 65 years and is one of the last remaining smokehouses in the state. Even Anthony Bourdain is a fan!
Bronzeville
"There's a complete water sporting facility with jet skis, canoes, and paddle boarding. You can also grab food and drinks at the adjacent live music venue!" - Arianna Jamerson, Hyde Park native
During the summer, the newly redeveloped Pier 31 features everything from beachfront spin classes to live music. 31st Street Beach is also an excellent place to access the lakefront path. Not only does this stretch of the lakefront provide a gorgeous skyline view, but it's also much less congested and relatively free of aggressive cyclists. Oh, and did we mention there's a parking garage on-site? Sorry, North Avenue Beach -- you're so last decade.

Garfield Ridge
"This is the art of bakery on the South Side." - David Beltran, Archer Heights resident
Weber's Bakery has been a South Side staple for an impressive 76 years. "If your mother didn't get you a birthday cake from Weber's, you would get side eye and shade from your friends and family," says Beltran. "You can stop by at 4:30am on a Saturday morning and continue the previous evening's festivities with dessert." We like the way you think, David.
Bridgeport
"The best place in the neighborhood to stop before a Sox game." - Carla L, Bridgeport native
As the oldest continuously running bar in Chicago, Schaller's Pump has seen -- and survived -- a lot. Opened in 1881, the bar is now run by Jack Schaller -- who is well into his 90's -- and his children. If you stop by for a meal before heading to a Sox game, you may keep your car parked in their lot. The seven block walk to the stadium will give you a chance to burn off the corned beef or butt steak -- both of which come recommended.
Pilsen's Art Scene
Pilsen
"Pilsen is arguably the fastest expanding art hub in the city." - Czr Prz, Pilsen resident
Because there are so many great places to view art in Pilsen, it would be a disservice to pick just one. Czr says, "Lacuna Lofts, Mana Contemporary, the National Museum of Mexican Art, as well as all of the galleries up and down Halsted help establish the importance of preserving the culture of the Chicago community." In addition to stopping by galleries, you should also take a long walk through the neighborhood, as there's plenty of street art scattered throughout.

Washington Park
"Get whatever Miss Lee tells you to get, which is likely the herbal chicken and her bread pudding." - Bess Cohen, Executive Editor at South Side Weekly
Whether you prefer to call it soul food, Southern cooking, or just plain comfort food, one thing's for certain -- Miss Lee's does it good, and she does it with love. Whatever you do, don't skip the biscuits at this Washington Park gem -- devotees say they're the best they've ever had.
Hyde Park
"There is no place like it in Chicago. It's a beautiful park that has a great view of Chicago from the south." - Nycole Hampton, Social Media Strategist at Choose Chicago
Promontory Point isn't just a great spot for a photo op -- it's also a great place to spend a lazy afternoon. Arianna Jamerson says, "There are several huge, free BBQ pits along the lake. You can also bring a travel grill and hang out on the grass and grill, relax, or read." If you're an earlier riser, Hampton says, "It's one of my favorite places in the city to take in a sunrise."

Garfield Ridge
"Good beer, good wings, great conversations, and one of the better thin crust pizzas in Chicago." - David Beltran
Not only is this neighborhood staple a great place to visit for the obvious things -- food, beer and watching the game -- it's also right next to Midway Airport. According to David, "It's a comfortable, quick place to stop before or after a long flight."

Bridgeport
"While they're known for the breaded steak sandwich, their pizza is also great." - Carla L.
We won't go to the hyperbolic lengths of naming Ricobene's breaded steak sandwich the best sandwich in the world. But it may very well be in the conversation, maybe let that sink in for a moment, then put on your fat pants and head on over to Bridgeport. If you're anti-red meat, Ricobene's also has great thin crust and deep dish pizza.

Pilsen
"Their mollettes are genuinely addictive." - Czr Prz
Cafe Jumping Bean is a Pilsen staple known for its warm atmosphere and strong coffee. Both their Mexican hot chocolate and their mollettes (a type of open-faced sandwich) come highly recommended. "It's community businesses like Jumping Bean that make this area so great," says Prz.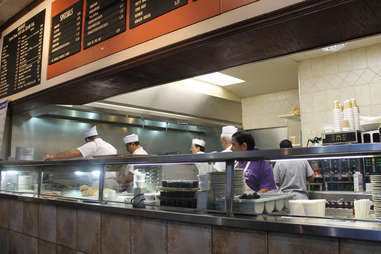 Hyde Park
"Valois a Hyde Park institution. It's my favorite place to get breakfast in the entire city." - Nycole Hampton
This cafeteria-style diner has been around since 1921 and is a favorite of Hyde Park's most famous resident, President Obama. In fact, you can even order from a list of his favorites; Favorite #1 (NY steak & eggs) comes highly recommended. It's strictly cash-only, so be sure to have some other presidents on-hand when you visit.

Beverly
"While there are plenty of pizza options in the city, this restaurant has some of the best thin crust pizza in the world." - Will English, Gresham resident
Fox's has been a Beverly staple for over 50 years, and while it may not look like your stereotypical Chicago pizza joint, locals swear it's some of the best thin crust pizza available. Of course, there's also a fun historical element: the location was previously owned by Al Capone's sister Mae.

Archer Heights
"This neighborhood grocery store has one of the better menudos in Chicago. Hangovers not necessary for consumption." - David Beltran
According to Beltran, this is the best spot in the 23rd ward to get menudo, particularly if you don't have the motivation to make the hike to Pilsen or Little Village. If menudo isn't your thing, their carnitas and tamales are also recommended. Note that prepared foods are only available on the weekend. The early bird gets the worm (or tamale?) around here, so be sure to stop by in the AM for the best selection.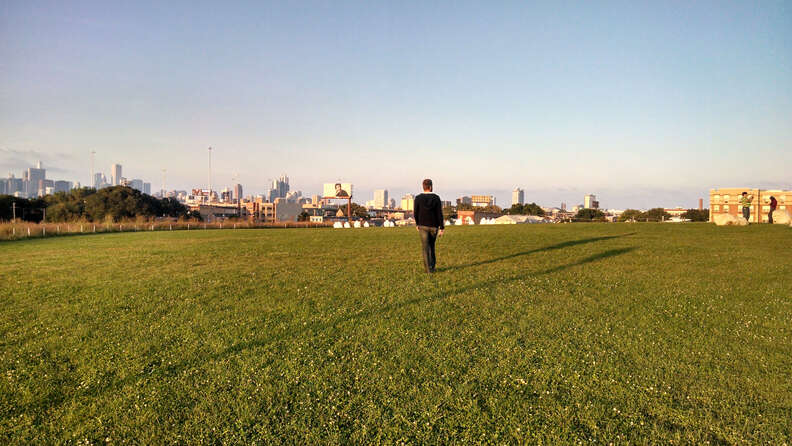 Bridgeport
"A great place for a run. When you're there, it's easy to forget you're still in the city." - Carla L.
Believe it or not, this beautiful 27-acre park used to be a quarry and landfill. The top of "Mount Bridgeport" offers a great view of the city, while the bottom of the hill offers pure nature -- there's even a well-stocked pond that offers catch-and-release fishing. Because the park itself is well-hidden, most people outside of the neighborhood don't even know this is here.

Garfield Ridge
"A great place to stock up on meat for your barbecues." - David Beltran
Although "Joe & Frank's" doesn't sound particularly Polish, locals say this market is one of the best places to get everything from Polish deli items to pierogi and delicious bakery items that are as good as your Babcia's. No mów po polsku? No problem. Just point at what you need and smile.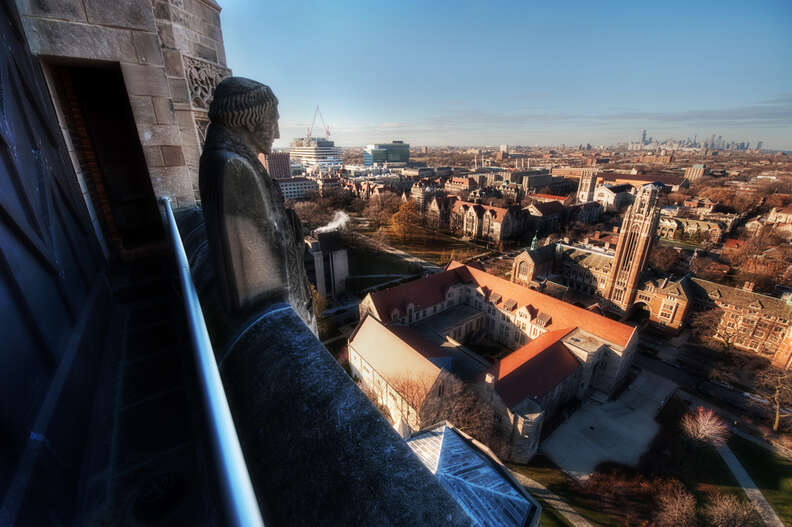 Hyde Park
"University of Chicago is one of my favorite places to explore and take photos." - Nycole Hampton
The University of Chicago is one of the few college campuses that students may actually want to get lost in. Hampton recommends visiting the reflecting pool located by the law library to capture some interesting photos. Arianna Jamerson agrees, adding, "the campus is beautiful year-round".

Chatham
"This soul food restaurant is build on the legendary Izola's restaurant." - Will English
If you're looking for soul food in the Chatham area, Will recommends Luversia's, saying "They have most of the same home-cooked soul food fare [as Izola's]. It's a great trip down memory lane and tied to the history of the south side."

Bridgeport
"This spot has been family run for as long as it's been in business, churning out some of the best tacos I've ever had." - Jen Smith, Brighton Park native
While Mexico Steakhouse is mostly known for it's steak (duh) and tacos, Smith says "the traditional Mexican breakfast of eggs, rice, freshly made tortillas, and refried beans can't be beat. You'll always find local cops from the area eating here, so you know it's good."
Chinatown
"This is the best place in Chinatown for bubble tea! There's a huge variety, and they use fresh fruit instead of powder." - Carla L.
After you've had dinner at your favorite restaurant in Chinatown (because everyone has a favorite), head over to the takeout window at Joy Yee for bubble tea. Just be sure to allow at least fifteen minutes to actually decide what you want, because the options are endless. Trust us on this one.

The people
Almost everyone cited their neighbors as being one of the best parts of the South Side. "I have lived on the South Side my whole life, and the people are some of the friendliest in the whole city," says Jamerson. "Everyone kind of looks out for each other and the vibe in the summer is that everyone wants to have a great time. I love it! It's diverse, and many of the families have lived here for decades."
Sign up here for our daily Chicago email and be the first to get all the food/drink/fun in town.
Lisa Chatroop is one of the founders of Chicago-based lifestyle blog DailyUrbanista.com. Although she born on the Northwest side, she's partial to long walks on 31st St beach and Bridgeport accents. Say hi to her on Twitter: @Chicagoista.