It's safe to say that the majority of the human race is tethered to their phone, and Chicagoans are no different (evidence: every corner of the city is on Instagram). So what apps could make living in this city immensely better? Like, can something tell me where the closest happy hour is and how can I park for free when I get there? We've got 21 essential apps for everyday life in Chicago, and nearly all of them are free.
Free
Android/iPhone
What it does: Tracks upcoming departure times for all nearby transit lines, shows the closest bike-share stations, and lets you request an Uber or book a car2go in the app
The real-time tracker helps you plan your trip, set reminders, and get notified about commute disruptions, so you'll never miss your bus again. Train not running? You can easily request an Uber, book a car2go, or hop on a Divvy using the app.
 
Free
Android/iPhone
What it does: Makes your commute more affordable with ride-sharing on demand
Your ride to the airport and Blackhawks games just got more affordable with Uber's ride-share feature, uberPOOL, which recently rolled out in Chicago. Share a ride -- and split the cost -- with another person who just happens to be requesting a ride along a similar route at the push of a button. This means there'll be less traffic, shorter commutes, and zero road rage, right?
 
Free
Android/iPhone
What it does: Helps you find free street parking in a snap
Nothing's worse than reaching your destination on time only to have to hunt for parking. Then there's the added fear of possibly getting towed or slapped with a hefty fine for parking on the wrong block. The app searches for free street parking in the area, and even lets users report open spots so you'll know where to go first.
 
Free
iPhone
What it does: Finds the closest Divvy station with bikes and open docks and shows safe bike routes to your destination
Tired of switching between Google and Divvy maps? An active Divvy rider built this app because she was sick of toggling between apps to figure out how to get around Chicago. Get walking directions to the nearest station with an available bike, then jump on the safest direct path for cyclists to a Divvy station near your destination.
 
Free
Android/iPhone
What it does: Gets you from point A to point B faster and smarter with real-time transit, ride-share, bike-share, walking, driving, and parking details in one view
The app puts public transit, taxis, car- and bike-sharing systems, and more in the palm of your hand. No more checking multiple apps and schedules for your best option. Search real-time schedules, compare rides by fares and type, and book your ride all in one place. The app shows estimated gas expenses for driving certain routes and even how many calories you'll burn cycling to your destination. The only pitfall? It requires connecting to Facebook.
 
Free
Android/iPhone
What it does: Manages your CTA, Metra, and Pace accounts -- all in one place
Oversee your Ventra account, add transit value or passes on your Ventra card, and buy and use Metra mobile tickets with the new Ventra app. It'll even notify you when your account balance is low (but with autoload you shouldn't have to worry) or if any of your passes or tickets are about to expire. Plus, you can see real-time arrivals for CTA, Pace, and Metra.
Drink Specials Chicago (Android and iOS)
Free
Android/iPhone
What it does: Guides you to the nearest happy hour based on your current location
How far do you have to go for a cheap drink after an obnoxiously long day at work? Map out your next happy hour crawl with the app that spotlights the city's specials.
 
Free
Android/iPhone
What it does: Keeps tabs on your beers, and helps split the group bill without killing your buzz
Disorganized bill-splitting and waiting for your check is so pre-smartphone. The app makes it easy to only pay for the burger and 20 beers you ordered when you split the bill, and factor in a tip without needing a math degree.
 
Free; $5 delivery fee per order
Android/iPhone
What it does: Offers curated collections of drinks, eats, and everyday essentials for delivery
Run out of bourbon mid-party? Need some aspirin after an all-nighter, but can't fathom facing the light of day? From liquors and mixers, to fresh and frozen meals, to remedies from the pharmacy, you can have it all delivered to your door in under an hour with the push of a button. The $5 delivery fee even includes the tip for the driver.
 
Free; delivery fee varies
Android/iPhone
What it does: Saves you time while on the go by helping you order food with just a few taps
We know this one is probably already on your phone since it's just so easy to reorder all your favorite late-night snacks after hitting up all those happy hours earlier...
 
Free
Android/iPhone
What it does: Provides a food truck map to find where your next meal is parked
Hunt for your food the way God intended... with an app. Naturally, satisfying your cravings is infinitely easier with real-time food truck tracking. Plot your next move to annihilate your lunchtime munchies via a map of your favorite roaming vendors.
 
Free
iPhone
What it does: Suggests where to go to eat, drink, and be merry
Yeah, we know, shameless self-promotion here, but if you can't trust us to guide you to all the best places for food, drinks, and entertainment, who can you trust? (Dave? No way, that guy's afraid to try kimchi.) So getting on-the-go recommendations for the best burger near you at all times is pretty much a no-brainer.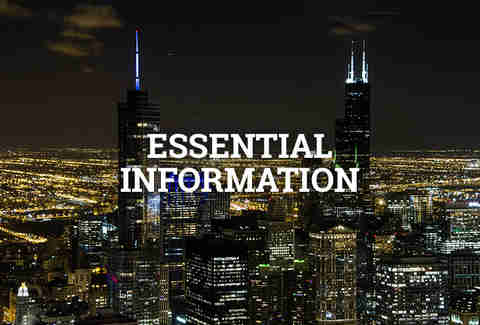 Free
Android/iPhone
What it does: Allows you to make service requests to the city and track non-emergency issues as they're addressed
Got a street pothole or building violation to report? Watch your tax dollars work for you with the 311 app. Submit service requests with photos for a detailed report, then keep an eye on the city's progress with your tracking number.
 
Free
iPhone
What it does: Tracks your location via GPS to share interesting facts and quick stories about the places you're passing
Your geographic coordinates automatically trigger the app's audio from local experts about Chicago's past and present. Even longtime residents will discover fascinating stories just going about their normal routines in the city. Users can listen to their own music since the app temporarily fades the audio for the guide, and previously played sound clips are logged, so new ones are shared instead, so it's not like your grandpa telling you the same stories over and over.
 
Free
Android/iPhone
What it does: Uncovers countless things to do near your location anywhere in the city
Find events happening around the city by neighborhood, search for local attractions and dining options, and access contact information and maps for hotels, restaurants, theaters, museums, and more. Then mark your calendar accordingly.  
 
Free
Android/iPhone
What it does: Lets you listen to live broadcasts and access shows for up to seven days after they air on the radio
Go back in time and get a whole week of WBEZ at your fingertips with the app's first-of-its-kind rePlay feature. Catch up on or live stream in-depth news and talk in Chicago, including favorite podcasts like This American Life, Serial, Curious City, and Sound Opinions.
Free
iPhone
What it does: Helps you find all the festivals in Chicago
While this may be most handy in the summer when it's impossible to walk down a street without running into festival-goers, the app sorts out the city's fests by month, neighborhood, or a list of your favorites. You'll find all the details you need to never miss a party in Chicago.
 
Free
Android/iPhone
What it does: Accesses year-round arts and cultural events at 580 different parks in the city
Make your life easier by searching for events in a park near you, or by date, park, or event type like theater or movies. Save your favorite events in the official Night Out in the Parks app, and it'll remind you of the events and notify you in case of changes (weather or cancellations). The full lineup of movies-in-the-park programs is searchable within the app.
 
Free
Android/iPhone
What it does: Guides you with personalized tours of one of the world's greatest art museums
Sure, you could browse the galleries just fine without a guide, but the museum's app helps you locate all the stuff that really piques your individual interests so you don't get lost in a series of miniature rooms from the 13th century (unless that's your thing). Each of the 50 personalized tours features six to 10 works within a collection, theme, or even time frame (like if you've got an hour or an entire day to kill), explaining their significance in art history. Impressing your date or out-of-town guests with your knowledge of African art later will be worth it.
 
Free
Android/iPhone
What it does: Notifies you about deals for dining, entertainment, fitness, and more
You'd have to be living under a rock to not have heard of the Chicago-based company's app. Of course, there are so many places to get great deals nowadays, but the app still gives users some of the best deals in the city. It'll even alert you when you're near a deal. It's also worth noting that Groupon founder and former CEO Andrew Mason is finally launching unconventional, location-aware audio tours in Chicago this coming year through his Detour app.
 
Free to download/$5 per shipment plus shipping
Android/iPhone
What it does: Picks up, professionally packages, and ships your stuff at the lowest price
Take a photo of the item you want to ship, enter the destination, request a pickup, and a Shyp courier will come to you to take care of the rest within 20 minutes. It'll be packed, weighed, applied postage, and handed off to a carrier like UPS, FedEx, or USPS for transport, so you don't even have to stand in line. Plus you can ship 20 different items for one $5 flat-fee pickup. If you're an eBay seller, there's even a special feature to connect your account for hassle-free shipping to buyers.
Sign up here for our daily Chicago email and be the first to get all the food/drink/fun in town.
Nicole Bruce is a contributing writer for Thrillist Chicago. She's still skeptical of this whole sharing a ride via app thing. Divulge your uberPOOL adventures to her on Twitter at @nicoleabruce.