Chicago's vital role in modern musical history is well-documented through books, documentaries, oral histories, tour guides, and Internet screaming matches on just about every genre the city has shaped. What remains underrepresented, however, is an acknowledgement of our diehard fans's near-total disregard for lines of musical demarcation. Love footwork and Liz Phair? Us too. Dig for Wax Trax! and Chess vinyl? No doubt. Rock Bloodshot and Dance Mania? So do we. In that spirit of anti-segmentation, we present these pilgrimage-worthy landmarks of Chicago music across blues, jazz, punk, indie rock, house, gospel, soul, juke, post-rock, industrial, and bop. We don't claim comprehensiveness, just a much more eclectic map for much more eclectic times.

Ukrainian Village
From bubbling-under Pitchfork-favored acts to top-shelf local talent, no other venue boasts as many acts destined for bigger (but rarely better) things. "Cred" silliness aside, there's simply not a better-booked music room in the land.

Lakeview
This truly all-walks LGBT institution has been keeping Boystown-area nightlife weird since 1983. The arty-leaning crowd and sets make for a simultaneously outsider and hyper-inclusive atmosphere. On the right night, the place can feel downright utopian.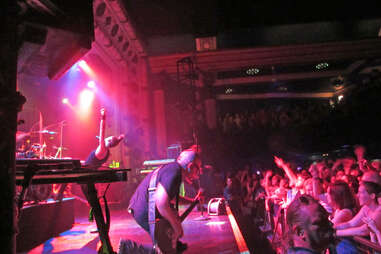 Lakeview
Mere blocks from Wrigley Field, this iconic concert hall has been spotlighting mid-major rock and electronic acts ready for the call up since 1982. Bonus points for being one of the last living links to Chicago's '80s underground (Big Black, Naked Raygun) and '90s alt-rock (The Smashing Pumpkins, Veruca Salt) heydays.

South Loop
Chicago's metal Valhalla doesn't exclusively flash the devil horns, but it's second to none in that lane. A notable non-metal offering? Definitely hip-hop; Reggies has become instrumental for scorching-hot post-backpacker crew Savemoney. And they've also welcomed name artists from Chicago's bop scene (DLow, Sicko Mobb) and drill (Lil Durk) before they blew up big.

Edgewater
Late free-jazz pioneer Sun Ra often claimed he was from Saturn, but his spirit -- and a monumental archive of his work -- resides in Chicago. The CAA in Ravenswood houses the Sun Ra/El Saturn Collection, some 600 tapes of music, and the most reliable map to the farthest reaches of the Afrofuturist galaxy.

South Loop
The most impossible-to-deny institution of its kind in Chicago. Save the trip for one of the AACM semi-regulars, like Corey Wilkes, for max added value.
Uptown
There's not much ball dancing these days at Aragon, but little has changed architecturally at this Moorish triumph, all ornate arches and elegant promenades, built in 1926. The sound is remarkably clear, too, especially considering the cavernous dance floor.

Uptown
Not to be outdone by Aragon, this neighbor also attracts national headliners in grand-room Old Worldrevival splendor. The iconic marquee might be the most Instagrammable image in Chicago music.

Uptown
Completing the Uptown Triangle of Un-Killable Music Landmarks is, of course, The Green Mill, the most famous jazz club in the solar system. Sure, it's catnip for unimaginative dates and hosts (and list makers), but there's a reason it elbows to the front of the mind. Never been? Cut the contrarian BS and cut a rug.

Printer's Row
Outside of the Chicago Blues Festival, the city does a pretty lamentable job of honoring that legacy [Insert blues pun here]. But between so many North Side tourist traps and South Side fallen monuments, Buddy Guy's remains an oasis. His annual January residency is naturally the standout.

South Shore
The list of performers at this historic, palatial theater reads like a murderers' row of 20th-century black music, including Chicago soul masters Curtis Mayfield, The Chi-Lites, and The Staple Singers. Since closing in 2003, fitful attempts at revival -- the latest of which involves a hologram projector (seriously) -- have failed to coalesce. But thanks to the Chicago Architecture Foundation's annual open house, you can at least still communicate with the ghosts.
Ravenswood
Standing remnants of the 1960s Old Town folk scene, which ushered in the likes of John Prine and The Byrds' Roger McGuinn, are few and far between. But the one that does endure is a whopper whether you're a student or spectator.

13. Descend into the dance party at Smart Bar
Lakeview
Chicago's best venue for electronic music, nestled right downstairs from The Metro, wins on sound and (especially) eclecticism. From experimental ambient to minimal techno -- and every micro-genre in between -- no other dance venue better disproves the dubious catchall of "EDM."

14. Get spiritualized at Pilgrim Baptist Church
Bronzeville
"Ultralight Beam" got you craving some gospel? Did you know that modern gospel was essentially invented right here in Kanye's hometown, at the Pilgrim Baptist Church in Bronzeville? Sadly, the interior was lost to fire 10 years ago, but the Louis Sullivan-designed masonry still stands, as does commitment to its preservation.
West Town
An obscurantist's playground, this West Town shop reaches for the outer limits of Tropicalia, Afrobeat, European vocal, vintage soundtracks, and more. And with the recent closure of Jazz Record Mart, it's now Chicago's premiere shop in that market, full stop.

Noble Square
Chicago has deep, ahem, roots in the alt-country scene, and the aptly named, off-the-beaten-path Hideout dutifully caters, particularly when it comes to Fulks' much-loved Monday night residency.

Hyde Park
In the grand tradition of Chicago cable-access badassery (see also Svengoolie, Soul Train, Bozo), Chic-a-Go-Go plays like a bizzaro-world American Bandstand. Co-hosted by puppet emcee Ratso and overrun with nutty, bespoke costumes -- not to mention awesome local and national bands -- the show's free live tapings are a trip unlike any other.

Chatham/Avalon Park
This far South Side space was one of the original, um, stomping grounds of footwork as both music and dance culture. Originators like DJ Spinn and the late, great DJ Rashad honed their wonky, high-BPM sound here; and next-gen dancers like Litebulb and The Era crew continue today.

Lakeview
This long-running small room has been ranked among the best in the nation. Schubas leans towards guitar-based indie rock, with a penchant toward roots and folk inflections. Sister venue Lincoln Hall is less historic but arguably books even better.

South Loop
Yes, it's the ultimate sucker cut of Chicago music destinations. But there's a reason it's a no-brainer. The address alone is iconic, fer chrissake.
Logan Square
You won't hear any music there nowadays aside from perhaps some Ram Jam on the jukebox, but this Logan Square bowling alley was once an infamous punk-rock mecca. Seminal local acts like Cap'n Jazz, Joan of Arc, and Los Crudos all took the "stage" (aka that riser where they keep the bowling balls). Go throw a frame and raise a cheap domestic to mosh pits gone by.

Wicker Park
Slinging a wide-ranging selection since 1989, the original Reckless not only ranks among the cream of Chicago's record-store crop, it's one of precious few remnants of Liz Phair's pre-gentrification Wick Park. Bonus points for proximity to High Fidelity exteriors.

Lincoln Square
Reliably free of the usual cut-out chaff, Lincoln Square's finest went viral with its amusingly scathing "do not buy" guide list for employees. Sorry Melissa Etheridge, John Mellencamp, and "most '90s bands."

Lakeview
This Lakeview house-music emporium has been slinging four-on-the-floor vinyl more or less since guys like Knuckles and Farley Jackmaster Funk laid the groundwork in the early '80s.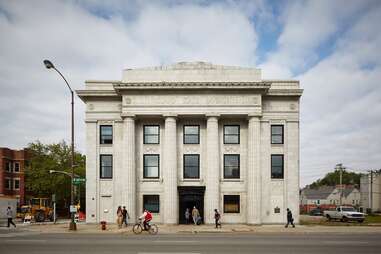 South Shore
The Godfather of House died in 2014 and his famed Warehouse club shuttered its doors long before. But manuscripts don't burn, as they say, and in a sense neither does vinyl. To witness Knuckles' wax is to understand the LP as sacred artifact.

North Center
This at-long-last-terrestrial, listener-supported community radio station remains as irresistible as its David-and-Goliath origin story. (All it took was a years-long battle to force change in FCC law.) Even if you don't see the studio, visit on your dial at 107.1.

Roscoe Village
This outré-music bastion curates a meticulous lineup of gonzo jazz and experimental rock and electronic. Paradise for The Wire magazine-wielding true believer, and the perfect gateway for the curious. For further studies, see also Hungry Brain and Elastic Arts.

Ukrainian Village
True, this Ukrainian Village shop scratches a particularly music-dorky itch. But if you're a fan of krautrock, the art-rock/electronic scene out of early '70s Germany that influences local faves like CAVE and Bitchin Bajas, this is bliss. Sealed copies of first-press Cluster LPs for the win.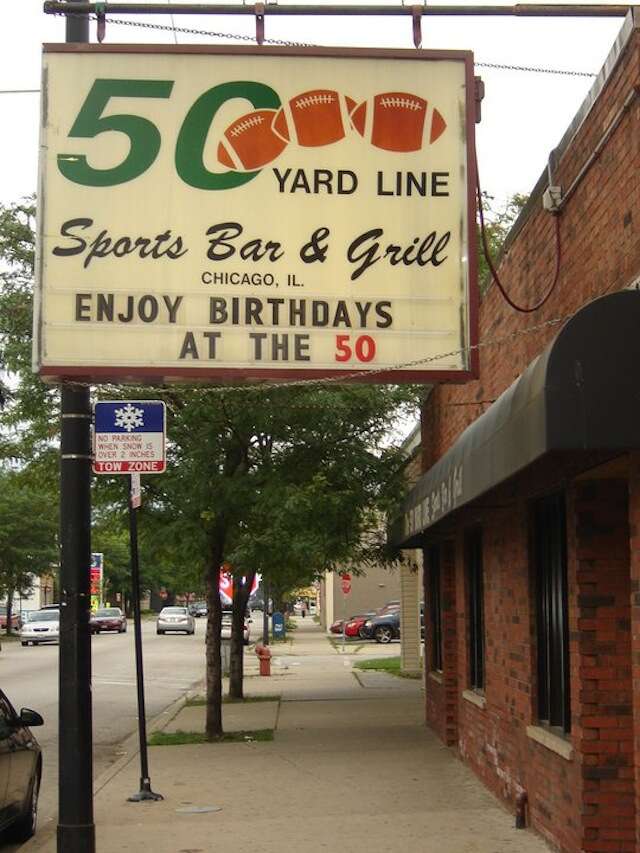 Grand Crossing
All week long, steppers groove to superior grown-folks jams at this unassuming Grand Crossing sports bar. Impossibly well-tailored duds and ice-slick moves match the smooth soul music, which hits home bases like Chaka Khan and Earth, Wind & Fire.

West Town
A beloved figure in Chicago hip-hop (just ask Kanye or Common or DJ MoonDawg), the late Timothy Jones, better known as Timbuck2, was omnipresent as DJ, radio personality, and turntablist. Beauty Bar served as Buck's live home base for several years before his untimely death, in late 2015; but luckily his crew carries the torch with this eminently influential weekly gig.

Avondale
This beloved metal-themed burger joint has been lovingly "harshing your mellow since 2005" with doom-heavy beef patties on the menu and up-to-11 drop-D riffs on the speakers. Remember: as always, hippies use the back door.

Logan Square
Back when Logan Square's current status as New Restaurant Row was just a dream in developers' bank accounts, this lovable dive bar was there, giving voice to great, on-the-rise local music all the while. It still is, and hopefully always will be, long after the last neo-speakeasy in the neighborhood bites the dust.

Wicker Park
Cumbia, the ass-quiveringly percussive style of dance music from Colombia, holds a conga-sized place in the hearts of many Chicagoans. This semi-regular devoted night, most frequently hosted at Double Door, remains the best on our radar.
Logan Square
The only spot here that also merits inclusion on a must-visit mixology list, The Whistler boasts local DJs and bands that know their stuff just as well as the dudes behind the bar. Whether you hit the Relax Attack series, the monthly CHIRP night, or anything in between, its pretty much a pick'em.

Logan Square
Formerly a stronghold of adventurous live experimental rock, this Logan Square hole-in-the-wall is less exciting under new bookers... except, that is, every third Wednesday, when Burly rages for queer DJ party supremacy. Theme nights have included Divine, Dolly Parton, and Rihanna vs. Riot Grrrl.

Bucktown
Luckily, rumors of this Bucktown staple's demise proved exaggerated, and Danny's still slays night in, night out -- rising rents be damned. Our favorite party remains Hot on the Heels, the first-Tuesdays night of coldwave and minimal-synth esoterica spearheaded by local synth guru Beau Wanzer.
Bronzeville
The Meyers Ace Hardware at 35th and Calumet has a secret: in a previous lifetime, it was the Sunset Cafe, a major jazz club (and one of the few integrated ones of its era) that hosted the likes of Ella Fitzgerald and Dizzy Gillespie. The site's history is evident mainly in old murals located in the back offices, so either call ahead or be really, really nice to the help if you want to see.

Logan Square
On the flipside is Logan Hardware, now a top-notch record store that retains a name from the previous, home improvement-based tenant. Here's hoping for an encore of last year's appearance by the legendary Dance Mania DJs.

Logan Square
The unofficial home office of Chicago's flourishing garage-rock scene, this Logan Square shop caters to acolytes of Burger, Goner, HoZac, and other painfully cool record labels we're all too old to know. Pro tip: the staff is neck-deep in the thriving DIY rock community, which makes B-A-B a great place to dive into the local underground.

Lincoln Park
This Lincoln Park institution is as famous for what it doesn't carry as what it does: never a single CD has been stocked, as the famous sign proudly declares. But the real draw is Dave himself, an industry vet known to hilariously reaffirm record-store-clerk clichés of the semi-aloof expert.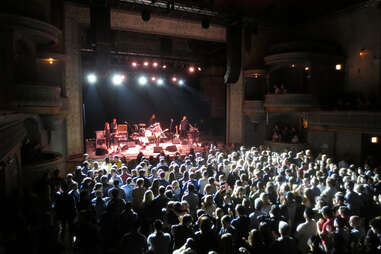 Pilsen
This designated landmark was reintroduced by a couple of music and restaurant industry lifers as a three-tiered destination in 2013. Number one is Thalia Hall, an opulent mock opera house best described, musically, as Empty Bottle meets Metro, and best experienced as full of beer and hooch from the two other tiers, Dusek's and Punch Room.

Avondale
"The future belongs to the analog loyalists," according to fabled engineer Steve Albini, and he's been putting that infamous credo to work for years at his near-mythical home-base studio. (Famous clients include Pixies, Nirvana, and PJ Harvey, plus local heroes like Urge Overkill, Veruca Salt, and The Ponys.) You can't just waltz in, of course, but belying Albini's surly rep, the staff is known to accommodate visits.

Lincoln Park
Famed for a preposterously large whiskey selection (roughly 300), this Lincoln Park fixture is no less liberal with the volume. DJs spin what you might expect from a whiskey joint: lots of punk, metal, outlaw country, and The Replacements.

Fulton Market
One of Chicago's most prominent recent musical exports, juke has graduated from West Side DIY origins to international ubiquity. This semi-regular sampler gets closer to the root with a roster of Chicago mainstays, plus the occasional cameo from local legends like DJ Spinn or DJ Funk.
Wicker Park
Legendary nightclub Neo closed down in 2015 after 36 years of goth- and new wave-soundtracked debauchery. (Per Lincoln Park evolutionary law, a daycare is moving in.) But black hearts (and old Wax Trax! rhythms) beat on every Thursday when Neo DJs take over Debonair Social Club, in Wicker Park... at least until that neighborhood completes the subcultures-to-strollers circuit, too.

Logan Square
As co-founder of peerless reissue label Numero Group, Rob Sevier has helped unearth amazing, old buried treasures of soul, power pop, salsa, you name it really, for over a decade. A chance to catch his deeper-than-deep cuts firsthand at monthly Owl DJ gigs is a treat not to be taken for granted.

Logan Square
No local scene is more influential in the increasingly canonized world of gig-poster printmaking than Chicago, which calls home to seminal figures like Steve Walters and Jay Ryan along with second-generation luminaries such as Ryan Duggan and Sonnenzimmer. We don't know of any permanent public exhibitions, but Galerie F, which also brings street art to the gallery setting, frequently delivers the goods.

Wicker Park
Even today "post-rock" remains a slippery label, but whatever it is, it emanated in large part from Chicago, where '90s standard-bearers like Tortoise blew open rock's vocabulary while still retaining much of its traditional instrumentation. That band's drummer, John McEntire, also owns Soma Electronic Music Studios, a highly in-demand production space that upholds the subgenre's spirit of gearhead-visionary sonic detailing. Tours are tough to finagle, but Soma's supremely ogle-able "synth wall" alone prizes the effort.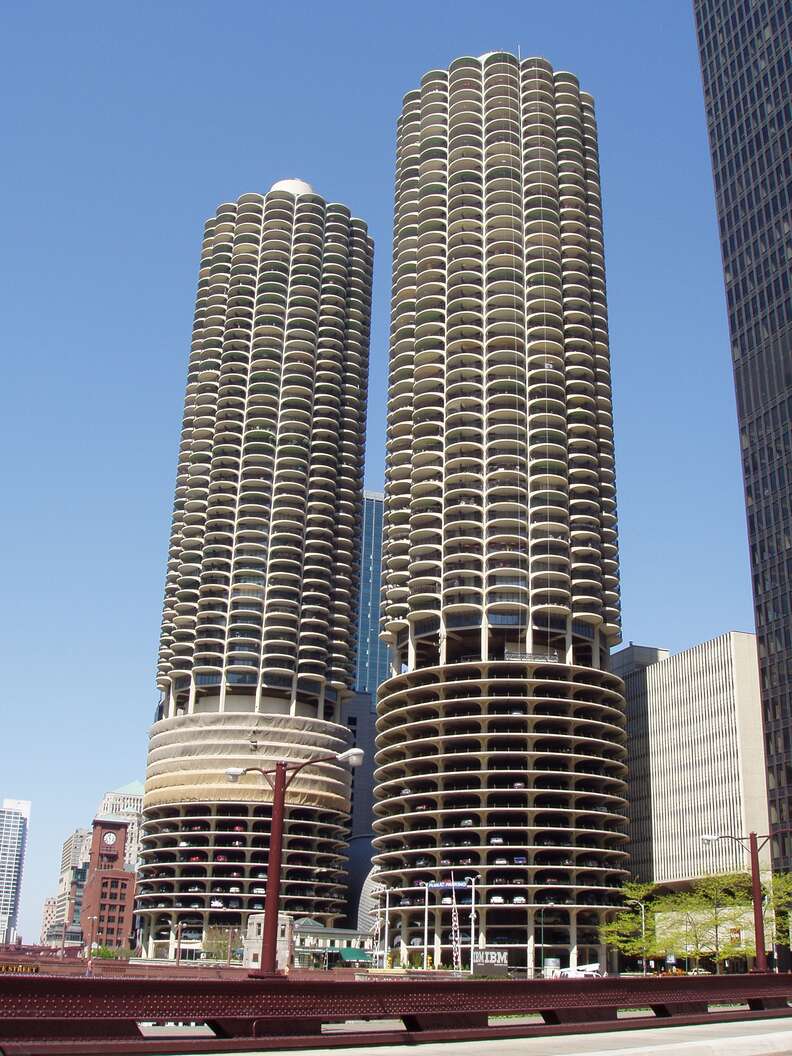 Near North Side
The cover of Wilco's modern classic is probably the most easily replicable of any noteworthy Chicago-related album. Take a camera and go full Abbey Road, Midwest dad-rock chapter.

Midway
Yes, this tiny outpost at Midway Airport (truly a "room") only meagerly approximates Uncle G's halcyon days in Lawndale, where his shop boosted the likes of R. Kelly and Common. But George Daniels' combination of mugging self-promotion and genuine shoe-leather commitment to music still radiates here. And a visitor stepping off the concourse could hardly ask for a more object lesson in Chicago music than that.
Sign up here for our daily Chicago email and be the first to get all the food/drink/fun in town.
Stephen Gossett is a Thrillist contributor who's craving some Punkin Donuts all of the sudden.