Breaking Down All of Chicago's Old-School Members-Only Clubs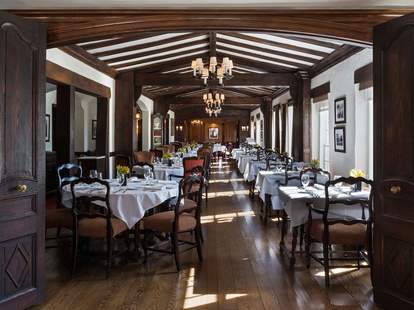 Courtesy of The Skyline Club
If there's one thing that rich people enjoy -- aside from making or inheriting more money -- it's talking with other rich people about how they're making or inheriting more money. And rich people can't just do that anywhere, so whenever they're not feeding caviar to their exotic iguanas or hunting the world's most dangerous game (man), they're hanging out in Chicago's private membership clubs. Since you're probably not getting in, we can give you a small glimpse inside.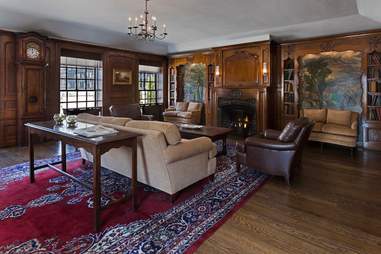 Courtesy of The Skyline Club
Loop
Founded: 1924
Offering one of the best views in town, the Sky-Line Club sits atop the Old Republic Building, which HAS to be a Star Wars reference. Well, maybe. Inside, the club is actually pretty intimate (300 members max), and is only outfitted with 10 or so dining tables. The interior of the club was actually an old ale house located in England, but it was disassembled and shipped stateside about 100 years ago. Many of the furnishings and paintings are the originals from the ale house, which is pretty damn cool.
Loop
Founded: 1974
When you're rich, taking two different elevators from your 90th-story office down to street level is a huge waste of time, which is also a waste of money. That's just math. Fortunately, Willis Tower is outfitted with the Metropolitan Club, which is located on the 66th and 67th floors of the building, and totally nixes the need to leave the building for anything ever again. Members can just work, dine at the club, and sleep underneath their desks until the sweet kiss of death releases them from their mortal chains.
Loop
Founded: 1879
The Union League Club aims to "uphold the sacred obligations of citizenship, promote honesty and efficiency in government, and support cultural institutions," which also sounds like a fraternity pledge reciting memorized lines upon being cornered by a brother. The club has a fancy art collection on site, as well as some equally fancy dining options. Members also have access to other club locations when they're traveling, but they'll have to get spiffed up before arriving -- business-casual attire is required pretty much year-round.
Hyde Park
Founded: 1893
Located on the University of Chicago campus, the Quadrangle Club is kind of exclusive, but definitely not as exclusive as the Sisterhood of the Traveling Pants. However, unlike the Sisterhood, the Quadrangle Club offers access to dining facilities, event spaces, guest rooms, and three Har-Tru clay tennis courts. New members are not required to be faculty, staff, or betrothed to a European prince.
 
Loop
Founded: 1907
Originally founded as the Attic Club, The Cliff Dwellers was renamed to its current iteration in 1909. Its membership base is made up of those who are "either professionally engaged in, or who support, the fine arts and the performing arts." The club is located in the 22nd-floor penthouse of a building on Michigan and Adams, which makes for some pretty slick digs in which to lounge around in, dine, and discuss plans on how to circumnavigate the globe in a private blimp.
Loop
Founded: 1892
At the Columbia Yacht Club, membership levels are basically divided between those who have interest in a yacht that's moored within 35 miles of the club, those who do not, and those who are under the age of 21. Since the club itself is located on an actual ship, it doesn't have some of the amenities of other clubs -- like an on-site fixer who will hide dead bodies for you. However, membership does include 24/7 access to the Club Ship, dining privileges, use of meeting rooms, and privileges at yacht clubs around the world.
 
Loop
Founded: 1887
Established by University of Chicago graduates who were looking to "draw upon the sustaining values of a common educational experience," the University Club of Chicago currently admits members from other four-year schools, as long as they've obtained their degree and drank the blood of a pale mare under the full moon. You know: the basics. Once admitted, new members have access to an impressive variety of amenities, which include four dining venues, 18 private dining rooms, 59 sleeping rooms, a fully equipped fitness center with an indoor pool, golf center, and squash program, an art gallery, a library, and an outdoor terrace that's perfect for enjoying summer drinks and throwing water balloons on poor people below.
Loop
Founded: 1958
Part of the same network as the Metropolitan Club, the Mid-America Club also offers a hideaway for employees inside the towering Aon building, as well as scenic views of adjacent Maggie Daley Park and Millennium Park. Membership includes invites to special events, access to dining and business facilities, access to other club locations, and a magic duck that lays golden eggs (just kidding, we're pretty sure we are, anyway).
Loop
Founded: 1869
The oldest membership club on this list, The Standard Club gathers "entrepreneurs, agents of change, corporate decision-makers, cultural advocates, and business visionaries" who are interested in civic responsibility, and probably also betting on ostrich races. Besides access to the fitness center, guest rooms, and dining facilities, members can drop by to dine at the Chicago Yacht Club, or golf and dine at Idlewild Country Club. As for that fitness center, it's equipped with an indoor pool, a running track, a basketball court, paddleball courts, and sauna and steam rooms.
Sign up here for our daily Chicago email and be the first to get all the food/drink/fun in town.
When asked for a password to a private club, Raf always replies with "Fidelio." Send him an invite to your club: @RafFoSho.